When British jewelry brand Cernucci launched back in 2017, it set out to bring a wild array of jeweled medallions and sparkling chains to the European market. Inspired by the elaborate pieces worn by hip-hop artists as well as his Brazilian heritage, the brand aims to recreate similar looks for admiring fans through an experimental mix of design and materials.
Today, Cernucci continues to shake up the jewelry scene with its ever-growing range of necklaces and bracelets, as well as women's earrings, anklets and more. Recently, it has seen high-profile collaborators including James Maddison and Knucks and has begun to foster a unique fanbase of football fanatics, who take the ostentatious way of repping their respective teams by adorning specially bejeweled pendants of club crests.
In its fifth year, Cernucci prepares to extend its creative vision to other adornments in clothing and accessories as well as launching a more refined jewelry offering for the summer season. CEO Fred Buckley sits down with Hypebeast amidst the brand's hard season of grafting to discuss its winding creative process, sources of inspiration and latest collection.
Hypebeast: What was your journey into jewelry?
Fred Buckley: As a kid I loved wearing necklaces that I made myself or picked up from a market somewhere. My family in Brazil wore wild jewelry so I got into it pretty young. I also listened to a lot of hip hop growing up and often saw what custom jewelry meant to the artist and their identity.
Where does Cernucci seek its inspiration?
A lot from my upbringing. We draw a lot of inspiration from Brazil's culture, way of living, football, favelas, creativity and beaches. Growing up in Watford, I spent most of my weekends in London. There is endless inspiration here. Ever since I started getting inspiration from myself, my life and what I like, we've had a clear identity and built an amazing community who resonate with it.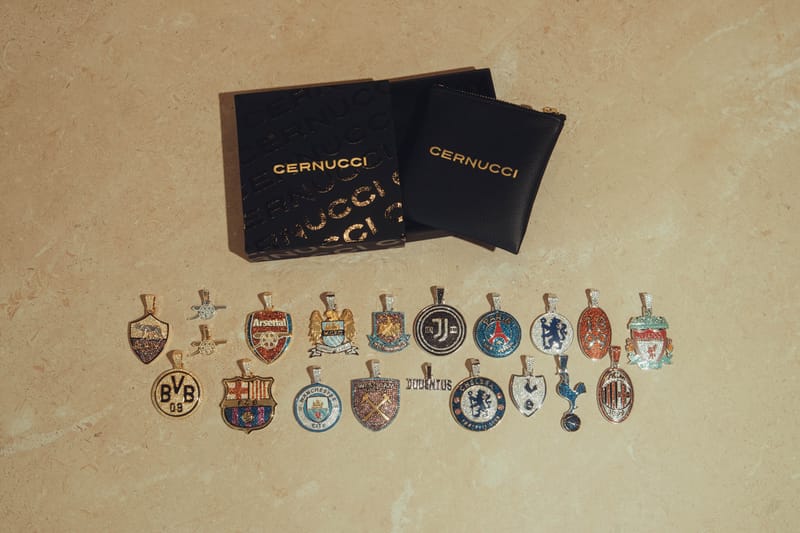 Cernucci
How would you describe your design language?
Our design language has changed so much since we started and my own style, and sources of inspiration have evolved too. I take a lot of inspiration from jewelers in the US like Eliantte. Every piece he makes seems to push the boundaries of what is possible. Currently we are taking elements from my Brazilian heritage – using bright coloured stones, more detailed enameling and engraving on every piece.
Why is having accessibility to jewelry important?
Before Cernucci, there wasn't a brand who created our style of jewelry for the mass market in Europe. Wearing jewelry is something special, it completes a fit, and growing up it seemed like only famous rappers and other celebrities had this luxury. With metals like stainless steel and .925 sterling silver, it's possible to recreate these pieces that can last a lifetime and are affordable too. Today there are no rules. We are changing the perception of jewelry. Everybody should be able to feel great wearing jewelry.
Cernucci is celebrating its 5th anniversary, what have been some of your highlights?
Nothing will ever top getting our first order, seeing Cernucci in public for the first time or seeing the success of a project the team has put together. My personal highlight was delivering Raheem Sterling some chains to his hotel room just after the Euro's. It confirmed my belief that everyone will wear Cernucci.
Talk us through your latest summer drop, what makes this release and rollout different?
The vision has always been beyond just jewelry. We recently dropped trucker hats and sunglasses – our first ever transition into a new product category. The response was insane and our first releases sold out within the first day.I'm so excited to show our community and the world what we've been working on for the past 12 months. Our first ever clothing release.
Take a closer look at the brand's sparkling summer collection in the galleries above.
Cernucci's latest collection and other pieces are available to shop now via its website.
Source: Read Full Article