Hello, hi! Interrupting your Friday afternoon to present you with your weekly Kim and Pete update for any/all still reeling from their breakup. It sounds like our fave comedian is firmly focusing on the next chapter of his life in the wake of his and Kim's split.
"Pete is focusing on himself and his career right now and trying to make himself happy," a source recently dished to Us Weekly. "He's got a huge career ahead of him and has a ton of irons in the fire post-SNL." Love! This! For! Him! ICYMI, Pete is currently shooting Wizards! alongside other big-name celebs like Orlando Bloom and Naomi Scott in Australia and his latest film Bodies Bodies Bodies just hit theaters. TL;DR: The guy is seriously keeping himself busy.
"He has a hugely ambitious streak," the insider continued. "Pete wants to continue his standup comedy routine, challenge himself with new acting roles. He enjoyed the experience in Australia a lot, really bonded with the cast and crew and is excited about the future."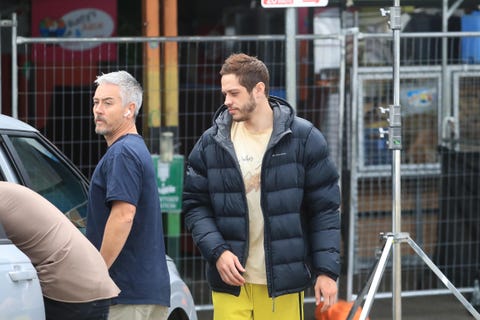 Also in the SNL alum's future? A new comedy series with none other than Goodfellas actor Joe Pesci, who is set to star as Pete's grandfather. Per Peacock, "The series will combine grounded storytelling with absurd elements from the unfiltered and completely original worldview for which Pete is well known." Once news of what some (read: me) would consider to be the collab of the century broke, Twitter did its ~thing~ and generated great reactions, which I would love to share with you all:
Pete Davidson landing Joe Pesci for his sitcom is honestly wilder than Pete Davidson landing Kim Kardashian as his girlfriend
Pete Davidson gets with the hottest women ever and brings Joe Pesci out of retirement again. What kind of powers does this man possess? https://t.co/geVUbcXE49
is pete the casting director for bupkis bc how did he get joe pesci and edie falco I love him sm
Pete Davidson 🤝 Joe Pesci
Enough said. #Bupkis streaming 2023.
Something very beautiful about Joe Pesci only coming out of retirement for two things: The Irishman and a Pete Davidson sitcom
A refresher on where things ended with Kim and Pete, for those who need: "There truly wasn't drama between [Kim and Pete] when they decided to separate," a source told Us Weekly in the wake of their breakup. "It was something they talked through; it wasn't a sudden breakup. They each have busy schedules and the distance made it hard. Kim travels a ton and it was hard for Pete to keep up, especially with his filming schedule. They had a lot of fun together and they can look back with fond memories."
It honestly seems that between the former couple's seemingly chill split and all of his upcoming projects, Pete's kiiiind of winning at life, no? ¯\_(ツ)_/¯
Source: Read Full Article