If any proof were needed of our appetite for all things gardening, you only needed to see the torrent of people braving the lashings of rain during the opening hours of this year's Melbourne International Flower and Garden Show.
Nothing can keep a gardening enthusiast away from a festival showcasing the latest ideas about how to grow stuff.
Over five days, the event continued to flesh out the different ways in which we might approach our patches. Here are some of the themes that got us thinking.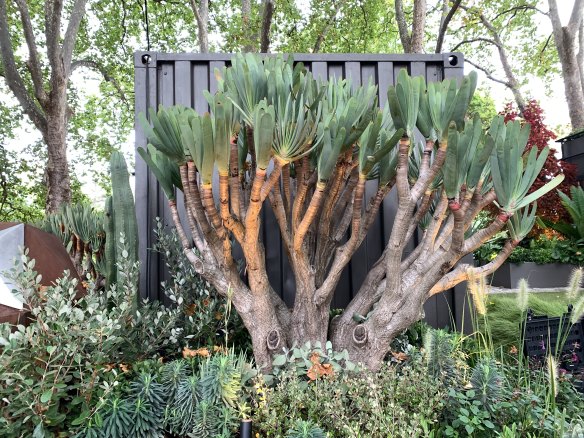 Fan aloes lent sculptural form to the show garden designed by Charlie AlboneCredit: Jim Pavlidis
Less can be more
Highlighting a plant's sculptural form is one of the surest ways to play up horticultural drama. Gnarly, hard-pruned olives, shapely fan aloes and columnar cacti lent punch to a number of exhibits, including the show garden designed by Charlie Albone. This unfussy, predominantly green and grey display, which wound around and over two recycled shipping containers, was just one of the spaces highlighting how the best move is sometimes to take things out rather than add stuff in.
Recycled or repurposed elements
There's no denying that show gardens soak up a lot of resources given their miniscule lifespan but many still addressed issues of sustainability, especially by incorporating "found" materials. Recycled brick and reclaimed timber featured in a string of displays, not only lending green credentials but creating the sense of character that comes with the passage of time.
The prize for the most quirky re-purpose option, though, would have to go to the Melbourne Flower School for its indoor installation arranged around canary yellow milk crates. Multitudes of sunflowers, amaranth, fig branches (with some of the fruit sliced open to reveal the crimson insides) and other foliage and flowers were cheekily woven through fun and funky plastic.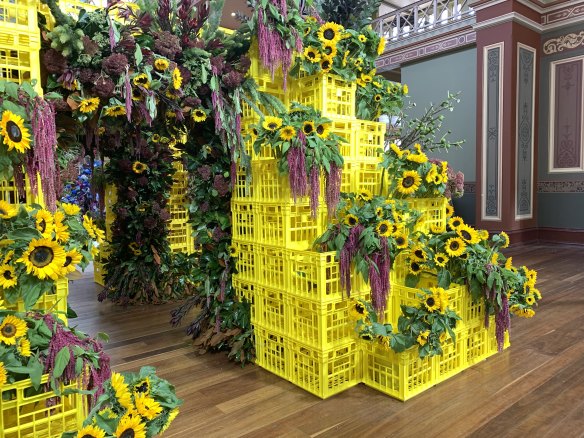 Re-purposed crates made for a funky and fun flower arrangement by the Melbourne Flower School Credit: Jim Pavlidis
Gardening as a process
The best displays didn't feel static but instead highlighted the sense of dynamism that comes from the very act of gardening. At the Diggers Club space, for example, nothing felt set in stone. Brimming with edibles and flowers, you got the feeling that – like in any regular garden – there was a constant trickle of small interventions at play.
A similar air of spontaneity pervaded Stratis Landscape Architects' "Karrikin Garden", a boundary-breaking display that showed how fire can be used as a form of rejuvenation. This exhibit with its charcoal mulch, exposed tree roots and such pioneer plants as kangaroo apple seemingly popping up of their own accord illustrated how even the most hands-on of gardeners never have absolute control. The landscape itself exerts an influence, which only makes gardening more exciting.
Post-fire rejuvenation was highlighted in this garden by Stratis Landscape ArchitectsCredit: Jim Pavlids
Urban public planting doesn't have to be boring
Who says roundabouts, verges and railway sidings can't be complex, diverse and drop-dead beautiful? A collaboration between University of Melbourne horticulture researchers, landscape architects from Hassell and garden designers from Super Bloom showed just how much colour, texture, structure and all-round biodiversity is possible to introduce into the public realm. Moreover, it doesn't have to break a council's maintenance budget. This densely planted (about 16 plants a square metre) display highlighted how a carefully selected community of climate-appropriate perennials, annuals, succulents and shrubs can together create a landscape that is both resilient and joyful. So thrilling – and so easy-care – was this spread that you will want to adopt the concept for your own gardens.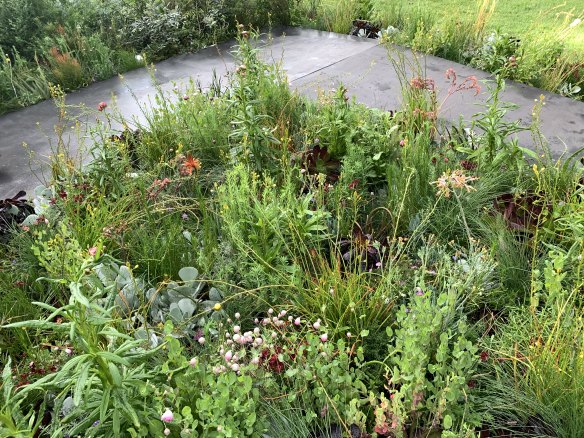 Urban public planting can be complex, diverse and drop-dead beautifulCredit: Jim Pavlidis
Connection to wider ecological stories
"Fallen" logs, ephemeral water bodies and plants filling every niche featured in many of the displays, thereby forging a link between gardening and vegetation in the wild. In this time of species extinctions and climate change, these spaces highlighted how the best gardens are not only good for people but alluring for wildlife, too.
With containers, you can grow a garden anywhere
Roofs, balconies, against-the-odds courtyards – no place is too compromised to house some kind of potted plant. But for sheer wow factor, it was hard to go past the mixed planters in the "Bug & Bloom Garden" in the event's kids' zone. Mostly perennials but with a sprinkling of annuals, these pots, designed by the plant practice Super Bloom, were full of texture and colour and exuded all the spontaneity we want from our gardens. Plantings in pots can be as diverse and dramatic as any part of the garden. Go all-out and container gardens will repay you in spades.
Make the most of your health, relationships, fitness and nutrition with our Live Well newsletter. Get it in your inbox every Monday.
Most Viewed in Lifestyle
From our partners
Source: Read Full Article