When Halloween rolls around, the only thing scarier than a haunted house is finding the perfect couples costume to wear to all the parties. You want something cute, not too cheesy (unless of course you're dressing up as actual cheese, in which case…). And perhaps the hardest part? Convincing your partner to get on board—literally if you go as Jack and Rose from Titanic.
Speaking of those two… iconic movie couples always make for great costumes, whether you opt for a classic pair, like Allie and Noah from The Notebook,or a real classic, like Lola and Bugs from Space Jam. If you're more into com than rom, you and beau can dress up as hilarious characters from your favorite TV show instead. Might I suggest everyone's favorite dysfunctional duo, Michael and Dwight from The Office?
Or maybe you've been there, wore that with pop culture costumes. Try going the pun-inspired route by dressing up as a deer and headlights. If you want to keep it simple—and delicious—a food couples costume is always a crowd pleaser. Perhaps you keep it classy as wine or cheese, or celebrate the best part of Halloween by going as your favorite candy. (Pro tip: Bring the IRL version of your food costume, and you're bound to be the most popular guests at the Halloween party.)
Whatever you and your partner choose, there's a couples costume that perfectly matches your personalities—and effort level. Whether you're all DIY everything or just want to *add to cart*, you can get creative with these 80 best couple costumes ideas.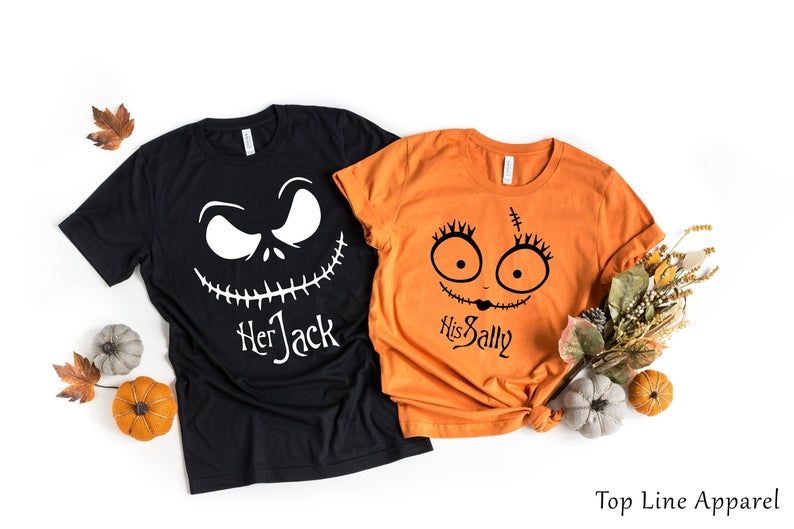 Put a modern twist on the classic Halloween(/Christmas?) movie couple with these cute and comfy t-shirts. Oh, and don't forget the face paint!
Shop Face Paint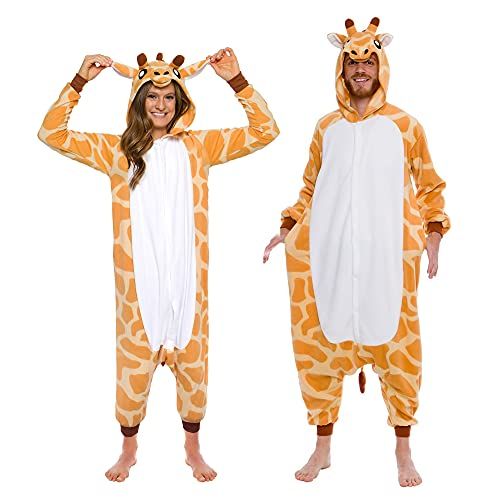 Umm, how cute are these giraffe onesies?! Need I say more?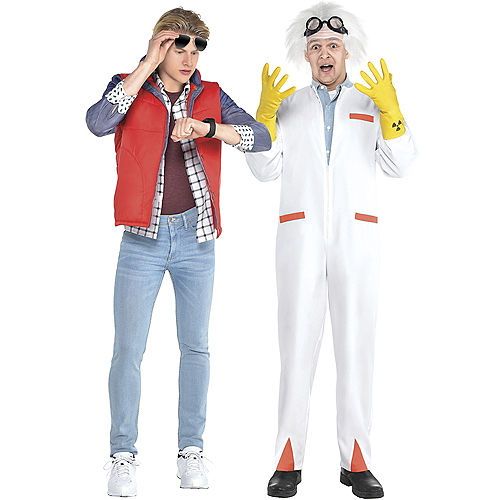 So what if they weren't *technically* a couple in the movies? Just imagine how cute (and hilarious) you or your S.O. will look in that white wig.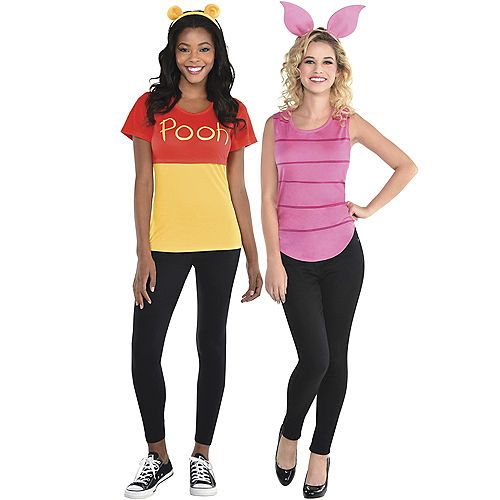 If your partner is also your best friend, then it only makes sense to dress up as the two classic besties from the Hundred Acres Wood. Plus, this costume is easy-peasy to put together.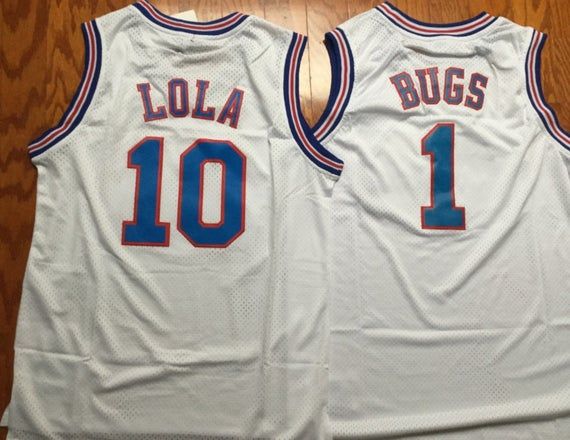 If you want to pull off a '90s nostalgia moment, this Space Jam Bugs and Lola costume is the perfect choice.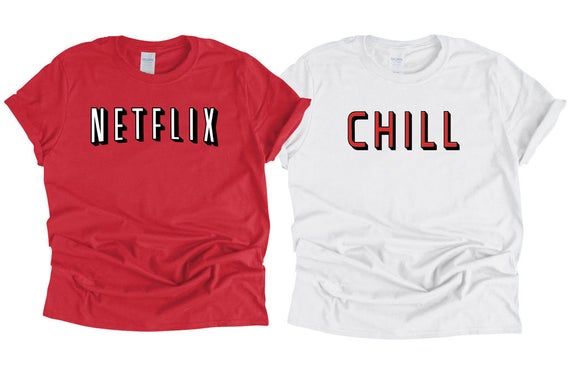 If you're still feeling low maintenance, opt for this cute and playful Netflix and Chill costume.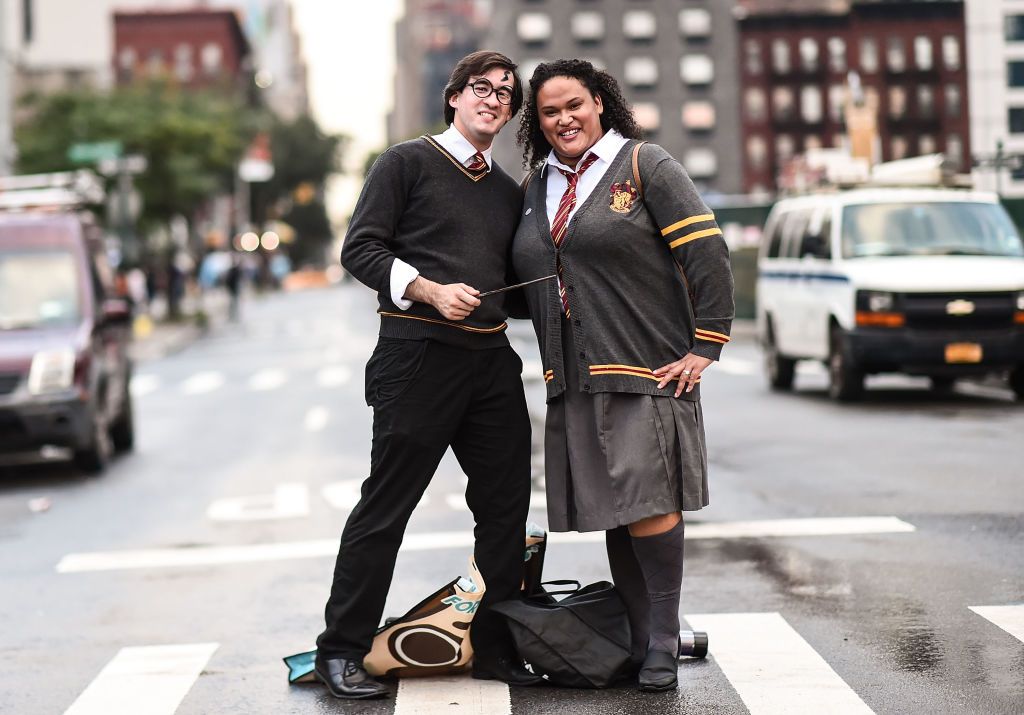 Being a ~wizard~ is a v. popular costume, so why not dress as iconic duo Harry and Hermione, yah know?
Shop Harry
Shop Hermione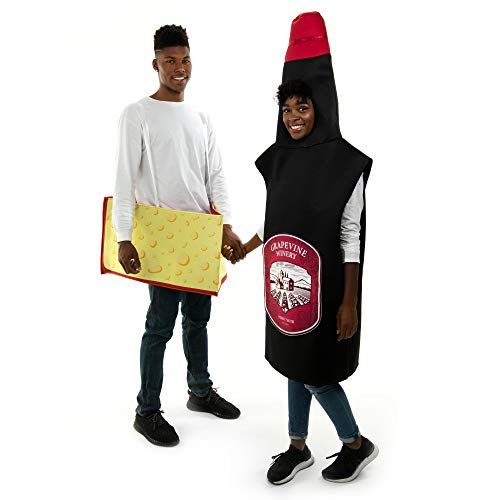 Wine and cheese are basically their own food group at this point. Dress as your fav charcuterie-inspired duo for the most on-brand costume yet.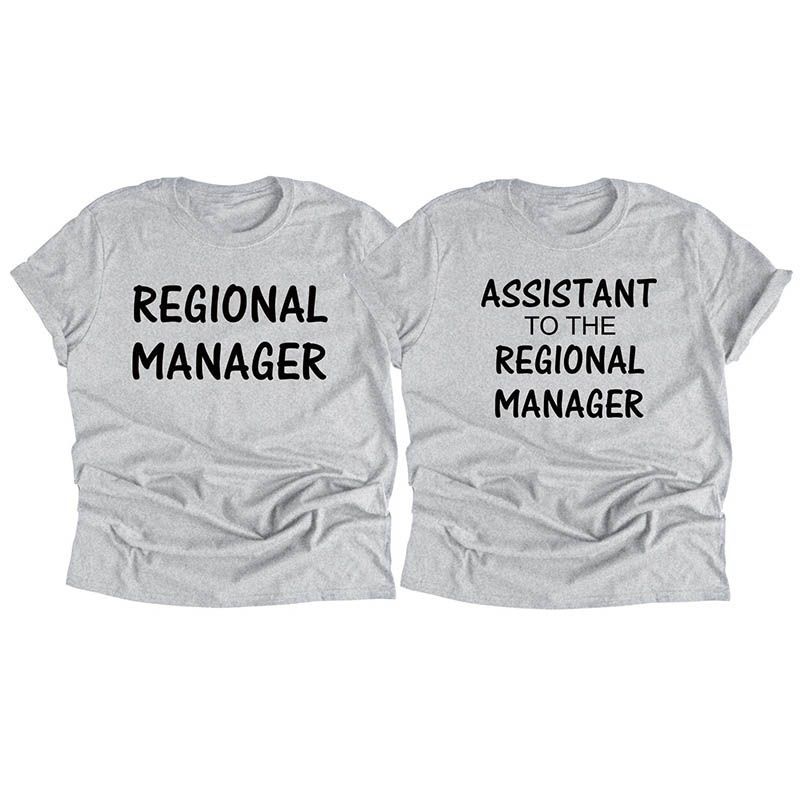 If you're into The Office characters but don't want to wear full-on suits all Halloween long, try these Dwight Schrute and Michael Scott-inspired tees instead. Everyone will get the reference even though they're low-effort.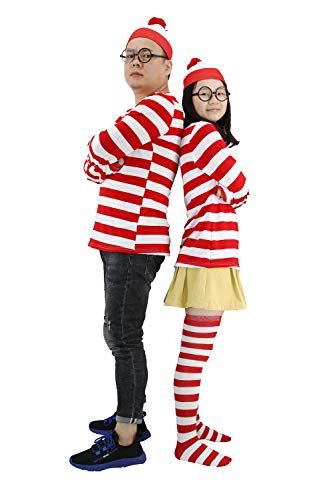 Finally found your person? There's no better costume to prove it than this Where's Waldo matching set.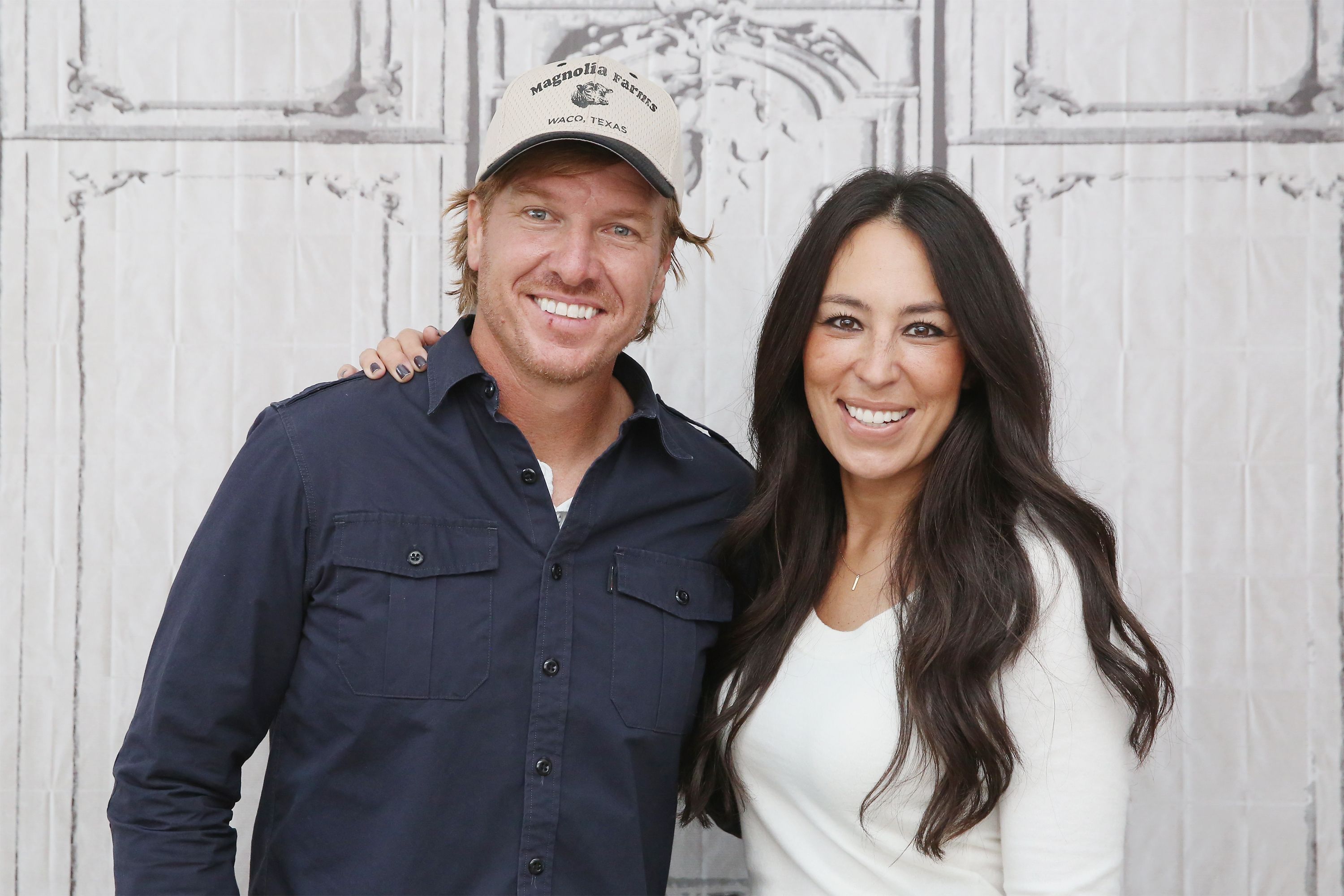 Grab a pair of jeans for him and throw a few waves in your hair to pull off this Chip and Joanna look. Then finish it off with a few accessories below.
Shop Chip
Shop Joanna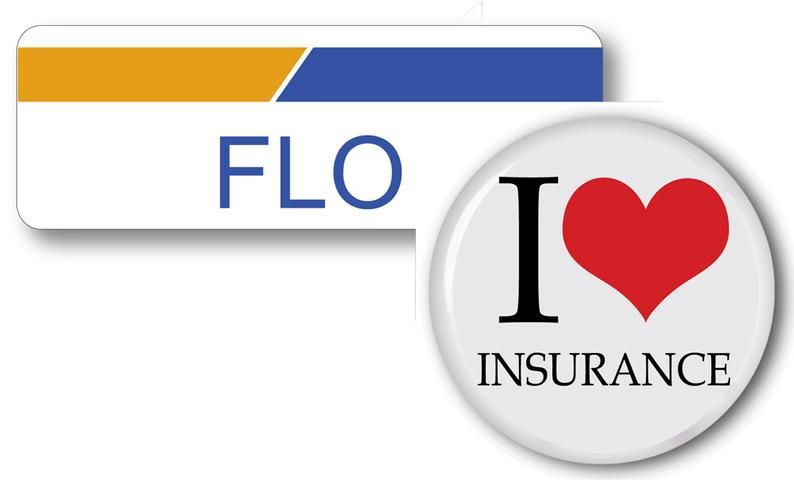 If the Progressive Insurance commercials are the only ads you don't fast-forward through, you two should dress as iconic duo Flo and Jamie this year. (Plus, you can pretend you're on TV all night long).
Shop Jamie
Shop aprons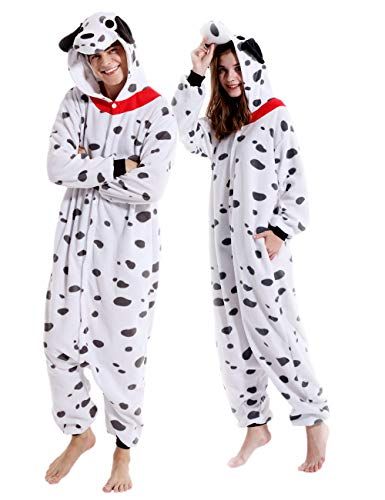 These matching Dalmatian onesies are the perfect alternative to super detailed, extra-looking ensembles. You'll have no problem wearing this one all night.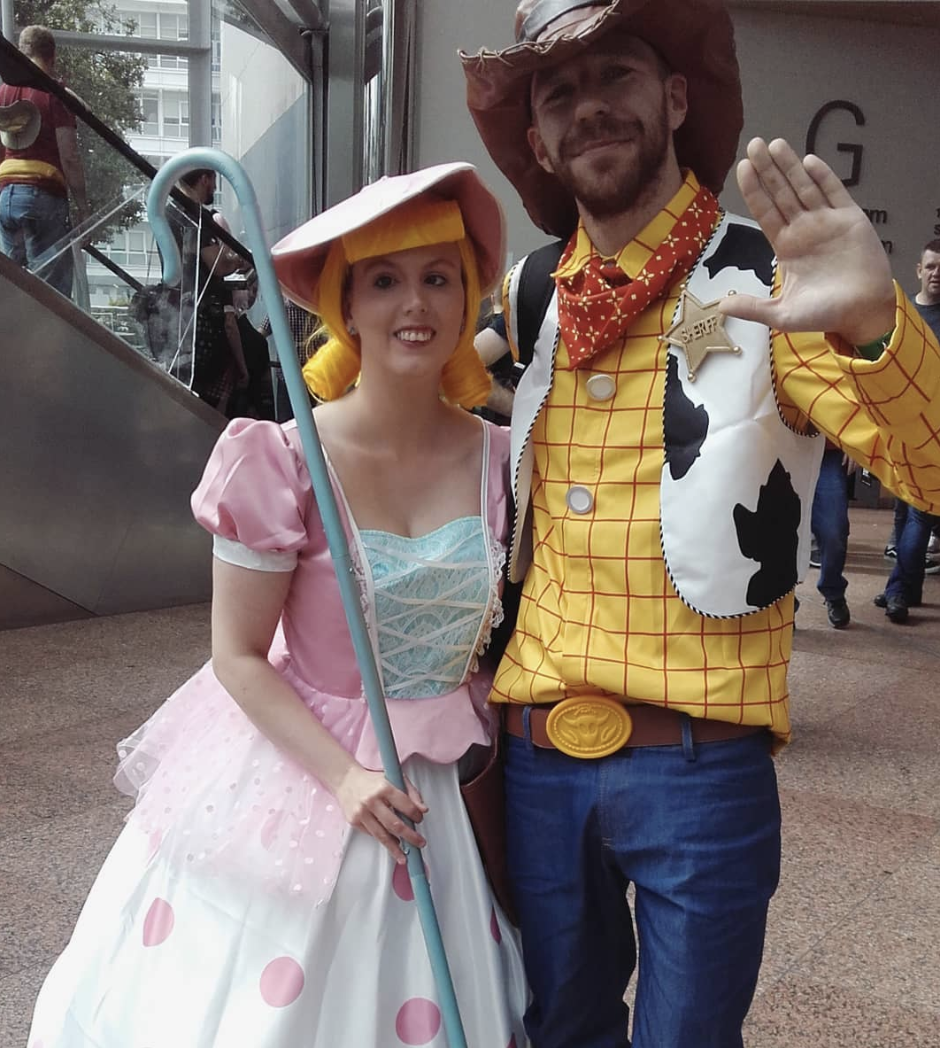 These Toy Story icons are kiiinda of the cutest. You and your bae will get so many compliments dressing as this pair for Halloween.
Shop Woody
Shop Bo Peep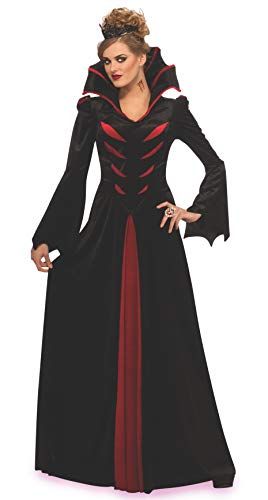 PSA: There's nothing wrong with a classic. A vampire couples costume is exactly the blood-sucking style Halloween celebrations call for.
Shop Men's Vampire costume
IYKYK, Love and Basketball is one of the best love stories of all time. And if you and your S.O. agree, you two can dress up as Monica and Quincy for Halloween.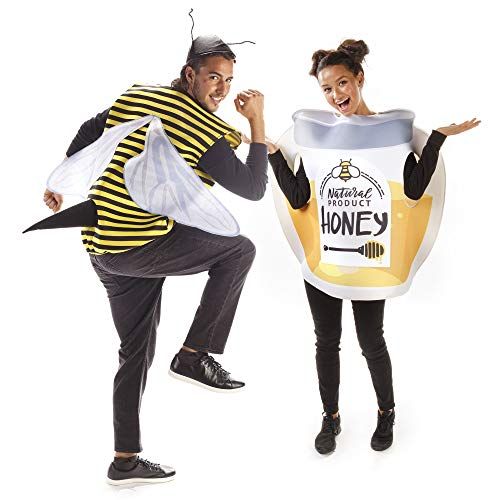 I mean, pretty sweet, right?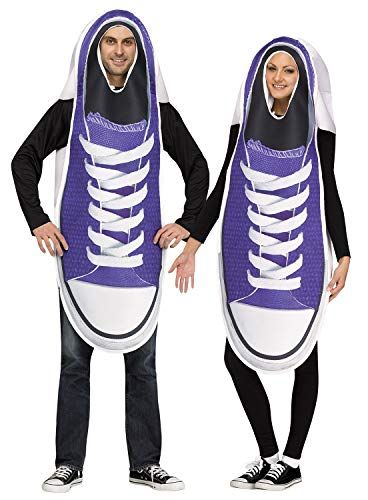 You two are the perfect pair (literally.) Show people just how perfect by donning these sneaker-suits this Halloween!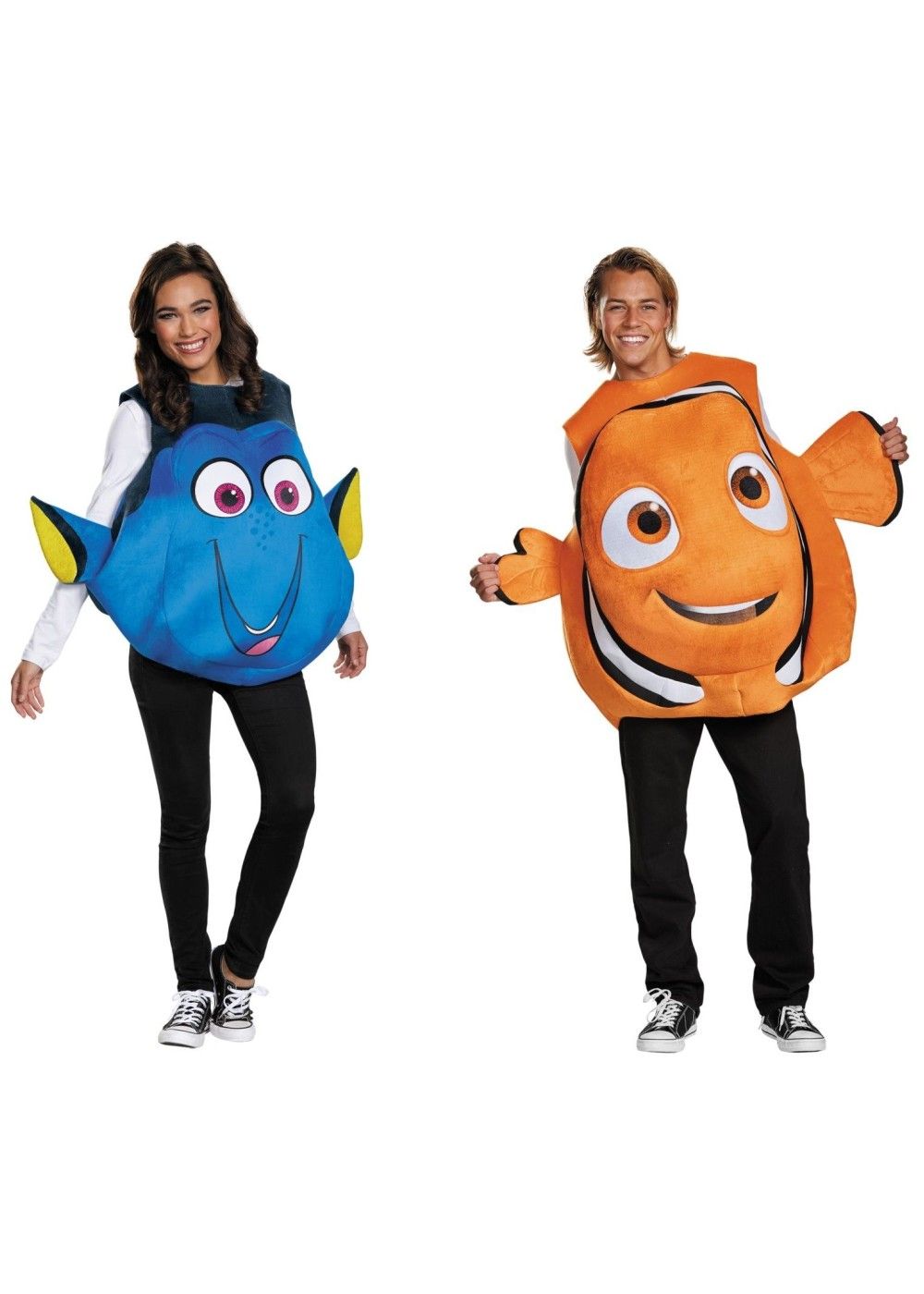 Easy costume? Check. Adorable costume? Check. These Nemo and Dory suits are perfect. Just throw them over your comfiest outfit boom! You're good to go.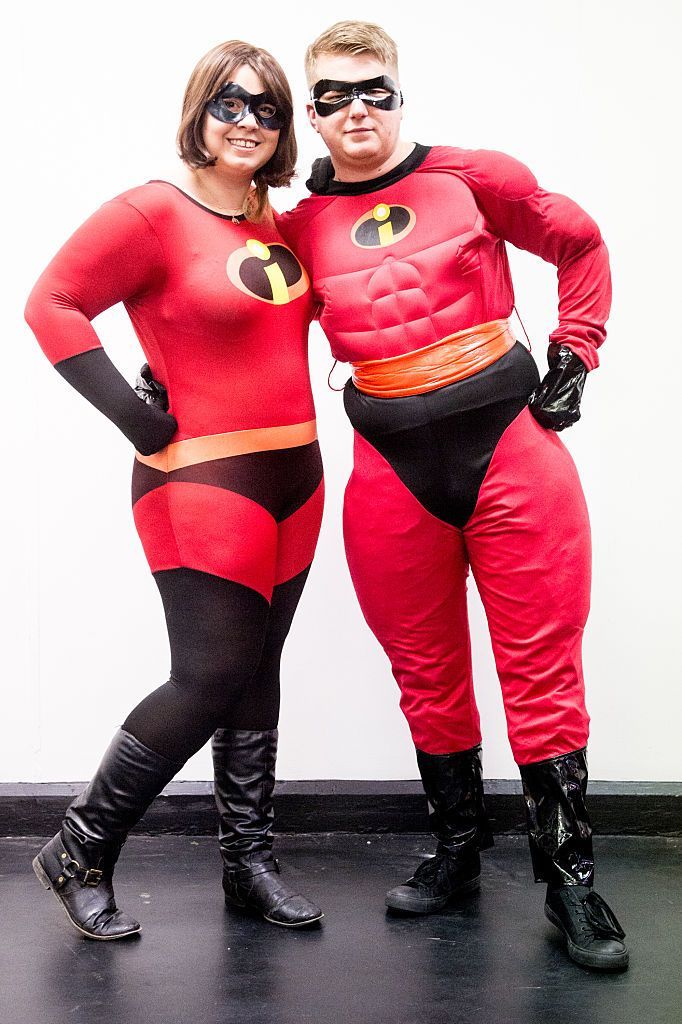 Are you two major fans of The Incredibles? Make it a part of your Halloween statement this year by hitting 'add to cart' on these classic superhero suits.
Shop Mr. Incredible costume
Morticia and Gomez are Halloween *icons*. You and your partner will look super spooky this year when you dress as this eerie duo.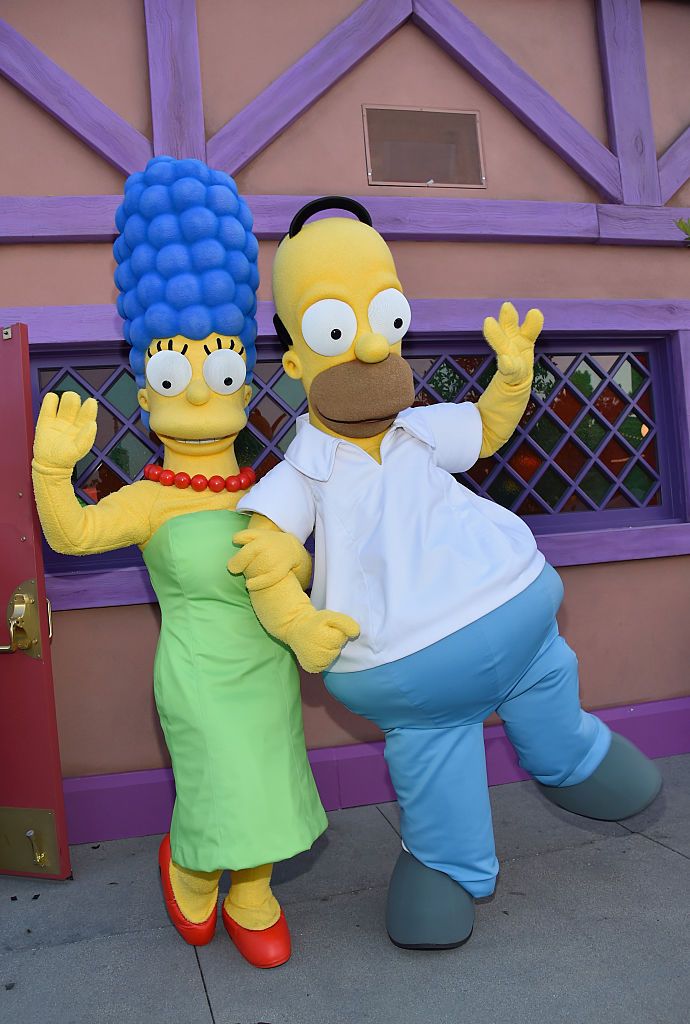 If you and your partner both have a soft spot for comedy, you might love being Marge and Homer Simpson for Halloween this year. (Plus, the Marge wig is just *chef's kiss* insanely awesome.)
Shop Marge
Shop Homer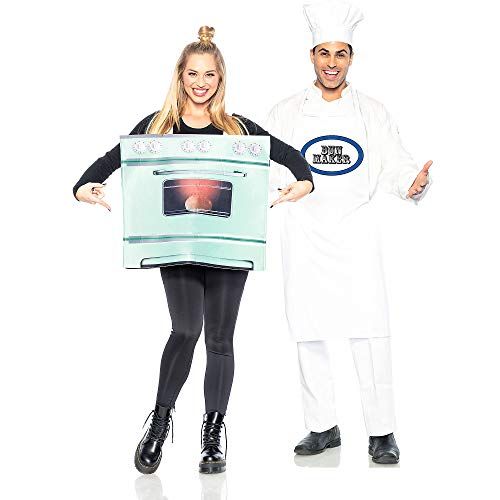 If one of you is pregnant, this hilarious "bun in the oven" costume is be a great choice for Halloween this year. It'll spread the word that you're expecting while also getting a solid laugh from your crew.
Okay, so these matching Ghostbuster suits are super easy to throw on for Halloween. Plus, you two definitely be comfy all night long in the roomy get-ups!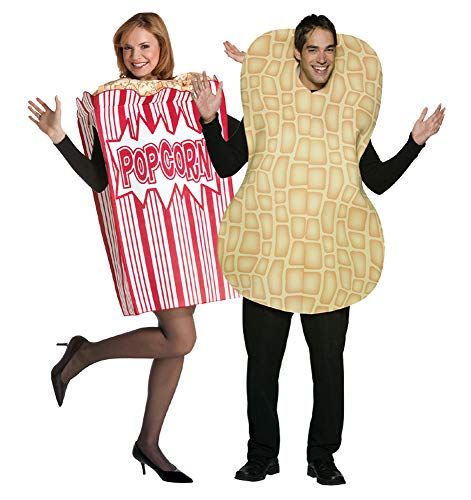 Be your favorite game day snacks this year by throwing on these popcorn and peanut costume sets. Life hack: carry around *actual snacks* all night long, too, and you'll be the most popular party couple.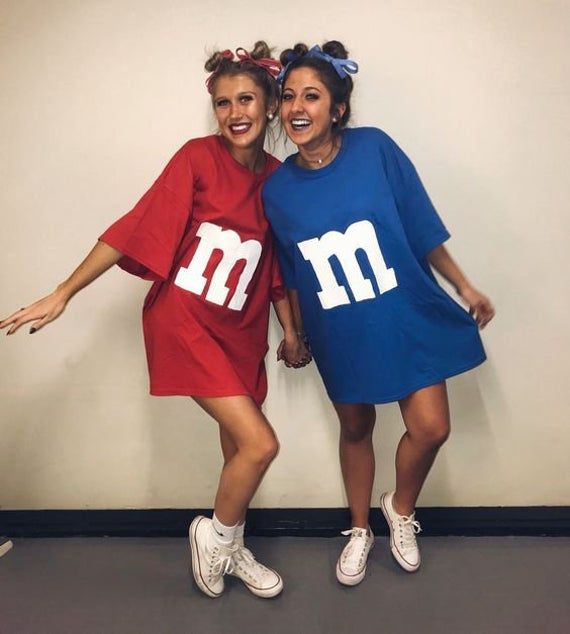 Halloween hack: These M&M tees are a veeery easy way for you and your bae to look both coordinated and cute this spooky season.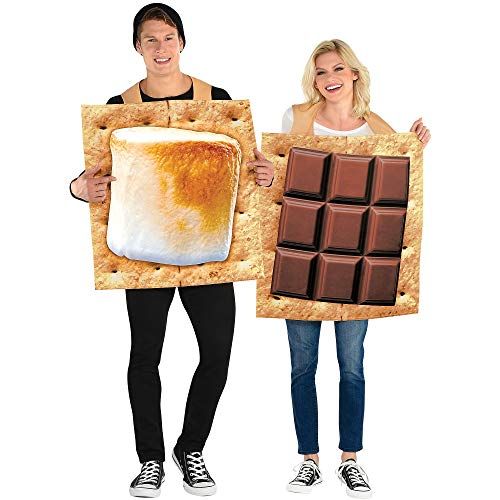 This s'mores set will be perfect for couples who love camping and bonfires…or just like snacks.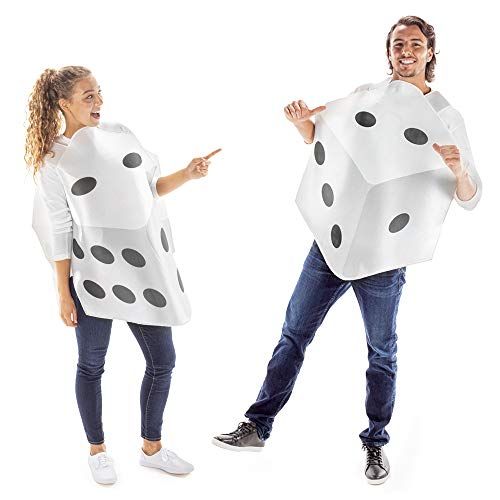 It takes two!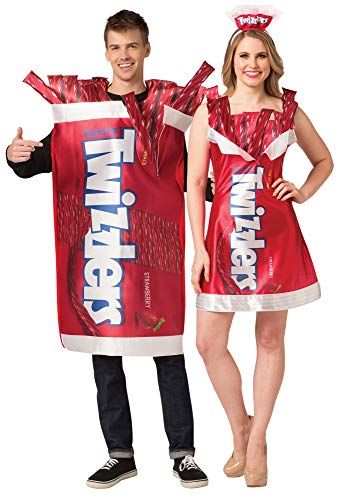 You cannot go wrong with this classic movie snack.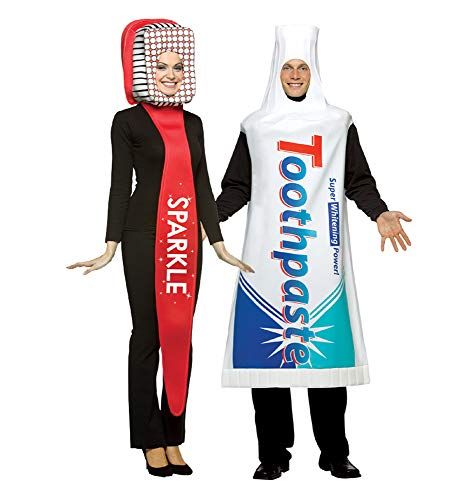 Just because it's Halloween, doesn't mean you have to overthink it to get laughs. If you guys are just plain obsessed with funny pairings, this toothpaste and toothbrush costume is another simple, funny option.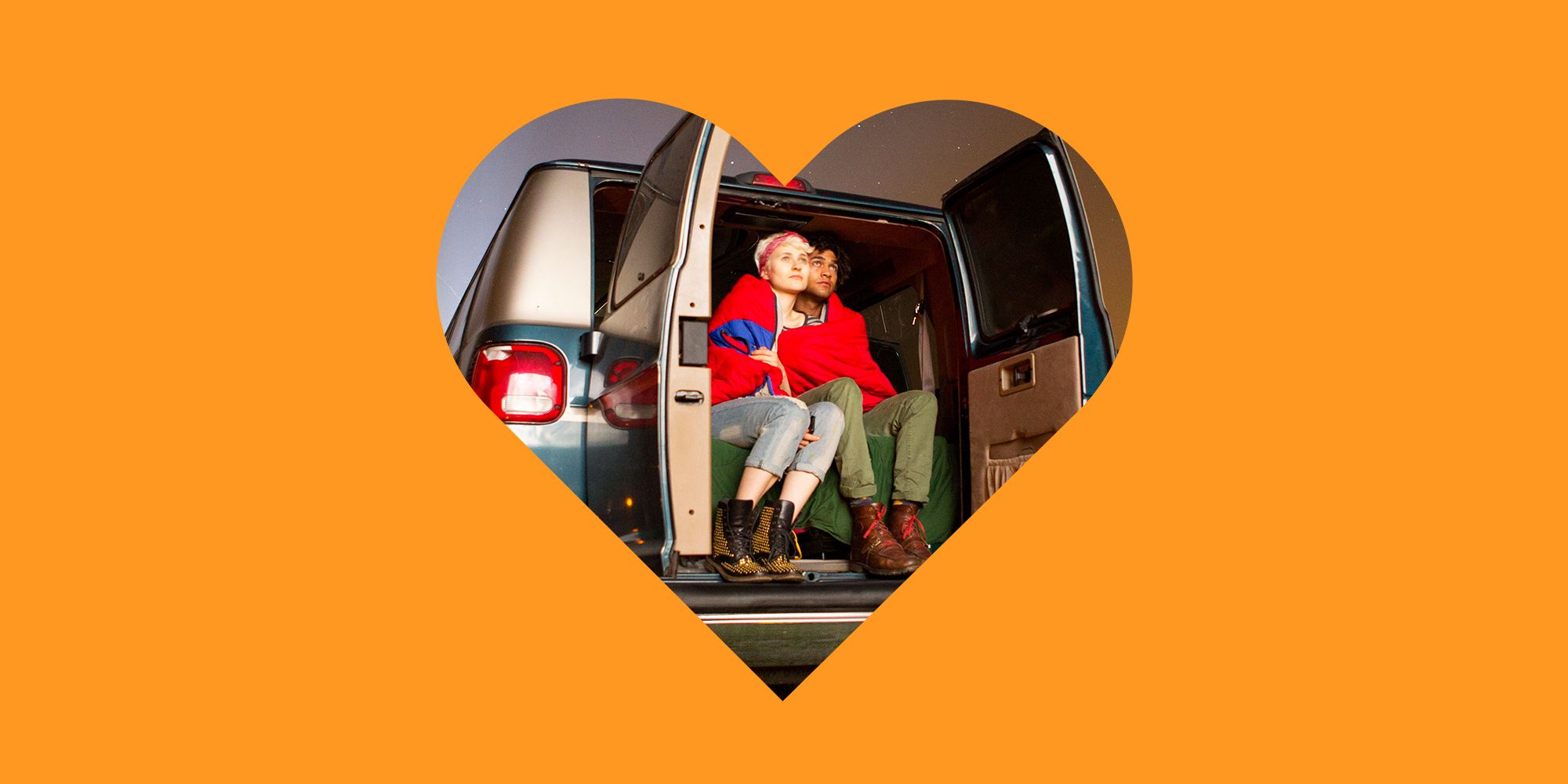 Source: Read Full Article