Roman Samborskyi/Shutterstock
By Preston Smith/Aug. 25, 2021 3:17 pm EDT
Fall is a prime time for fashion, and each year, new trends march runways, storm the streets, and take the internet by storm. Here at The List, we've already covered some of fall's biggest forecasted trends for 2021, including the closet staple that's coming back in a big way, the accessories that will pop off, and the style of sleeves that will cover up the competition. Now, we've learned just which denim style will be popular this year.
Denim styles are fun to discuss because they always come in waves, and like the ocean's lunar cycles, they always come back. Every now and then, high-waisted jeans come back, and sometimes it's mom jeans. Heck, according to Elle, skinny jeans, which have been popular for years, are dead now. But what could replace the ever-classic skinny jean?
"The market is a lot murkier in 2021," explains Slate on the shifting nature of denim trends. "In the years before we went into lockdown, the mandate for skinny jeans loosened up: People who cared about fashion or lived in fashion-forward locales had abandoned them, but skinny jeans were still commonplace. Now, no one is quite sure which jeans our legs will want once our arms have been jabbed."
What denim trends boil down to at present is the pandemic world we're living in and, likely, the rise of TikTok, which has inspired fashion choices among other lifestyle trends. And now, one denim trend is rising faster than its counterparts.
This jean style is the one to beat this fall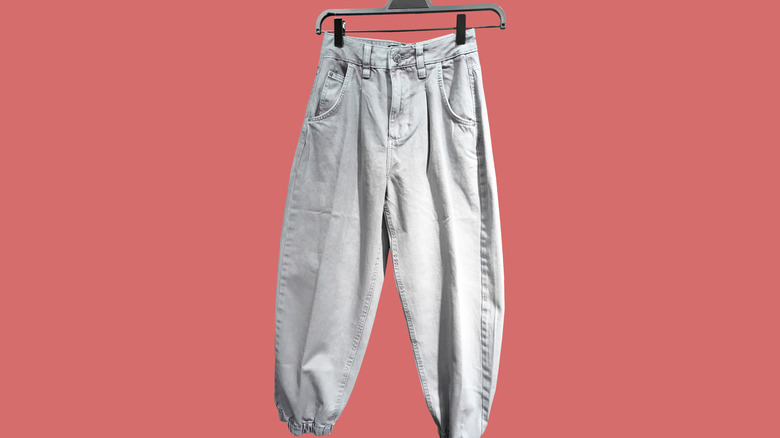 Fall 2021 will see a lot of denim, but it won't be skinny jeans or even mom jeans. Instead, according to Who What Wear, everyone will be rocking something more comfortable: slouchy denim/jeans. They explain that this denim trend comes exclusively from Generation Z, but also that it will be one that completely takes over.
"Gen Z is an opinionated generation," the outlet explained, "and we're listening to what they have to say on denim. For fall, expect jeans to get slouchier, baggier, and more low-slung as low-rise silhouettes take on a greater share of the denim market."
While this may sound surprising at first, outlets like Byrdie have discussed slouchy jean trends as early as April of this year. "Flaunting a laidback, California ease, slouchy jeans are synonymous with skaters, surfers, and those who are generally about the chill life," they wrote. "But before you presume all baggy jeans to be a little too loose or sloppy, realize this: they're super versatile. Not to mention comfortable."
This versatility and comfortable nature may perhaps be what's making them so popular this fall. As people navigate the ongoing COVID-19 pandemic, they likely are reaching for comforting clothing items. In any case, this trend is one that will stick around for the foreseeable future, and it's one we're happy to see (even if we'll still secretly be rocking our high-waisted skinny jeans, too).
Source: Read Full Article