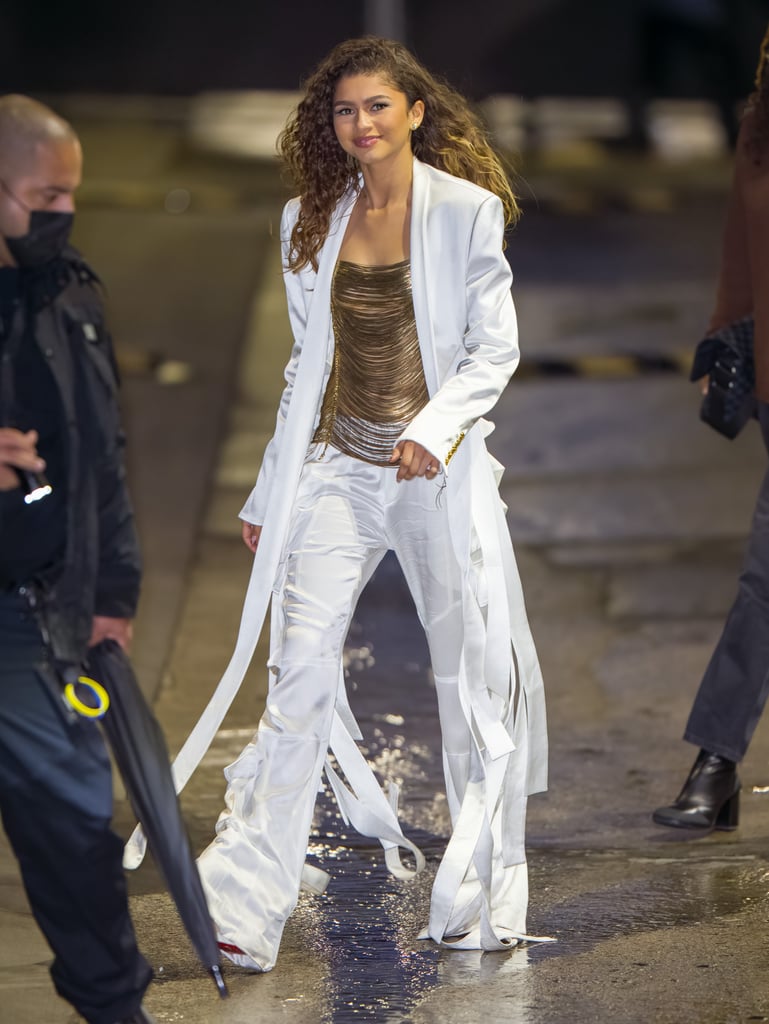 Sure, Zendaya's Slinky Chain Top Is Sexy, but We're More Enthralled by Her Wild Cargo Pants

Everyone's busy talking about Zendaya's beaded cobweb dress at the Los Angeles premiere of Spider-Man: No Way Home — and rightfully so; have you seen it?! — but earlier that day, the actress stunned in an equally as head-turning outfit that should not be overlooked. While heading to film a Jimmy Kimmel Live interview with Tom Holland on Dec. 13, Zendaya took a break from dipping into Law Roach's vintage fashion archives and wore a straight-off-the-runway look from Balmain's spring 2022 collection. Though her sheer metallic tank top was an instant attention-grabber, with its delicate gold chains strung together to create a ruched effect, we were more occupied by dissecting her intriguing white pantsuit.
Both the oversize blazer and cargo pants of Zendaya's suit featured long strips of extra fabric that trailed behind and grazed the ground as she strutted through the streets. We're not quite sure how on earth she didn't repeatedly trip over said fabric strips, but we'll chalk it up to her simply being Queen Zendaya. As for accessories, the star finished her outfit with Bulgari earrings, a gold pinky ring, and white Louboutin pumps. Take an all-angles look at Zendaya's Jimmy Kimmel Live getup ahead to admire her wild suit.
Source: Read Full Article