Listen for echoes of racegoers' gasps at the sight of British model Jean Shrimpton's sleeveless mini-dress in 1965 at this year's Melbourne Cup carnival, with the possibility of men cheering from the rails in the same ensemble.
The Victoria Racing Club has overcome the handicap of tradition to abandon womenswear and menswear categories in the 60-year-old Fashions on the Field competition, replacing them with Best Dressed and Best Suited prizes open to men, women and non-binary entrants.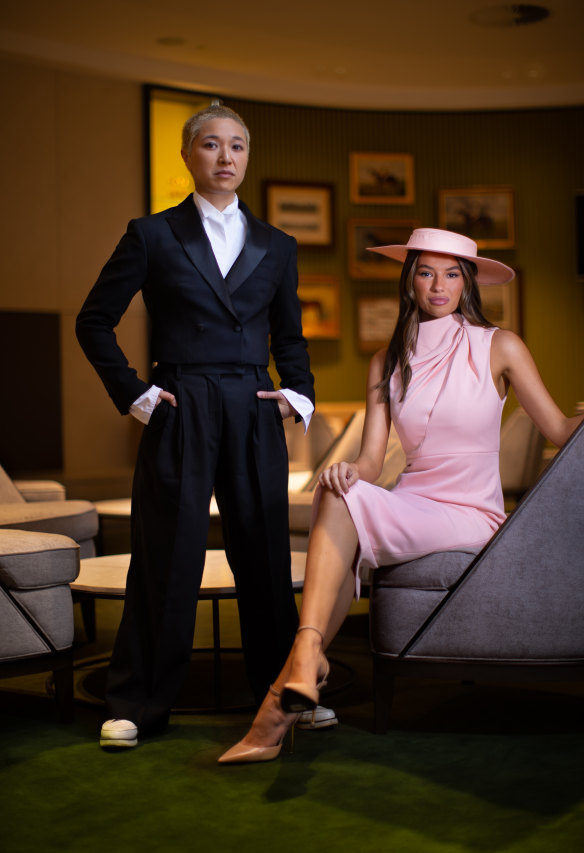 Writer Jess Ho in an E Nolan suit and VRC ambassador Demi Brereton wearing a Mossman dress and Morgan & Taylor hat, celebrating the changing dress code at Flemington for Fashions on the Field.Credit:Simon Schluter
"We are looking at everything we do through a lens of transition and being contemporary," says VRC chairman Neil Wilson, who favours a Tom Ford suit and tie. "We are ensuring that our fashion story drives equality, inclusion and individuality."
"With the return of racing after Covid-19 and the anniversary of Fashions on the Field, this was the right time to make a change. We are proud to have the opportunity as the VRC to promote what is right and what is happening in society."
Melbourne tailor Emily Nolan specialises in suits for women and non-binary customers and looks forward to seeing her designs featured in the lucrative competition, sponsored by department store Myer. Last year the best dressed man and woman each won prize packages of more than $90,000.
"This will be a huge celebration of all genders wearing dresses and suits," Nolan says. "Women and non-binary folk will be able to wear a suit. Men and non-binary folk can enter wearing dresses. Everyone will be able to express their appreciation for the event through the creativity of fashion."
Horse racing is one of few sports with a dedicated fashion category for spectators. The designer outfits of guests at Flemington Racecourse, such as Princess Diana, Sarah Jessica Parker, Naomi Campbell, Nicole Kidman and Paris Hilton at Flemington racecourse, receive as much attention as four-legged competitors and silk-clad jockeys.
Women have been the focus of racewear fashion since the creation of Fashions on the Field in 1962, with menswear a late runner, only becoming an official category in 2001.
"Fashion is what makes racing different," Nolan says. "I would be heartbroken if they had relaxed the dress standards overall rather than opening them up to more people. If that had been the case the focus would just shift to gambling. Now it can be a vehicle for even greater creativity."
Author Jess Ho buys their suits from E Nolan and identifies as non-binary. They welcome the VRC's shift towards greater inclusivity.
"Obviously, the world has changed and the way that people dress has changed," Ho says. "Wearing a suit allows me to feel more dynamic. There's also the advantage over a dress of having pockets. The people who used to enter in suits will now have to step their game up."
Horses will remain unconcerned with the changes, but Wilson is careful not to scare members of the VRC. Dress codes for members' areas requiring men to wear tailored trousers, a jacket, tie and dress shoes remain, for the time being.
"It would be interesting to not take a broader view," Wilson says. "Over time that will evolve. We will work with members as we bring this change in."
Altering the Fashions on the Field categories was made easier for Wilson by the competition's existing terms and conditions.
"Our terms and conditions have allowed this, but we are bringing them front and centre to promote greater inclusion and gender neutrality."
One group bound to have their feather-trimmed hats ruffled is the tight-knit community of serial competition entrants, who attend races around the country searching for sashes. 2017 Fashions on the Field winner and VRC ambassador Crystal Kimber is optimistic about their response.
"I have no doubt these changes will be broadly supported by the Fashions on the Field community," Kimber says. "Giving everyone the opportunity to express themselves on the same stage is exciting for the competition. It's sure to be a hotly contested national competition this year."
Along with the increased emphasis on gender inclusion, the fashion prize now extends to New Zealand residents, 139 years after the New Zealand-bred Martini Henry won the Melbourne Cup.
Digital entries, introduced during the Covid-19 lockdowns, will continue along with the Emerging Designer and Millinery awards.
"The VRC is seen as traditional," Wilson says. "Being traditional does not mean that you can't be progressive."
Make the most of your health, relationships, fitness and nutrition with our Live Well newsletter. Get it in your inbox every Monday.
Most Viewed in Lifestyle
From our partners
Source: Read Full Article