Tobey McIntosh moves with passion and purpose. Thanks to skateboarding and the natural sense of independence and creativity that it fosters, he's built his skate-focused label Crenshaw Skate Club — a platform for him to champion skateboarding culture, give back to his local community and express his unique design language. And this weekend, its latest creative venture will be hitting the masses: a
Crenshaw Skate Club
You've gone from taking your mom's SB Dunks to skate in to now having your very own SB Dunk Low collaboration. Describe what this full circle moment means to you.
It feels surreal. Looking back on the days that I was sneaking around and skating in my mom's Dunks, I never thought that I would have a Dunk collaboration of my own.
There's a ton of symbolism and playful details found on the CSC x Nike SB Dunk Low. Walk us through your favorite ones and why you included them.
My zip code on the bottom of the insoles is one of my favorite details because I love incorporating little pieces of me and CSC's story. Another one of my favorites is the building blocks on the inside of the tongue on the left shoe. It can also be seen through the translucent outsoles, which speak to the growth of CSC and is a representation that if you surround yourself with the right people, you can keep building and reach infinite heights.
One of my favorite Barack Obama quotes "We're the ones that we've been waiting for" is split up on the inside of the shoes. There's also a concealed message that you'll find under the overlays that's revealed with natural wear, but I'll let everyone figure that out.
The Nike SB Dunk is a staple in sneaker culture. How did you balance keeping its heritage while applying your own personal touch to it?
The Dunk is cemented in our culture and you don't have to do too much to make it look good. I wanted to add as many details as possible without shifting all of its panels and adding crazy color-blocking. With all of the graphics and touches, I believe I got it to a really good place.1 of 8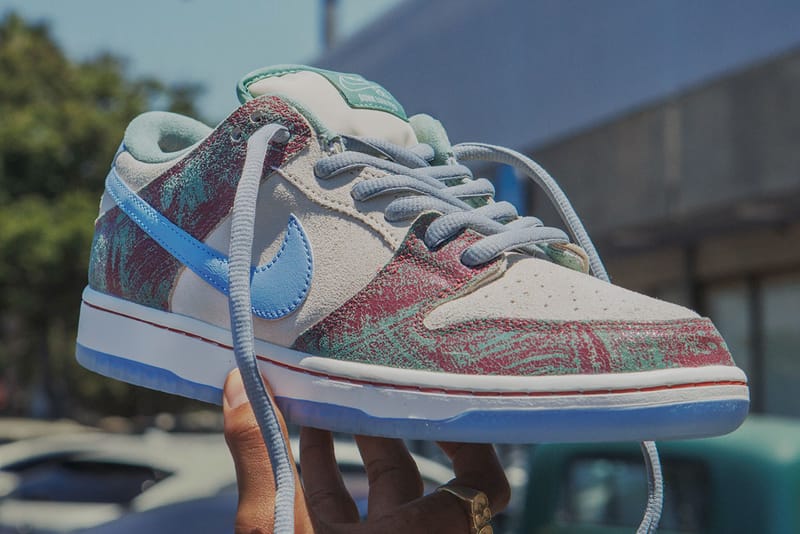 Crenshaw Skate Club2 of 8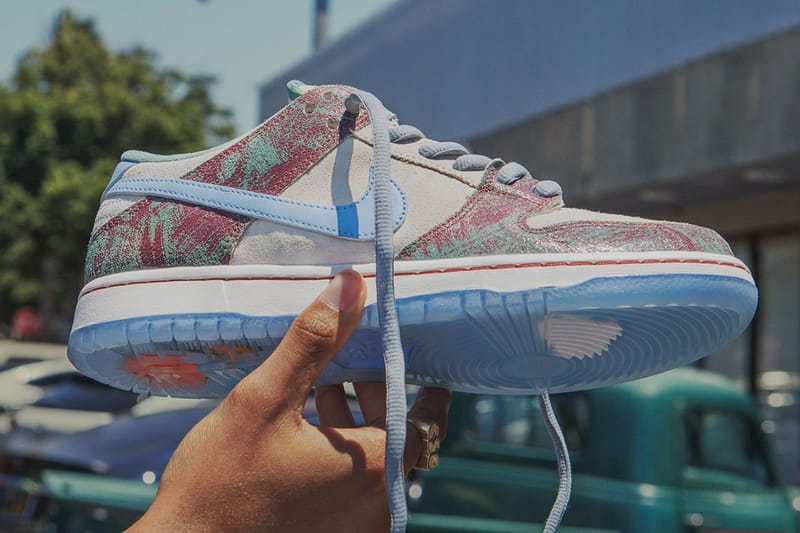 Crenshaw Skate Club3 of 8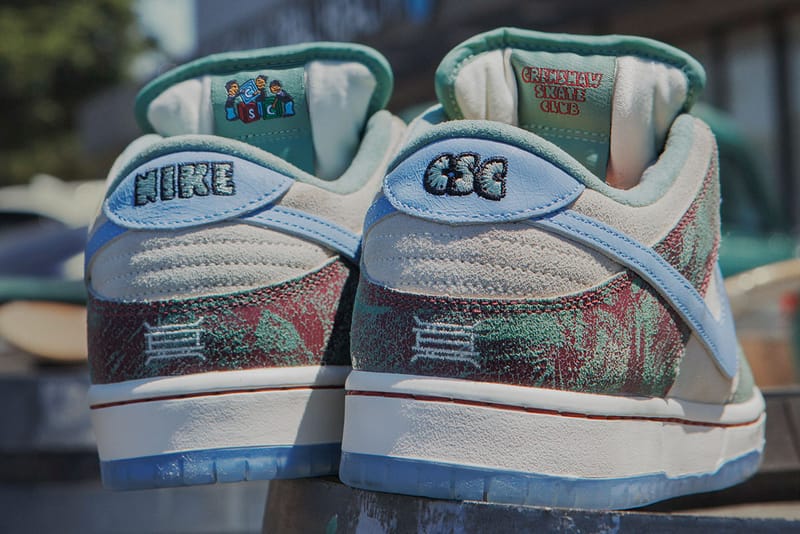 Crenshaw Skate Club4 of 8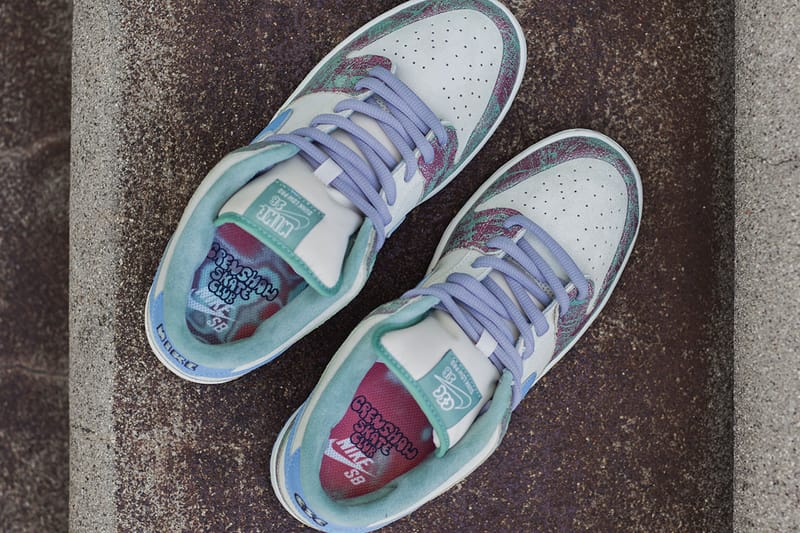 Crenshaw Skate Club5 of 8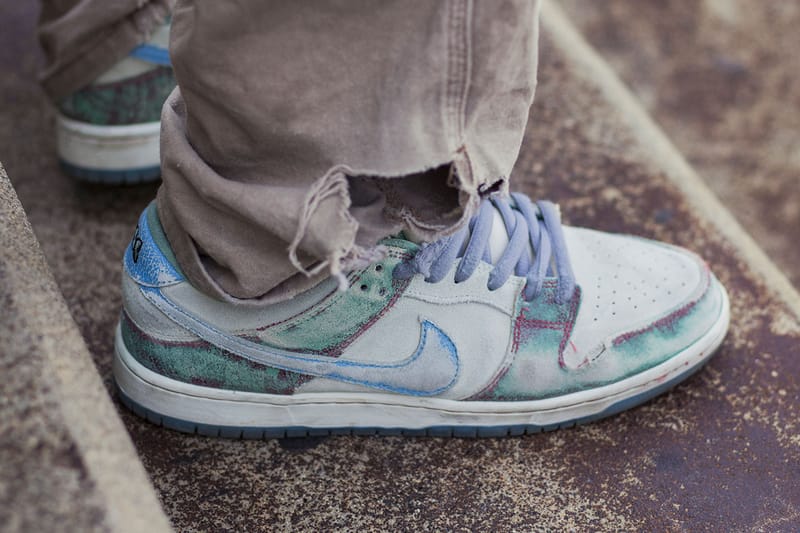 Crenshaw Skate Club6 of 8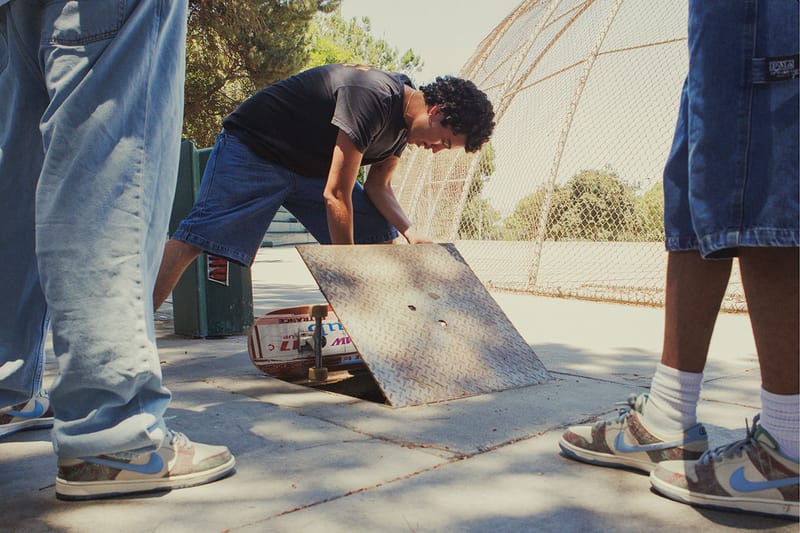 Crenshaw Skate Club7 of 8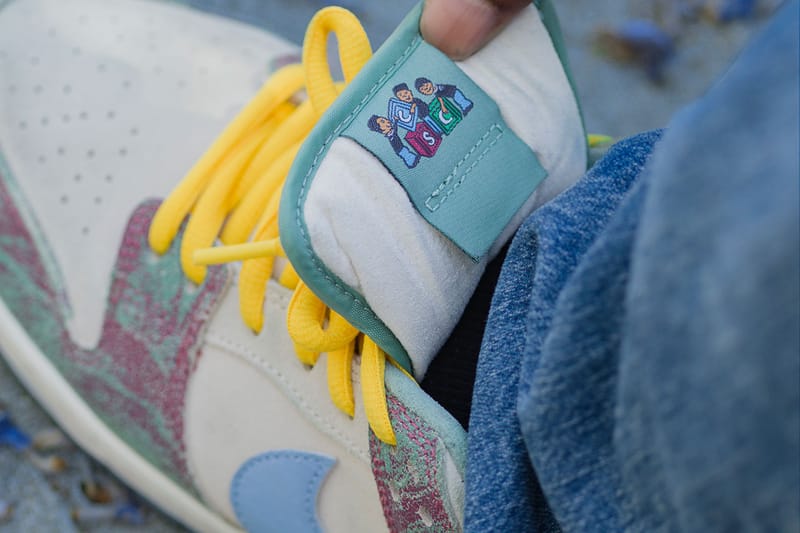 Crenshaw Skate Club8 of 8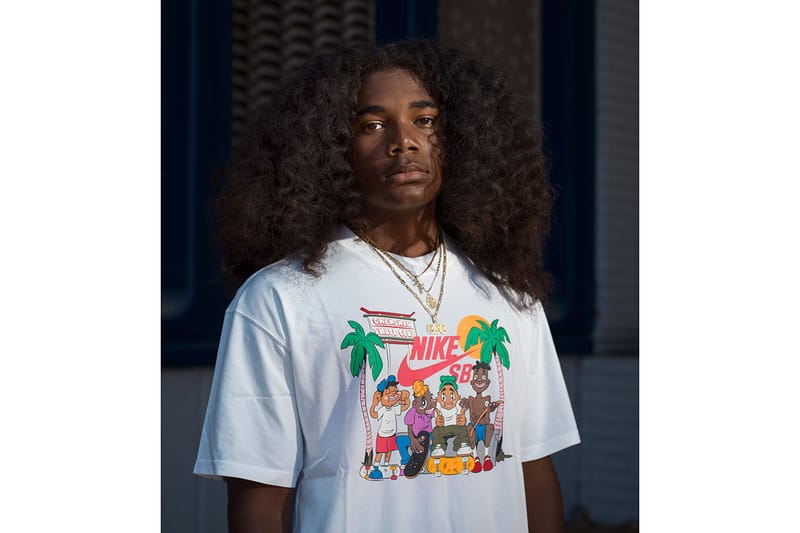 Crenshaw Skate Club
What was the most exciting part of designing this SB Dunk Low?
The most exciting part for me was diving into the materials and the colors. The whole Nike SB design team was super adaptive to my situation by working with me over Zoom calls and texting me back and forth with pictures, swatches and ideas. It was fun playing around with different materials and zoning in on how to mute certain colors to make certain elements of the shoes pop and complement each other.
How about the most challenging?
The most challenging parts of the design process was making the final decisions on the little details, like using suede and/or cracked leather or certain panels. Sometimes you're forced to make decisions without even knowing what it will look or feel like and you've got to trust that it will look good once it hits final production. When I design, I usually like to sit with them and look at them over and over again to make sure I actually like it, but when it comes to footwear, you need to make those calls in a timely fashion.
Describe the difference between designing a performance sneaker such as your Air Jordan 36 PE and a skate/lifestyle sneaker like the SB Dunk.
The Air Jordan 36 was a busy sneaker by nature and my goal was to tone those elements down. I wanted to make them more wearable like a skate shoe that you could also rock off the court with a pair of Dickies or Carhartt pants. Since the SB Dunk is a more simple model, I wanted to include a pattern to spruce it up.
What are your favorite performance aspects about your collab?
The suede on the inside makes the shoes really comfortable during skating and walking. I initially wanted a leather interior, but realized that it was going to make the shoes too hot. I felt like I was doing undercover missions when I was testing out the samples since I was getting them sent to my school and I had to keep them a secret.
"It's only right that we celebrate this huge milestone of the brand with the people that we came up with."
Why was it important for you to host a skate jam in Crenshaw to coincide with this release?
Crenshaw Skate Club is a product of our community and we're made to represent the community. It's only right that we celebrate this huge milestone of the brand with the people that we came up with. It didn't feel right for me to release a shoe and not give the people around me a fair chance at copping a pair so we hosted a community raffle and made sure all the participants had a Southern California ID. It was an opportunity to bring skaters together, have legends like Eric Koston come out and inspire others.
Can you shed light on what the apparel graphics were inspired by?
I haven't told this story before, but the graphic on the blue tee is based off of my first Business of Fashion article. We took a picture sitting on this ledge that had LA palm trees in the background, so I wanted to pay homage to that image and turn it into a graphic.
You've worked with Michael Jordan's brand and now witnessed your skate heroes like Dashawn Jordan, Theotis Beasley and Carlos Ribiero rock your own SB collaboration. Does one project mean more to you than the other, or are they special in their own way?
Each of them are special in their own way. The name Michael Jordan is aligned with greatness, and that's why that project means a lot to me. This Nike SB project is tied to my dreams growing up as a skateboarder. I grew up rocking and skating in Nike SB Dunks, and Crenshaw Skate Club has been a vehicle to allow me to live these dreams out.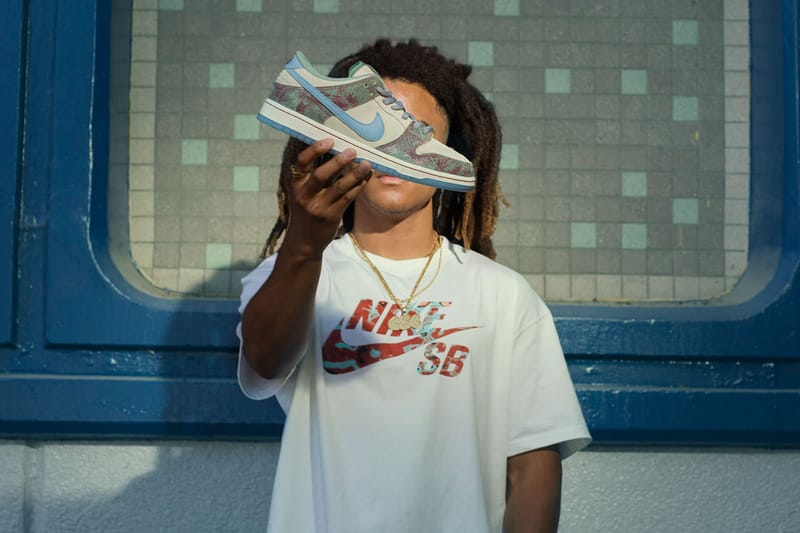 Crenshaw Skate Club
What was your mom's reaction to seeing your collab and did you make sure to give her a pair?
My mom was the first person that I gave a sample pair to. It felt amazing to repay her 10 years later and hand her a shoe that was something I designed. It's funny because once she saw the first sample pair, she congratulated me and said I did a good job, but was also providing me with feedback on how to make it better. She's where I can get my eye for design and I respect her for that.
The Crenshaw Skate Club x Nike SB Dunk Low is scheduled to release August 5 via select skate shops.
Source: Read Full Article