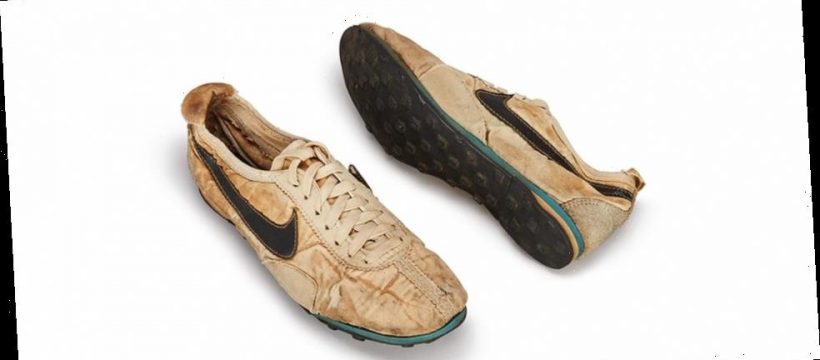 The sneaker was designed by Nike co-founder and ex-University of Oregon track coach Bill Bowerman, who designed the shoe's signature (and now brand-iconic) waffle outsole by playing around with his wife's waffle iron. He poured rubber into it to figure out how to make a sole unit, and this prototype method turned into the now famous waffle sole — becoming the brand's first major innovation as it was better-cushioned and had more traction than any other running shoe at the time.
Taking its name from the way the waffle sole left marks in the dirt and its semblance to the tracks left on the moon in the 1969 landing, the pair seen above comes with even more provenance as it was hand-cobbled by one of Nike's first employees, Geoff Hollister, featuring the legendary two-piece sole unit instead of a more contemporary single-piece as Nike did not have the means for this. Rounding out the look is the vast lack of Nike branding — just a Swoosh with hand-sewn finishing is seen — and its heavily aged white nylon upper.
Previously, the Nike "Moon Shoe" has sold at Sotheby's for $427,500 USD, while others have been listed for around $100,000 USD. Its astronomical price point won't be the only thing stopping you from getting your hands on them, as the supposed limited-to-12 sneaker rarely ever comes up for sale. This iteration is listed on the Sotheby's website now with a price of $100,000 USD. Take a closer look at the rare pair above.
In case you missed it, check out Bubblekoppe's Air Total Max Uptempo collection in this week's Sole Mates.
Source: Read Full Article