Sporting perhaps the most recognizable mustache in all of Hollywood, Nick Offerman earned a place in fans' hearts with his iconic portrayal of Ron Swanson over seven beloved seasons of Parks and Recreation. Beyond his time as the Pawnee government bureaucrat and occasional appearance as Duke Silver, however, Offerman believes many hold a misunderstanding of his true character, often muddled by the inability of some to appreciate the dichotomy between Swanson and the actor himself.
In the hopes of giving his closer followers a better idea of who he is, and to help us all inch towards decency one humorous question at a time, Offerman has joined HYPEBEAST to discuss his latest fan-engaging newsletter Donkey Thoughts, the preparation he made to portray a former porn star in Pam & Tommy, his upcoming appearance in The Last of Us, and his much cherished time in Parks and Recreation.
You've written quite a few books about your life, your work and your musings, but your latest project Donkey Thoughts seems to be the most engaging yet, especially from the standpoint of your fans. What inspired you to start the newsletter?
My fifth book came out last fall and it's called Where the Deer and the Antelope Play. I'm extremely proud of my books. I've written five books and the fourth one was with my wife, and somehow after the fifth book I finally admitted to myself that I wanted to be a writer. I'm a theater actor and woodworker, but I finally said "I guess I love writing." I wanted to try and use my relationship with readers to further my agenda of helping us all inch towards decency while having a laugh.
One of the things that's interesting and that provides some tension in my life between me and my audience is that there are often misconceptions based on what people think about me, what they think about Ron Swanson, and the conflation of the two. I used to engage more on social media, but that got kind of ugly for everybody. It became a bit of a cesspool, and it felt like an obligation to engage constantly, so by getting a Q&A format going on Substack, it's a way that I can engage with my audience and have an open conversation that hopefully allows all of us to remember that any kind of human conversation requires nuance.
But that was the idea: to try and maintain a writing discipline where I'm writing more regularly and not just when I have a book to put out, and to also engage in these kinds of conversations with my readers.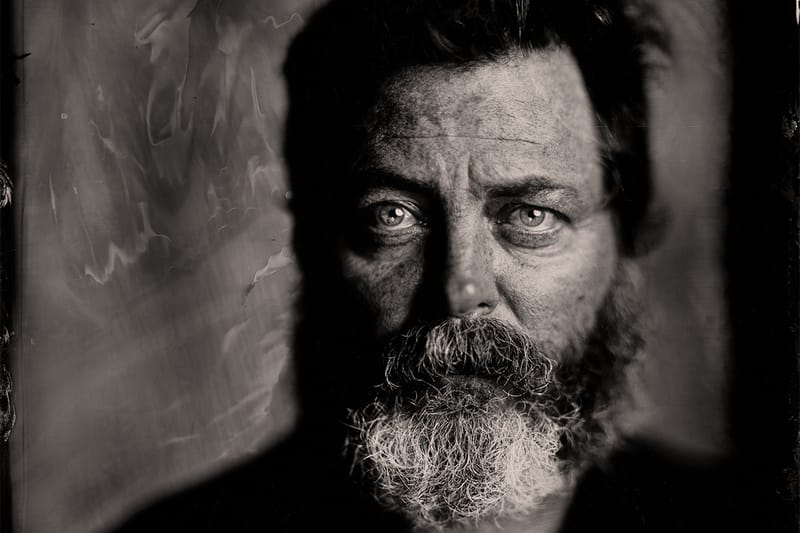 Giles Clement
On Pam & Tommy you spent a lot of your time working alongside Seth Rogen, another comedic legend. What was the relationship like between the two of you?
I'm so proud of Pam & Tommy and I'm so grateful they wanted me to play an utter scumbag in the show. Amazingly, I had never met Seth Rogen. It's so strange, our Venn diagrams have bounced all around each other for a couple decades but it was wonderful to finally meet him. He's so great and so funny, he's just so laid back. Whatever you think his personality is, he's really like that. He's just this guy who won the lottery of life and goes "Yeah, I'm not going to worry about anything. I have a great life in comedy and producing stuff and I have a weed company and I'm amazing at pottery."
He brings that wonderful disposition that's so stress-free to the set. I think it's because his body of work by and large is in the lighthearted romp and nothing deeply serious, I'm not aware of any profiles of what a great actor Seth is. He's the champion of a genre but he's not on the list of Anthony Hopkins, Daniel Day-Lewis, Seth Rogen, so that was the wonderful surprise: I already liked him and I think he's so funny, and then we started doing scenes together and I thought "Oh shit, he's fantastic! He's a great actor!" He plays it off so cool and effortlessly that that hadn't occurred to me.
In the show, you played Uncle Miltie, a former porn-star-turned-porn-director. How does one go about preparing for such a role?
There's a lot of research that goes into it, a lot of careful negotiations with one's spouse before conducting said research! Well, I mean I've played a handful of real people and I've participated in a few true-story films. When you're doing theater – which is where I come from – and you get cast as Hamlet, the one thing you learn not to do is to go and look at other Hamlets. I want my interpretation to be as clean as possible, so if I go watch Ralph Fiennes or Denzel or anybody else, I'll think they're really cool and then it gets in your head.
With that in mind, playing Miltie – there's not a lot about him. I'm not sure if he did an Internet wipe, and he's no longer with us. He died around 20 years ago from cancer, I believe. The thing is, when the writing is good, and the writing was exceptional from Robert Siegel and D. V. DeVincentis, it answers all the questions I would have. I don't need to visit a porn set to play a porn director. I've directed TV and I've directed episodes of Parks and Rec and so all I have to do is imagine those characters naked and I'm good to go. "Pratt, slow down, be gentle with your co-star."
Mainly reading all of the great research the team compiled about the story itself is what really colored it. All I needed to know was that my character was human. You've got to be able to love your character even if he's a terrible villain, and it's easy. I don't know about you, but I've had a few times in my life where if I had made the wrong decision, I could be in prison or I could have died. So when I look at somebody like Miltie, I think "Wow, with a few wrong decisions, that could've been me easily." He's running a company where he's responsible for the livelihood of these performers and all of the crew in his adult films, but the opportunity comes to him to exploit this stolen property of a sex tape, and his decision was to be a piece of shit. Presented with a moral choice, he made the wrong decision, and not only did he milk the tape as much as he could, when income started trickling in, he also stole that and hid in Amsterdam. That's all I needed to know to color the way I played my scenes with Seth and the great Andrew Dice Clay.
You're also going to play Bill in the upcoming HBO Max series The Last of Us. Fans know that you have a lot of different hobbies but video games might not seem like one of them. Were you familiar with the game before you were cast? Have you played the game since?
I had never heard of it when they asked me to join the show, and I was astonished to learn that it was this incredibly lauded, massively popular video game. The way my good friends spoke about The Last of Us just really blew me away. I don't think I'll ever play it, and frankly I kind of enjoyed not knowing anything about it. I don't think that was necessary to do the job that I did, but I think the show will be astonishing. The caliber of artists that are working on it are absolutely top drawer. Craig Mazin, who did the show Chernobyl, was the one who invited me to come work on the show and it was like Meryl Streep inviting you to do a two-hander play with her. I just couldn't believe I would get to work with the greatest talent. Of course, I asked a lot of questions when I was there, and I learned a lot about the mythos of the show and the overall narrative. With The Last of Us, I wanted to give myself the treat of watching the whole show for the first time and I love it.
Would you ever venture out further than video games into comic books and science fiction?
I am a huge comic freak and graphic novel fan across my life. It's interesting, at some point it fell off. I'm not sure what the timing was. The last graphic novel run I did was Preacher, The Boys, Scalped, Powers, Why the Last Man, and those were the last ones I consumed. Luckily, I just got so busy with amazing acting jobs that I had to drop a lot of my comics time, all my reading time, and my workshop time. It's weird – I miss those things, but it's because my dreams came true, so I don't miss them that badly.
But to answer your question: absolutely, I would love to do any of those movies! I'm a theater actor, so as long as the writing is good, I don't have a genre I stick to. I want to play terrifying bad guys or hilarious good guys and everything in between. I love science fiction, and I was so over the moon when Alex Garland wanted me to do Devs, I cried. It was such a crazy dream come true because his movies are so beautiful. His brain, his artistry and his collaborators like his art department and the musicians and his DP Rob Hardy are all astonishing.
So absolutely, I'd love to do all that stuff like Doctor Who, anything Neil Gaiman's doing, comic book superheroes, you name it and I'm there.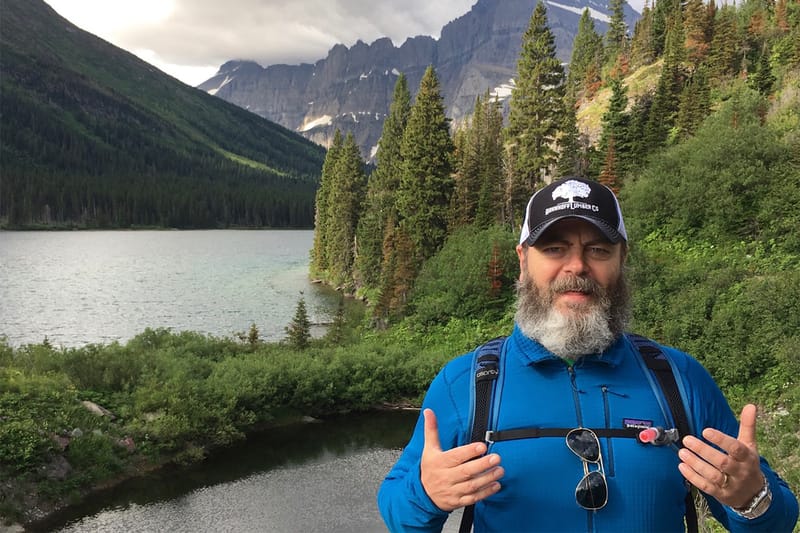 George Saunders
With Parks and Recreation, you worked with a very talented cast including Amy Poehler, Aziz Ansari, Adam Scott and Chris Pratt. How was it working with a group of such big names and are you guys still in touch?
The all-star cast was the most incredible array of top-notch actors, and then Jim O'Heir, who played Jerry, was also there. It was such crazy lightning in a bottle. They had Amy, who's a proven comedy machine from Saturday Night Live, and Rashida Jones who was in The Office but by no means the sensation she became with Ann Perkins, but pretty much everybody else was relatively unproven or unknown. You never know in this business, especially when you're creating a comedy series like that and throw eight to 10 flavors into a pot and hope that the stew turns out delicious. It just couldn't be more wonderful, and the fact that we got to do 125 episodes was bananas. Of course, it wasn't just the cast. The writers were amazing, first and foremost. If it's not on the page, it's not on the stage, and it's all because of Mike Schur and the entire room of writers that evolved.
All throughout the series, we had a cast text thread and anything can happen on it. A few days ago it was "Happy Birthday Rashida," and the day before that it was the seven-year anniversary of the finale airing, and then there was NBC trying to get everyone together to do something. It's really like a family: sometimes three or four months go by and you don't hear from anybody, but Retta is officially the mom of the chat. She's the one to remind us to say happy birthday or congratulations when Chris Pratt had a kid. It's really something. Very few actors have the incredible gift of not only having seven years of a show like that, but having the cast still like each other at the end of it. It's unheard of. If you have a show that runs for seven years, it means everyone is getting more successful, and when you have 10 siblings who are all getting successful… you do the math.
Is Ron Swanson your favorite character you've ever played? How do you look back on your time with the character?
Like I touched on earlier, I got to Hollywood in my late 20s and saw what a disgusting business it is. So many people are telling you that you have to hustle in these superficial ways, like looking like certain people in magazines and getting headshots. "In fact, my brother is a photographer and you should pay him for headshots, and I teach acting classes, you're never going to get anywhere unless you pay me for my advice." It's so predatory. People were literally saying "You've got to be a shark. You have to be always on the move. When you have a meeting with a studio, you have to make them want to bang you in the room. They have to think if they don't bang you right now, you'll go to a rival studio and they'll get to bang you." I'm just a theater actor who's so nerdy and old fashioned, and just wanted to portray characters and perform dialogue, so when I saw how Hollywood was, I just realized the thing I had to do was step out of the race.
That's when I really focused on woodworking, and I thought if I just end up making furniture for a living, that's fine. I'm not going to ambitiously chase the gross parts of Hollywood, so it took a while for things that weren't gross to find me – independent films, little parts here and there. When I finally got Ron Swanson, I had a very good idea of what it'd be like. I was a huge fan of The Office and I'm old friends with Rainn Wilson, so I knew these were my people. I said to Megan when we were watching The Office: "If I'm going to make it, it's going to be a show like this, with a part like Dwight Schrute." And it was so insane, because it was exactly what happened. It was the same writers – Greg Daniels and Mike Schur – and the same exact niche of the weird adjunct to the protagonist that has really strange personality traits. I just dealt with it organically, and finally the writers told me "The way you talk, your demeanor and your woodworking – we can use your ingredients," while the shitty part of the business was asking me why I'm talking so slowly, why am I so weird and where's my X-factor. I told them "I don't know, but hopefully one day Greg Daniels and Mike Schur will show me what my X-factor is, and they'll show all of you." Turns out it was my mustache, and here we are.
Source: Read Full Article