In the past year alone, Helinox has collaborated with Stüssy, Patta and Jordan Brand. Those brands — along with many others — have been invited to put their own spin on the Korean label's outdoor-focused collections, leading to co-branded chairs, a purple tent in collaboration with BTS, and even a "café on the go" alongside Café Kitsuné.
Over the years, Helinox's collaboration strategy has helped place the brand at the forefront of the outdoors furniture market, with its signature Chair One piece being remade and redesigned by labels from across the fashion industry. "Really, it comes down to working with people we admire and want to create interesting designs with," says Azul Couzens, Helinox's senior vice president of sales and marketing. "At its heart, it's about designing interesting and functional products that are portable and lightweight, staying true to who we are in our DNA. But we also recognize that different people have different senses of style, different sensibilities to what is going to fit their personal lifestyle, and so finding the right brands to collaborate with has been part of that approach."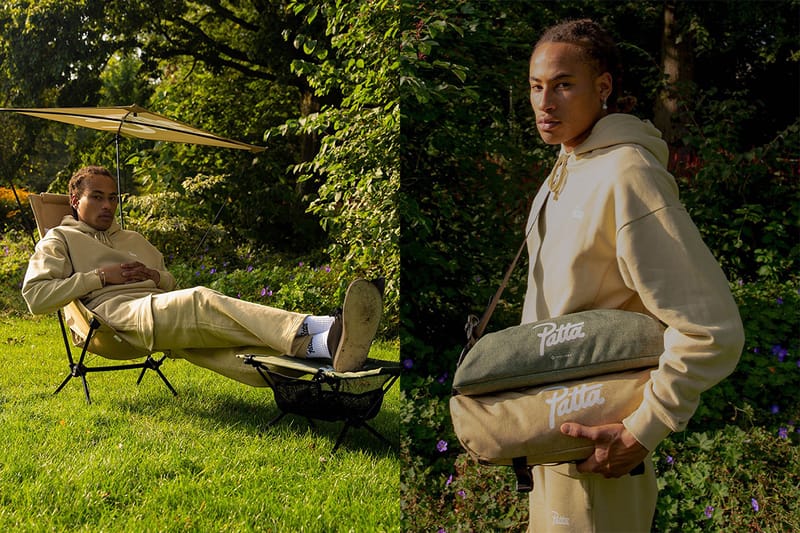 Patta X Helinox
The brand — which was founded by Young Lah in 2008 — uses its collaboration and design strategy to further its "at home, anywhere" mission statement. "It's really about more than just sitting in a chair and feeling comfortable," Couzens continues. "It's about the sense of relaxation when you get home. We aspire to create that moment for people whether they're on a mountaintop, a rooftop, in the park or out camping with friends and family."
This "at home, anywhere" message is spread through Helinox's forays into the fashion world, which allow the brand to reach a different audience. Reaching this audience also allows Helinox to push forward another idea that's central to the brand. "Helinox has an opportunity through these collaborations and through working with these brands that have a reach beyond the outdoor space to invite people in and then nurture that relationship," Couzens says. "To me, that's great, it's exciting. It's an invitation to come and participate in the outdoors and have a product that facilitates a more comfortable experience when doing so."
"It's an invitation to come and participate in the outdoors and have a product that facilitates a more comfortable experience when doing so.
While working with brands in this space helps Helinox reach new audiences, these collaborations also allow other brands to explore the outdoors market. "There's always been a connection between streetwear and functional outdoor gear," explains Lee Stuart of Patta, the Amsterdam-based label that has worked with Helinox a number of times in the past.
"For the first collaboration, we took Amsterdam city life as the starting point," continues Stuart. "Amsterdam apartments are often very small, so we wanted to make a product that was easily stowable as well as being suited for different uses. That's why we added rocking feet to the chair and the leather cover. For our second collaboration, we leaned into the outdoors more, adding the shade so it was practical for outside activities."
Stüssy X Helinox
As Stuart says, the overlap between functional outdoors gear and streetwear is long-established, although it is also changing. In recent years, luxury houses have entered the space in a new way, with Jil Sander+ recently working with Arc'teryx, while The North Face has previously partnered with Gucci and MM6 Maison Margiela. While these collaborations help to establish outdoor labels in the luxury world, the chances of seeing a Gucci-branded tent in a campsite or a Jil Sander ski suit on the slopes is relatively slim. For Helinox, however, collaborations offer a chance to invite more people to explore the outdoors.
"There's obviously a wave of participation in the outdoor experience that breaks the traditional vertical of camping and mountaineering," says Couzens. "This idea of remote work, remote living, there are a lot of things going on where people are resonating with this idea that home isn't just a 30 year mortgage locked into a suburban lifestyle. There's a more nomadic experience. I think our brand is able to give them some of the tools to live out that experience."
Source: Read Full Article