De Bethune has adorned the one million year-old meteorite dial of its latest watch with its Starry Varius solar system of white gold pins.
The DB25 Starry Varius Aérolite – which will be limited in production to around five pieces each year – is housed in a 42mm polished titanium case with open worked lugs and a dead beat jumping seconds hand.
The Swiss atelier is no stranger to meteorite, its co-founder Denis Flageollet has used the ferrous material several times before, most spectacularly for the case for a Dream Watch 5, and still experiments with a "iron ore reduction" process to create his own version of the metal.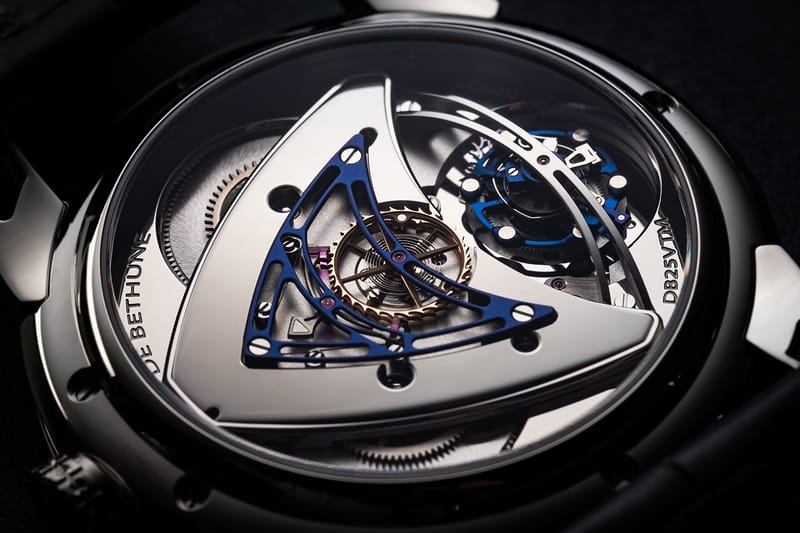 "No other metal is as charged with pure energy and emotion as the iron meteorites that have taken shape in the furnace of the stars," says Flageollet.
Flageollet is now working with Muonionalusta Meteorite, which is believed to have struck the Earth one million years BCE "somewhere between Finland and Sweden" and is thought to be one of the world's oldest meteorites and is distinguished by the "perfectly geometric lines of its 60° cross-hatched Widmanstätten pattern.
The meteorite dial is first thermally blued before being set with the array of differently sized white gold pins to representing a solar system, with the customers able to choose specific constellations on any given time, date and place.
The watch also features a 30-second tourbillon of titanium and silicon – weighing just 0.18 grams – with a high beat 5Hz escapement, visible on the reverse through a sapphire crystal exhibition caseback.
The DB25 Starry Varius Aérolite is out now via De Bethune retailers, priced CHF 250,000 (approximately $258,000 USD) excluding taxes.
Elsewhere in watches, HUF and G-SHOCK collaborate on 20th Anniversary GA2100.
Source: Read Full Article