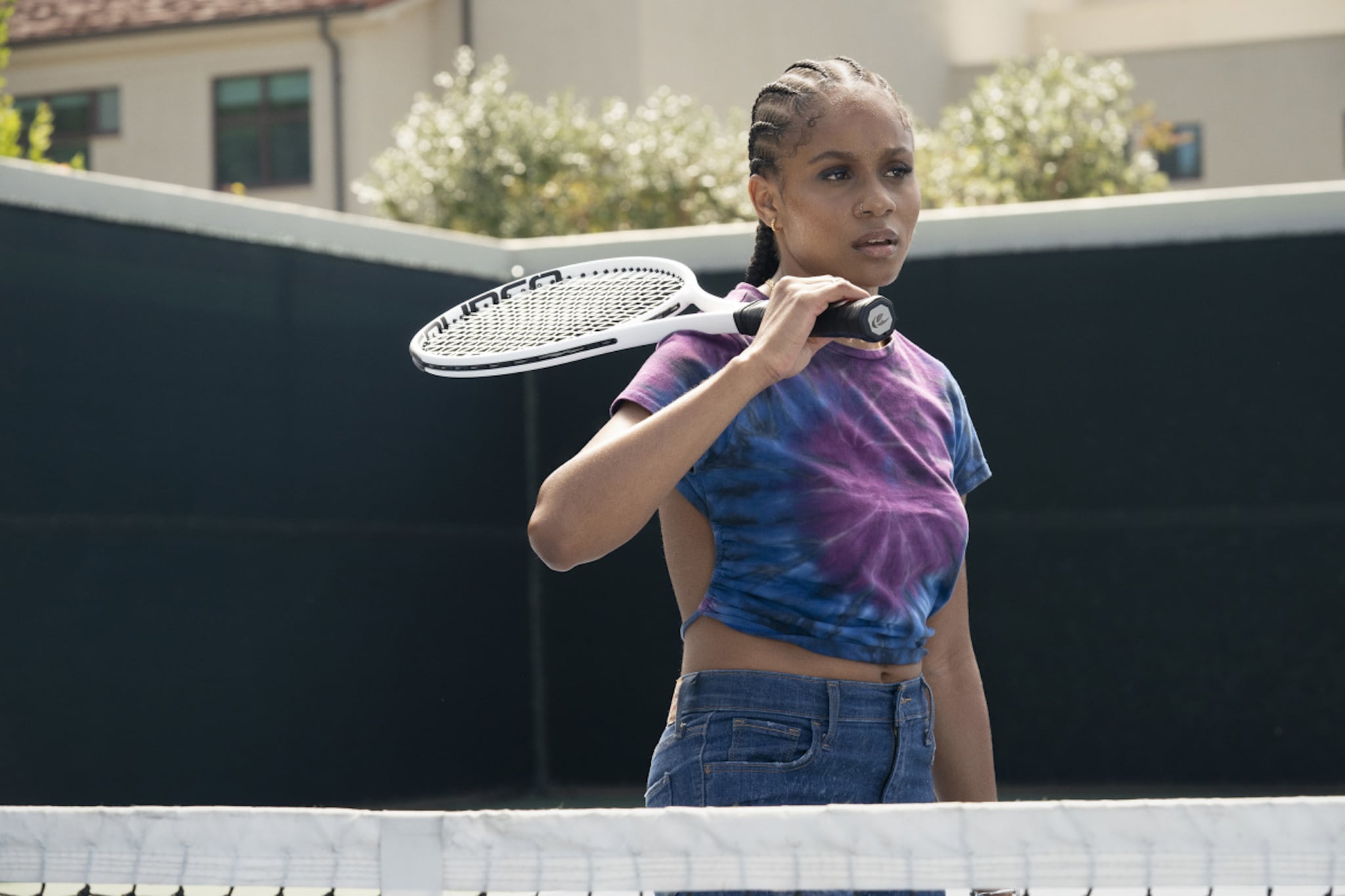 Image Source: The CW
The CW struck gold when it debuted "All American" in 2018. For the past four seasons, the sports drama has largely focused on star football player Spencer James — inspired by the true story of former NFL player Spencer Paysinger. So when talks of a spinoff series, "All American: Homecoming," began, many assumed the second installment would naturally continue Spencer's story. But showrunner Nkechi Okoro Carroll had plans to center tennis star Simone Hicks (played by Geffri Maya) instead.
"I know it was very jarring for a lot of people because they didn't really see me that much [on 'All American']," Maya tells POPSUGAR. "So I was shocked, too, but my showrunner believed in me, and she's so supportive." Maya was stunned when she learned she scored her own show — her character was only set to appear on "All American" for a handful of episodes. Confusion from the show's fanbase didn't surprise her at all, but she was pleased to be in a position to tell a new kind of story for the franchise.
According to Maya, Carroll is "very specific" about her vision for the new show. The showrunner is intent on celebrating Black people — not just their talents, but as humans. So Simone's character gave Carroll a chance to tell a new kind of story about Black student athletes. "I couldn't be more grateful for the opportunity because of the storyline, the direction that [Carroll]'s taking it, and how she wants to represent Black athletes in general. They deserve so much love for what they do and how they are. It's a gift for real. So I'm excited to be able to tell this story."
"All American: Homecoming" follows Simone as a college freshman at Atlanta HBCU Bringston University, gunning for a spot on the women's tennis team. When Maya learned she'd lead the series, she brushed up on her tennis skills to prepare for scenes. "The second that I knew the pilot was a go, I wanted to dedicate my time and energy to the craft," she tells us. "Because, again, it's just not something that I normally do, and I didn't want to half-ass it. I wanted to give honor to the sport and the time and dedication that these women put on the line every single time they step on the court."
The spinoff also spotlights Chicago baseball star Damon Sims (Peyton Alex Smith), who turns down the chance to join the major league to help build up Bringston's baseball program. The significance of "All American: Homecoming" is, of course, how much the show emphasizes the value of Black institutions. But the series also shifts the conversation to include student athletes pursuing sports that don't just include football and basketball.
"It's profound because I know that there's a lot of amazingly talented athletes that are choosing to go to HBCUs, again, just to give back to the community with their talents," Maya says of the sports focus. "PWIs [predominantly white institutions] and other institutions, of course, we could go there, but if you have an opportunity to play the sport that you love and put a school on the map that was created for you, by people that look like you, it's a win-win in that case. It's just profound to me to be able to tell stories about Black athletes in general because at the end of the day, we are more than just our talents, and we deserve to show that human aspect to them as well."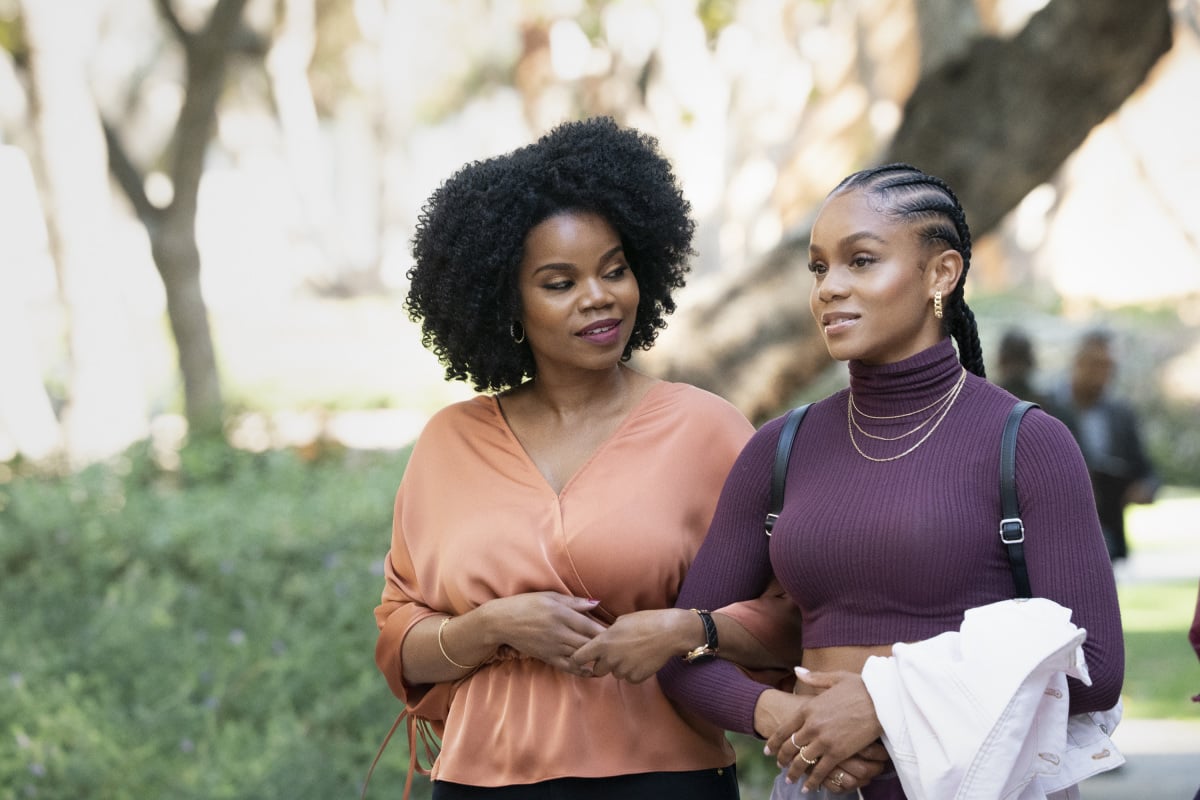 Image Source: The CW
As a Clark Atlanta University alum, Maya takes pride in being able to share her HBCU experiences through "All American: Homecoming." Attending an HBCU is "an experience that you won't get at any other type of institution because the HBCU experience is very special," she says. "I thought it was just an alignment that God allowed me to have this opportunity because I literally lived it." Carroll was very open to Maya's stories and memories to add a bit more color to the show's fictional world. "I think that we do a great job at creating these little worlds for each of these characters, but again, that melting pot of showcasing the journey with your tribe because you ultimately do build that in school," Maya adds. "You find your people, and that creates a different experience, too."
"All American: Homecoming" explores the journey of independence that most college students embark on — from managing a work-life balance to setting financial boundaries to handling all of life's curveballs as an adult — through an HBCU lens. As an extension of "All American," the spinoff aims to add to the foundation that the original built: uplifting Black youth. "The overall point of creating 'Homecoming' was not to take away from the mothership show," Maya explains, "but build and expand on the characters that [Carroll]'s created in that world." While the show aims to bolster HBCU representation on TV, Maya clarifies that it's not the be-all and end-all for diverse storytelling.
"I think the biggest thing that people have to realize is that Bringston is a fictional HBCU, and there's so many different experiences that Black people alone have that we can't take every single experience and think that we're going to literally encompass it in 13 episodes. There's no possible way," she points out. "But if we can all be open-minded and receive the show for what it is — that we're trying to create for our world and hopefully touch on things that people can relate to — then I think we're ultimately doing our job."
Source: Read Full Article