Warmer weather is upon us, and for the first time in almost a year, we're able to enjoy it fully. But if most of the last year has meant a regular rotation of sweatpants and baggy pajamas, it might be a slower transition back into summer shorts.
To make the switch feel a bit easier, HYPEBEAST has curated a list of 12 stellar season-appropriate trousers that will see you through the summer — at all price points. Read on to find your perfect go-to pair. 
Our Legacy Borrowed Chino "Dark Navy Chintz"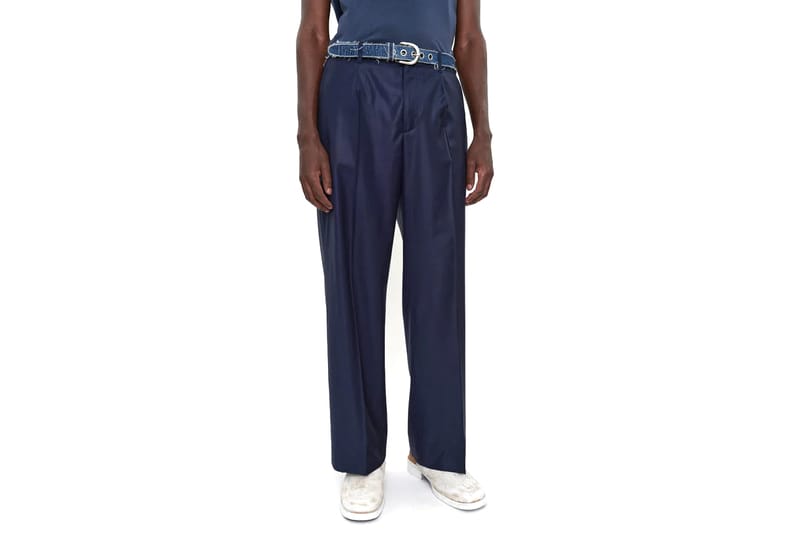 Our Legacy Borrowed ChinoApprox. $410 USDOur LegacyOur Legacy Buy
Aside from IKEA and ABBA, Our Legacy is arguably Sweden's greatest export. Known for its clean aesthetic and fuss-free approach to design, if Our Legacy knows how to do one thing well it's trousers. These Borrowed Chinos are made from a fine wool and poly-tech fabric, which may sound warm but you'd be wrong — a wide leg, silky material combo makes for a breezy, easy-to-wear all summer look. 
HOMME PLISSÉ ISSEY MIYAKE MC March Trouser "Ivory"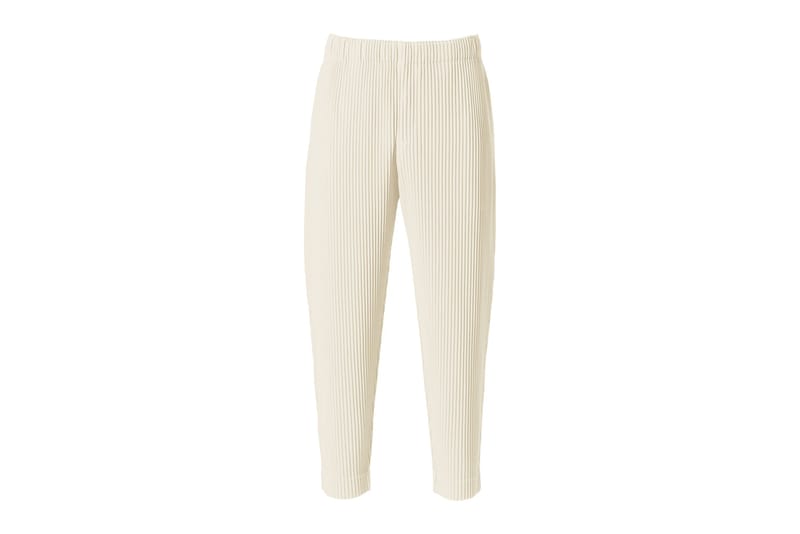 HOMME PLISSÉ ISSEY MIYAKE MC March TrouserApprox. $425 USDHOMME PLISSÉ ISSEY MIYAKEHOMME PLISSÉ ISSEY MIYAKE Buy
It'd be remiss to not include a pair of HOMME PLISSÉ ISSEY MIYAKE trousers in a "best pants" roundup. The design has become a staple in many people's lives, frequently making appearances at fashion weeks and in Zoom calls alike. There are dozens of cuts, colors, and textural finishes to choose from, and in the specification you see above, you really can't go wrong for a "goes with anything" summer look. 
COS Patch Pocket Trouser "Turquoise"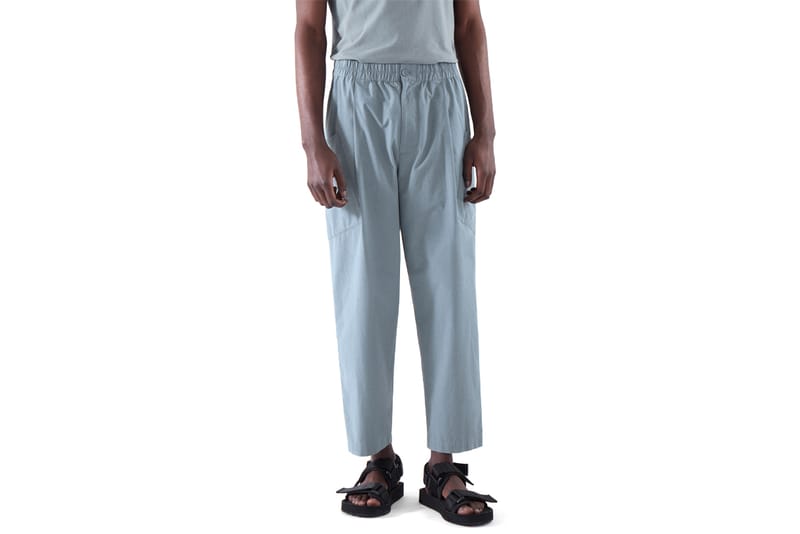 COS Patch Pocket TrouserApprox. $84 USDCOSCOS Buy
COS is great for affordable, elevated essentials. These trousers combine a utilitarian aesthetic with a muted turquoise hue and pleats down the front, which means they're perfect for a more casual office look before heading off to the park in the evening. 
Eckhaus Latta Beach Trouser "Cortado Stripe"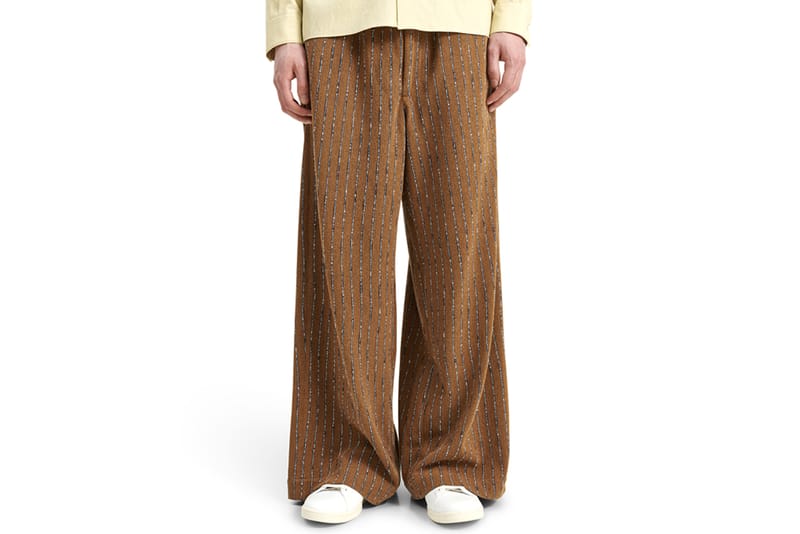 Eckhaus Latta Beach Trouser$560 USDTrès BienTrès Bien Buy
You can always count on Eckhaus Latta for some extravagance. By mixing cotton with polyester and nylon, the progressive label has made thick and sturdy trousers that somehow float and collect by the ankle, bagging up at the bottom with all their weight sitting low — meaning you're cool where it matters. 
Stone Island Cargo Pants "Petrol"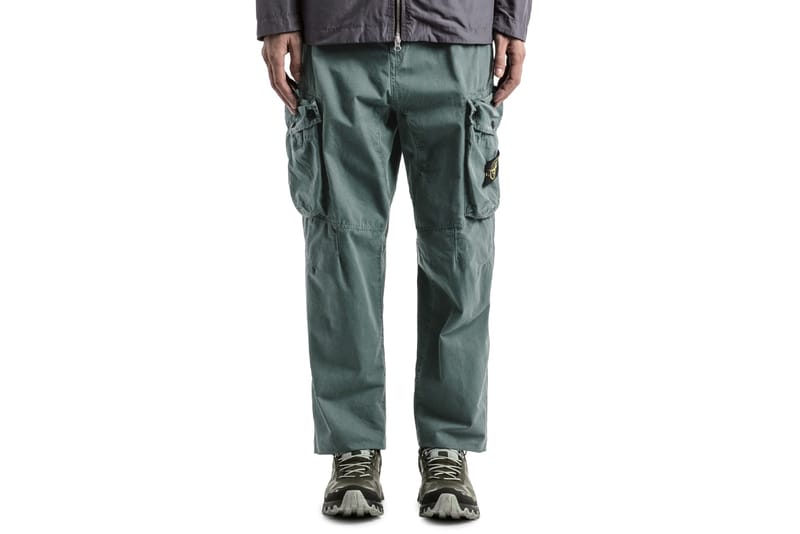 Stone Island Cargo Pants$523 USDHBXHBX Buy
Another fool-proof pair from yet another faithful brand. These Stone Island Cargo Pants in "Petrol" tick all the boxes — lightweight, colorful, not too overtly branded but still IYKYK-enough, they finish at the right spot to show off your sneakers. Need we say more?
Nedews Wrinkle Biz Wide Pants
Nedews Wrinkle Biz Wide PantsApprox. $92 USDNot Just Another StoreNot Just Another Store Buy
East London-based Not Just Another Store carries some of the fashion industry's best soon-to-break-through brands, and Nedews is no exception. Its Wrinkle Biz Wide Pants are described by the concept store as "silky pants [that] are a staple for adding some flair into your look," and we agree. They're great for wide-leg pant newcomers, as the color and textures provide a safe bet as opposed to more daring pairs on this list. 
Acne Studios Fluid Pants "Anthracite Grey"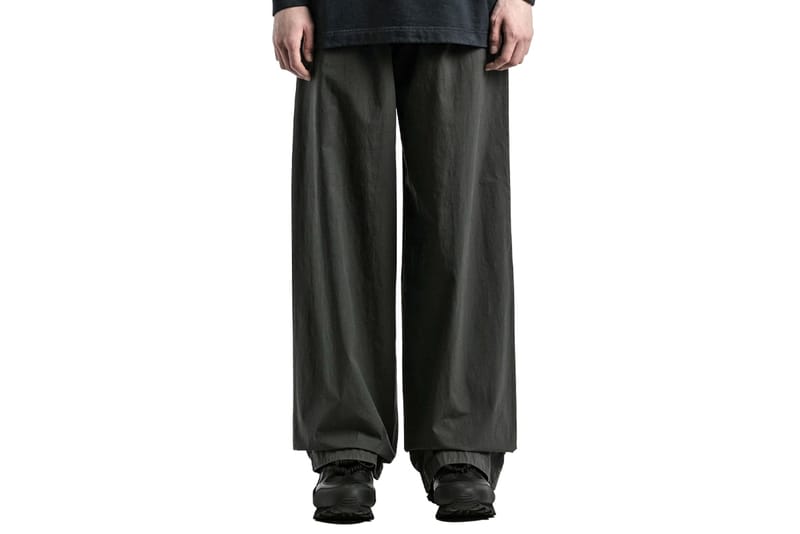 Acne Studios Fluid Pants$350 USDHBXHBX Buy
Acne Studios' Fluid Pants come in a variety of colors, but because of their shape we're sticking with something tried-and-trusted — "Anthracite Grey." We're aware baggy trousers are on their way out, but these ones transcend trends thanks to the way they drop from the waist, giving you a straight edge and thus making you look taller, which is rare with pants of this shape. 
Eye/LOEWE/Nature Drawstring Trousers "Orange"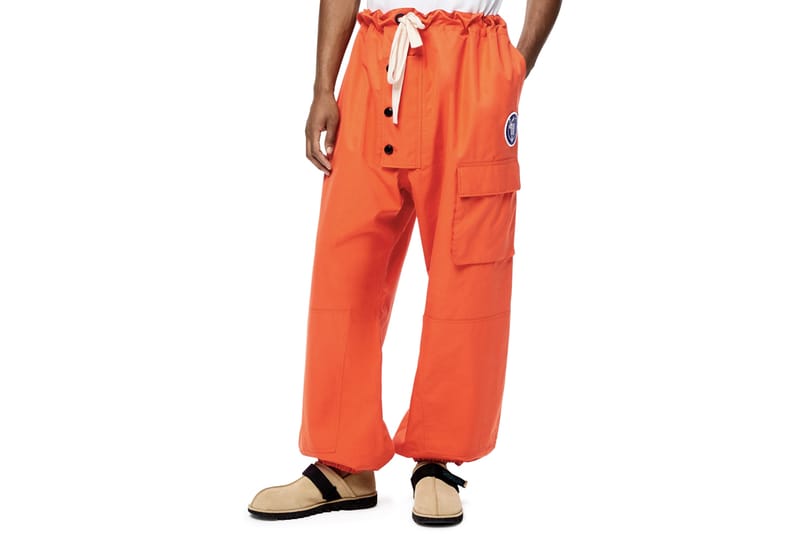 Eye/LOEWE/Nature Drawstring Trousers$750 USDLOEWELOEWE Buy
Jonathan Anderson at LOEWE is without fail one of the best things to happen to the brand in years, and the Eye/LOEWE/Nature division is proof of this. These bright orange drawstring trousers are unmissable and aren't for the faint of heart. Wear with pride (and a white T-shirt). 
UNIQLO Linen Blend Relaxed Fit Trousers "Green"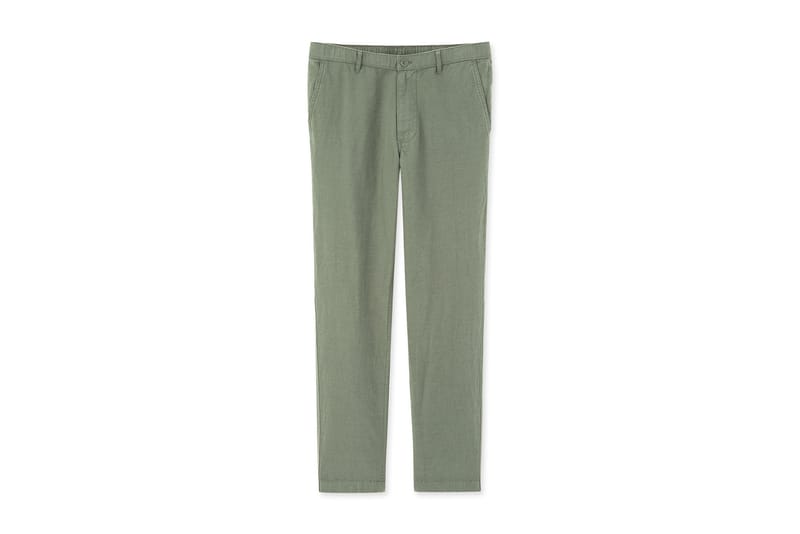 UNIQLO Linen Blend Relaxed Fit TrousersApprox. $50 USDUNIQLOUNIQLO Buy
Our most affordable trousers on this list come from the mainstay that is UNIQLO. You can never go wrong, here. Linen is naturally thermoregulating, so they'll keep you warm in the winter and cool in the summer. If you're a heavy perspirer, then these are also good for you, as linen can absorb up to 20 percent of its own weight in water. Lastly, this sage green hue is sure to see you not just through summer, but from season to season. 
Nike ACG "Smith Summit" Cargo Pants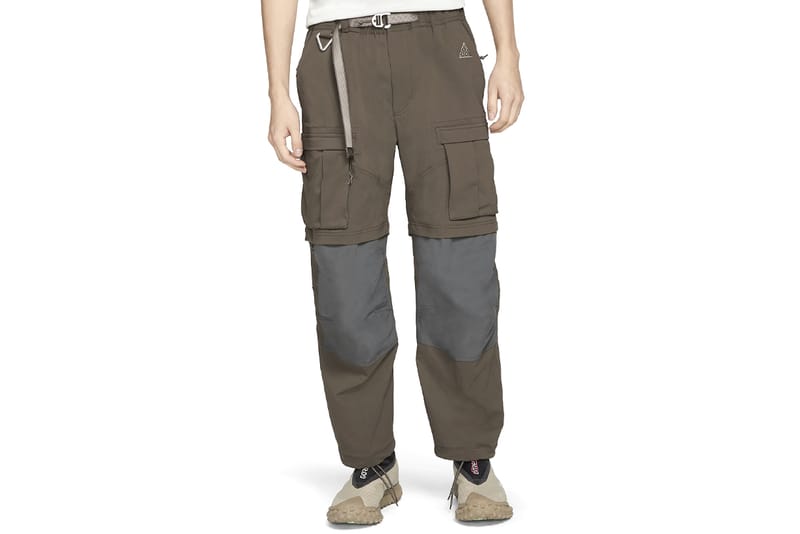 Nike ACG Smith Summit Cargo Pants$180 USDNikeNike Buy
Not every summer's day is scorching hot, so for the times when the elements are at their worst opt for a pair of Nike ACG's "Smith Summit" cargo pants. Made from sustainably sourced, recycled polyester and nylon fibers, these trousers are tough and water-repellent meaning they can take a battering from the weather. However, the baggy fit and roomy feel will make sure you won't get too hot when the world decides to be summer, or if it's all too much, then transform these into a pair of shorts.  
Cottweiler x Reebok Woven Pants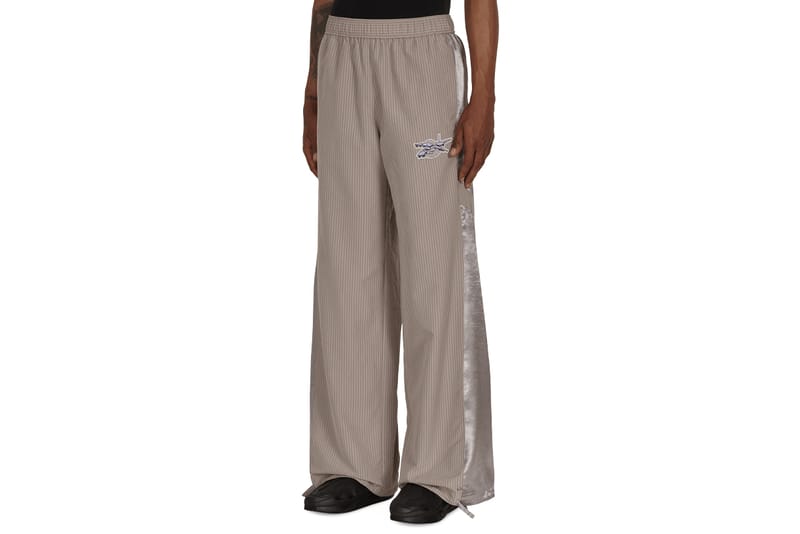 Cottweiler x Reebok Woven Pants$209 USDSlamjamSlamjam Buy
Cottweiler knows how to re-do Reebok sneakers, but who knew Matthew Dainty and Ben Cottrell could turn the humble track pant into a bona fide statement? If elevated basics are your thing, then these are for you. The way the trousers feature a classic pinstripe design in muted colors, combined with reworked branding and a silky patch that makes these a wide leg design, is masterful.
Magliano Huge Mediterranean Trousers Gessato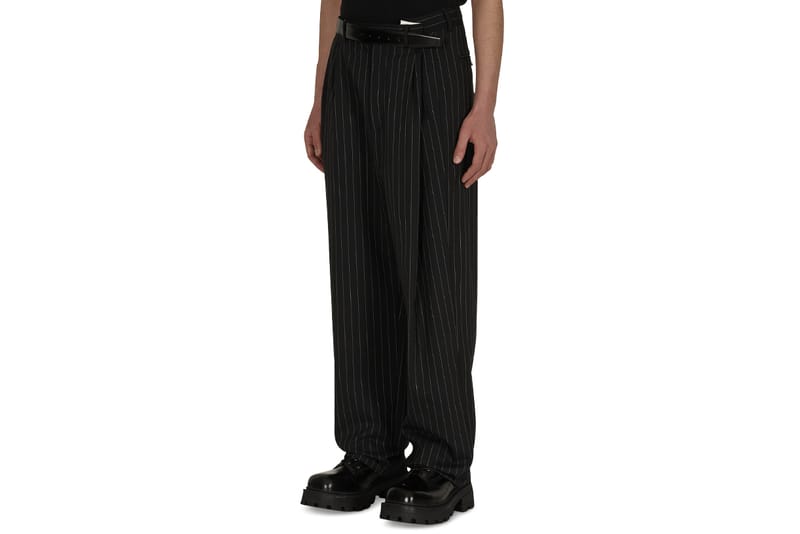 Magliano Huge Mediterranean Trousers Gessato$326 USDSlamjamSlamjam Buy
Luca Magliano's eponymous label is self-described as "quintessentially Italian" and is proud to "mess with the wardrobe fundamentals." These Huge Mediterranean Trousers take an antiquated office-dress look and subvert them for a contemporary world, blowing the proportions to such a degree that the shape is completely new.
Source: Read Full Article