Since divorcing Ethan Hawke in 2005, Uma Thurman has led a movie star-free love life. Thurman reportedly began dating hotelier and famed Hollywood bachelor André Balazs before her divorce finalized in 2004, per the Daily Mail. Via the outlet, Balazs, whose other celebrity romances have included Chelsea Handler and Courtney Love, allegedly came dangerously close to marrying Thurman before the pair broke it off in 2007. 
Thurman did not wait too long before moving on with French financier Arpad Busson, per People. The two dated on-and-off from 2007 to 2014, and welcomed their daughter Luna, Thurman's third child. Getting engaged twice but never moving further, the ex-couple endured a "bitter eight-day court battle in which both Thuman and Busson slammed one another on the stand," the outlet reported. Reaching an agreement with Busson on Dec. 1, 2020 that granted her primary custody of Luna, Thurman said at the time, "It's a wonderful thing to have closure," per Page Six.
Page Six also reported that Thurman allegedly found love in the time of COVID-19 with architect Peter Sabbeth, whom she met in the Hamptons in the summer of 2020. An exclusive source told Page Six that, after a chance beachside encounter, the two were already "looking to buy a home together" by October 2020. Sadly, things fizzed, and by June 2021, The New York Times casually mentioned that Thurman is now dating Bloomberg Media Group CEO Justin B. Smith. Here is what we know about the actor's new beau so far. 
Uma Thurman's boyfriend is a media mover-and-shaker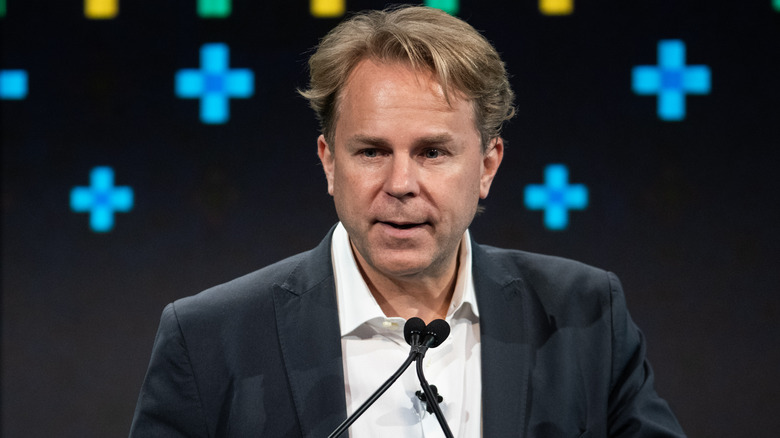 In a June 18 article, The New York Times rattled off Uma Thurman as one of the guests at an upper-crust Washington, D.C. society party, listing, "the actress Uma Thurman, who is dating Mr. Smith," referring to Bloomberg Media Group CEO Justin B. Smith. With the NYT reporting Thurman as "at home" in D.C., Thurman quipped that she was a "news lover." Ranked one of the "35 Most Powerful People in New York Media" by The Hollywood Reporter in 2019, the outlet praised Smith for leading the company to record revenue in 2018 since assuming his position in 2013. 
Needless to say, Smith makes a pretty penny for himself. According to Comparably, the most compensated executive at Bloomberg Media (which, as its CEO, would count Smith), makes a salary of $490,000 annually. This is to say nothing of his accomplishments prior to joining Bloomberg Media as president of Atlantic Media, which he joined in 2007, per Digital Riptide, where he oversaw publications such as The Atlantic and National Journal. Additionally, he also founded his own company, Breaking Media, which spurned the popular fashion industry outlet Fashionista, amongst numerous others. Luckily for Thurman, Smith also seems to prefer New York City as his home base, with him splitting his time between Washington D.C. and the Big Apple for work, per the Daily Mail. When asked by THR if he prefers L.A. or NYC, Smith replied the latter because it has "access to Europe."
Source: Read Full Article