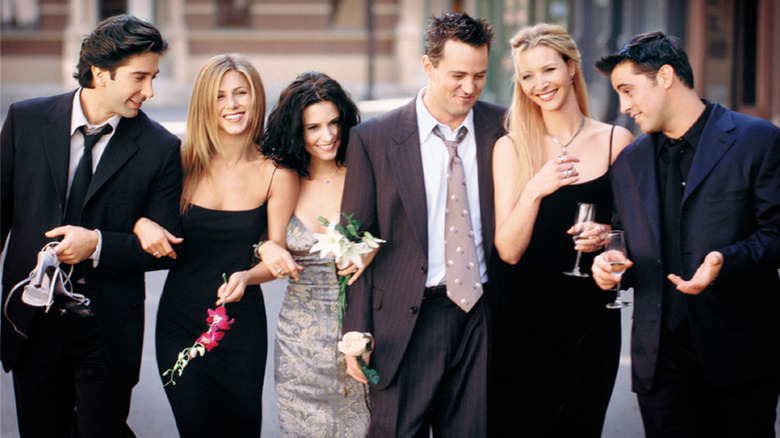 Those of us who loved "Friends," devoured every single episode, and have happily spent time going back and watching reruns, will have our favorite episodes — as well as our favorite guest appearances, many of which involved the most popular stars of the time. Some of them were blink-and-you'll-miss-them cameo moments, others lasted for several episodes, while a few were even nominated for an Emmy.
Insider counted 66 memorable guest moments on "Friends," which included big names like Susan Sarandon, Reese Witherspoon, Christina Applegate, Wynona Ryder, Anna Faris, Dermot Mulroney, Bruce Willis, and Paul Rudd. Here are just a few of the most iconic cameos we've enjoyed watching over and over again.
'The One Where The Stripper Cries'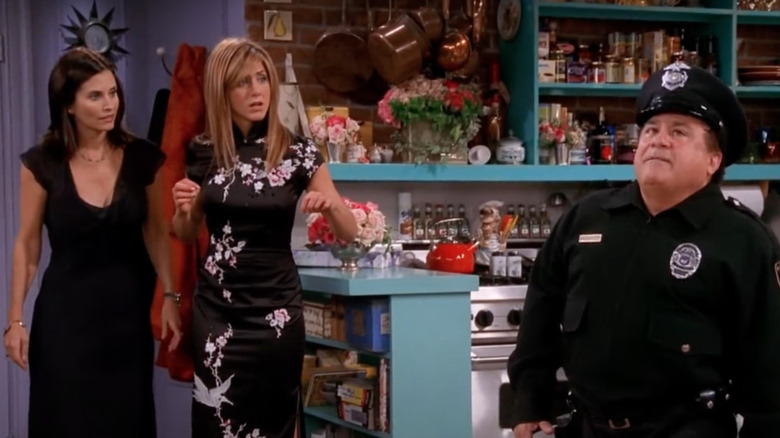 He may be best known today as Frank Reynolds of "It's Always Sunny in Philadelphia," but back in the early noughties, he was also known for being "Officer Goodbody" — the emotionally-charged male stripper who Rachel and Monica hire for $300 for Phoebe's bachelorette party in "The One Where The Stripper Cries." Because he isn't the archetypal male stripper, DeVito becomes the subject of some derision while he tries to perform his act to the tune of "Tainted Love" (via YouTube). 
Screen Rant says the performance was so well received, DeVito was nominated for an Emmy in 2004 for Outstanding Guest Actor in a Comedy Series award.
'The One With the Ultimate Fighting Champion'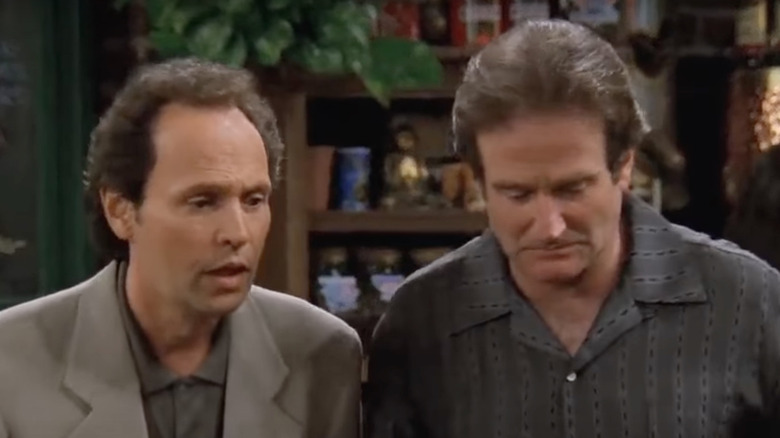 Legendary comedians Billy Crystal and Robin Williams are Tomas and Tim, two friends who bare their souls to each other — quite loudly, in fact, while Monica tries to give the gang a rundown of her day. After several tries, she decides to yield the floor to Crystal and Williams who discuss a cheating spouse as only Williams can (via YouTube).
This classic moment in "Friends" history can well be called "The One That Almost Didn't Happen." Comedy Central says Crystal and Williams were filming in a nearby set and wandered onto the "Friends" set by mistake, so the writers thought to ask them if they could be in the show, too. Thankfully they agreed and were written in the same day.
'The One with Frank Jr.'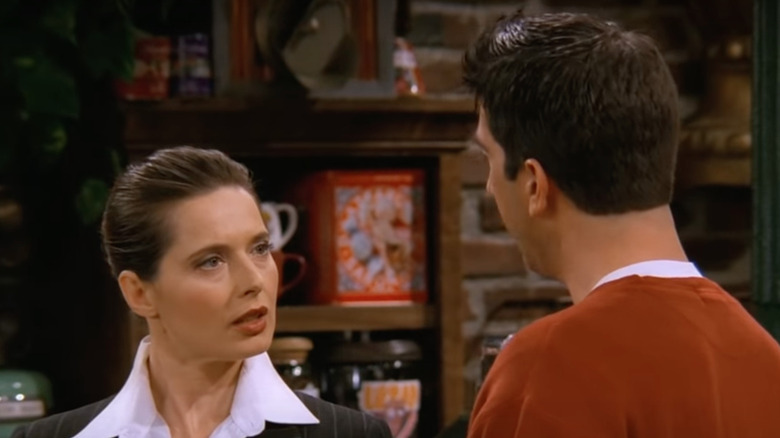 Do you have a list of celebrities you dream about? Ross did, and in "The One With Frank Jr." he had the chance to meet (and attempt to proposition) one of them. Isabella Rossellini, who plays herself, walks into Central Perk to buy a cup of coffee. Unfortunately, Ross had cut her off his laminated list (of celebrity "freebies"), prompting Rossellini to do the same from her list of "five goofy coffee house guys"  (via YouTube).
Comedy Central says Rossellini's cameo happened in 1994 — the same year she was cut as the face of Lancome for being "too old" — her contract ended when she turned 42. But the story ends happily because in a twist, Lancome asked her to return after she turned 63, and she did (via The Cut).
'The One After the Super Bowl, Part 1'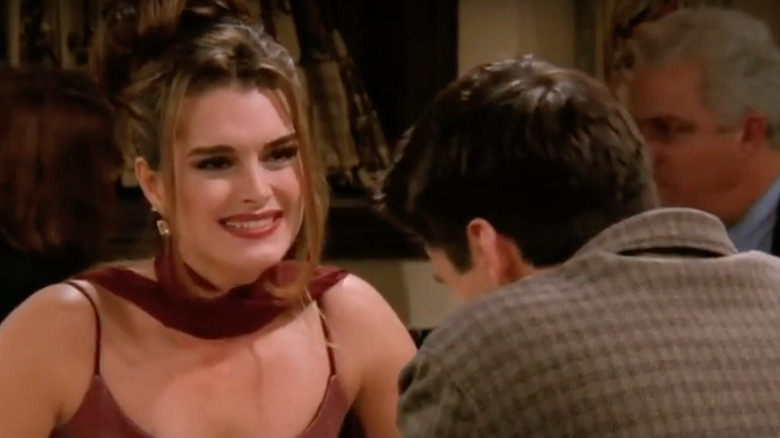 Joey Tribbiani might have found fame as Dr. Drake Ramoray on "Days of Our Lives" but while he's at it, he picked up a stalker, too. Brooke Shields played obsessed fan Erika who couldn't distinguish between life and art, and she believed Joey to be the real doctor. Joey ends up breaking up with her by pretending to be Drake's evil twin, Hans (via YouTube). 
While this episode provided plenty of laughs, thanks in no small part to all the water that was thrown at Joey, this episode has a juicy backstory. In her biography, Shields says her then-partner Andre Agassi got jealous because of one scene, and after the filming, he drove from Los Angeles to Las Vegas where he smashed every trophy he had won. Shields says it took her three years to fix or replace all the prizes (via The Independent).
'The One With the Rumor'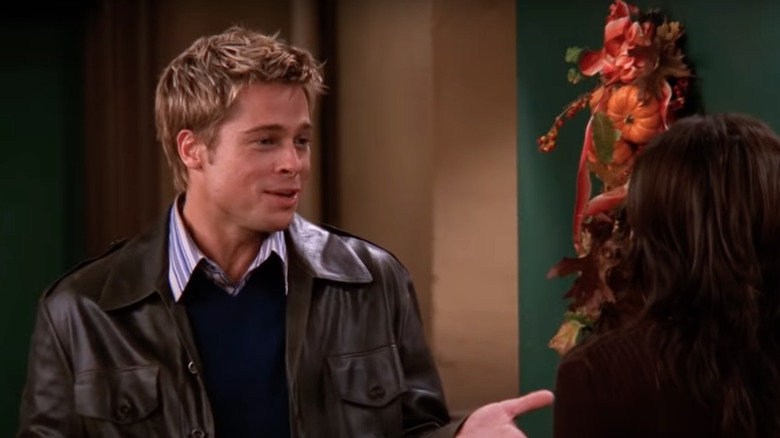 Rachel might have had more than her share of admirers, but there were those that actively disliked her, too, and high school classmate Will Colbert, who was played by Brad Pitt, was one of them. Will appears as a guest at one of Monica's thanksgiving dinners and it is revealed that Will was president of the I Hate Rachel Green Club because Rachel used to bully him about his weight (via YouTube). 
Screen Rant says writers managed to entice Brad Pitt, who was married to Aniston during the time, to do the cameo because he had often visited his wife on the set. The show went on to snag Pitt an Emmy nomination for Outstanding Guest Actor in a Comedy Series.
But the show wasn't memorable for all the right reasons, because it touched on a few subjects which have since been labeled insensitive.
Source: Read Full Article