Carli Lloyd is one of the best female soccer players of all time, and she's had the support of her husband Brian Hollins on the sidelines for decades.
Lloyd lit up the soccer field growing up in Delran, New Jersey and quickly became a star at Rutgers University, where she was named an All-American twice and scored a record 117 points during her career. She then asserted her dominance as a member of the U.S. Women's National team, eventually scoring three goals during the first 16 minutes of the 2015 Women's World Cup Final, per USA Today. Lloyd was essentially considered a superstar after that performance and is set to compete in the 2021 Olympics in Tokyo, calling it "an unbelievable feeling," per People. "[It's] just a fun and amazing experience to be part of," she added. Of course, this is not Lloyd's first Olympic Games — she's already competed twice before, per her Rutgers profile.
But Lloyd is more than an Olympic soccer star — she also has a solid home life off the field with Brian Hollins. Keep reading for more details about their marriage.
Carli Lloyd and Brian Hollins are high school sweethearts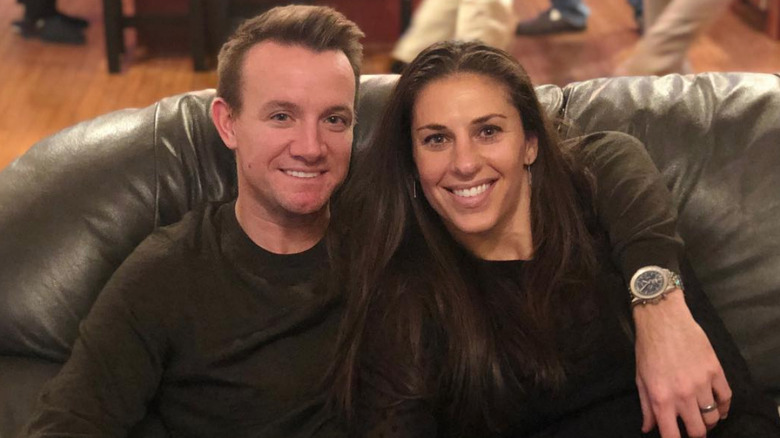 Carli Lloyd and Brian Hollins' love story goes way back — to high school to be exact. The pair married on the beach in Mexico in November 2016, as she told The Knot. "This was the best day of our lives," Lloyd declared.
Lloyd gushed over her husband in February 2020 as she wrote on Instagram, "20 years celebrating Valentine's Day together, but a lifetime more. You are my rock, my biggest supporter, my best friend and your biggest competitor in sports." She had similar sentiments when they celebrated their fourth wedding anniversary in November 2020 when she penned, "Happy 4 year Anniversary to the most selfless, caring husband I could ever ask for. You are the greatest gift I could have ever asked for in life. I love you." Lloyd also noted that "nothing can tear us apart," possibly alluding to the challenges that came with the coronavirus pandemic.
When he's not supporting his wife at events like the 2019 ESPYs, Hollins is a golf professional who lends his talents at the Trenton Country Club in New Jersey, per Golf.com. The couple seems to make the most of the time they spent together, even if that includes digging themselves out of a blizzard.
Source: Read Full Article