Hayden Christensen shot to fame at a young age after portraying Anakin Skywalker/Darth Vader in the Star Wars prequel films. But Christensen stepped out of the spotlight to focus on smaller acting projects. Still, his personal life remained a hot topic, and for many fans, his longtime romance with fellow actor Rachel Bilson was one of Hollywood's most inspiring love stories.
Though Hayden Christensen and Rachel Bilson are no longer together, they still co-parent amicably. The two prove that failed celebrity relationships don't always have a dark side. Or do they?
When did Hayden Christensen and Rachel Bilson start dating?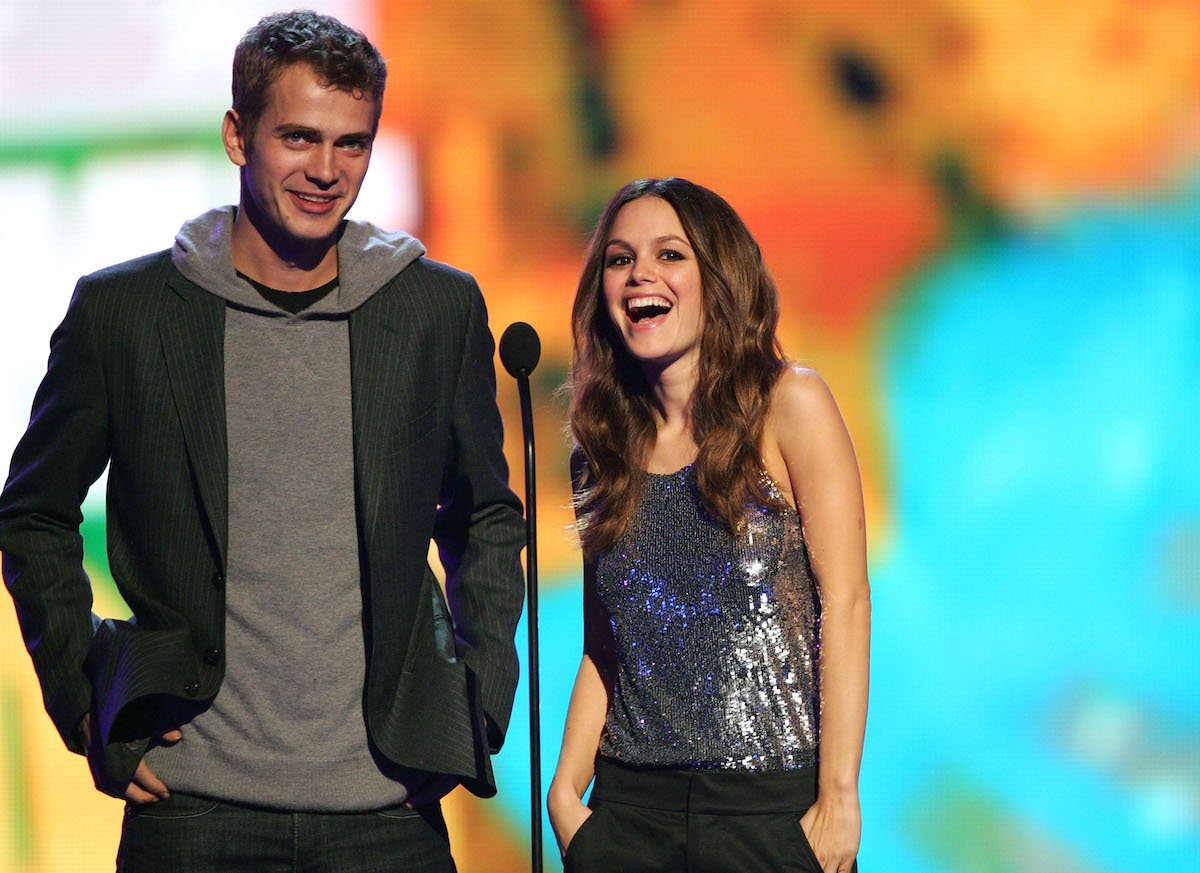 Hayden Christensen was one of the world's biggest stars when he met Rachel Bilson in 2007. The two crossed paths on the set of their film Jumper and felt immediate chemistry.
According to The Things, fans loved the idea of Christensen and Bilson together and were thrilled when the two announced their engagement in 2008. 
Over the ensuing years, Christensen and Bilson became one of Hollywood's most high-profile couples. However, they kept their romance relatively private.
In August 2010, rumors began swirling that Bilson and Christensen had broken up. But they resolved whatever rift had separated them, and by the end of the year, they were back together. 
The celebrity couple welcomed a daughter in 2014
With their engagement back on, Hayden Christensen and Rachel Bilson began looking to the future. In October 2014, Bilson gave birth to the couple's first and only child, daughter Briar Rose.
Christensen revealed to the Hallmark Channel's Home & Family that a Disney Princess, Sleeping Beauty, also known as Briar Rose, inspired their daughter's name.
"We both love all things Disney — but Rachel especially was very keen on the name," Christensen said. "We have Disney songs playing around the house 24/7 right now."
After welcoming their daughter, Bilson admitted they were contemplating having more children. In an interview with LaPalme magazine, Bilson said it was "still up in the air" (via Us Weekly).
Bilson mused, "I'm having so much fun with one right now. I want to be happy and content. All the life B.S. that happens doesn't matter. You want to be happy, you want your kid to be happy, and you want everyone in your life to be healthy and happy."
However, a storm was on the horizon, and it would upend Christensen and Bilson's nearly decade-long engagement.
When did Hayden Christensen and Rachel Bilson break up?
In October 2017, rumors swirled that Hayden Christensen and Rachel Bilson were on the outs due to an alleged "inappropriate relationship" between Christensen and actor Emma Roberts. He and Roberts were co-starring in the movie Little Italy — and though neither addressed the rumors directly, Bilson and Christensen confirmed their split the same month.
Whatever drama went on behind the scenes, Bilson and Christensen put up a united front for the sake of their little girl.
After breaking up in 2017, the stars remained close, co-parenting through the pandemic and numerous life changes.
In a 2021 episode of the podcast Betches Moms, Bilson discussed co-parenting, revealing that the pandemic worked out well for them in terms of balancing time with her daughter.
"She's had the opportunity to have another house to go [to] and not be stuck in our house the entire time. So I'm grateful for that, and we've just handled it — survival mode," she said.
Bilson eventually moved on and found love with Saturday Night Live cast member Bill Hader in 2019. The two keep their romance low-key, but they have appeared at a few red carpet events over the past couple of years.
As for Christensen, he hasn't been linked with anyone publicly since his split from Bilson. But his reprisal as Darth Vader/Anakin Skywalker in the new Disney+ series Obi-Wan Kenobi is garnering a great deal of interest.
Source: Read Full Article