Unfortunately, the 33-year-old star shares earlier this month that he and Melanie Martin's split just a week after welcoming their first child, son Prince Lyric.
AceShowbiz –Aaron Carter and ex Melanie Martin's messy breakup continues to drag on. On Friday morning, December 3, the singer revealed on Instagram that he was "trapped" inside his own bedroom with his newborn son as his ex refused to leave the house.
"I'm literally trapped inside my own bedroom," the 33-year-old star wrote on his Instagram Stories, referring to his home in Lancaster, California. He alleged that he could not go outside his bedroom "because my ex will not leave my house."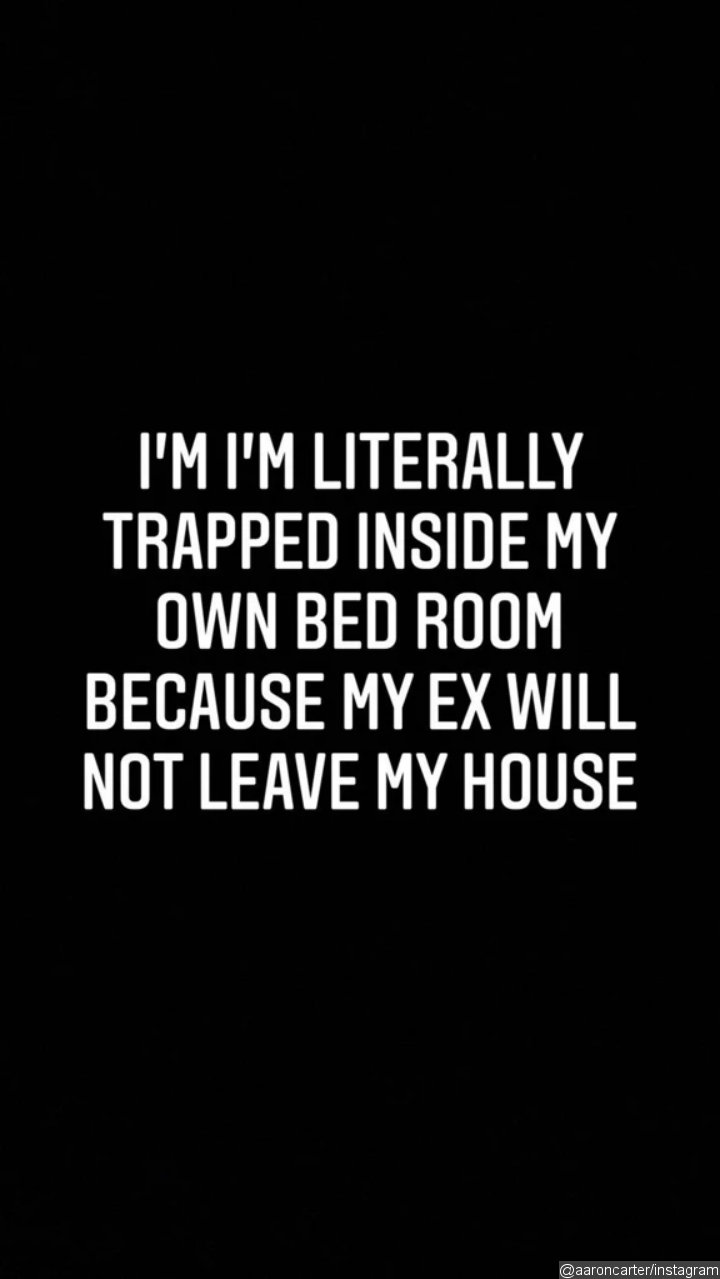 Aaron Carter claimed he's trapped inside his bedroom.
Aaron and Melanie welcomed their first child, son Prince Lyric, on Monday, November 22. The "I Want Candy" hitmaker shared the good news via Instagram, revealing that their son, named Prince, was born via emergency C-section after a 13-hour labor. "Emergency C Section after 13 hours of labor but my fiance is in great health," he wrote along with a photo of him cutting his baby's umbilical cord.
"thank you lord and the incredibly sweet loving staff here," he continued in the caption. "Prince is precious I love you son. Your mommy loves you as I drop tears on the phone. This is me cutting his umbilical cord my precious family #TheCarters @missmelaniemartin I'm so proud of you hunny you did it I Love you with all my heart my beautiful blessings from god."
Aaron also shared excitement in a video message to his fans and family while he drove his way home to take care of something. "Today is an amazing day… My song is out, my son is being born today," the musician said.
Prior to that, Aaron gushed over Melanie earlier that day. "Here we go I Love you baby! You're so strong I'm right by your side nothing will happen to you with me here and the great staff Nurses and doctors," he captioned it.
Unfortunately, Aaron shared earlier this month that he and Melanie split, just a week after welcoming their son. The "Crazy Little Party Girl" hitmaker accused Melanie of betraying him by communicating with his estranged twin sister, Angel Carter.
"Due to personal reason Melanie Martin and I have decided to go our separate ways. There has been a very big lie and my sister communicating w (with) my ex fiance ruined everything considering she knew what angel tried to do to me in court thanks angel you ruined my family. God bless (sic)," he wrote in the first of a series of angry tweets.
"I have the most conniving deceiving family and Melanie has been lying to me the whole time communicating with my twin sister and the family members who tried to put me in prison and who tried to get a conservatorship on me in court. I'm in shocked this is horrible," he added on Twitter. "I've never felt more devastated and betrayed and lied to in my entire life this is such a horrible situation considering prince doesn't deserve any of this and now it's my job to just be a single father and that's what's gonna happen."
Aaron also alleged that Melanie brought their kid along with her to Vegas, saying, "She told me she's moving to Vegas and I'll never see my kid again." He claimed, "I'm a good man. I'm sleeping in my car ok.. and (the baby) is in the house," adding that his siblings have "tried to depict me as a crazy psychotic human being and a pedophile."
Source: Read Full Article