The royal family gathered on Buckingham Palace balcony yesterday for Trooping the Colour, and basically spent their time looking fancy and wearing massive hats while millions of people stared at them and analyzed their body language. This wasn't exactly a time for conversation (more a time for awk standing around and Prince Louis screaming into the void), but The Sun spoke to lip reading expert John Cassidy, who revealed exactly what everyone said.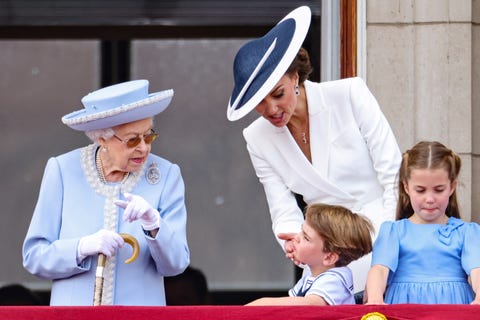 Honestly, don't get too excited because the conversation was pretty low-key, but still—it's fun to know what the royals say to each other when they think no one is listening! Let's see, apparently the Living Legend known as Prince Louis said "woah, it's the Red Arrows!" while the Queen mused "That's our air force…the Apaches," also noting their "clever" formation. Meanwhile, Kate pointed out some colorful smoke to her kids, saying "See the smoke!"
Annnnd…that's it! ¯\_(ツ)_/¯
Pretty sure I've had more interesting conversations with my morning cup of coffee, but also pretty sure the royals are well aware that lip readers are on call to decipher everything they say in public.
Anyway, the royal family will continue to chill out over the weekend, and perhaps most exciting is a private event they're all attending on Saturday: Lilibet's birthday party! The Sussexes are throwing their daughter a party at their U.K. home, Frogmore Cottage, and it's expected to be attended by multiple members of the royal family including the Queen. Not on the guest list, thought? Prince William and Kate Middleton, who are scheduled to be in Wales for some Jubilee engagements that day and will have to miss their niece's party.
Source: Read Full Article