Dermatologists prescribe products to their patients all day long, but have you ever wondered which ones they personally use? Welcome to Derm Diaries, a series where dermatologists share their skin woes—and solutions—so you can steal secrets from their skincare routines.
Board-certified dermatologist Divya Haryani, MD, FAAD, has lived in a variety of places—she was born in India, and spent some time in Chicago—but she calls Vero Beach, Florida home. That's where she's established her own practice, Haryani Dermatology & Aesthetics, in order to serve the community she grew up in, Dr. Haryani says.
Educating people about skin health has been Dr. Haryani's primary objective in her career, especially after battling her own skin health issues, acne and hyperpigmentation, throughout her adolescence. For her, becoming a dermatologist was not just about grades or board scores, but about investing in research and in giving back to her community, Dr. Haryani says.While she was in medical school, she pioneered a sun protection program to teach young people about sun protection, SPF, and skin cancer. Then, she also developed an iPhone app for medical students to practice narrowing down a diagnosis, including for skin conditions.
She's as much a beauty buff as she is passionate about healthcare and skincare. Once she finished medical school, she completed a biotech certification from John Hopkins University and then a cosmetic research fellowship at Northwestern University to delve further into her love of beauty and skincare products.
https://www.instagram.com/p/CK1067IBATW/
A post shared by Dr. Divya Haryani, MD, FAAD (@drdivderm)
In terms of caring for her own skin, it's been quite a journey, mentally and physically, dealing with acne and post-inflammatory hyperpigmentation. "I have dealt with acne since adolescence," she says. "There have been times when I didn't want to leave my house due to an acne flare-up."
Like anyone who has chronic acne, "There are good weeks and bad weeks," Dr. Haryani says. To treat acne, she believes in relying on prescriptions, including retinol, benzoyl peroxide,and even occasionally topical prescription antibiotics to clear active acne. On top of the acne, she struggles with hyperpigmentation as a result of the inflammation in her skin. "I commonly get post-inflammatory pigment changes (dark spots) from anything that aggravates my skin (like acne, insect bites, and any harsh products)," she explains.
For treating dark spots, sun protection is a must. "The absolute key in preventing these spots from getting darker is sun protection with SPF," says Dr. Haryani. Her go-to is a physical sunscreen with zinc oxide, titanium dioxide, and hyaluronic acid for added hydration (more on the exact product later!). For fighting more stubborn dark spots, azelaic acid and retinol have also been helpful for reducing inflammation in her skin, Dr. Haryani says. Here are the other productsand treatments she depends on to keep her skin healthy, hydrated, and calm.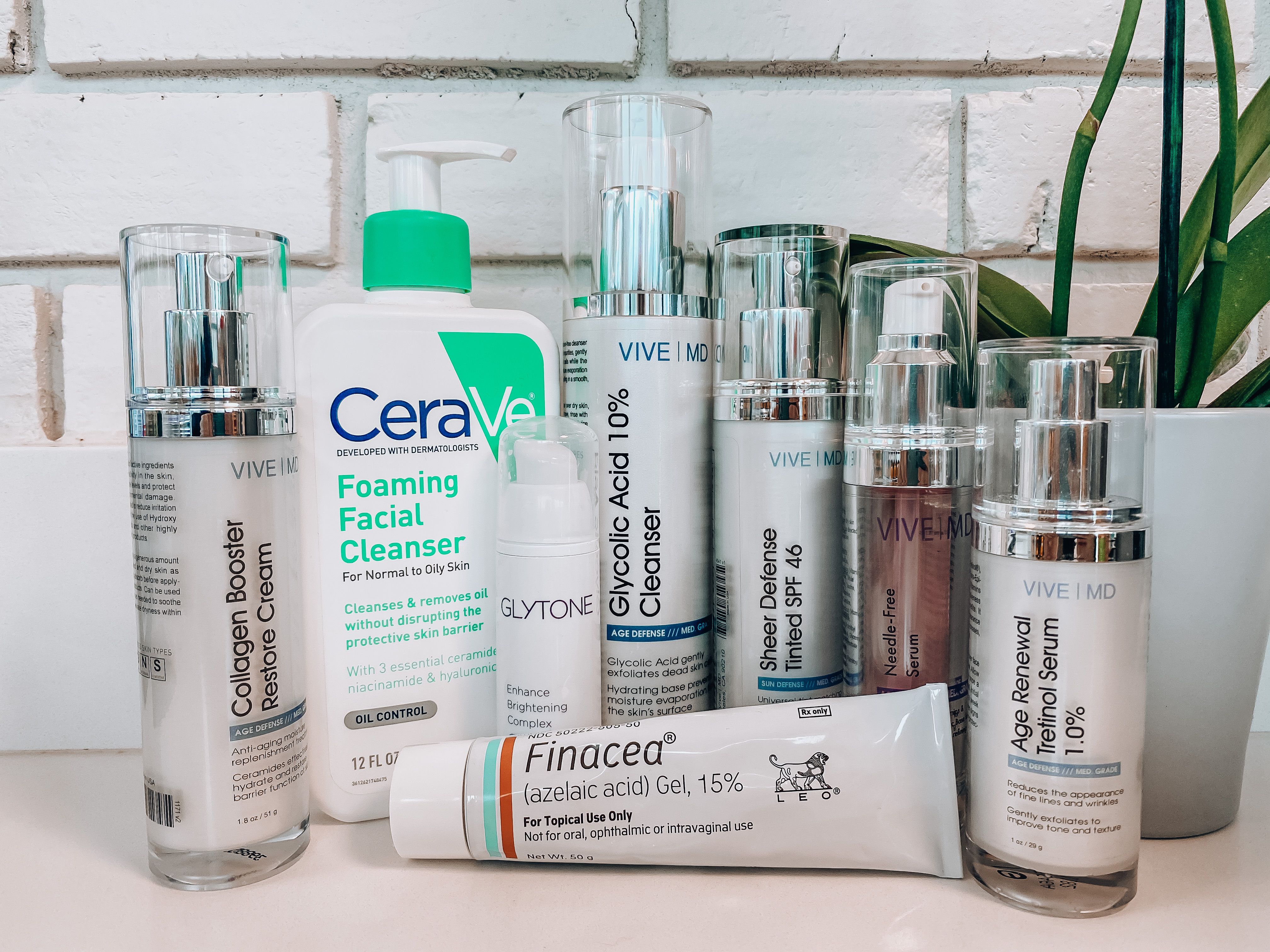 Her morning cleanser is a favorite of many derms.
Many dermatologists swear by CeraVe as a gentle cleanser for morning and evening. "I have always liked CeraVe Foaming Facial Cleanser as a simple, non-comedogenic, fragrance-free cleanser," she says.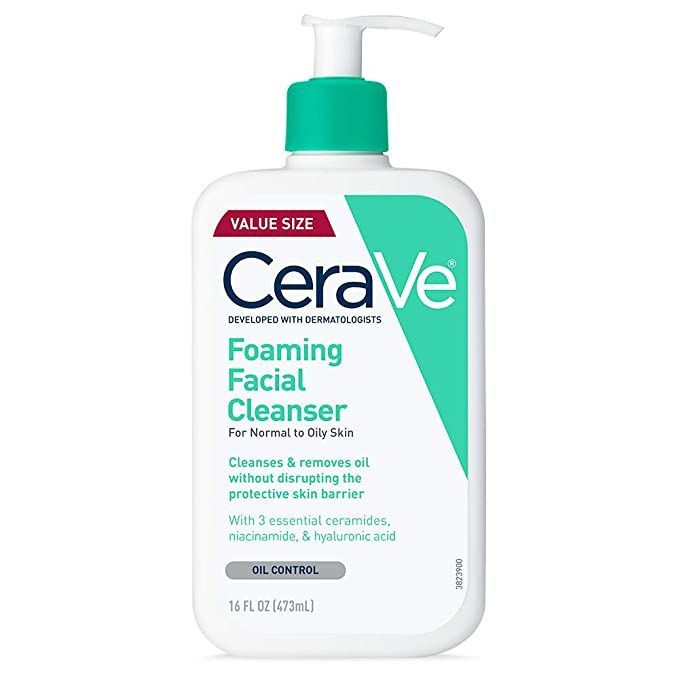 This serum helps set her makeup.
"I love to use VIVE MD Needle Free Serum on freshly-washed skin as a primer prior to makeup. The hyaluronic acid plumps my skin and keeps it hydrated. Makeup sets so well on it and your skin feels moisturized throughout the day. You don't get those dry patches of clumped make up!"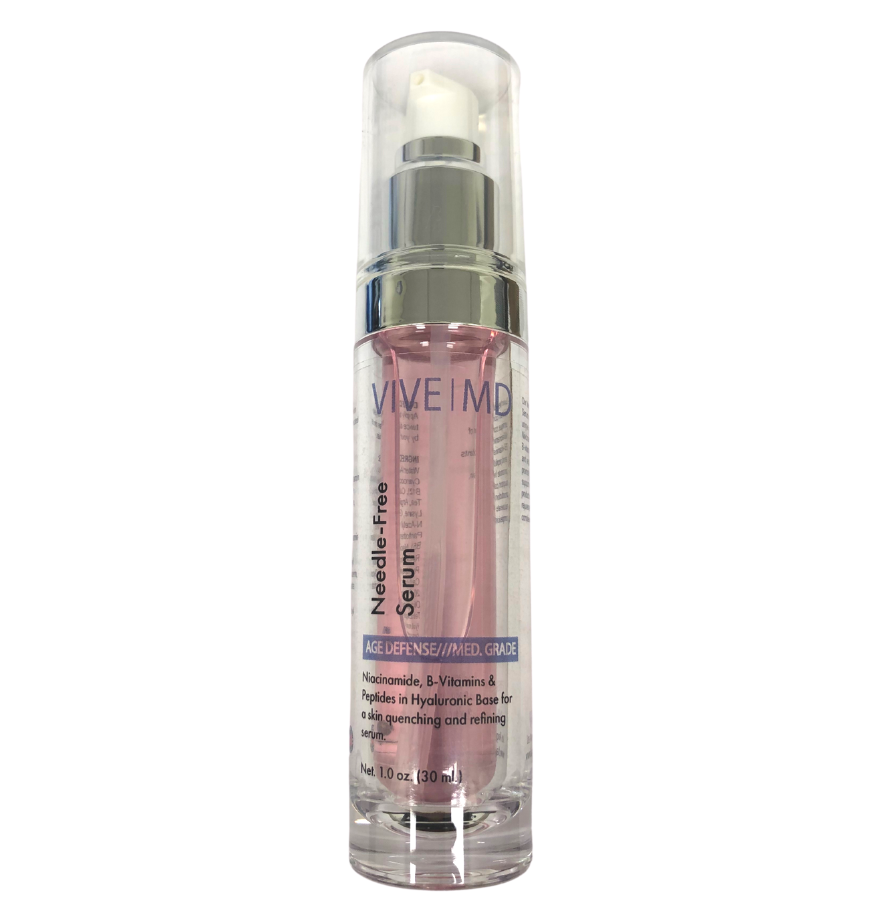 She has a favorite dark spot treatment for after a breakout.
"When I am having any pigmentary changes (dark spots) from an acne break-out, I love using Glytone Enhance Brightening Complex. It really helps to lighten up the spots over time."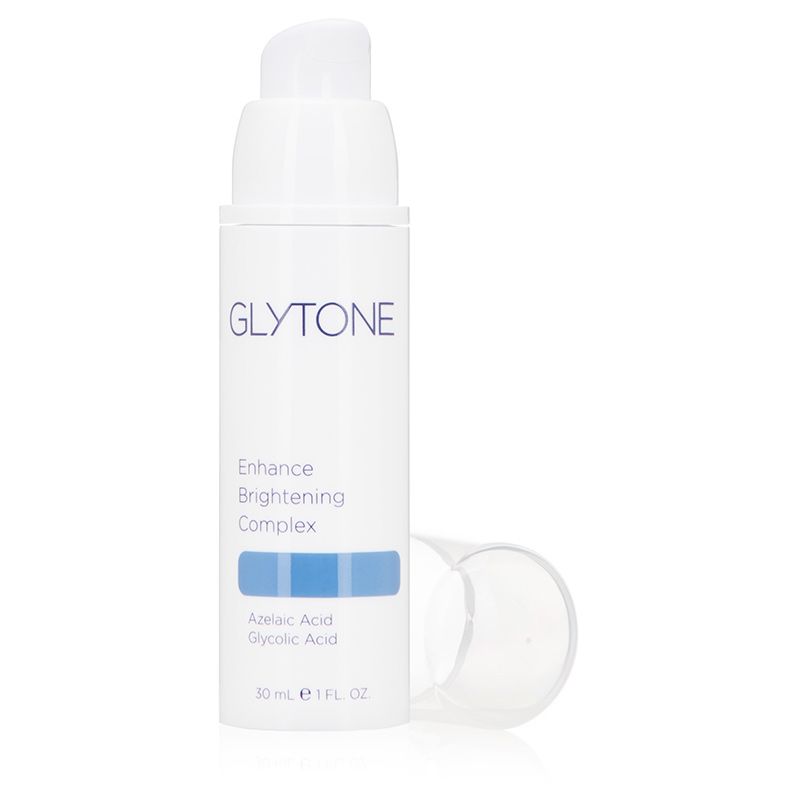 Her sunscreen is ideal for darker skin tones.
"My SPF, VIVE MD HA Shield Tinted SPF 44, is a physical blocker. It has zinc oxide, titanium dioxide and hyaluronic acid. I love this formulation because it hydrates my skin and has no white cast on my skin type, which is a darker olive tone."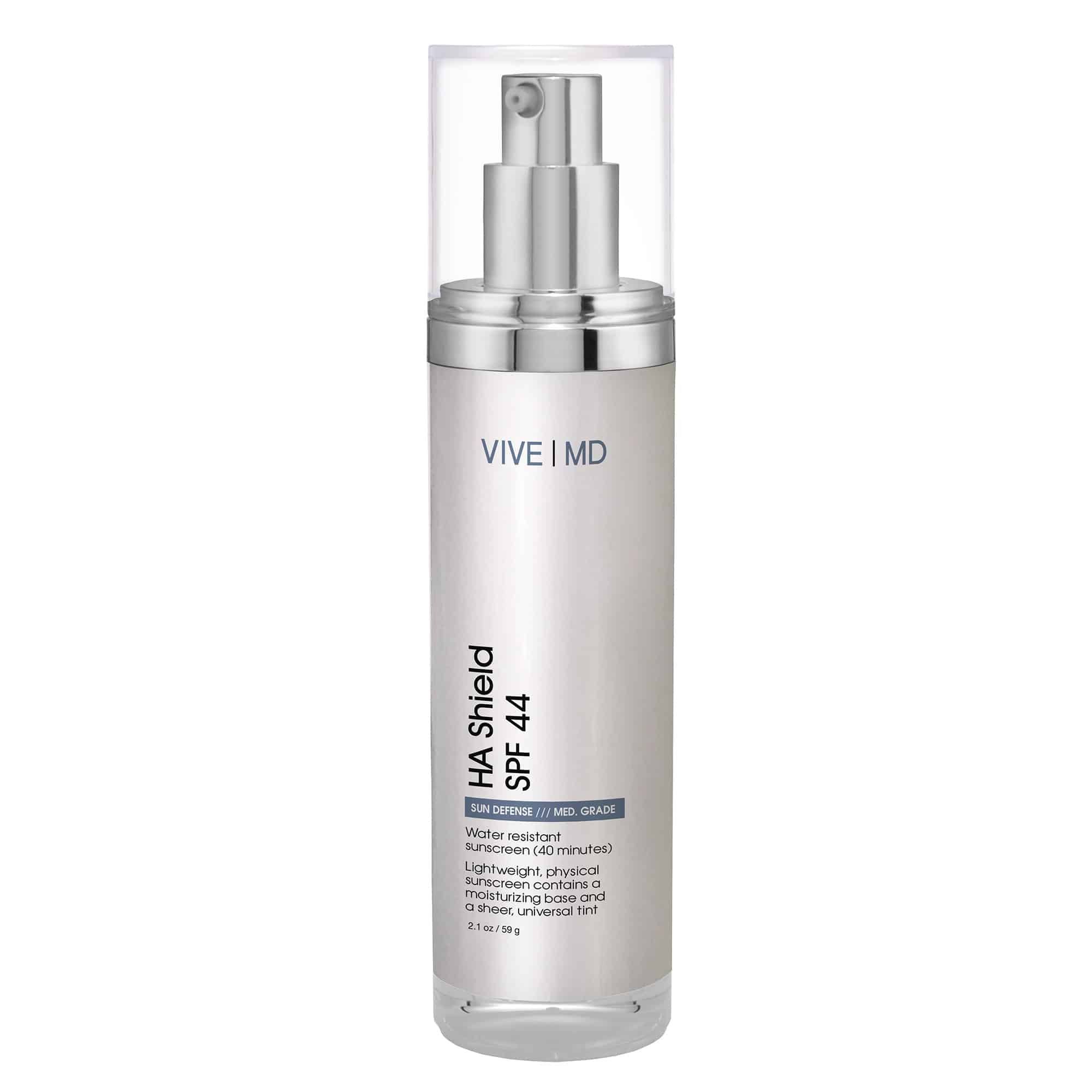 In the evening, she often uses an exfoliating cleanser.
"Typically I use Cerave Foaming Facial Cleanser at night to remove my makeup," she says. "I alternate this with a glycolic acid wash. Glycolic acid is my go-to when my skin is feeling and looking dull and needs a refresh, because the alpha-hydroxy acid in the cleanser does a nice job exfoliating my skin."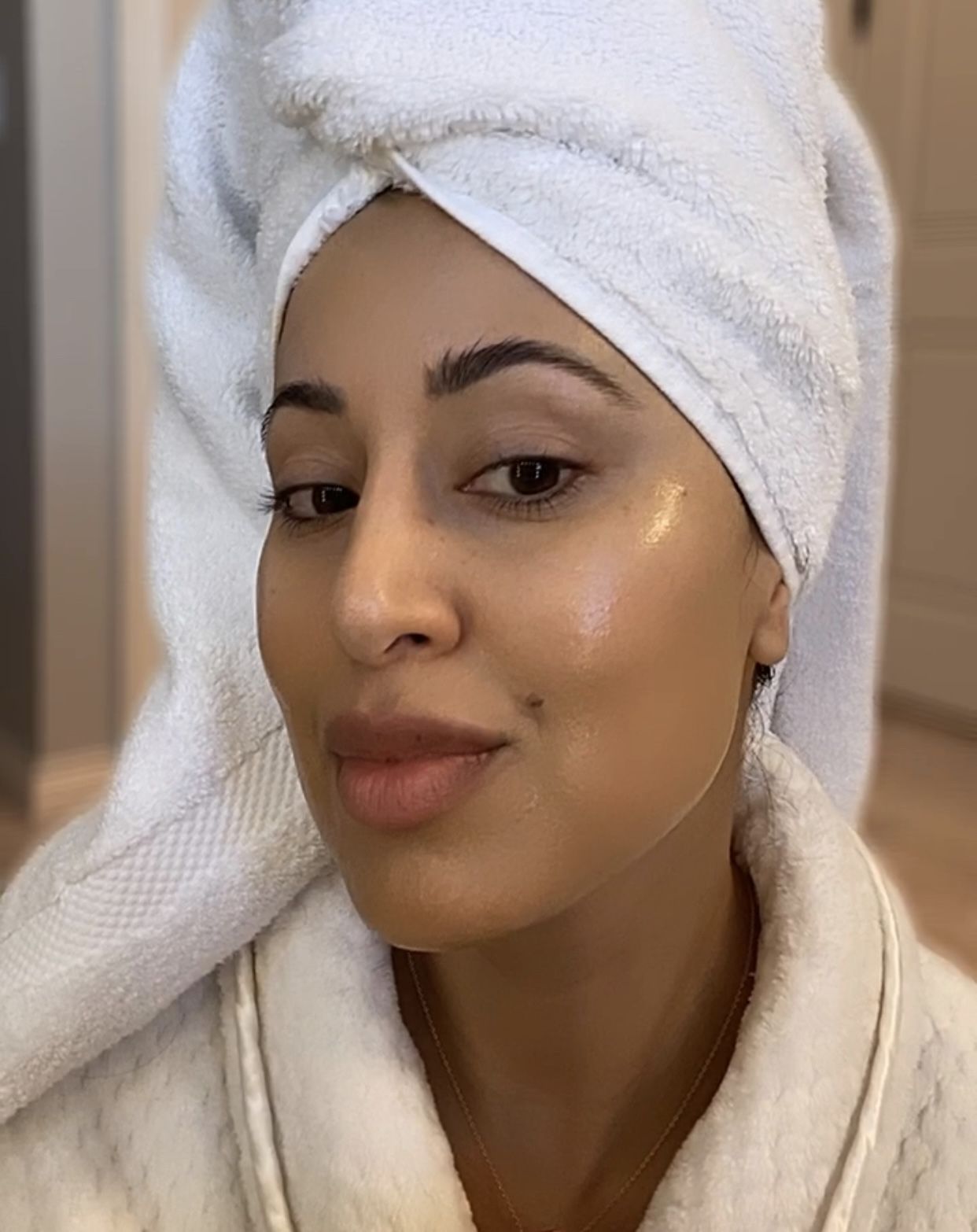 Depending on the season, she uses tretinoin for treating acne.
"I use tretinol serum [a derivative of tretinoin], on my whole face nightly to prevent and treat acne," she says. "When my skin is feeling dry in the winter time, I prefer retinols over prescription tretinoin, because my skin is a bit more sensitive."
She pairs retinol with a collagen-boosting cream.
"I moisturize with VIVE MD Collagen Booster Restore Cream nightly, because it has hyaluronic acid as a hydrating vehicle," she says. It also helps with the dryness and irritation that can occur from using retinoids.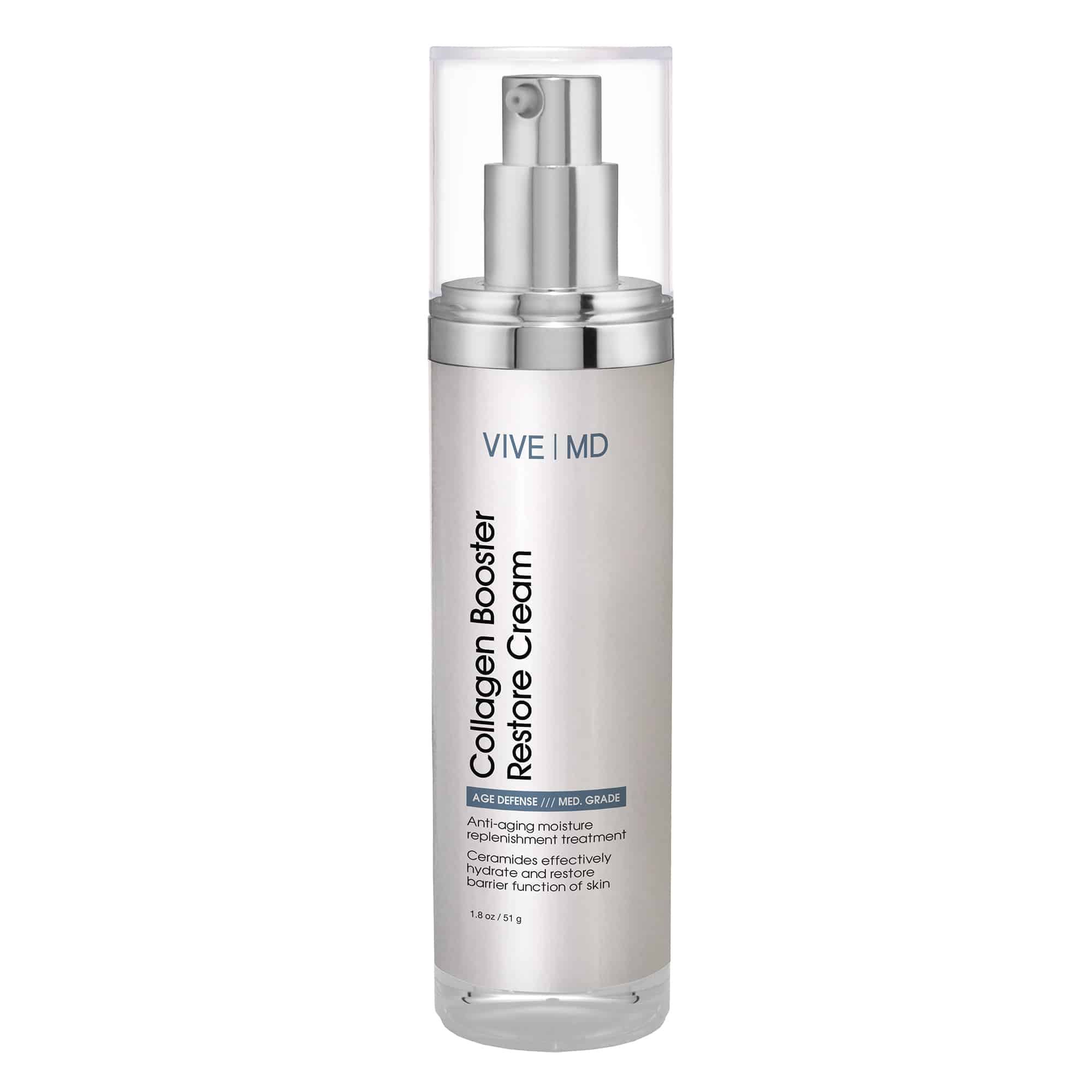 Prescription azelaic acid helps with the post-acne hyperpigmentation, too.
"Azelaic acids are dicarboxylic acids, which help in the treatment of acne, as well as pigmentation," she says. "I apply a prescription azelaic acid cream specifically to areas with pigmentation if needed."
https://www.instagram.com/p/CIogQO7BzHV/
A post shared by Dr. Divya Haryani, MD, FAAD (@drdivderm)
Source: Read Full Article