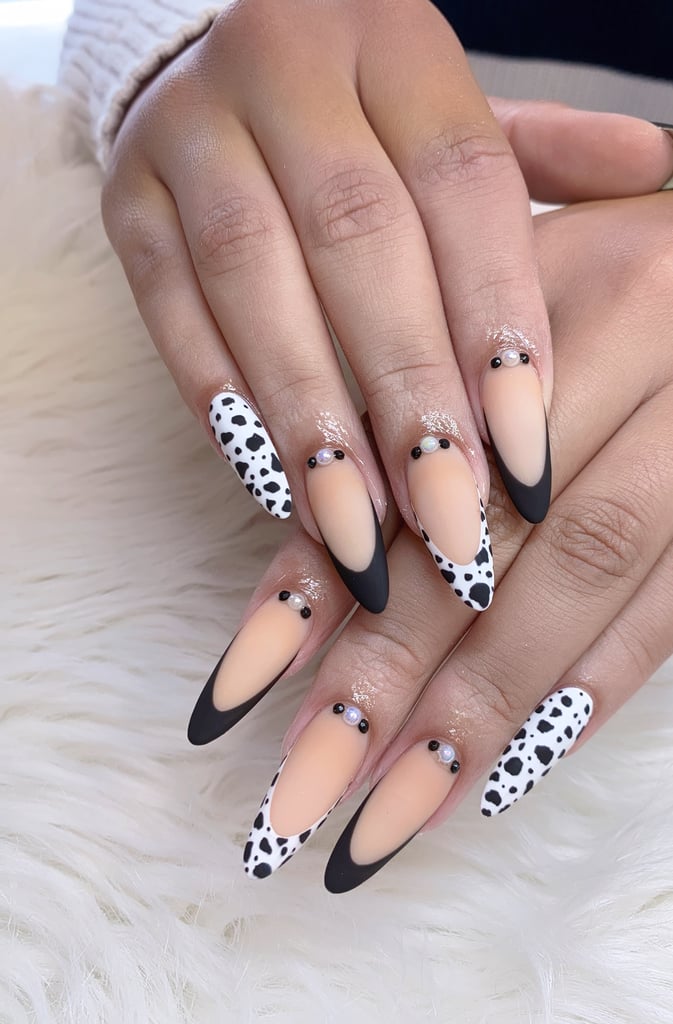 Cow-Print Manicures Are Trending This Summer

Cow-print nails are one of the many Y2K-inspired looks trending this summer.
We spoke to nail artists to break down the cow-print nail-art trend.
Whether you go for classic animal print or a rainbow version, here's what to ask for at the salon.
It's not news that a great-looking manicure is the perfect way to add a coordinating finishing touch to your look. And when that mani is also statement making? Well, your outfit of choice may come a close second.
What does feel new is opting for a fresh take on animal print, and cow-print nails are definitely a moo-d (you knew that was coming). The look is pretty straightforward: it mimics the splotchy spots you see on cows. "Animal patterns have always been a popular nail-art trend," nail and tattoo artist Asami says. "Cow print is less loud than leopard and a new approach." Here's what you need to know about nailing the cow-print manicure trend, including nail-art inspiration to take to the salon and nail-polish colors that work well with the look.
Why Cow Print Is Trending
Western vibes were trending last fall (think: cowboy boots and fringe), and now that the trend has trickled down to nails, it doesn't seem to be going anywhere. Thanks to its playful aesthetic, cow print is also a favorite with artists and designers inspired by the Y2K trend — another look that is having a moment. And as Asami says, it can be more understated than other animal looks like crocodile, snakeskin, leopard, or cheetah.
How to Make Cow-Print Nails Summery
Cow print is not just black and white. "I love to experiment with cow print using brown, light pink, or pastel blue in place of black," Asami explains. "It's a modern and unexpected take on a classic pattern." For summer, she suggests using sheer white enamel instead of an opaque consistency for the base color. "Opaque white can feel a bit heavy, and sheer white makes the design look fresh." You can also try playing with a tone-on-tone look like light blue and navy or tan and brown.
What to Ask For at the Salon
If you have a steady hand (and perhaps some time and patience, too), you might be able to do an impressive DIY job. Or make things easy on yourself and go for prepainted cow-print nail stickers. If you want to leave this look to the pros, make sure to explain your vision clearly at the salon. "Always bring an inspo photo with you to show your nail artist," celebrity manicurist Sunshine says. "Then, you and your manicurist will be on the same page." Since the print is abstract, no two nails will be the same. If you want it to look more uniform or want to keep the spots on the smaller side, be sure to say so. To get the most wear out of your cow-print nail art, opt for gel polish. Sunshine says: "It'll allow you to keep your cow-printed mani for a couple of weeks — so choose your colors wisely!"
The Coolest Cow-Print Nails
Source: Read Full Article