The Witcher Season 2 is officially out on Netflix, and viewers are enjoying seeing their favorite characters back on the small screen. Among the fan-favorite faces to return in the new episodes is Jaskier (Joey Batey), and he's got another song up his sleeve. "Burn, Butcher, Burn" is quite different from "Toss a Coin to Your Witcher," but is it equally as catchy?
[Warning: This article contains minor spoilers for The Witcher Season 2.]
Jaskier changes his tune in 'The Witcher' Season 2
Back when the trailer for The Witcher Season 2 dropped, fans were quick to point out a major difference in Jaskier's look. The bard has gotten a makeover since the last time we saw him, and his latest tunes align with his new style. Geralt of Rivia's (Henry Cavill) friend has gone rock & roll in season 2, and "Burn, Butcher, Burn" is a testament to that.
Of course, Jaskier's falling out with Geralt plays into his darker music. With lines about burning memories and coping with betrayal, it's clear the bard is feeling bitter. And that makes "Burn, Butcher, Burn" read more like a break-up song than "Toss a Coin to Your Witcher."
Is 'Burn, Butcher, Burn' as catchy as 'Toss a Coin to Your Witcher'?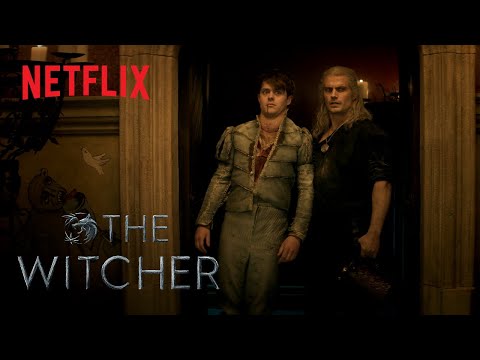 Given its more serious theme and less upbeat melody, "Burn, Butcher, Burn" doesn't exactly qualify as catchy. Jaskier's new tune probably won't get stuck in fans' heads for days and days after watching The Witcher Season 2. Of course, it was always going to be hard to top "Toss a Coin to Your Witcher" in that regard.
Still, that doesn't mean fans won't enjoy Jaskier's newest hit. It makes for a compelling tune, and it offers more insight into Joey Batey's character. The actor admitted as much during an interview with Newsweek, where he expressed gratitude for the chance to explore a deeper, more book-accurate side of the bard:
"I think that's something that Lauren [Schmidt Hissrich, The Witcher's showrunner] and I talked about before shooting season 2. I said that I wanted to see more of this three-dimensional character, the three-dimensional character that we see in the books, in Andrzej Sapkowski's books."
He also told the outlet that "Burn, Butcher, Burn" feels more in sync with The Witcher's increasingly darker atmosphere. The stakes are getting higher, the world is getting bleaker, and it makes sense that Jaskier's music would reflect that.
"It felt like we settled on something that was really representative of the grittier, darker tone of season 2, and indeed of the Continent, and the socio-economic context of the Continent," he explained.
Joey Batey compares his new song to 'Toss a Coin to Your Witcher'
With all the thought that went into Jaskier's new music, it seems Joey Batey wasn't expecting it to become an earworm in the same way "Toss a Coin to Your Witcher" did.
During an interview with Radio Times, the actor admitted The Witcher was never going to recapture that kind of magic in season 2. He also suggested that was a good thing.
"That was lightning in a bottle, and there's no way that we could produce that again," he said. "We're not Taylor Swift! You know what I mean? We're not trying to be, either."
He also added that the purpose of "Toss a Coin to Your Witcher" differs from "Burn, Butcher, Burn.":
"A big part of writing these songs is making sure that it now is no longer an exercise in PR, which it was in season 1. 'Toss a Coin' was all about making Geralt famous, and making Jaskier famous."
Now that the characters are well established, Jaskier can explore new types of music. And listening to "Burn, Butcher, Burn" enough times will probably endear fans to it almost as much as "Toss a Coin to Your Witcher." The two songs just evoke very different moods when they're through.
Catch Jaskier's latest hit in The Witcher Season 2, which is currently streaming on Netflix.
Source: Read Full Article