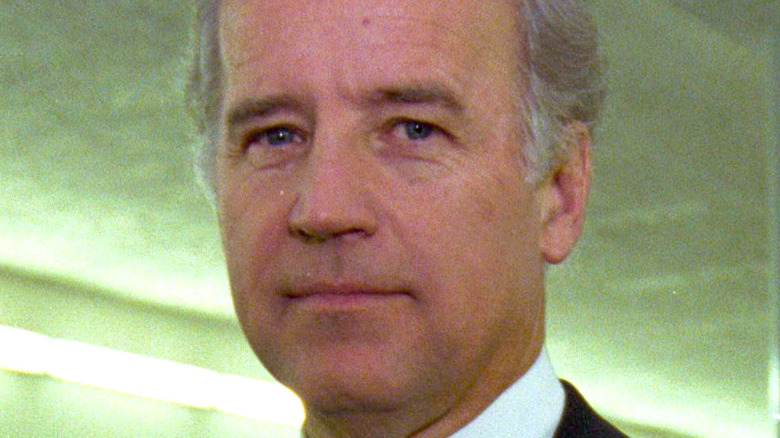 Joe Biden has been a fixture in American politics for decades — from the beginning of his career as a Senator in the early '70s up until his stunning defeat of Donald Trump in the 2020 presidential election. With working class roots in Scranton, Pennsylvania, he has a sense of grit that appeals to voters and a candid mouth that often gets him in trouble. He served as a senator for 36 years, chairing both the judiciary and foreign relations committees, and ran for president multiple times. While his career has soared, he's also overcome personal tragedies with valor, from the sudden death of his infant daughter and first wife in 1972 to the heartbreaking loss of his son Beau in 2015.
Overcoming tragedy has shaped Biden, giving him empathy and resilience like no other. "There will come a day, I promise you and your parents, as well, when the thought of your son or daughter or your husband or wife brings a smile to your lips before it brings a tear to your eye," he told an audience of families of fallen service members in 2012, as The Washington Post reported. "It will happen. My prayer for you is that day will come sooner or later."
Let's delve into the life of Joe Biden and how he transformed from a scrappy kid from Scranton with a stutter to the leader of the free world.
His humble upbringing in Pennsylvania and Delaware taught him resilience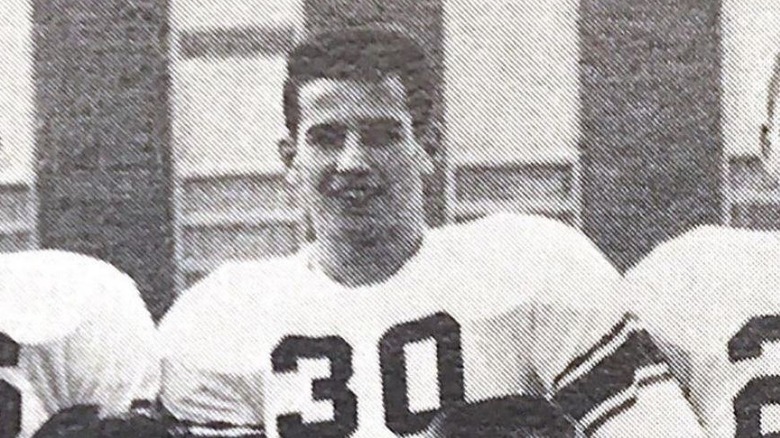 During his presidential inaugural address in 2021, as reported by the Independent, Joe Biden took a personal tone as he spoke about financial insecurity and people worried about their jobs during the global pandemic: "I understand, like my dad, they lay in bed at night staring at the ceiling wondering, can I keep my healthcare? Can I pay my mortgage?" For those following Biden's career over the years, stories of his father were common, but many listening to the speech surely wondered just who Joe Sr. was and how he influenced the president's life.
Joseph Robinette Biden Jr. was born in 1942 in Scranton, Pennsylvania, where he was the oldest of four children to Joe Sr. and Jean Biden. During his early years, Biden's father struggled finding steady work, so the family lived with his maternal grandparents for a time. Following a job opportunity to clean boilers, Joe Sr. moved the family to Delaware in 1953, according to The New York Times. He eventually found a middle-class career as a used car salesman and was able to move the family into a modest house. "My dad always said, 'Champ, the measure of a man is not how often he is knocked down, but how quickly he gets up,'" Biden has said of his dad. Lessons from his father's career struggles created a sense of resilience and empathy in Biden that he carried with him into politics.
Joe Biden overcame a childhood stutter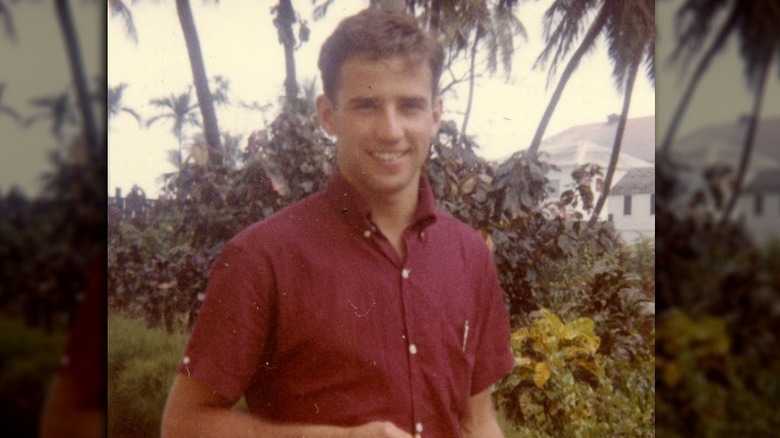 As a child in Delaware, Joe Biden's fellow classmates nicknamed him "Dash" for a rather cruel reason. "I talked like Morse code," Biden said in his memoir, "Promises to Keep," as shared by the Miller Center. "Dot-dot- dot-dot-dash-dash-dash-dash." He's described his stutter as one of the most difficult things he's had to overcome in his life. During a talk at the American Institute for Stuttering (via Los Angeles Times), Biden said, "I can think of nothing else that has ever stripped me of my dignity as quickly and as profoundly and as thoroughly as when I stuttered in grade school."
After speech therapy failed to help Biden as a young child, according to The Atlantic, he began diligently working to overcome his stutter as a young teen. Holding a flashlight to his face, he'd recite Yeats and Emerson in his bedroom mirror until he gained control — and Biden still can recite the poems to this day. Acknowledging the difficulties his stutter presented his sister Valerie Biden Owen shared her belief it was a "gift" since "he did not let the stuttering define him" and it gave him a "backbone of steel," as AP shared.
As a politician, Biden would go on to inspire others who stutter and, in one case, made a profound impact on a young boy, who thanked Biden for helping feel "confident" (via AP).
He was a star football player in high school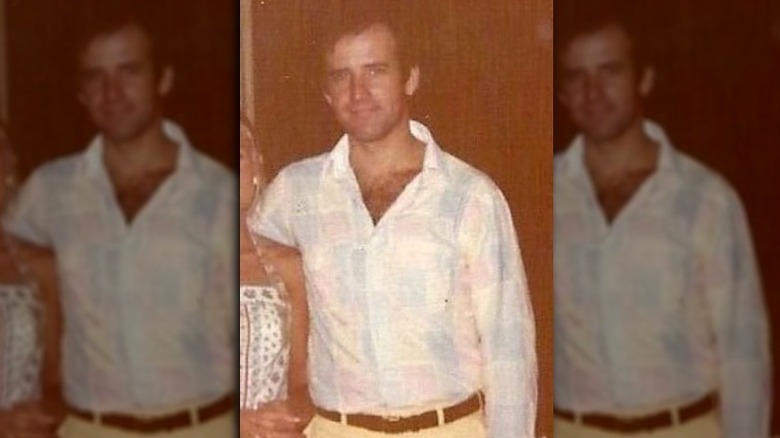 With a knack for sports like football, Joe Biden was eventually nicknamed "Hands" as a kid, as noted by the Miller Center. At Archmere Academy, the private Catholic boys school he attended in Delaware, Biden began to establish himself for his skills on the field. "As much as I lacked confidence in my ability to communicate verbally, I always had confidence in my athletic ability," Biden wrote in his memoir "Promises to Keep" (per The Daily Pennsylvanian). "Sports were as natural to me as speaking was unnatural."
Though his team had a dismal record, Biden and his team began to shine when new coach E. John Walsh recruited new players and switched up positions during the future president's senior year. They ended up with an 8-0 season, and Biden's point total amounted to 60, one of the highest in the entire state. "He was a skinny kid," the Archmere football coach told The New York Times of Biden, "but he was one of the best pass receivers I had in 16 years as a coach."
Biden went on to play football at the University of Delaware, but quit to focus on his poor grades (he reportedly had a 1.9 grade point average).
Joe Biden met his first wife while on spring break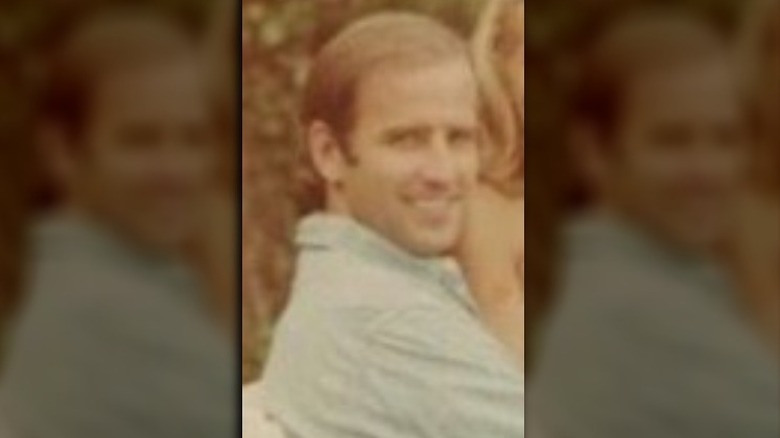 Joe Biden's spring break in the Bahamas during his junior year of college ended up being more than a fun-filled coed trip for a pretty big reason: He met his future wife Neilia Hunter there. "When she turned toward me, I could see she had a beautiful smile and gorgeous green eyes," he recalled in "Promises to Keep" (per Biography). 
The couple became serious, and Joe won over her Republican parents despite his political and religious differences (Joe was Catholic, Neilia Presbyterian). The pair was married in 1966. While Biden attended law school at Syracuse University, Neilia taught  school. The couple struggled to make ends meet, but Biden remembers those early years fondly. His father, a car salesman, traded in the couple's used cars to get them a flashy new Corvette as a wedding gift, and Biden recalled sitting in their tiny kitchen "eating cereal for dinner, laughing about this exotic car just outside their door," as Syracuse.com noted.
He nearly flunked out of law school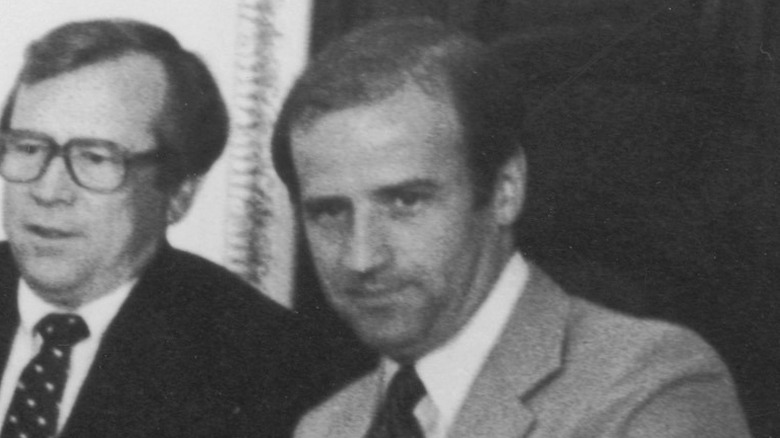 In 1966, Joe Biden entered Syracuse University College of Law, where he and wife Neilia served as residential advisors in exchange for free room and board.
Biden struggled academically and lacked focus, sometimes not even sure he had all the required textbooks for his courses. He called himself a "less-than-frequent visitor" to classes and largely thought of law school as a means to an end. "All I had to do was get through to graduation," he wrote, per Syracuse University's The News House, "and I could get moving on to real life." Biden failed his contract law course, nearly flunked out of another, and had to retake a class when a paper he submitted lacked proper citations, as noted by The New York Times. 
In 1968, Biden graduated, ranking 76th in a class of 85 students. But grades aside, he made his mark while there. "I had the impression that this student was a young man who was going to do well and go a long way," professor Thomas Maroney said, via Syracuse University's College of Law. After passing the Delaware bar exam in 1969, Biden worked briefly as a public defender and at a private firm before venturing into politics, BuzzFeed News noted.
Unthinkable tragedy struck when Joe Biden was elected to Senate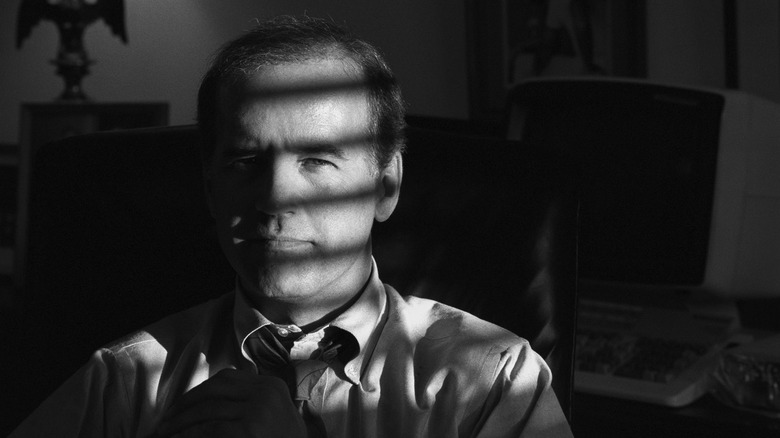 Joe and Neilia Biden had mapped out his career after law school. During this period, the couple also started a family and had three children together: Beau (born 1969), Hunter (1970), and Naomi (1971).
After successfully winning his first elected seat in 1970, the couple set their sights on the U.S. Senate. In 1972, Joe unseated an incumbent republican with Neilia,  the "brains" behind his campaign, by his side (per USA Today). But Neilia wouldn't live to see Joe serve. One week before Christmas, a tractor trailer struck Neilia and their three children in the family's station wagon. Neilia and 1-year-old Naomi both died, while Beau and Hunter sustained injuries and were hospitalized. "My whole world was altered forever," Biden said in a 2015 Yale commencement speech.
In his book "Promise Me, Dad," Biden wrote (via Politico), "The pain had seemed unbearable in the beginning, and it took me a long time to heal, but I did survive the punishing ordeal. I made it through, with a lot support, and reconstructed my life and my family."
Joe Biden famously took the train to and from work in D.C.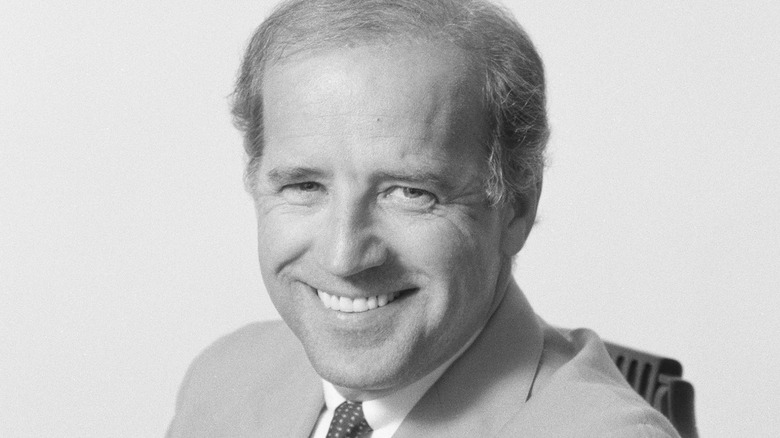 After a tragic car accident turned Joe Biden's family life upside down, the young father had tough choices ahead of him. With two sons recovering from the accident, he took his oath of office in the hospital, knowing his future job would require him to spend significant time in D.C. Biden wrote in HuffPost that he made the choice to ride the train to and from work every day, about a 90-minute trip from Delaware, so he could tuck his sons into bed every night. "I did it because I wanted to be able to kiss them goodnight and kiss them in the morning the next day," Biden said in a Yale commencement address. He added, "Looking back on it, the truth be told, the real reason I went home every night was that I needed my children more than they needed me."
He continued the tradition for 36 years, traveling over 2 million miles on the rails and earning the nickname Amtrak Joe. Biden developed a work routine that started with boarding in Wilmington. "I'd read the papers and make phone calls. At Baltimore, I'd start preparing for that day's hearings, amending my opening statement or going through the list of witnesses," he wrote. "And by the time I arrived in D.C., I'd be ready to jump right in."
His sons urged him to remarry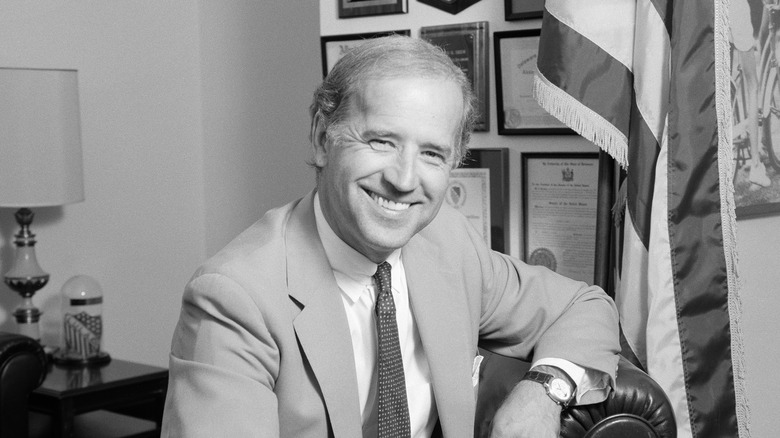 Three years after Joe Biden's first wife passed away, his brother introduced him to a woman finishing her last year at the University of Delaware. Jill Jacobs, who was nine years his junior, wasn't so sure the man in a sports coat and loafers was for her. But by the end of their date to see the film "A Man and a Woman," she was smitten. "I went upstairs and called my mother at 1:00 a.m. and said, 'Mom, I finally met a gentleman,'" Jill Biden told Vogue.
As the couple became serious, Biden's sons, Beau and Hunter, approached their father about making it official. He recalled in his memoir "Promises to Keep" that Beau said (via The Washington Post), "We think we should marry Jill. What do you think, Dad?" 
Though Biden proposed to Jill numerous times, she waited until she was certain. "I really felt that this marriage had to work. Because they had lost their mom, and I couldn't have them lose another mother," she said (via Vogue). They married in 1977 in a small Catholic ceremony, and his sons stood by them at the altar. Biden wrote in "Promises to Keep," "The way they thought of it, the four of us were getting married."
Joe and Jill had a child together in 1981, Ashley Biden, whom Jill let Hunter and Beau name once she discovered she was pregnant.
Joe Biden ran for president multiple times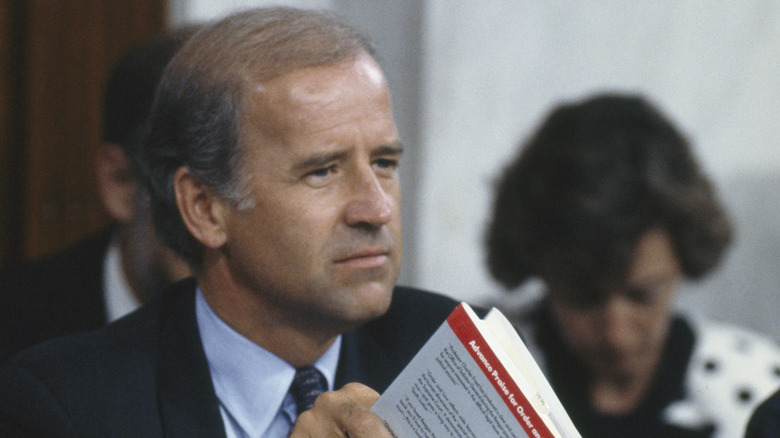 Time reported that the energy around Joe Biden's first senate campaign in 1972 already made him a favorite to run for president. But it wasn't until 1987 that he decided to take the plunge, encouraged by his son Hunter, whom The New York Times reported had said, "If you don't do it now, I couldn't see you doing it some other time." In June of that year at Wilmington's Amtrak station, according to Delaware Online, Biden declared his candidacy, naming protecting children and creating a "new economic nationalism" as cornerstones to his platform. But he ended up dropping out of the contest by September after a plagiarism scandal upended his campaign.
Biden served as senator for a total of 35 years before giving it a second go. In 2004, ABC News reported that his family gathered for a meeting at Christmastime to encourage him to run, saying he could "unite the country." He launched his campaign in 2007, competing against heavy hitters on the national stage like John Edwards, Hillary Clinton, and Barack Obama. Biden dropped out of the race early after coming in fifth in the Iowa caucuses.
As we now know, third time was apparently a charm for Biden. He finally won the democratic primary as well as the presidency in 2020 at age 77, when he defeated one-term president Donald Trump in a contentious election that occurred during a global pandemic.
He first made it to the White House as Obama's Vice President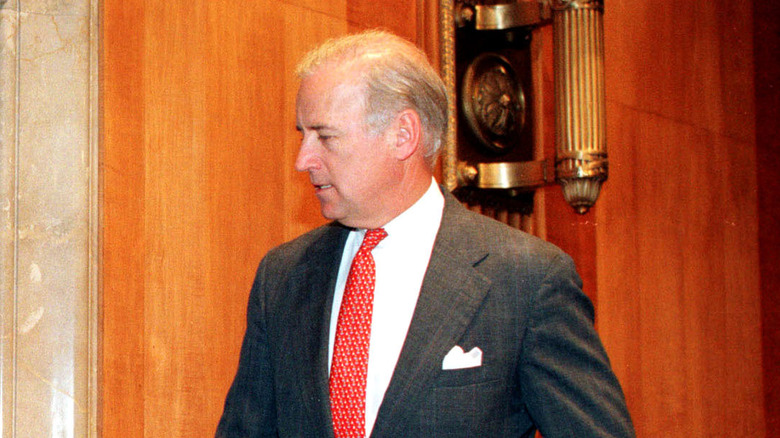 In 2008, after winning the democratic presidential primary, Barack Obama — who was largely seen as ambitious and charismatic, but also young and in uncharted waters as the first African-American nominee — needed to balance his ticket. Among his top picks for a running mate, The New York Times reported, he was seriously considering senator Evan Bayh, governor Tim Kaine of Virginia, and Kansas governor Kathleen Sebelius, but he ultimately went with Joe Biden. Biden's experience in the senate and with foreign policy bolstered Obama, who noted (via CNBC), "We couldn't have been more different." But in his book "A Promised Land" (per CNBC) Obama wrote that Joe "had impressed me with his skill and discipline as a debater and his comfort on a national stage."
Obama called the then-senator with the news while Biden was at the dentist's office with his wife Jill, who was getting a root canal. Biden accepted, though he reportedly hadn't thought he was the front-runner. "I think in his heart of hearts he thought in the end he wouldn't get it," said Biden's friend Edward G. Rendell, former governor of Pennsylvania (per NYT).
But despite bumps along the way, Obama never looked back, once noting, according to CBS News, that choosing Biden was "the single best decision I have made."
By going off script on gay marriage, Joe Biden pushed the issue forward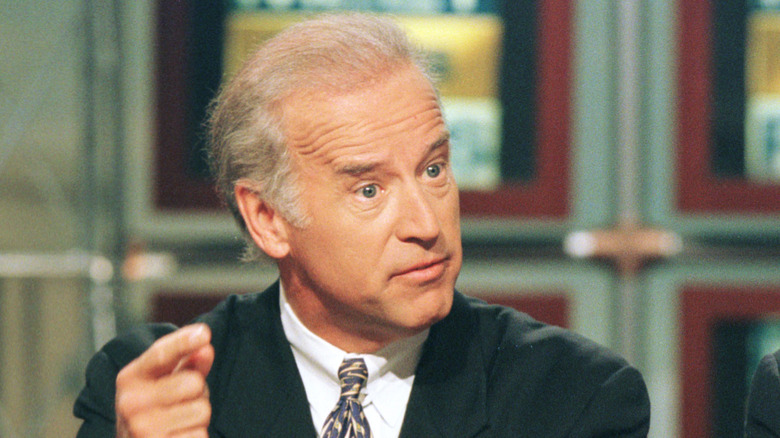 Keeping Joe Biden, a self-described "gaffe-machine," on message hasn't always been easy. When Barack Obama was up for reelection in 2012, The Washington Post reported that Biden caused a particular quandary for his campaign when he went off the script on same-sex marriage, which was not legal at the time. The campaign's plan was to walk a tricky neutral tightrope that appeased both opponents in swing states and advocates. That is, until Biden appeared on "Meet the Press." When asked about gay marriage, Biden, who had recently met with advocates in Los Angeles, spoke from the heart, admitting that he had fully evolved on the issue, boiling it down to who people "love." He quickly differentiated himself from Obama and policy, but later doubled down on his stance: "I am absolutely comfortable with the fact that men marrying men, women marrying women," he said, "and heterosexual men and women marrying another are entitled to the same exact rights, all the civil rights, all the civil liberties."
Now the ball was in Obama's court, lest he be perceived as lacking courage on the issue. According to Politico, the president went on national television soon after in an interview with ABC's Robin Roberts, where he discussed his support of gay marriage. When asked about whether Biden's remarks were appropriate, Obama responded, "He probably got out a little bit over his skis — out of generosity of spirit."
He was awarded the Presidential Medal of Freedom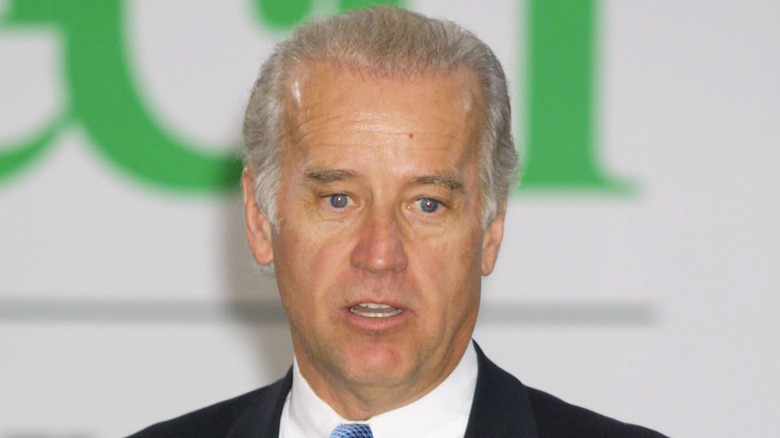 The friendship that developed between Barack Obama and Joe Biden during their years in the White House became meme-worthy. But one of the most touching moments between the pair came in 2017, when Obama surprised Biden by awarding him with the Presidential Medal of Freedom. "This also gives the Internet one last chance to talk about our 'bromance,'" Obama joked at the ceremony, as reported by NPR.
The story goes, according to The New York Times, that Obama invited Biden and his wife, Jill, to a private farewell at the White House. But as Biden entered a room filled with family members, colleagues, and the press, Obama's true purpose was revealed. "To know Joe Biden is to know love without pretense, service without self-regard, and to live life fully," Obama said as Biden swiped away tears.
"This honor is not only well beyond what I deserve, but it's a reflection of the generosity of your spirit," Biden said (via NPR). "I don't deserve this. But I know it came from the president's heart." The Presidential medal of Freedom is considered the nation's highest civilian honor. Obama awarded Biden the medal with distinction, which Obama called "an additional level of veneration" that is rarely bestowed by presidents. Biden joins honorees like Pope John Paul II and Colin Powell in the rare distinction category (per U.S. News & World Report).
Joe Biden lost his eldest son to cancer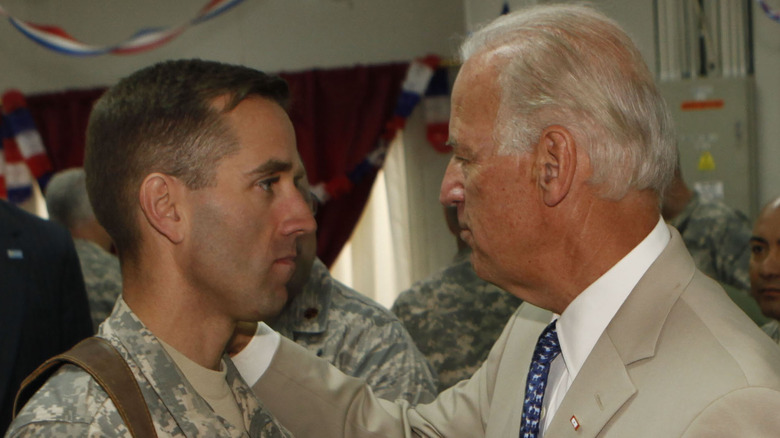 Joe Biden's eldest son and namesake, Joseph Robinette Biden III, more commonly known as Beau, followed closely in his father's footsteps. According to Biography, he went to Biden's high school, Archmere Academy, and later Syracuse University's College of Law like his dad. After working as a federal prosecutor and joining the Delaware National Guard, Beau ran for office for the first time in 2006. He became Delaware's Attorney General, befriending then-California Attorney General Kamala Harris at the time.
Beau had the makings of a rising political star, even being called the "most popular politician in the state" by former governor Jack Markell, as noted by CNN. In 2008, he hit the campaign trail for Biden and Obama and spoke at their Democratic National Convention. "Beau had a way of instilling courage and calming me," Biden wrote in "Promise Me, Dad" (via Biography), adding that his son gave him pep talks and was often last in the room before he went onstage.
Beau set his sights on becoming Delaware's next governor. But at the time, health issues were already plaguing him. After suffering a stroke in 2010, he was diagnosed with brain cancer three years later. Beau passed away in 2015 at 46, and was survived by his wife, Hallie, and two children. As a tribute to his son, per Today, Biden played one of Beau's favorite songs, "A Sky Full of Stars" by Coldplay, after his presidential victory speech in 2020.
He became the 46th President of the United States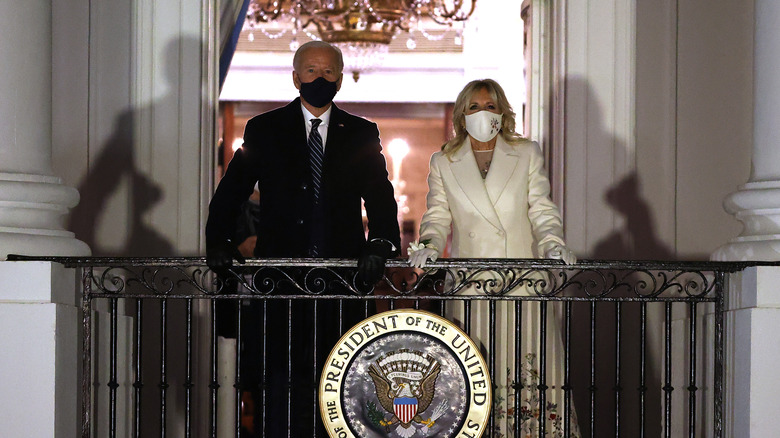 While many hoped Joe Biden would run for president in 2016, he chose to stay out of the race after the death of his son Beau in 2015 (per CNN). After former Secretary of State Hillary Clinton lost to Donald Trump in 2016, the party was overcrowded with nominees who wanted to take on Trump in the 2020 election. The question was whether Biden, who was nearing his late 70s, would also aspire to win the top spot on the Democratic ticket.
In April 2019, Biden formally announced his bid for president, citing Trump's response to the 2017 white supremacist rally in Charlottesville, Virginia, as his core reason. "The President of the United States assigned a moral equivalence between those spreading hate and those with the courage to stand against it," Biden said. "And in that moment, I knew the threat to this nation was unlike any I'd ever seen in my lifetime."
Biden eventually secured the Democratic nomination in June 2020 and turned his efforts to defeating Trump alongside Veep-candidate Kamala Harris (via CNN). In November 2020, Biden achieved that lifelong dream by overwhelmingly winning both the popular and electoral votes. He promised to be a president for everyone at his inauguration, adding, "My whole soul is in it."
Joe Biden serves as the oldest President in U.S. history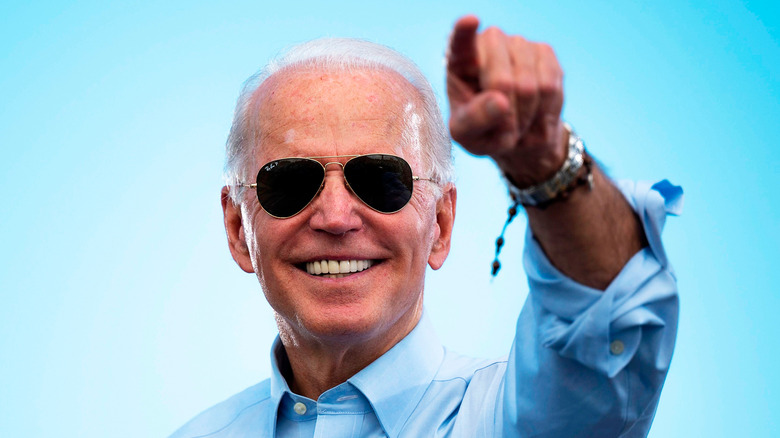 Joe Biden took the oath of office in January 2021 at 78 years old, becoming the oldest person inaugurated as well as the oldest sitting president, AP reported (he was 78 days older than President Ronald Reagan when he departed office in 1989). While Biden emphasizes the wisdom and experience that come with age, he's taken his fair share of hits for not clearing the way for younger candidates. Ageism in the media constantly shadows Biden, from him being called "frail" to having his cognitive skills questioned (per Time). Though when asked by The New York Times if he was too old to run for president, Biden replied, "Come get in the bus with me, 16 hours a day, 10 days in a row. Come see me."
And Biden certainly hit the ground running, though it's uncertain whether his beloved Peloton bike came with him to the White House. According to The Guardian, doctors credit his workout routines and abstinence from alcohol and tobacco to keeping him spry. Life expectancy has also increased since the '60s, so older presidents and politicians shouldn't be all that surprising.
Along with Biden's ranking as oldest president, his administration also experienced many firsts under his leadership. Kamala Harris became the first woman and person of color to be elected VP, Pete Buttigieg became the first openly gay person confirmed to cabinet, and Deb Haaland became the first Native American Secretary of the Interior.
Source: Read Full Article