Princess Diana wore her fairytale wedding gown 40 years ago when she married Prince Charles on July 29, 1981. The royal wedding was broadcast to millions around the globe. And Diana's dress became one of the most iconic wedding dresses of all time.
But according to designer David Emanuel, the dress had one handmade accessory that fans never saw.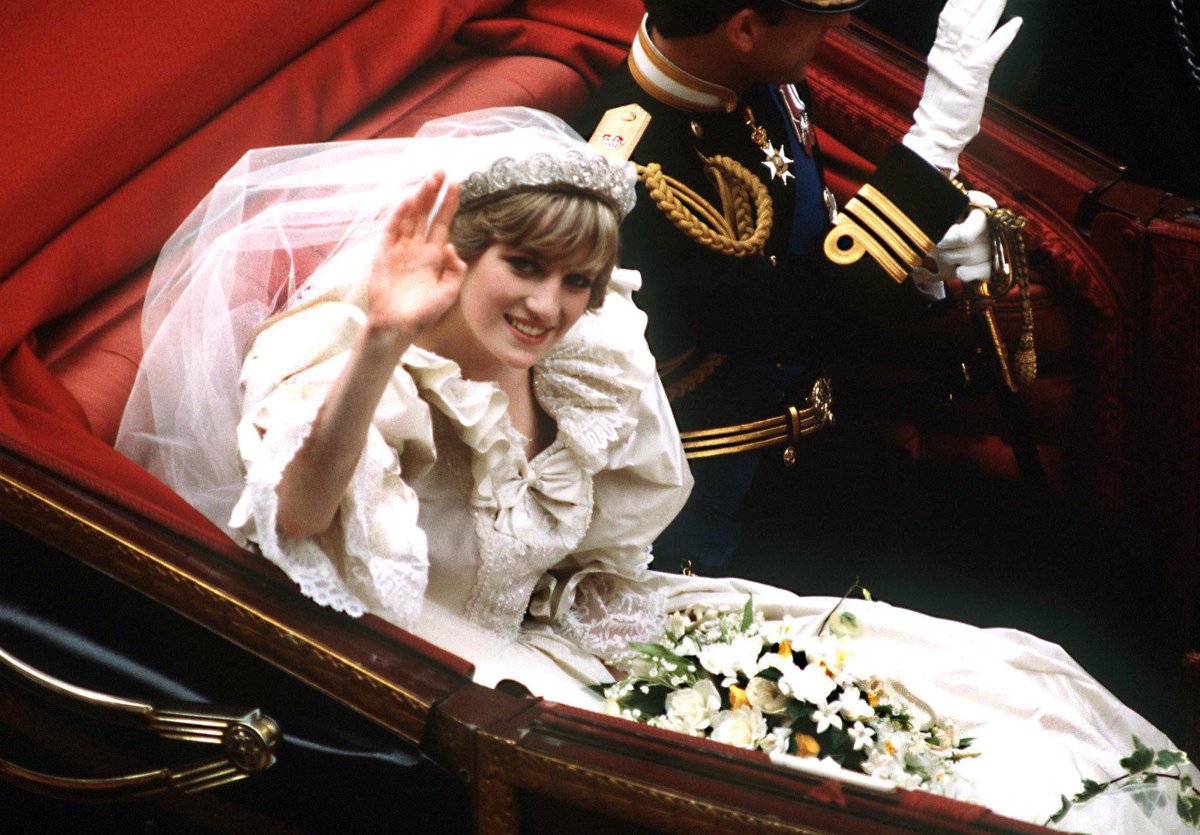 Princess Diana's dress was 'the most closely guarded secret in fashion history'
According to Tatler, Diana's wedding dress was often dubbed the "most closely guarded secret in fashion history." Until she made her debut in the dress on her wedding day, very few details were shared with the public.
Diana chose David and Elizabeth Emanuel — a young husband-and-wife design team — to design her dress. They created a silk-taffeta fairytale gown for the young bride with puff sleeves, 10,000 mother of pearl sequins and pearl embellishments, antique lace, and the longest train in the history of royal wedding dresses — 25 feet.
The dress reportedly cost around £90,000, which in 2021 would be equal to £310,000 (approximately $430K).
"We knew it had to be something that was going to go down in history, but also something that Diana loved," Emmanuel said. "And we knew it was going to be at St. Paul's, so it had to be something that would fill the aisle and be quite dramatic."
'She looks like a movie star'
When she started dating Prince Charles, Diana made an appointment with Emanuel to try on his dresses for public appearances. He says she initially had three or four gowns made for formal occasions, and they helped transform her public persona.
"The first time the public saw her in one of my gowns they were quite shocked," Emanuel recalled. "As a kindergarten teacher, people were used to seeing her in pretty blouses and pleated skirts. Then she got out of the limousine in a taffeta Emanuel gown and that's when everybody said 'oh my goodness, she looks like a movie star.'"
Princess Diana's iconic wedding dress had a handmade accessory that no one saw
When Charles and Diana's engagement was announced, she immediately turned to the trusted designer to make her wedding gown. Emanuel says that Diana's wedding was "an extraordinary occasion" and designing her dress was the "biggest job" of his career.
"Suddenly out of the blue, this phone call came into the studio and asked if we would do the honour of making her wedding dress, then it all happened very quickly," Emanuel says.
Emanuel also revealed that he attached a good luck charm to the label — an 18-carat gold trinket studded with white diamonds. And, he designed a matching accessory — an umbrella just in case it rained.
"It was made of such light material that it certainly wasn't waterproof…it wouldn't have done her much good!" the designer admitted.
'Diana, you look beautiful'
Emanuel says that they got an early start at Clarence House on Diana's wedding day. Everything was laid out, while Diana was getting her makeup done with her hair in rollers.
"At the time she was called shy Di and if she said anything, she would blush. She was just magical, very special,' Emanuel revealed. "It was hair and make-up done then a split-second fit into the dress."
"She glided down the stairs, it was a magical moment when her father looked up at her and said 'Diana, you look beautiful,'" Emanuel remembers.
Princess Diana's wedding dress is now on display at Kensington Palace
For the first time in decades, royal fans can now see Diana's dress in person at the Royal Style in the Making exhibit at Kensington Palace. Prince William and Prince Harry have loaned the gown to the event, which highlights the designers, courtiers, and tailors that have made clothing for the British monarchy over the years.
Diana's wedding dress — as well as her go-away dresses — will remain on display until January 2, 2022. Entrance to the exhibit is included when fans book a tour of Kensington Palace.
Source: Read Full Article