Prince Harry's United States move with Meghan Markle sent shockwaves through the royal family. The couple announced back in early 2020 that they intended to "step back" from their roles as senior royals. Since then, the two have carved out a new life for themselves in the U.S. — all while tensions have reportedly continued mounting between Harry and some of his family members.
Though the United States seemed like a permanent move for the couple, Harry just hinted in a recent interview that the U.S. might not be the couple's forever home.
Prince Harry and Meghan Markle reside in Montecito, California
Back in March 2020, Prince Harry and Meghan Markle officially removed themselves from the royal family by quitting their jobs as working royals in exchange for a less chaotic life in North America. The couple initially settled down in British Columbia, Canada, before buying a home in Montecito, California.
For the past two years, the two have called the United States home. The couple welcomed their second child, Lilibet Diana, in California, and the two have since been raising their family close to Meghan's mother.
Harry and Meghan have started working in the U.S. as well by launching their Archewell foundation, starting a podcast, and attending various events, among other business ventures. But on Harry's recent return to Europe for the 2022 Invictus Games, he suggested the couple's U.S. move might not have been a permanent decision.
Prince Harry just hinted he and Meghan Markle might leave the United States
The Duke and Duchess of Sussex might have all the makings of a perfect life in the U.S., but that doesn't mean it's where they'll stay. Harry recently sat down with TODAY host Hoda Kotb, where his language revealed something surprising: He doesn't seem set on building a life in California. While discussing Harry's relocation to the U.S., he started to say his home was in the U.S., but he quickly corrected himself to suggest he might not be there forever.
"Home for me now is, you know, for the time being, it's in the States," Harry said, shortly after noting that it was great to see his grandmother for the first time in a while. Harry's use of the phrase "for the time being" suggests that he and Meghan don't necessarily plan to plant permanent roots on U.S. soil.
When Kotb later discussed the interview with her colleagues on TODAY, reporter Craig Melvin took note of Harry's words. "It was interesting to also hear him say that his home is here for the time being," Melvin said. Kotb then suggested Harry knew he would cause a stir with that comment.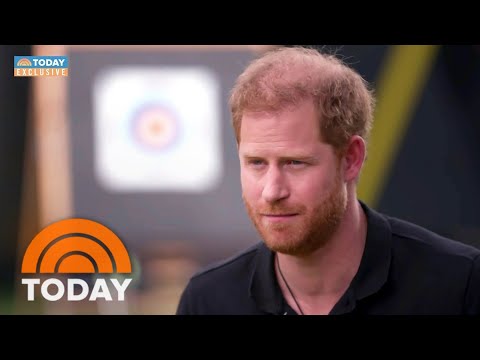 Prince Harry remains on shaky ground with the royal family
During the interview, Harry showed his love for some royal family members and shied away from talking about others. When asked about whether he missed his father and brother, he steered the conversation back to speaking about the Invictus Games — suggesting the relationship has not recovered. Harry said that his focus right now is the Games, and when he returns home, the focus will be his family and children. Kotb didn't press him for much more detail.
However, Harry gushed about getting the chance to see his grandmother again, including that he shared some jokes with her and that the two had a nice reunion. It's unclear what exactly the status of Harry's relationship with Prince William and Prince Charles is, but he didn't have the same sincere words to say about them.
Source: Read Full Article