The first Marvel Cinematic Universe release of 2022 is almost here, and fans are more excited than ever for Moon Knight. The series will venture into a brutal corner of the MCU that aims to shed light on mental illness. And given the addition of the Defenders series on Disney+, it seems like Marvel is ready to embrace its dark side and explore topics that it has rarely touched. And we have everything you need to know to prepare for Moon Knight.
'Moon Knight' releases on Disney+ at the end of March
Disney+ will release the first episode of Moon Knight on Wednesday, March 30. Some of the previous Marvel Disney+ shows aired two episodes during their premieres, but it looks like Moon Knight will only debut one on March 30.
The show consists of six episodes, and the streaming service describes it as a miniseries. So it's unlikely that Marvel has a second season planned, but we've learned never to say never when it comes to the MCU.
Moon Knight's synopsis reads, "The series follows Steven Grant, a mild-mannered gift-shop employee, who becomes plagued with blackouts and memories of another life. Steven discovers he has dissociative identity disorder and shares a body with mercenary Marc Spector. As Steven/Marc's enemies converge upon them, they must navigate their complex identities while thrust into a deadly mystery among the powerful gods of Egypt."
Who is in the cast?
Once Moon Knight releases on Disney+, fans will meet a handful of new characters. The cast includes Oscar Isaac as Steven Grant/Marc Spector/Mr. Knight/Moon Knight, Ethan Hawke as Arthur Harrow, Gaspard Ulliel as Anton Mogart/Midnight Man, May Calamawy as Layla El-Faouly, and F. Murray Abraham voices the Egyptian moon god Khonshu.
Isaac will begin the series as Steven Grant. But his character will quickly learn of his dark past as Marc Spector and that he is a conduit for Khonshu.
While speaking with USA Today, Isaac explained the differences between Steven and Marc. He said Steven is an "English bloke who is a bit confused and doesn't have great social skills and says the wrong things at all the wrong times and is completely sincere." The actor added that Steven is "someone longing for connection, and in a way, could be a counterpoint to the classic, tortured, dark vigilante guy we've seen a lot."
Marc, on the other hand, is rougher around the edges. Isaac shared, "I leaned into this Chicago guy who's pushing people away. You feel the way that Steven feels: 'Why is he such a (jerk)? I don't really want to be around him.' As the story progresses, you see that thaw happen."
Meanwhile, Arthur Harrow is the villain of the story. He is a cult leader connected to the god Ammit, but many fans believe there is more to his character than meets the eye. Hopefully, we will learn more about Hawke's character when Disney+ releases Moon Knight at the end of March.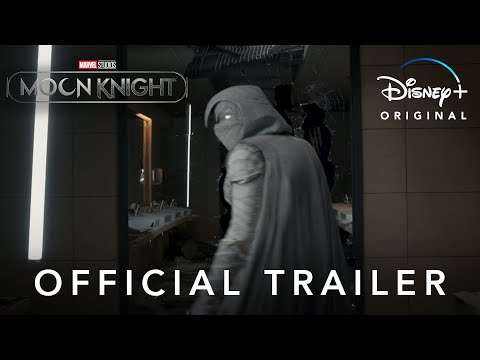 The trailer teases the introduction of Steven Grant and a mysterious villain
The Moon Knight trailer revealed the release date for the Marvel series, and it gave fans a first look at the show. Plus, fans learned that the series would begin with Oscar Isaac as Steven Grant instead of Marc Spector, which surprised many.
The video introduces Steven as an English man living in London who has a sleeping disorder. He "can't tell the difference between his waking life and dreams." Steven sees flashes of Moon Knight and Khonshu as he struggles to differentiate reality and his dreams. He later finds a ringing cell phone, and when he answers it, a woman on the other end calls him Marc.
Steven also meets Arthur Harrow in the video. The cult leader tells him, "It must be very difficult — the voices in your head. There's chaos in you. Embrace the chaos."
The trailer also treated fans to Isaac in the Moon Knight costume, which psyched many for the release of Moon Knight on Disney+.
How to watch 'Moon Knight' when it releases
Moon Knight will air weekly on Wednesdays on Disney+, starting with episode 1's release on March 30. The streaming service will add new episodes at 3 a.m. ET.
The series will run for six episodes, so it is set to conclude on May 4. Interestingly, the finale date is two days before the Doctor Strange in the Multiverse of Madness premiere. Since fans expect Moon Knight to jump over to the MCU films, perhaps a crossover will happen sooner rather than later.
Source: Read Full Article