"I wasn't speaking with him in real life," she said, before describing how her father sent the man — who she referred to as "Voldemort" — "a message" when he showed up on set.
Even when Hilarie Burton tried to put a wall between her and one of her bosses at One Tree Hill, she says he found ways to force them to interact.
On the latest installment of her Drama Queens podcast with fellow costars Sophia Bush and Bethany Joy Lenz, Burton claimed that while filming the Season 5 episode "Echoes, Silence, Patience & Grace," their boss wrote himself into the show.
Though she didn't refer to anyone by name — simply calling the man "Voldemort," as in the villain from Harry Potter — Burton said she "wasn't speaking to him in real life, and so he wrote himself into the episode of me hugging him."
"That is so psychotic," exclaimed Bush. "Can you guys imagine Shonda Rhimes or Aaron Sorkin casting themselves on their own show?"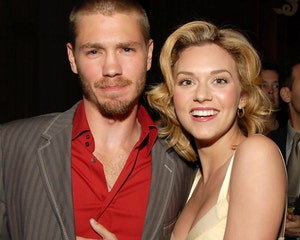 One Tree Hill's Hilarie Burton Says Chad Michael Murray Confronted Boss After Alleged Assault at Bar
"It was so creepy," said Burton, who pointed out that while she had her brother on set with her and the father of her boyfriend at the time directing the episode, she still felt "it wasn't quite enough" — so she invited her own father to visit during filming as well. "My dad came and sat behind the monitor, all day, which is kind of weird because he clearly wasn't there to be friendly," she said, calling him "a presence."
Burton said she would "beeline" over to the monitor where he was sitting between takes, feeling safer by her dad's side. "Because you can't touch me, you can't pull me into a sidebar conversation, you can't do any of that if I'm just shooting the s— and making jokes with my dad," she continued.
According to the actress, "Voldemort" would go to the production office during lunch, which had a view of the parking lot. She said that during break that day, her father and the show's sound mixer — both avid bullwhip users — "proceed to go out to parking and pull out bullwhips and start doing all these tricks and cracking them real loud."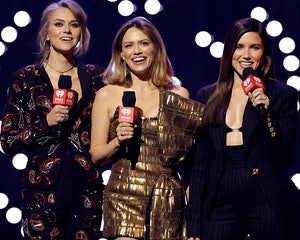 One Tree Hill Women Claim They Were Threatened Into Doing Maxim Cover Shoot
"It was the most redneck, carny move that could be done but it was just like a message, like, 'Hey, don't,'" she said. "What an awkward day at work. What a s— day!" she continued, adding that while her dad's presence "didn't necessarily solve anything" in the long run, it did the trick for the day.
She added viewers can see how uncomfortable she was when watching the episode back, adding, "You can tell by my body language I'm like always pointed away, I'm never looking directly at him."
In the episode they were talking about, Burton only interacts with record store owner Max, who was played by series creator Mark Schwahn. During the podcast, the women all pointed out how weird it was Burton's character was venting to "Max" during this particular episode, which was one of Schwahn's two appearances in front of the camera on the show.
In the years since the series went off the air, many in the cast and crew accused Schwahn of sexual misconduct, with Burton alleging he forcibly kissed her and groped her; he was eventually fired from his job at The Royals on E! when the allegations came out, but has never addressed the claims against him publicly.
The National Sexual Assault Telephone Hotline — 800.656.HOPE (4673) — provides free, 24/7 support for those in need.
Why Hilarie Burton and One Tree Hill Costars Revealed All the 'S—-y Details' of Showrunner's Alleged Abuse
Source: Read Full Article