Since signing with Ford Models at 14 years old, Emily Ratajkowski's body has been on display for others to judge. Throughout her years being primped and primed for the camera, the model and actor was also looking for ways to find power in it. Ratajkowski earned money and influence, all the while mastering the art of disassociating from uncomfortable situations with photographers, directors, and other men to remain in control. But it wasn't until later on that she realized how much of her success was dependent on how people—largely men—perceived her.
Raised outside of San Diego, Ratajkowski began modeling for Nordstrom and Kohl's before landing her big break in 2013, starring in the music video for Robin Thicke's catchy and cringey hit single, "Blurred Lines." What followed was a slew of opportunities including cover shoots for GQ and CR Fashion Book, and movie roles in the 2014 thriller Gone Girl and 2015 EDM drama We Are Your Friends. Though other film projects followed, acting has since fallen to the back burner; Ratajkowski launched her swimwear line, Inamorata, in 2017 and also got married and had her first child. Now, she's taking control of her narrative.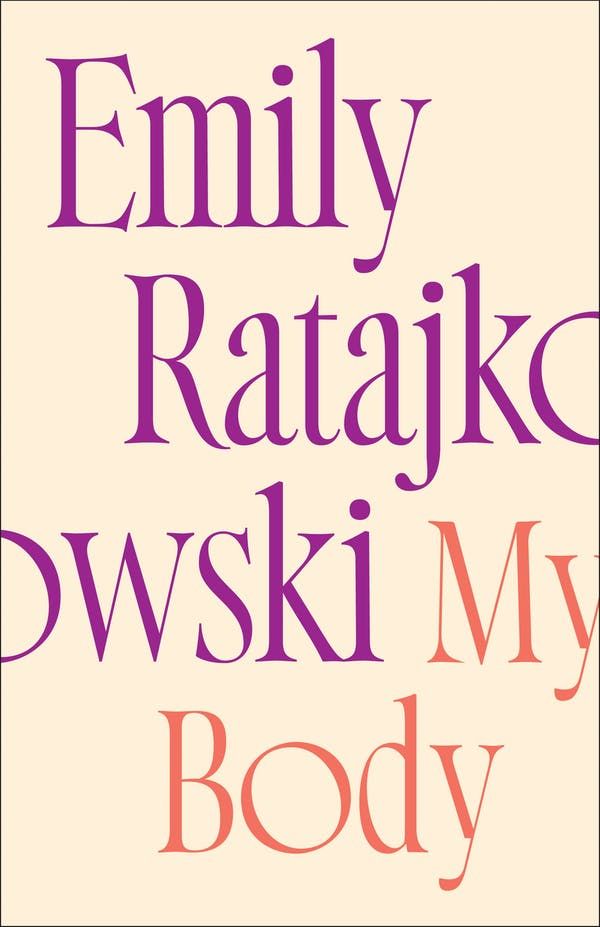 With Ratajkowski's literary debut, My Body, the model and businesswoman examines the dichotomy of sexuality and the dark realities that shaped the arc of her life and career. In the razor-sharp collection of essays, Ratajkowski offers an incisive look at the sexism, exploitation, and gray area of sexual abuse she's endured. Whether she's revisiting the time she panicked over posting a butt selfie during a free vacation to the Maldives in "Bc Hello Halle Berry" or blasting the sleazy, insulting man who gave her her first cover story—something emblematic of the experiences she's had with men over the years—in "Men Like You," the model-turned-author revisits formative moments of her life with nuance.
Ahead of her book's release, Ratajkowski speaks with BAZAAR.com about her hesitation to put labels on the complex sexual situations she experienced, being taken seriously in her career, and the validation women seek from one another.
What prompted you to write a book?
I didn't realize I was writing a book at first. If I had sat down with a blank screen in front of me and thought, "I'm going to sit down and write a book," I wouldn't have done it, because it's way too intimidating. I really started writing for myself. I've always been a big reader, which was part of the reason I never wrote. I felt like I could never write like the writers that I love, so why would I dare try? But I was starting to process a lot of ideas and experiences in my life that I had always seen in one way, and I wanted to think about them in a different way.
You describe being a model as being a "mannequin" in My Body. Was that a protective phrase for you in some way?
Yeah. When I was in high school, everybody had this feeling of, "Oh, she's modeling. That's so cool and glamorous." But pretty quickly, once I became a working model, I really did just feel like a mannequin. I was shooting a lot of e-commerce for websites like Forever 21 where you basically put on a shirt and do, like, front-side-back. So I wanted a way to describe my experience of feeling like a mannequin, feeling like just a body.
A lot of experiences in the book were things I didn't have names for or was very hesitant to put into these categories of sexual assault.
There are so many harrowing experiences that you detail in the book where you're being sexually assaulted but not realizing it at the time. Did you acknowledge certain events were sexual assault while writing this?
When I was writing it, I wasn't even thinking of things as "sexual assault." Honestly, as it started to go out into the world, people would say, "Owen was stalking you essentially." And I'm like, "Oh, wow." I'm still processing, and I think that's part of why I wrote the book. It's very interesting and, at times, validating to have people say, "Oh, that's what this was." I never would have used the word stalking, for example, for my high school boyfriend. But now that you say it, that's stalking. A lot of experiences in the book were things I didn't have names for or was very hesitant to put into these categories of sexual assault. I really do want things to never feel black and white—for people to understand the complexities of these situations and how they feel in the moment more than I want them to label them.
In your book, you allege that Robin Thicke groped you during the making of the "Blurred Lines" music video, and before your book came out, that news went viral. Have you interacted with Robin Thicke since?
No, I haven't. The whole reason that I decided to write an essay [about that] was for the larger thesis of the book, and I had never thought about it or obviously talked about it before. It's been unfortunate to watch the narrative completely be out of my control. But I'm hoping people read the book [in order to] to be able to understand what that experience was for me and why I decided to write about it.
Something you write about in the book is the validation you've looked for in Instagram likes. Have you been able to rely less on that kind of validation as you've gotten older?
I'm probably never going to completely stop looking for some kind of validation about the way I look. We all care about the way we look to some degree. But as someone whose livelihood is based on how many images are taken of me and are seen in so many different contexts—whether it's without my permission or paparazzi shooting me when I'm walking my dog—I've become so aware of my body and the way I walk. Of course, I want to look good, but I think understanding and naming the drive for that has been healing and helpful for me. It's made that validation feel less important.
Were there any authors or books that inspired the themes in My Body and the way you approached writing it?
This has been a lifetime accumulation of different things that I read that I was interested in, whether it be Naomi Wolf's The Beauty Myth or, more recently, Melissa Febos's Girlhood. Then, as far as the structure of a book of essays, I looked at Jia Tolentino's Trick Mirror, Leslie Jamison's The Empathy Exams, and Alexander Chee's How to Write an Autobiographical Novel. Also, Carmen Maria Machado's In the Dream House, which is a memoir and not a book of essays, but has a really unique structure to it. I love The Best American Essays. I've read the collection every year for the past 10 years. I think what I love about the essay is you take one idea and shape it however you want. There's so much freedom in it.
I'm so afraid of people thinking of me as an 'angry, spiteful woman,' but sometimes, it's really good to be angry. Anger is justified.
In the book, there's a chapter called "Men Like You," which is centered around an email that you wrote to the man who gave you your first cover story, Steve, after he emails you years later to work together. He displayed inappropriate behavior during that initial shoot and in an interview in 2016 with InsideHook, insulted you and tried to take responsibility for your career. Did you ever actually send that email to him, or is the email in My Body an open letter to him?
Yes, I did. It's an abbreviated version of that letter. The redacted email in the book is real, and I was so pissed and wrote an email back to him. Then I was like, "Maybe I need to say more about this. I have more things to say."
Did he ever respond to your email?
He never did.
Steve, and the email you penned, were such a microcosm of the awful men you had confronted over the years.
That was an essay I wrote the most quickly, because it just flowed out of me. Before I wrote that essay and the other ones, there were moments, sentences, or descriptions where I felt like I was angry and punishing almost. When I went to edit the book, I took out all of that, and I let that letter represent the anger and let the intent be in that. I'm so afraid of people thinking of me as an "angry, spiteful woman," but sometimes, it's really good to be angry. Anger is justified. So I wanted that piece to represent that.
There are so many men in the book who are trying to own these parts of you. With this book, do you feel like you're getting your power back and "buying" back your image?
Yeah. I think that there's just something about having a printed, physical testament or recording of your experience that's so gratifying. I really made sure to be as honest as I could in every line of the book, because I know that there's a permanence to the publishing. I don't know if it's "taking it back" so much as it just feels like it's all these things I denied and couldn't really talk about. A lot of experiences, even small things in the book, that I felt like, "Was that real? Is that really what happened?" To have it all chronicled in the way that it is does feel empowering.
The book says a lot not just about the way that men judge women but about how women judge women. How did your perspective on that shift over time?
I think the book is actually weirdly more about women than it is about men. Female friendships have been the most important relationships in my life, undoubtedly, but I've also had so many experiences with women that have felt really complicated, and I wanted to understand why. I've learned a lot about this feeling that women have to compete, and that there's this feeling of scarcity: Like, that woman is succeeding in that way, or if she has those physical assets, then it means that you can't also exist and have your physical assets and both be two individuals that can be nice to each other and succeed. It's so ingrained in us. Even trying to talk about feminism and to be critical of the ways misogyny shows up, we're always criticizing other women. This was what I was interested in exploring in the book: Why do we always ask each other to adjust instead of looking at the larger system that encourages that kind of scarcity thinking and competitiveness?
I've also had so many experiences with women that have felt really complicated, and I wanted to understand why.
Your relationships to famous women like Halle Berry, Demi Moore, and Britney Spears are woven throughout the book. Why were they so significant to telling your story?
We use women in the public eye as mirrors in our personal life, as ways of looking at ourselves and comparing ourselves. It's not always obvious why that particular person is that way or brings up that stuff for you as an individual. But I'm so much more curious about women than I am about men a lot of the time. With a woman, it feels like I want to continue to check on her Facebook, or I follow someone's career because I think that I see a part of myself in these women. But I also think that my friends who aren't models, actresses, or in the public eye experience that as well. They're looking at Kim Kardashian and thinking about her divorcing Kanye and what that means about their life.
How did this book redefine your relationship with your body and the way you see yourself?
I felt very disconnected from my body. It's something that offered me more than the things that my body does for me on a daily basis; other than the way I'm perceived, that hadn't been something that I thought about a lot. In writing this, it made me come into myself and into my body. Also forgiving myself for the ways that I've treated my body, because I did have so much shame around a lot of those experiences. Now, having written the book, I've been able to reread my writing and think about how my own experiences have changed my relationship to my body.
With My Body, do you want people to take you more seriously?
I mean, it's not why I wrote the book, but it's certainly something I'm hoping to have. It's that thing that I've never felt like I've had before, which is people recognizing me for my brain and my thoughts. But I actually want this book to be out in the world so that people can connect to it.
Source: Read Full Article