Performances take center stage even more than usual at the 2023 Video Music Awards amid the ongoing WGA and SAG-AFTRA strikes with Nicki Minaj hosting and performing alongside Cardi B, Megan Thee Stallion, Demi Lovato and more!
While there was a lot of uncertainty about how the 2023 MTV Video Music Awards might play out without writers amid the ongoing WGA strike, one thing was guaranteed to light up the stage … a night of superstar performances.
From Lil Wayne and Olivia Rodrigo kicking off the show to a retrospective of 50 years of hip-hop music to close out the night, the VMAs did not disappoint. That's not to say all performances were equal, so we're going to break down what worked and what left us a little underwhelmed as the night progressed.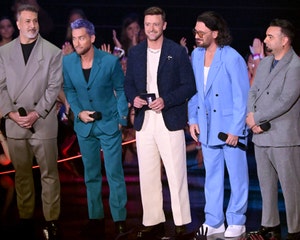 NSYNC Reunites at MTV VMAs — See Boy Band on Stage Together for First Time In 10 Years!
In fact, we're going to go ahead and rank all of the night's performances from first to– well, you hate to say worst, so we'll just call it our least favorite performance of the night. It might just be your favorite. That's the beauty of things like this; it's all subjective.
With that said, there were definitely some memorable performance as Nicki Minaj took the helm as host and performer. Perhaps the most flustered moment of the night came way before she had to perform, as Taylor Swift accepted the night's first award from *NSYNC, united and together on a stage for the first time in a decade.
She immediately badgered them about what this means, whether they're working on something. Might there be new music or a tour coming? Perhaps they'll top a list like this for next year's VMAs. Time will tell.
In the meantime, here's how the performances broke down. We'll keep updating this post throughout the night until we've left no musical number unmentioned!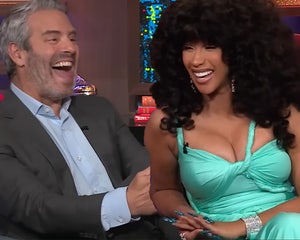 Cardi B References Mic Incident in Hilarious Housewives Tagline, If She'd Return to Reality TV
Doja Cat
This epic performance felt like Doja Cat was trying to make a statement about where she's at in her career, which is absolutely dominating the stage. This felt like a musical had been built around her music and she was just bringing it to life. We loved the backup dancers splattered in red representing her "Paint the Town Red" look, as well as all the bad-bitch energy everyone was bringing to this. It was genuinely epic from start to finish, like she's already a legendary performer celebrating her career.
Anitta
Anitta brought a whole damned show with spotlight dancers throughout the theater and all around her. She went move for move with them, without missing a note. The biggest issue we had with this performance was the fact that MTV seemed to have their camera people deep in the crowd, giving us some truly awful shots of the non-stop action on the stage. Anitta looked and sounded fantastic on this, with set design that brings the street to the stage and then fills them with wall-to-wall dance and energy.
Olivia Rodrigo
Unable to render YouTube Video.
Olivia Rodrigo started gently in a beautifully desgined nighttime forest vista as she got into "vampire." We did enjoy the elements of the set sparking and pretending to break down as her performance progressed, with Rodrigo and the band reacting to the apparent mishaps as if it wasn't all scripted. She was even rushed off stage as a concerned Selena Gomez looked on (did anyone tell Selena this was all scripted?). Rodrigo reappeared with her own dancers to perform her latest single, "get him back!" The vocal wasn't quite as strong on the uptempo, but we can't deny that she was living her best life up there.
Lil Wayne
Lil Wayne kicked off the night with a high-energy performance that was at the same time pretty lowkey when it comes to spectacle. The VMAs opted for a pretty straightforward performance piece with just a few backup dancers and Wayne doing his thing. He did make his way briefly through the crowd to a smaller stage set up in their midst, but he didn't stay long. The highlight here was that the rapper sounded great and got the crowd properly hyped for the festivities ahead. Could they keep the momentum going?
Cardi B & Megan Thee Stallion
The backing tracks of themselves were a little jarring as both Cardi and Megan dropped their mics from time to time only to have the track make it look like this was a lip sync performance. It was strategic and clearly intended, but those tracks hit with the same volume and intensity as the live vocals. Outside of that, though, props to both women for putting on a great show with plenty of sass and– what rhymes with sass? Let's just say there was a lot of female empowerment going on with a whole slew of women bringing their sensuality, sexuality and ferocity to bear in equal measure.
Demi Lovato
Demi Lovato brought their rock persona to the stage for an aggressive medley of some of their hits, but we found ourselves if we were hearing something wrong or if her pitch really was consistently off throughout her overall performance. We love these songs she was bringing — putting a rock stamp on "Cool for the Summer" and "Sorry Not Sorry" — and we loved the kinetic energy of her whole vibe tonight, but this definitely wasn't the strongest live vocal she's ever brought.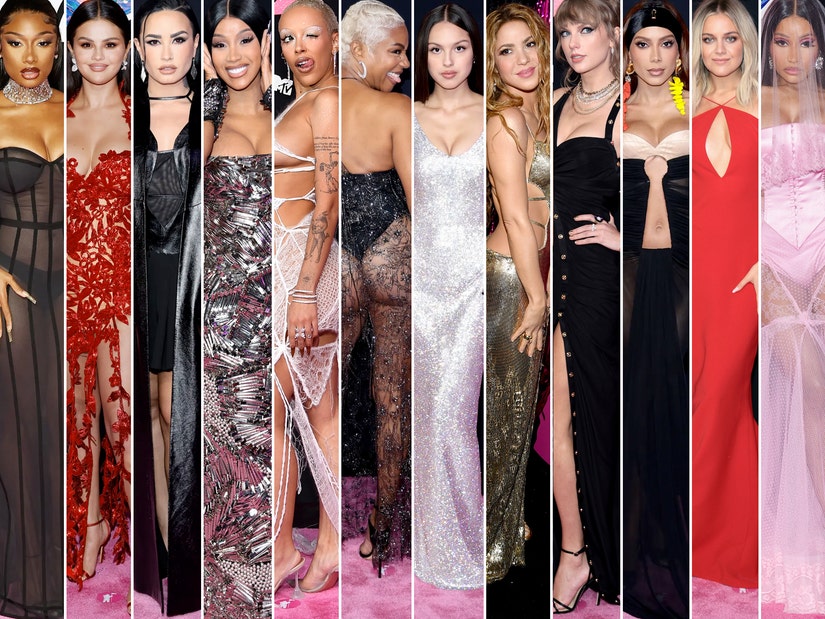 Source: Read Full Article