2021 might be difficult for a number of reasons, but luckily, there's no shortage of mystery novels coming out this year. From cozy mysteries to literary fiction, crime dramas, and psychological thrillers, these books are some of the most-anticipated mystery novels of 2021.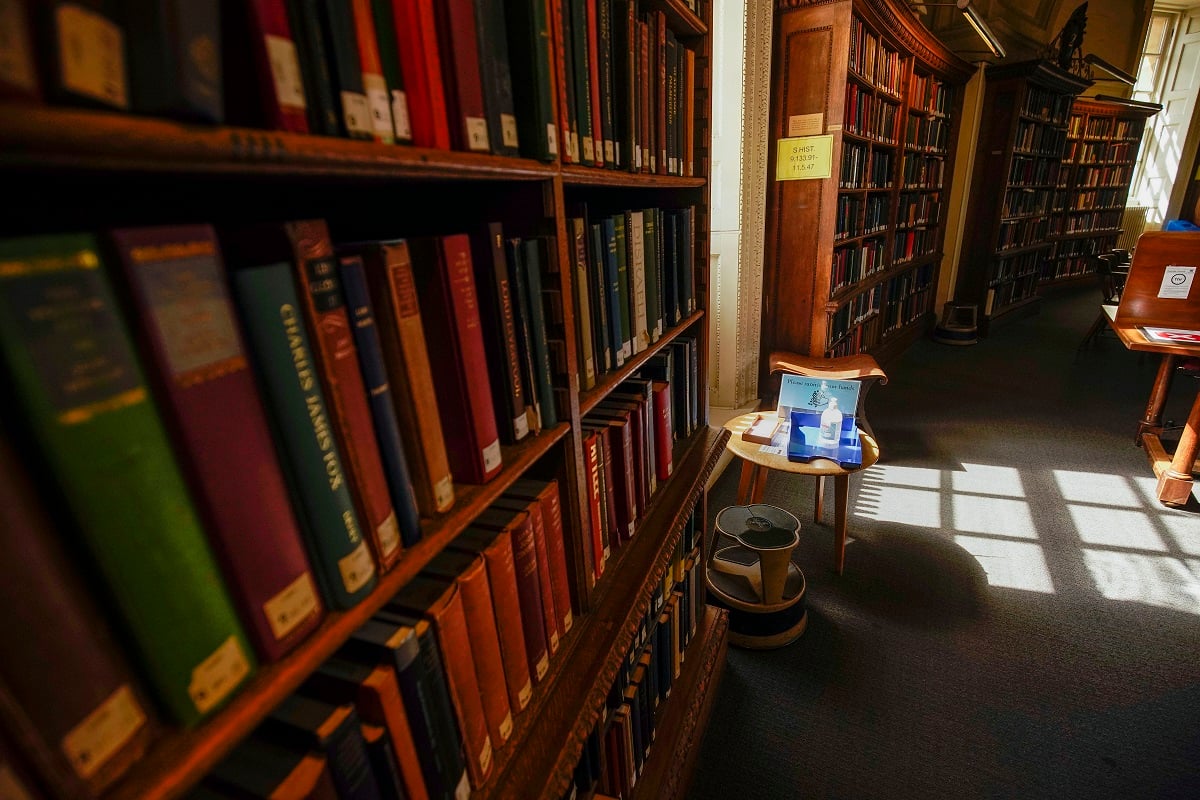 'The Burning Girls' by C. J. Tudor
Fans of historical fiction and supernatural horror will love C.J. Tudor's The Burning Girls, coming out Feb. 9. A reverend with a dark past and a 14-year-old daughter to protect finds centuries-old secrets, ghost stories, and exorcisms hidden in the walls of the villages he heads to for a fresh start.
https://www.instagram.com/p/CKEkKLEAPft/
'We Run the Tides' by Vendela Vida
Set in San Francisco in the 1980s, Vendela Vida's We Run the Tides – slated for release on Feb. 9 – is a chilling testament to female friendship and the challenges of growing up.
Two teen girls see something they shouldn't while en route to their elite all-girls' school one morning. But after they can't agree on what exactly they witnessed, one of them disappears. This work of literary fiction would suit fans of YA novels who want something darker to sink their teeth into.
https://www.instagram.com/p/CIGpBD2JxXG/
'The Echo Wife' by Sarah Gailey
Coming out on Feb. 16, Sarah Gailey's sci-fi-tinged domestic thriller The Echo Wife is equal parts Mary Shelley, Big Little Lies, and Black Mirror.
Skilled researcher Evelyn Caldwell is able to use her genetic engineering expertise to create a clone, Martine – one who is far sweeter and more submissive than Evelyn could ever imagine being herself. There's just one problem: Martine and Evelyn's husband are having an affair…that is, until he winds up dead.
https://www.instagram.com/p/CKj-6jkgvBJ/
'Quiet in Her Bones' by Nalini Singh
What happens when a socialite disappears for a decade? After all, she's just another trophy wife, gold-digger, and reluctant mother… isn't she? Nalini Singh's slow creep of a suspense novel set in New Zealand, Quiet in Her Bones, comes out Feb. 23.
https://www.instagram.com/p/CK1xbJ-DEXg/
'An Unexpected Peril' by Deanna Raybourn
Deanna Raybourn's An Unexpected Peril, coming out Mar. 2, is the latest in her series about Veronica Speedwell – a butterfly hunter, natural historian, female detective, and world traveler during the Victorian era. Veronica has to pose as a princess to investigate the murder of a groundbreaking female mountain climber in this rollicking adventure.
https://www.instagram.com/p/CFaTqdjg2k4/
'A Game of Cones' by Abby Collette
A Game of Cones, coming out Mar. 2, is the second in Abby Collette's cozy mystery series set in a small-town Ohio ice cream shop. A developer wants to build a major mall in the area, but murder stops his plans in his tracks – and creamery owner Bronwyn Crewse has to suss out the killer.
https://www.instagram.com/p/CAn1UZ0A7_o/
'The House Uptown' by Melissa Ginsburg
Melissa Ginsburg's The House Uptown, set for release on Mar. 16, is a dark coming-of-age story set in New Orleans. When 14-year-old Ava has to move in with her bohemian artist grandmother, Lane, they both have to content with memories of Ava's mother – and not all of them are nostalgic.
https://www.instagram.com/p/CKC6TA_hvD4/
'Saving Grace' by Debbie Babitt
The first female sheriff in a small town in the Ozarks has to wrestle with white supremacy, the challenges of motherhood, the search for a missing girl, and her own demons in Debbie Babitt's Saving Grace, coming out Mar. 16.
https://www.instagram.com/p/CK5R4AFg7Tz/
'When the Stars Go Dark' by Paula McLain
Paula McLain's When the Stars Go Dark, coming out April 13, will appeal to fans of lyrical prose, gothic thrillers, and psychological suspense.
Anna Hart is used to finding what's been lost – after all, she's a veteran missing persons detective. But when she returns to her tiny Northern California hometown after a tragedy in her own life, the search for a recently disappeared teen gets too close to home.
https://www.instagram.com/p/CJme1b0gaqn/
'Hour of the Witch' by Chris Bohjalian
Chris Bohjalian – the celebrated author of the recently adapted The Flight Attendant, for which Kaley Cuoco was nominated for a Golden Globe – tackles the issue of domestic violence in a Puritan setting in Hour of the Witch, coming out May 4.
Mary Deerfield, a young wife in Boston in 1662, knows she has to escape her abusive husband. But her attempts to achieve liberation for herself arouse suspicion during the time of the witch hunts.
https://www.instagram.com/p/CIUBDJTA5HA/
'The Maidens' by Alex Michaelides
The ivory tower seems a bit less untouchable in Alex Michaelides' novel The Maidens, to be published June 16.
Cambridge Greek tragedy professor Edward Tosca is well-loved and highly respected, both by his colleagues and by the elite members of The Maidens, a hush-hush, all-female secret society at the university. But Mariana, a therapist and Cambridge alum, doesn't love Edward – in fact, she thinks he's a murderer.
https://www.instagram.com/p/CJtBhqTA0tF/
'Survive the Night' by Riley Sager
Riley Sager's Survive the Night, coming out June 29, is a nostalgic, suspenseful throwback to '90s slasher flicks.
Charlie, a college student, needs to get back to her Ohio hometown; her friend just became the third victim of a serial murderer known as the Campus Killer. Josh Baxter has a car and a night of driving ahead of him, so he seems like the perfect guy to hitch a ride with. But as the night continues, it seems like Charlie might have come face-to-face with the killer himself.
https://www.instagram.com/p/CG0dgayAkPp/
'The Stranger in the Mirror' by Liv Constantine
Liv Constantine's previous work became a Reese Witherspoon Book Club pick, so it's no surprise that The Stranger in the Mirror, publishing July 6, is a highly-anticipated mystery.
https://www.instagram.com/p/CJJMyyCgBn3/
Addison is getting married soon. The only problem? She doesn't remember the groom – or herself. A car accident several years ago left her with little memory to speak of, but a kind stranger thankfully came to her rescue. Meanwhile, in Boston, Julian wonders why his wife Cassandra left him and their seven-year-old daughter two years ago.
Source: Read Full Article