THE CURRENT DEFINITIONS for the term plant-based are hazy. So food-manufacturing companies can slap a "plant-based" label on anything and collect a health halo.
That's why in creating our new book, Men's Health Plant-Based Eating (The Diet That Can Include Meat), we built our own definition with the help of experts. And here's the thing: Not one of them said that eating plant-based means eating only plants.
"A plant-based diet should be an inclusionary diet of plants rather than an exclusionary diet of animal products," says Eric Helms, Ph.D., C.S.C.S., a steroid-free bodybuilder and a nutrition and exercise researcher who has been eating a high-protein plant-based diet for almost ten years.
David Katz, M.D., M.P.H., the founding director of the Yale-Griffin Prevention Research Center, uses the term plant-predominant.
Abby Langer, R.D., a Toronto-based nutrition expert and author of Good Food, Bad Diet, says that plant-forward offers more clarity.
Brian St. Pierre, R.D., C.S.C.S., the director of nutrition at Precision Nutrition, spells it out this way: "Ultimately, a well-done plant-based diet is one that includes lots of plant foods rather than one that decidedly excludes animal foods."
And really, eating plant-based requires only a small shift in how you view food. "You should build your meals around plants," says Langer. "That doesn't mean plants have to be the only thing on the plate. That just means thinking about plants first."
Instead of having a big bone-in pork chop for dinner and then tacking on a side salad, make a big salad with mixed greens, one cup of protein-rich chickpeas, and two ounces of thinly sliced pork tenderloin on top. You'll still hit the 30 grams of protein you need to build muscle an you'll enjoy the flavors of the pork.
It's animal protein as condiment.
It's also easier—and way more delicious—than you'd expect.
These three recipes prove it.
Breakfast: High-Protein Blueberry-Banana Pancakes
These fluffy flapjacks are loaded with fruit and topped with nuts. The batter mix delivers the protein. Birch Benders and Kodiak both offer a plant-based product using pea protein, which is dairy-free. Other mixes typically use whey protein, which isn't. Up to you.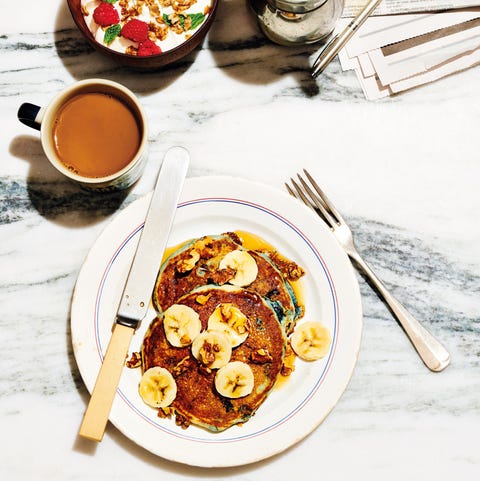 What You'll Need: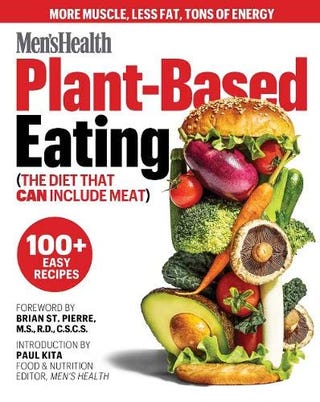 How to Make It:
1. In a large bowl, whisk the pancake or waffle mix with 1 cup cold water until combined. (Try not to overblend.) Then stir in the frozen blueberries.
2. Brush a large nonstick skillet with oil and heat over medium. Working in batches, add 1/4 cup batter per pancake to the pan. Cook until bubbles appear, about 2 minutes. Flip and cook until the undersides are golden brown, about 1 to 2 minutes.
3. Serve with walnuts and banana. Makes six 4-inch pancakes. Feeds 2
Per serving: 463 calories, 17g protein, 56g carbs (9g fiber), 22g fat
► PROTEIN BOOST: Add a bowl of plain yogurt topped with berries. Greek yogurt has 15 to 20 grams of protein per serving; regular yogurt has eight to nine.
Lunch: Ratatouille Royale
Deli meat does not a sandwich make. Meal-prep this formidable stacker by batch-grilling the vegetables and slicing the mozzarella. Assemble the morning of and feast come noon (or 11:30 a.m., because you can't wait).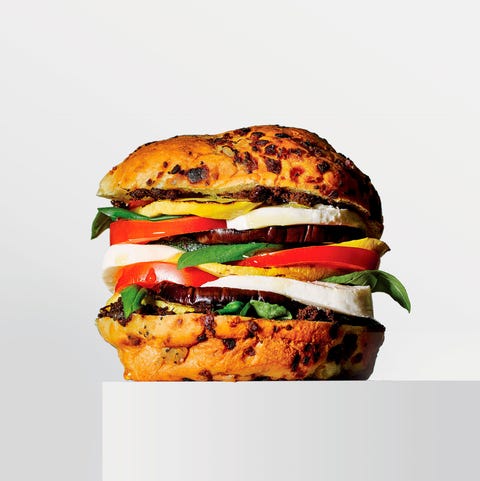 What You'll Need:
How to Make It:
Spread half the olive tapenade on the bottom half of the onion roll, then layer half the mozzarella, eggplant, yellow squash, zucchini, tomato, and basil. Repeat the layers. Feeds 1
Per serving: 600 calories, 21g protein, 41g carbs (9g fiber), 40g fat
► PROTEIN BOOST: Bean-based chips contain decent protein. Two good bags: Beanitos and Beanfields. Each has about five grams of the nutrient per serving.
Dinner: Seared Scallops and Lentil Salad
Lentils are a nutrition powerhouse. Just a half cup of cooked lentils contains eight grams of protein and seven grams of fiber.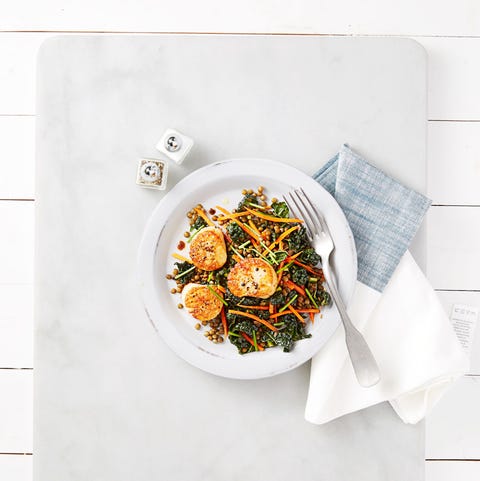 What You'll Need:
How to Make It:
1. Cook the lentils according to package instructions. Drain. While the lentils are hot, toss with the kale, carrots, vinegar, and mustard. Season with salt and pepper. Set aside.
2. In a large skillet, heat the canola oil on medium high. Season the scallops on both sides with salt and pepper, then cook them until well browned on the bottom, about 2 minutes. Flip and repeat. Serve the scallops over the lentil salad and top with chives. Feeds 4
Per serving: 360 calories, 31g protein, 51g carbs (11g fiber), 5g fat
This article originally appeared in the January/February 2021 issue of Men's Health.
Source: Read Full Article