In 1949 a 26-year-old American tennis player called Gertrude "Gussie" Moran qualified for Wimbledon for the first time in her career. To mark the occasion, she asked the era's most renowned designer of tennis dresses and longtime tournament ambassador, Teddy Tinling, to make her a bespoke outfit.
The dress Tinling designed for Moran had to abide by Wimbledon's all-white dress code, as enforced by the tournament's organisers, the All England Lawn Tennis and Croquet Club. But that's pretty much where tradition ended. Moran's dress was cut above the knee, to allow for greater movement on the court. For many spectators that was outrageous enough, but it was Moran's silk underwear with two inches of lace that really scandalised British high society.
Nick Kyrgios put on a red cap and red shoes while still on court.Credit:Getty Images
It was an era before television, and photographers had chosen to lie on the ground behind Moran hoping to capture pictures of her underwear as she served. The published images provoked an extraordinary backlash. All England Club officials declared the dress was "vulgar" and condemned Tinling for drawing "attention to the sexual area". He was banned from the tournament for three decades. Wimbledon also banned short dresses and the precursor tournament to the US Open prohibited lace underwear and revealing necklines, just in case anyone tried a similar move in Queens. Moran never wore the dress again, but she could never shake off her reputation as "Gorgeous Gussie", the woman who shocked the tennis world.
In a sign of how even the most staid traditions can shift over time, in modern tournaments tennis dresses cut above the knee aren't just allowed, they're ubiquitous. But Wimbledon's all-white rule remains, and it's back in the spotlight after Australian Nick Kyrgios was pulled up for daring to wear red sneakers and a red hat after the conclusion of his fourth-round match.
Kyrgios is far from the only player to have fallen afoul of the rule. Between 1988 and 1990 Andre Agassi refused to play at Wimbledon because of its dress code and traditionalism, but most of those who have been accused of breaching the all-white policy have been women. In 1985 American Annie White wore an all-white one-piece lycra bodysuit onto the court. It wasn't an obvious breach of the rules, but she was told by the umpire she couldn't wear it again.
Eugenie Bouchard and Venus Williams have both been scolded for wearing non-white bras onto the court, with the latter even forced to swap her underwear midway into a match.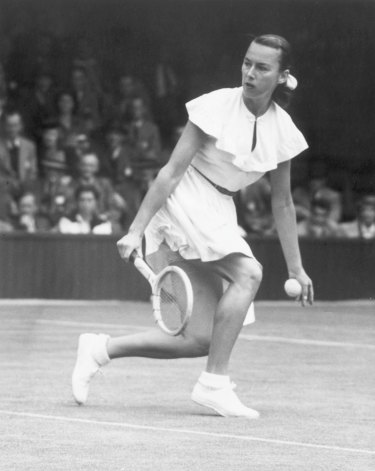 22nd June 1949: American tennis player Gertrude 'Gussie' Moran on court during the Wimbledon Lawn Tennis Championships. Credit:Getty Images
In 2016 Nike's Premier Slam dresses, worn by 20 players including Victoria Azarenka and Bouchard, had to be recalled after Wimbledon officials said they didn't cover enough skin.
Rules governing how much, or how little, skin an athlete can show, and what colour their underwear is, seem deeply bizarre in 2022, but they're completely in line with the history of Wimbledon, and the traditions its fans venerate. The reason the all-white dress code was introduced was to avoid unsightly sweat patches on coloured clothes. The damp spots were considered particularly unsightly on women.
It's a concept that fits within the conservative Victorian social norms of the era in which Wimbledon was first played, but it's unclear why so many feel wedded to retaining it now, especially given the deeply uncomfortable manner in which the dress code has historically been enforced. "Tradition" sounds appealing until you interrogate the political and social context it actually stems from, what values those enforcing it are trying to retain, and how it's impossible to separate out fashion from the broader issues around gender and class.
The "tradition" argument also doesn't really stack up considering the other, Victorian-era Wimbledon rules that have been abandoned in recent years. For decades the official Wimbledon championship board only listed women winners by their husband's name, even if they had since separated or divorced. This year will be the first time women champions will not have the prefix "Mrs" or "Miss" attached to their title. It was also "traditional" to pay women less prize money than men, but that policy was abandoned in 2007. These were practices rooted in sexism and they were rightfully abandoned. Why can't other things change?
Of course, none of this means that the parts of Wimbledon that make it unique need to be abandoned. Variety across the open season makes for exciting and diverse matches, whether that's clay vs. grass or the outfits. Maintaining some kind of dress code gives Wimbledon a distinctness that acknowledges its history, similar to all-white Test cricket uniforms.
But enforcing the policy with absurdly specific rules around the colour of underwear, the amount of skin displayed, or what shoes a player can wear once they finish their match can seem about more finding excuses to punish athletes than creating a particular fashion culture.
Most Viewed in Lifestyle
From our partners
Source: Read Full Article