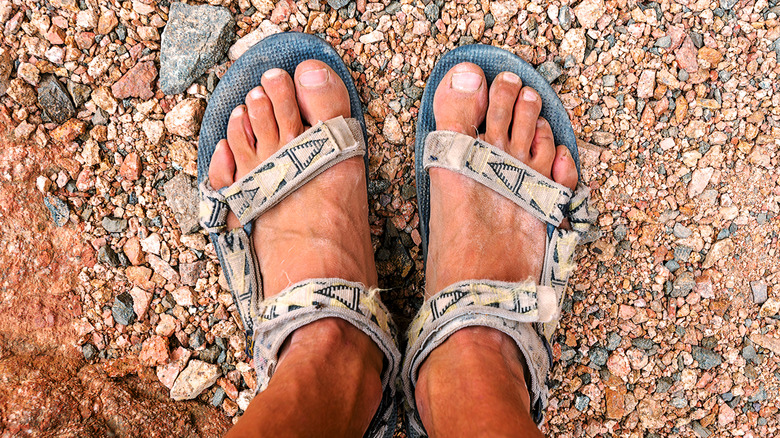 Everything old is new again, and 1990s fashion trends are back in a big way, from colorful makeup looks and high-waisted denim to chokers and claw clips (via Cosmopolitan). If you're looking to stay up on these trends but don't know what to put on your feet, look no further.
There's something about this trend of reclaiming "uncool" fashion and making it chic that we simply can't get enough of. And, indeed, this uncool-cool fashion lends itself perfectly to footwear. Just look at Birkenstocks, Crocs, and even Fila platform sneakers. This niche category of so-ugly-they're-cute dad fashion is very popular these days. According to stylist Kate Young (per The New York Times), "There's something so normal about them that if you're a fashion person and wear them it's kind of funny and cool."
So it should come as no surprise that Teva sandals are back and cooler than ever (via Marie Claire). Founded in 1984, these versatile sandals were originally created with outdoor adventures in mind. According to the brand's website, Tevas were actually born from a "necessity to prevent sandals from floating downstream [when] a resourceful river guide strapped two Velcro watchbands to a pair of old flip-flops."
And, while many people still wear Tevas for this very reason, others sport the comfy sandals just for the sake of the aesthetic and the comfort — which is why they have taken mainstream fashion by force.
Tevas are loved by campers and fashionistas alike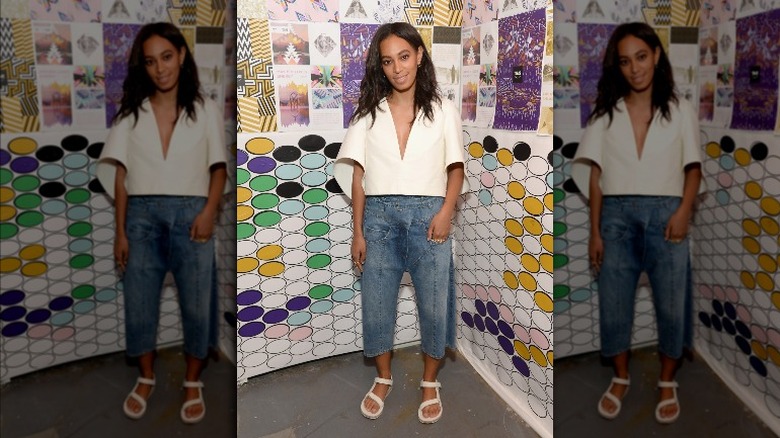 Over the years, Tevas began to gain popularity among camping aficionados. Due to their comfort, versatility, and durability, they essentially became the non-official shoe of campers everywhere (via Gear Junkies). But their tendency to appear on the feet of outdoorsy types doesn't mean this is where the styling stops.
Dale Arden Chong at Bustle wrote all about her experiment styling her Tevas with "seven wildly different outfits" to prove that, regardless of the occasion, they're the perfect shoe. Chong paired them with every style you could imagine and was even able to make the sandals work with a fancy going-out dress. "I returned to the idea of sporting this athletic, outdoorsy sandal with something more romantic and feminine, wearing a gauzy navy dress with relaxed sleeves," she explained. "This is easily one of the prettiest dresses I own in my closet of tomboy staples, but with the white Tevas, this seemed like a natural pairing."
And it's not just Chong who's attempting to turn her Tevas into a high-fashion wardrobe staple. Indeed, Bella Hadid was seen stomping the runway in 2019 wearing the Teva x Anna Sui platform Tevas during Sui's spring fashion show, per The New York Times.
Here's how long the average pair of Tevas should last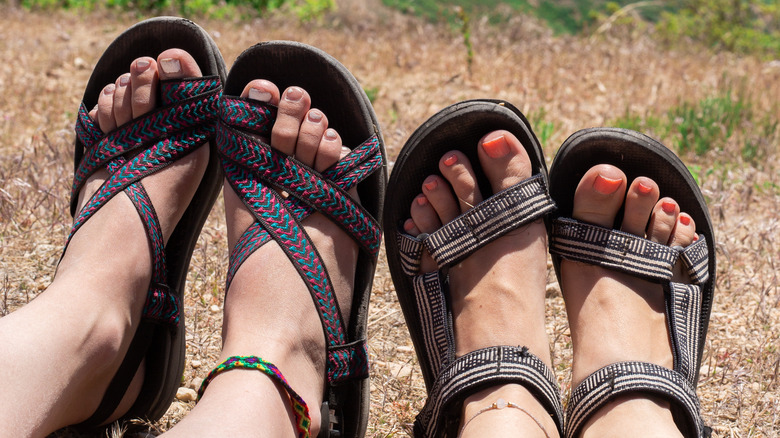 We're pretty darn lucky to live in a time where the comfiest shoes are also the coolest. And what the public seems to like the most about Tevas is that they come in an impressive number of styles, colors, fabrics, and even heights. That's right: If you're 5 foot 2 and want a little more height, opt for one of the Teva platform options, which can give you a few extra inches of height in the comfiest way possible (via Amazon). 
And, depending on your budget, you can buy a pair that suits your financial needs. Tevas aren't the cheapest sandals on the market, but they are by no means the most expensive. You can snag a simpler option for around $40 to $50. But, if you're looking to get a little more spendy, a decked-out pair might cost about $150 (via Teva). 
But, regardless of how much you spend, you can rest assured that your Tevas will last. According to Well Traveled Mile, the sandals should last for years "as long as you're not hacking at them with your new machete or melting them by your campfire at night." Some models can even go strong for up to five years.
So, whether you're heading into the woods or strutting into a first date, we recommend grabbing yourself a pair of Tevas before they sell out.
Source: Read Full Article