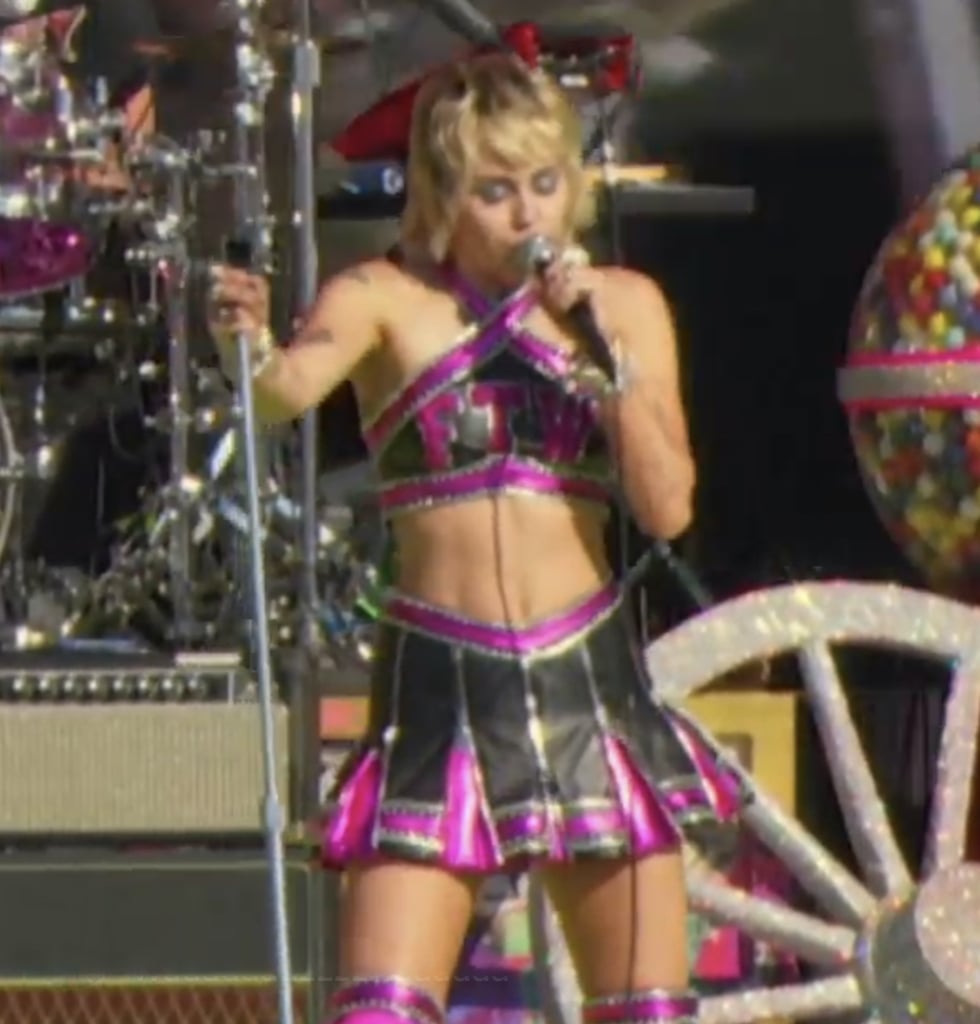 Miley Cyrus's Super Bowl Outfit Comes With Pink Metallic Knee Pads, Because She Rocks Hard

Miley Cyrus performed at the Super Bowl LV NFL TikTok Tailgate pregame show, and you better believe she had quite the sexy outfit prepared for the occasion. I mean, did you expect anything less? The singer shared a sneak peek at the top-half of the ensemble she'd be wearing a few days before, also teasing us with her killer cardio workout she added into her daily routine to prepare to take the stage.
As it turns out, Miley's outfit — a shiny black and pink halter crop top with "FTW" in all-caps lettering across the front — came complete with a matching skater skirt and pink metallic knee pads (since, as she noted upon her entrance, she was prepared to rock hard, even bringing Billy Idol out onstage to perform "Night Crawling" and Idol's "White Wedding"). Miley finished the outfit with tall, lace-up high-heeled boots that she styled ahead of the show with cutoffs and a green jersey.
For anyone wondering what "FTW" stands for, it was clearly Miley FTW — she had the whole audience chanting "Hey Miley, you're so fine" at one point! Sure, the big game is technically between the Tampa Bay Buccaneers and Kansas City Chiefs, but hey, Team Miley all the way. Scroll down to see what Miley wore at the pregame event before Jazmine Sullivan and Eric Church sing the national anthem, H.E.R. delivers a rendition of "America the Beautiful," Amanda Gorman recites another one of her incredible poems, and The Weeknd takes the halftime show in all his glory. Oh yeah, and that whole football game thing is happening, too.
Source: Read Full Article