For Tyler Adams, sneakers are everything. Growing up in Wappinger, New York, on the eastern bank of the Hudson River, the 22-year-old first realized his deep connection with footwear on the playground during his time at elementary school over a decade ago. After switching allegiances from adidas to Nike early on, Adams grew a particular fondness of the epochal Jordan Brand — a label he's since based his shoe collection around.
Alongside his passion for sneakers, Adams' career as a professional footballer flourished too. After joining New York Red Bulls' academy in 2011, Adams went on to make his first team appearance in a friendly match against the then Premier League champions Chelsea four years later, before making his United States Men's National Team debut in 2017. Fast-forward to 2019 and Adams has switched the bright lights of New York City for Germany's Bundesliga to join RB Leipzig.
A renowned trade city in the heart of Europe, the sneaker scene in Leipzig is a big change from that of New York City. Yet while his location and surroundings might have been altered, Adams' passion for sneakers remains stronger than ever. To understandmore about this, HYPEBEAST sat down with the footballer for our latest Sole Mates installment to discuss his earliest sneaker memories, how the scene in Leipzig compares to that of New York, and which Jordans are still on his holy grail wish list.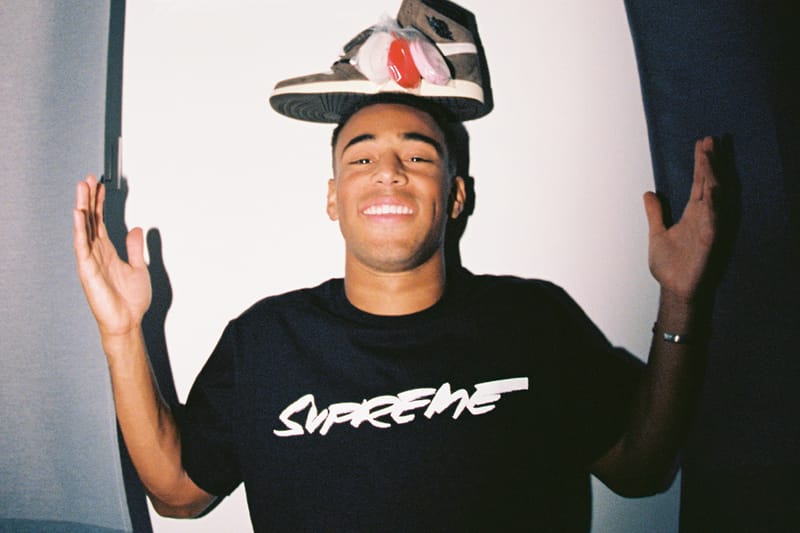 Dean George / Ten Toes Media
HYPEBEAST: Let's start from the very beginning. How did you first get into sneakers? What's your earliest memory?
Tyler Adams: I was always influenced by other kids around me. When I was at school, there were always people wearing Jordans when they were shooting hoops outside during recess. I remember looking at them and thinking how nice they were and from there I was really into them. My mum was into sneakers too and always loved to buy shoes, which certainly had a big influence on me. We both always wanted a fresh pair.
So your mum a sneaker collector?
She had a huge shoe collection, she was always wearing a different pair every day. Her shoe closet made me fall in love with shoes, so I definitely get that from her. We would always go to sneaker stores and get new sneakers together. It was a special thing we always had in common.
What were you into back then, just Jordans?
It was really just Nike and Jordan you know. My first pair of sneakers were actually adidas Originals Superstars, in white with black stripes. Then when I was in elementary school I switched and it was all Nike for me. I've always been a huge Jordan fan, any I could get my hands on I wanted. I think adidas is real simple, you know. When I think of them I think of the Superstar and the Stan Smith, but when I think of Nike it's the Air Max, the bubble, it's innovation, they always wanna change something, and that's what I gravitate towards.
What's your relationship with sneakers like nowadays? Why are they still so important to you?
Sneakers to me are everything. I need a pair for the mood I'm in and the fit I'm gonna rock for the day. It just gives you that extra drip for the day that you might need. You can go simple on some days with some real neutral colors, or you can switch it up with something a bit brighter. That's what I love and always have about sneakers: whatever you're feeling on the day, you can find a sneaker to match that.
What's your current sneaker collection like at the moment? What are we playing with?
Here in Leipzig I have two rooms full of sneakers, and then back in New York I have a bunch of OG Jordans that I'm never going to wear. I usually double up on a lot of pairs. I have about 20 pairs of Retro 1 alone, so altogether maybe 80 Jordans including the Bred 11, Space Jam 11, Flint 13 and loads more OG colorways — but I keep those safe back in New York. In my current rotation I got the Union 4, Union 1, a couple of SBs. I always try to make sure that whatever season it is, I have a color rotation that matches it.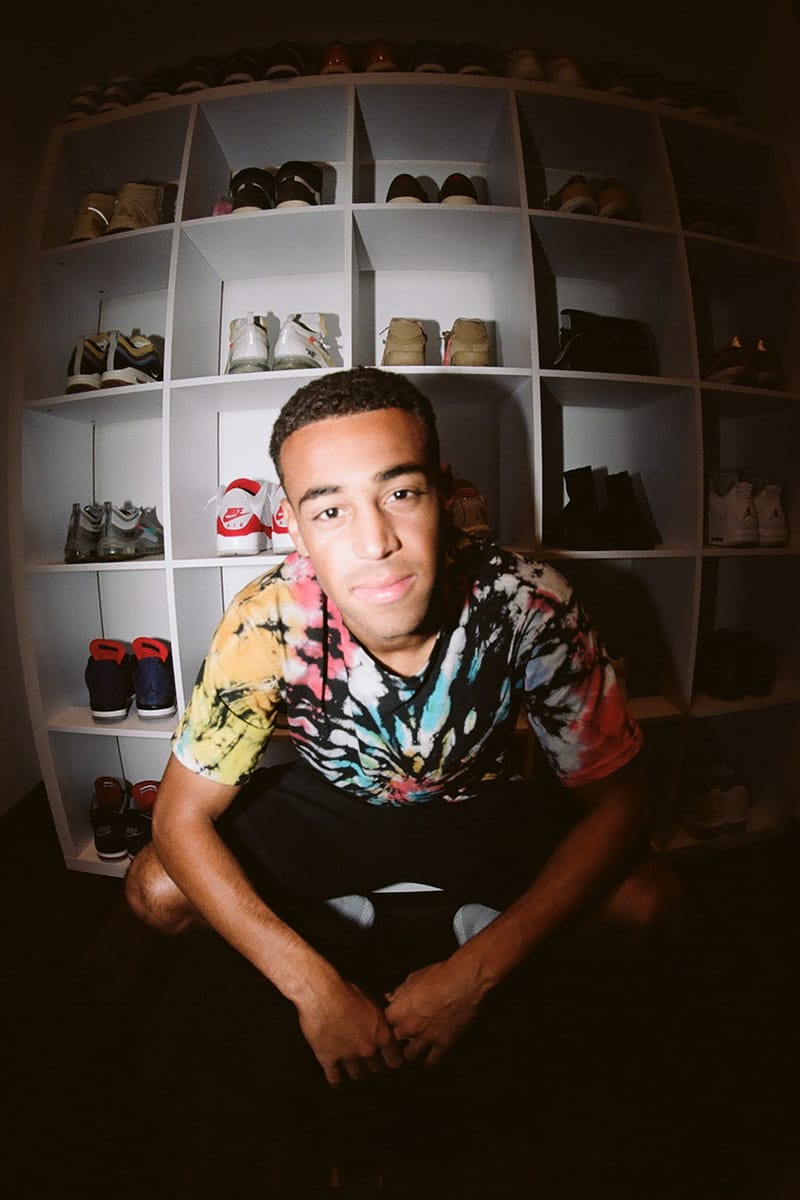 Dean George / Ten Toes Media
You also said you have a bunch of OG Jordans you aren't going to ever wear. Why is not wearing these shoes important to you?
For me my shoe collection is something I want to have forever. Some of the shoes and OG Jordans I have are too old to the point that if you wear them then they might break — that's really the only reason I won't wear a pair. Otherwise I'll wear them all at one point for sure.
Is your current Leipzig collection brought over from New York, or are they all new?
Originally when I moved here I stuck to the plan and only brought one suitcase of sneakers and left the rest at home. That one bag of sneakers are shoes I don't touch anymore and now I have easily nine or ten suitcases full of them. That's the best thing about them though, you never know when you're going to find that next pair you want.
How does the sneaker scene in Germany compare to what it's like in New York?
It's been almost a year since I've really been out and seen anyone else to be honest, but a lot of what I relate to is what I've seen in the locker room. What certain players are rocking and stuff like that. I don't think there's a huge sneaker culture here in Leipzig compared to Munich and Berlin. There's some guys in the locker room who have some fresh collections for sure, although I'm not entirely sure many of them know the history behind the sneakers they wear. Being a huge Michael Jordan fan and idolising him, I've done so much research on him and each shoes I wear. That kind of thing I think I'm a little bit more in tune with, but I like to know that about my shoes.
Do you remember your first pair of Jordans?
I wanna say Cement 4s. My mum got them for me, so they were still kid sizes. But when my foot started to grow she refused to buy them because they were too expensive. So I remember having to do chores around the house so I could earn money so I could camp out at sneaker stores by my house, or just get a pair that I thought was fresh.
"Jordan represents everyone and being like Mike. That's what they meant to me growing up, and still do now".
Why Jordans?
I'm not even a materialistic person who wants the next best thing, or the biggest designer, it's just when it comes to sneakers, it becomes an essential thing. For me, when you're rocking your Jordans, it's more than just a shoe. Him being my idol and creating such a brand that every person wanted, regardless of race, gender or age. Jordan represents everyone and being like Mike. That's what they meant to me growing up, and still do now.
Do you have a favourite pair?
I have a clear favourite actually: the Mist Blue 4s. Those were way back, but growing up my mum was a single mother. All the money coming into the house went on food, soccer and anything else I was into, so when the Mist Blue 4s came out, my mum told me they were too expensive and I couldn't get them. Only recently did I actually manage to get a deadstock pair. I'll never wear them. The box is torn to pieces, but the shoe itself is pristine OG condition. I even sent my mum a picture of them when I got them too, which was nice.
So did you play basketball when you were younger?
I played basketball and soccer all the way through high school, but stopped basketball when I was about 13 or 14. Saying that, I never wore Jordans when I was playing though. I'd wear them to games, then change because I didn't wanna mess them up. I'd usually rock a pair of Hyperdunks or Hyperfuse. They're a little more comfortable too.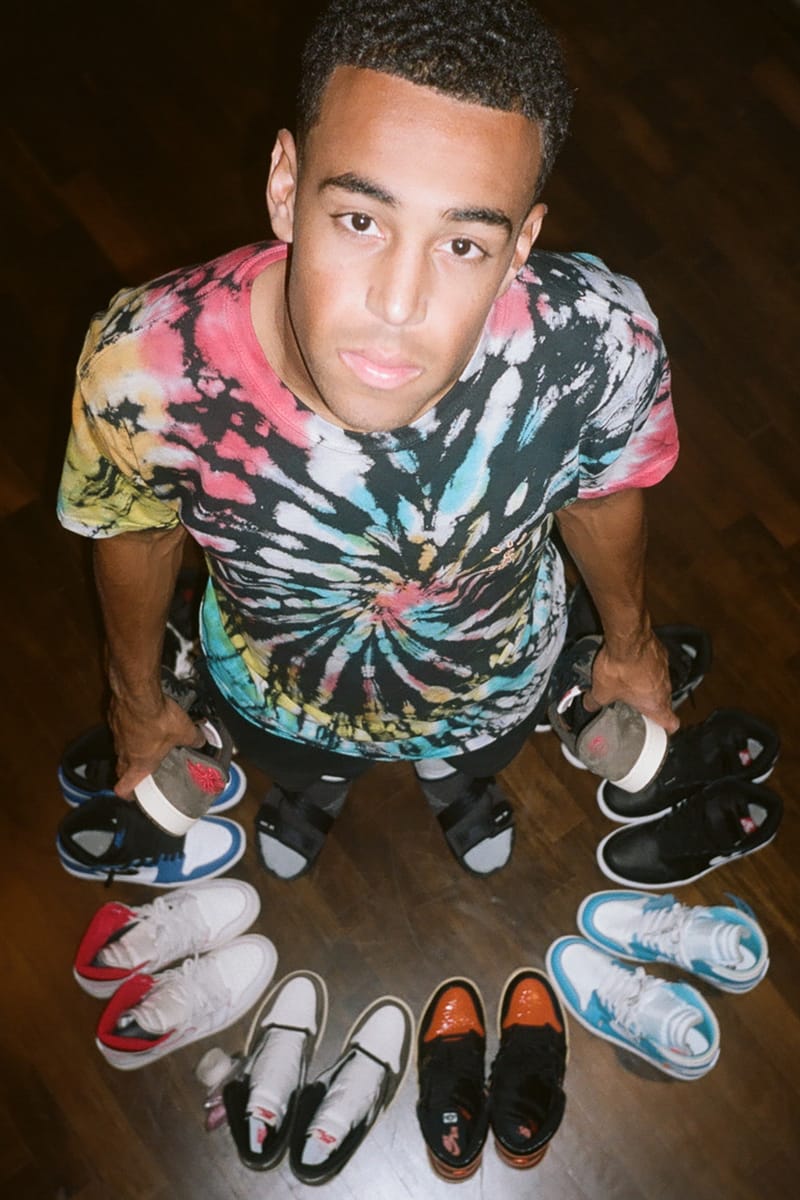 Dean George / Ten Toes Media
What made you choose soccer in the end?
I realised I was never going to be 6ft 6", so soccer was a better route to try and become professional at something. I had a lot of good friends in the soccer community too, so it was an easy decision in the end, but I still love basketball and shoot hoops still nowadays.
What do you think about the burgeoning trend of footballers with good taste in fashion/shoes?
It's good to see people chasing the culture behind fashion and shoes. Expressing your own sense of style is huge, it shows your personality and your own bit of flair. Culturally I like to have a vintage perception.
Are there any sneakers on the wishlist?
I could give you a list for three days. The Holy Grail at the moment is the Lightning 4s, but they're so hard to get. I'd like some player exclusives too, like the Oregon 4s, and then the Friends and Family Travis Scott 4s, the purple ones. I'm a huge retro 4 guy.
Source: Read Full Article