Sean Wotherspoon has a singular perspective on the sneaker industry, one that's based on a love of sustainable materials and communicated through a mixture of bold color schemes and retro-influenced designs. He first rocketed to global prominence when his corduroy-coated Air Max 1/97 design won the "Vote Forward" contest that Nike held for Air Max Day in 2017, and since then the Round Two co-founder has worked with both ASICS and
Genya/Hypebeast
What got you into sneakers?
Definitely skateboarding. When I was growing up, skateboarding was a gateway for me: not only to sneakers, but also to art and music.
When did adidas enter the picture for you? Have you been wearing it since you were a kid?
I wore a lot of different shoes when I was a kid. I'd skateboard in SB Dunks or any adidas Skateboarding shoes with vulcanized soles, but I also played soccer and always seemed to be wearing the Samba when I did.
What adidas model was — or is — your favorite to skate in?
Definitely the Gazelle. It's so versatile. You can use it for skating, soccer, anything. I loved it as a kid, and had so many special memories with it, skipping school to go to the skatepark with my friends [laughs]. Through the process of collaborating on it I've fallen in love with it again.
Do you recall the first pair of Gazelles you owned?
I don't, but I do recall the first pair I bought for myself. I was 18 and looking for sneakers to skate in. Skate shoes wear out easily, so I went to the adidas outlet and snagged a blue and yellow pair that was either suede or canvas (I can't recall) for $40. They really held up!
"It's awesome to be working on the Gazelle. It's a model with so much history."
Your first Gazelle collaboration, a colorful corduroy style, dropped back in May. Now, you're back with pairs made from hemp and mushroom leather. Can you talk us through the material choices?
Of course. In short, they're shoes made from sustainable materials with a look that's inspired by vintage goods. The embroidered patterns on the upper nod to some vintage pieces I own from the '50s and '60s. I've got a few pairs here with me today [gestures around], one of which is an early sample that's made of hemp and has vegan leather eyestays. The retail version will have hemp eyestays instead. There's also a friends-and-family pair with hemp laces, and another pair built from mushroom leather. It's set to be released soon, but is limited to only 200 — each pair is individually numbered, and this is pair 59. It's been awesome to work on the Gazelle. It's a model with so much history, and I've got to admit: it's pretty cool that my collab is the first Gazelle collab to come out after the Gucci pairs [laughs]. By the way, I just gave a pair of my Gazelles to the president of [The Pokémon Company]. That was pretty cool.
Are the Gucci collabs your favorite Gazelles besides your own?
I think so! They're crazy! I just bought the monogrammed pair I have with me today, but my favorite is the pink and blue colorway. The suede on those is so soft and premium. This monogrammed pair is a close second though. Even though it's brand-new, it has a nice worn-in feel to it. Gucci does a great job of striking a balance between fancy and casual. 1 of 4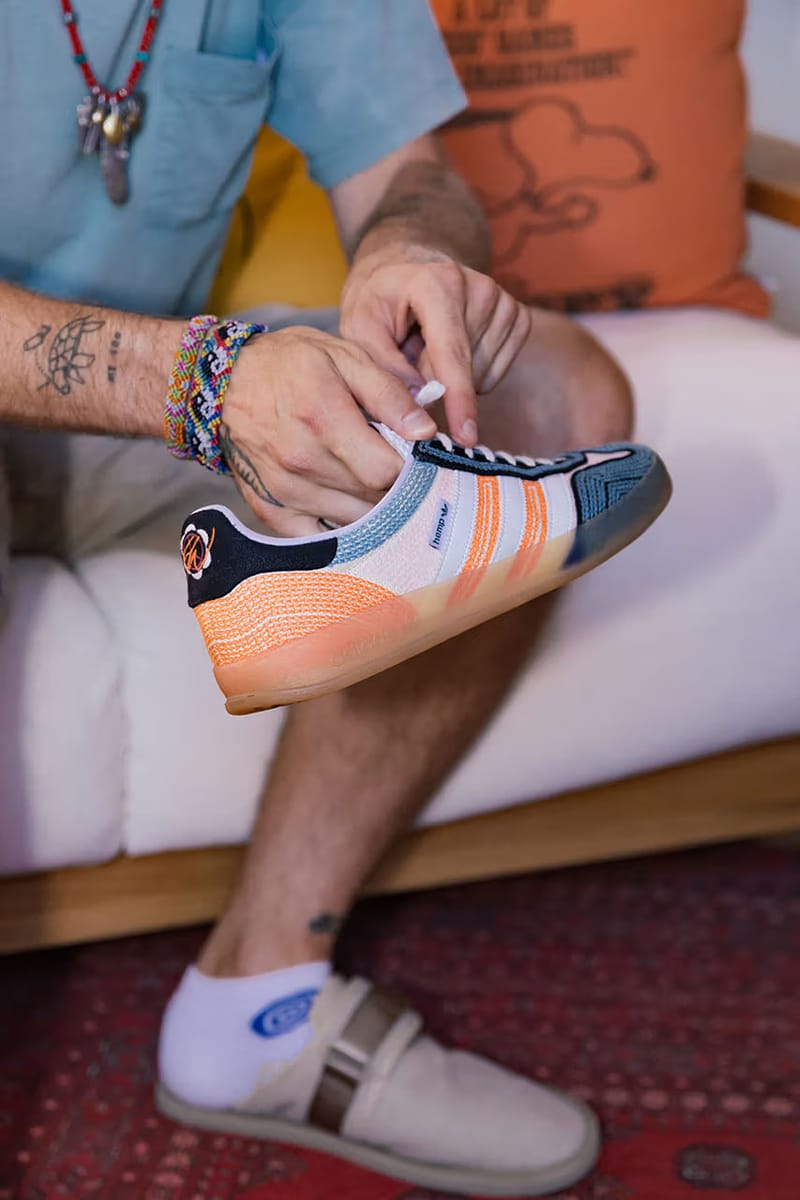 Genya/Hypebeast2 of 4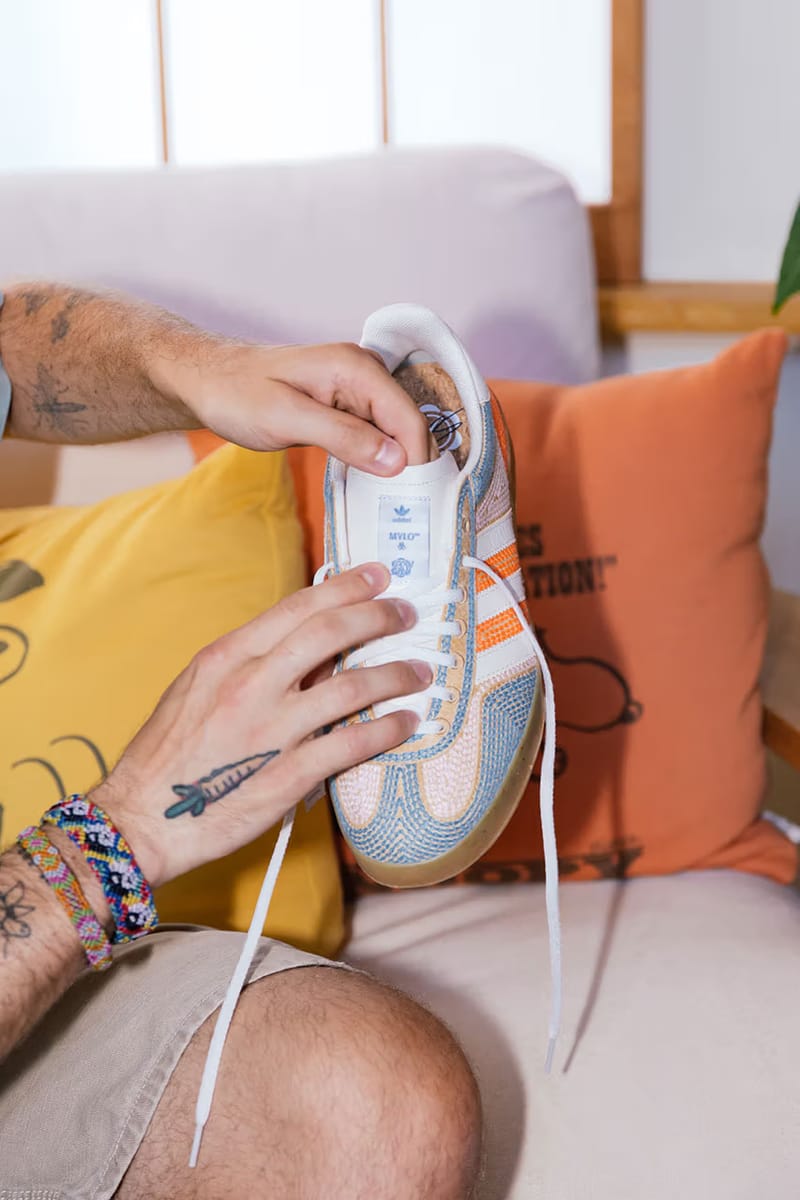 Genya/Hypebeast3 of 4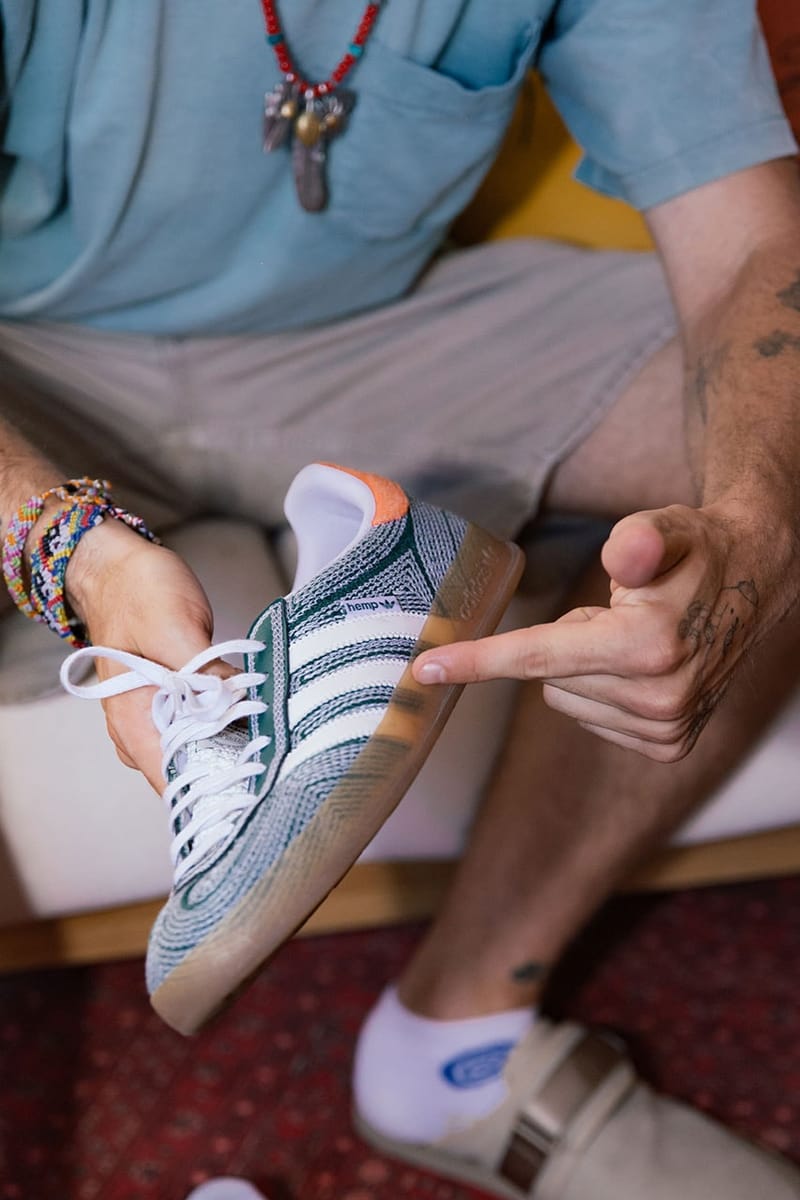 Genya/Hypebeast4 of 4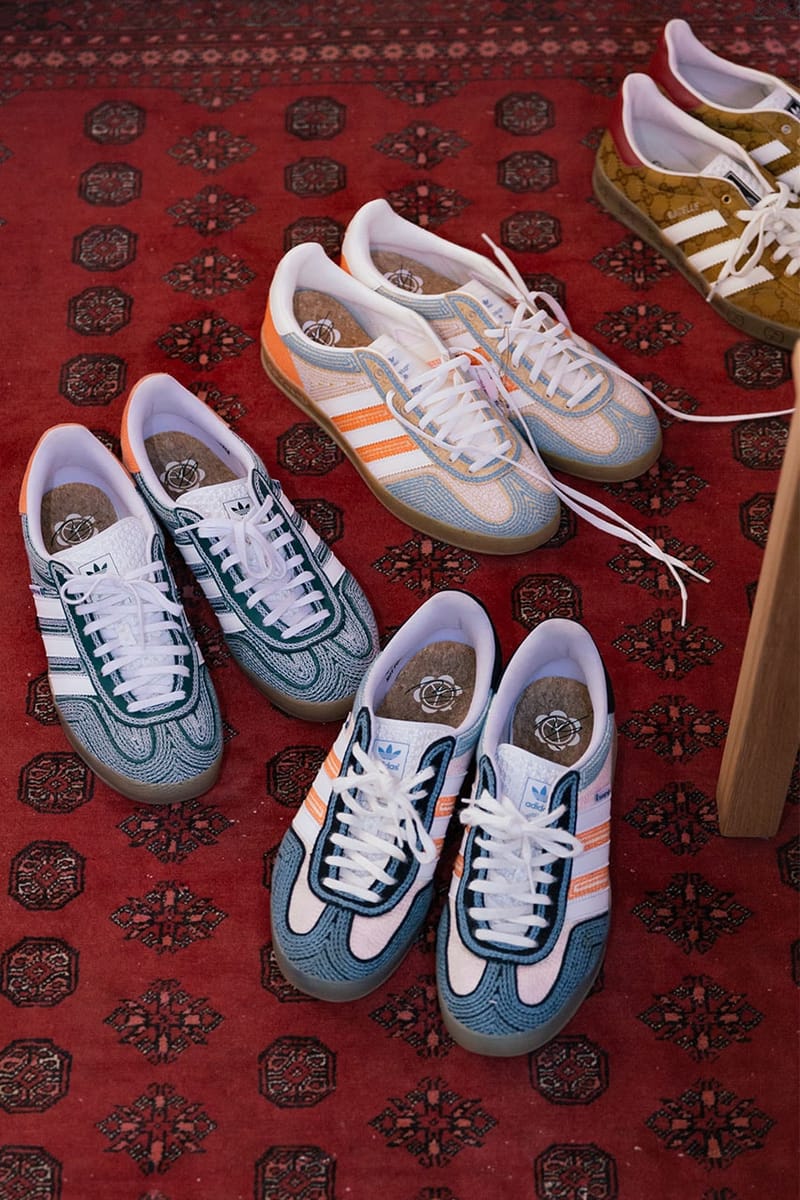 Genya/Hypebeast
How do you decide which models to collaborate on?
Working on the Gazelle was actually adidas' idea. We were talking about what to do in 2023, and originally I was looking to do a Samba to follow up my Superstars. That didn't work out, but they said "how about a Gazelle?" and I was down. I also found out that there'd be a Gucci collaboration, and that made it an easy choice.
You've been working with adidas for about three years now. What's the main difference you've seen with them as opposed to other brands?
If anything, I think it's that I've grown as a designer and a collaborative partner. When I was new to the collaborative game and working with Nike, I didn't have quite as clear of an idea of how things worked. Then, when I worked with ASICS, I understood more, and now, with adidas, I feel like I've got my finger on the pulse. adidas is super easy to work with and I appreciate that, but I think that's partially because I've grown too and know how to navigate. We've got a great relationship, and it's exciting to be able to collaborate with so many high-quality people.
"The taste level in the Japanese scene is so high, and [that taste level is] usually the first thing that comes to mind when I'm creating something."
How have Japan and the Japanese sneaker scene influenced you?
The taste level in the Japanese scene is so high, and [that taste level is] usually the first thing that comes to mind when I'm creating something: "what designs would be popular in Japan, and what kind of sneakers would sell here?" I've been fortunate enough to make a lot of friends here, so I always hope to make something that they think is great. If they do, then I know I've done a good job.
What's your design process like?
I can't use Illustrator or Photoshop, and I'm not good at drawing. However, I am good at dreaming up concepts and seeing them through, so in some ways it's a matter of properly articulating what I like [laughs]. I try to draw in as much inspiration as I can, whether I'm in LA or Japan, and I'll look everywhere: outfits, store interiors, the colors and beauty of nature. Once the color scheme is locked in, the rest comes naturally. I'll show the adidas team things I like, from corduroy, to embroidery and patterns and they'll develop ideas off of that. With the Gazelle, for example, I showed them those vintage embroidered garments I mentioned earlier, and they suggested mushroom leather as a base. My job is to dream, their job is to make that dream a reality.
Also, I know that all the components of my shoe have to be vegan, so that's a given up front. adidas is very open to vegan materials and sustainable ideas. They have a great material library and are always trying to be kind to the earth.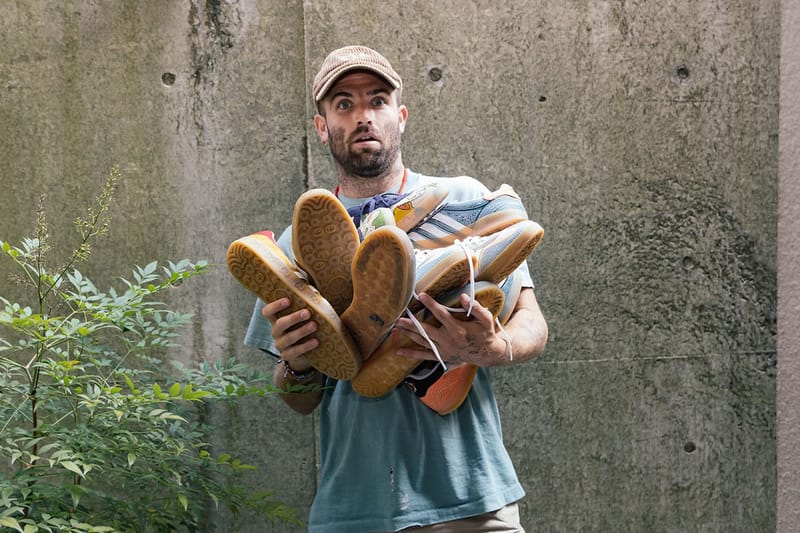 Genya/Hypebeast
All of your shoes have different designs, but one thing they have in common is that you can tell they're "Sean's sneakers" at a glance.
Thank you! I'm glad to hear you say that.
Why are sneakers important to you?
Because they're a common language. I only speak English, but people who love my collabs are all over the world and speak all kinds of different languages. Thankfully, no matter where you go, the Gazelle is the Gazelle and adidas is adidas. When you love the same thing as someone else, cultural backgrounds, language barriers or location don't matter, and sneakers can break down those walls between us.
---
This installment of Sole Mates is a transcription and translation of an original article from Hypebeast Japan, which was first written in Japanese and was translated using Google Translate.
Source: Read Full Article