As Marvel's introduction of the multiverse sees the collision of characters across various universes over the years — most recently in Spider-Man: No Way Home and Hawkeye — it has consequently branched out into many conversations about the other beloved characters and whether they will make their big screen debut in the MCU. Among the fan favorites is Jon Bernthal, whose convincing portrayal of the Punisher across multiple seasons have earned a deserving place in the hearts of comic book enthusiasts and casual viewers alike, but while Kevin Feige seemingly hasn't made the call just yet, the actor himself says he'd jump at that opportunity given it stays true to Frank Castle, a character he considers part of his heart and bones, and who he's been knocked unconscious three times for during his shoot.
Outside of the vengeful vigilante, Bernthal has also built a stellar career, collecting a diverse roster of roles from a gym junkie in The Wolf of Wall Street, to Tony Soprano's father in The Many Saints of Newark, to Serena and Venus Williams' tennis coach in King Richard. Joining us at HYPEBEAST, Bernthal discusses his personal relationship with the Punisher, the way he selects and approaches his myriad of roles, his passion for two wheels, and his undying love for his family.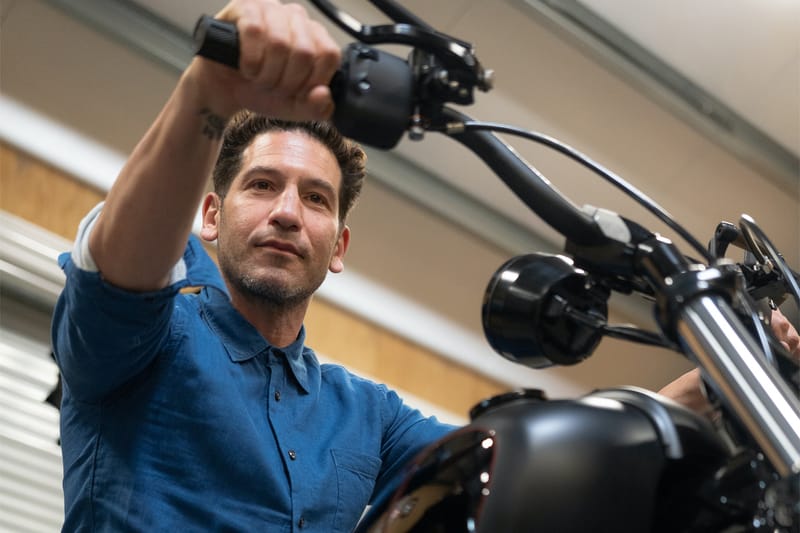 Tba
You've been in a lot of big titles like Fury, Ford vs Ferrari and The Wolf of Wall Street, but one of the most standout roles has to be the Punisher. How did that first come about when you decided you wanted to join the Marvel universe? What drew you to Frank Castle?
I think for me, there's no way I could've played Frank Castle if I wasn't a father and a husband. I think you can't begin to wrap your head around what it'd be like to lose your family if you didn't understand that ultimate, undying love. You'd happily give your life for someone else. That idea was something that scared me to my core and it's always been my motto that if something scares you, you need to run towards it and understand it. That's how I felt about Frank Castle, so I'm glad that I went on that journey.
Between baseball and boxing, you've always been very athletic but some of the physical sequences in the Punisher really take it to the next level. What was the training process behind those two seasons like? Did you ever suffer any injuries during training or on set?
Sure, it's part of the job. I think the stunt community is the most underappreciated community in Hollywood. It's a huge honor to be part of that community and I love working for and with the various stunt teams that I've had the chance to work with, especially the team on Punisher. I think having an athletic and fighting background definitely helps, I like to do as much of that stuff as I can myself because I think you can really be with the character.
For the show, I trained with the stunt team extensively, and I trained at Taran Tactical Innovations which is a weapons training center, so I do all the gun work myself. In season two, during the first bar fight scene, it was a three-day shoot and I broke my hand on the first day. I tore a few ligaments on the same hand on the second day, and on the third day I dislocated my thumb on that hand as well, so my hand got pretty mangled during that fight. We had to go get emergency surgery with pins put in and I was back to shooting just a few days later, but we wrote into the show that my hand got shot and I had to learn how to do everything again left-handed. Taran was so great at teaching me how to do tactical reloads with only one hand with an AR, which is really cool to learn. I also got knocked unconscious three times during season two, so there were injuries but that's just part of the deal.
I do like to look at that show and the other Marvel shows on Netflix as how we told half the story through scenes and half the story through action. I decided that my job was as much an actor as a stuntman and I got to work with my incredible stunt double and coordinator Eric Linden and really go through that process with him. That's one of the things I'm most proud of.
Do you think the Punisher will get his MCU debut at some point, and would you be down for that?
A lot of people ask me about playing Frank Castle, and the character is very much in my bones and in my heart. For me it's not about getting the opportunity to play him again, it's about getting the character right, with the right script and with the right people behind it. I would jump at the opportunity, but for me, I'm not sitting around waiting for that phone call. If the phone does ring, and it's the right team behind it, I'd be thrilled.
One of your recent projects was the Sopranos prequel The Many Saints of Newark. How was it like to be part of such an iconic franchise? 
When I was coming out as a theater student about 20 years ago at the height of Sopranos, I wanted desperately to be an extra on that set. I just love the world and the storytelling, so for me to be part of [The Many Saints of Newark] is unbelievably humbling and an honor that I'm enormously grateful for. The greatest thing about the movie is that I got to know Michael Gandolfini, who's a guy I love and trust and admire. He's an unbelievable young man I was really proud of, and I was in awe of how he went about that process with courage and elegance. I'm glad that Tony Soprano got to stay in the Gandolfini family and I'm glad I got to be by Mike's side through that. 
Just like your Marvel role, with a series as popular as the Sopranos, you're going to get a lot of diehard fans with their own vision of how a prequel should look like. Did you ever feel the pressure going into the project that there were very heavy expectations to meet?
Look, there's a tonne of pressure with something like, and you have to go into it with absolute humility. Those are impossible shoes to fill and you can't even fill them. I think that was what's so smart about David Chase's approach: to make it a prequel. What was clear to me after reading the script is that he had the Shakespearean knowledge about these characters. He knew their past, where they came from and the stories that made them who they were.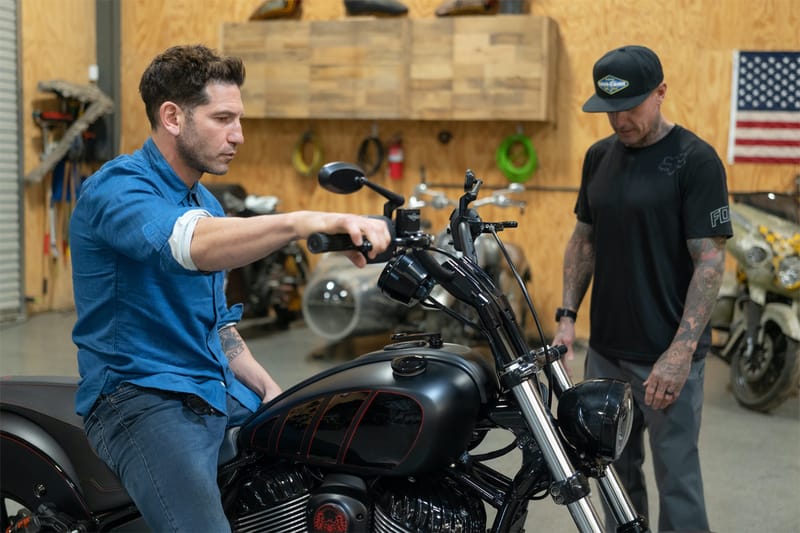 Tba
Moving to your most recent appearance on the silver screen, you play Serena and Venus Williams' coach Rick Macci in King Richard. What was the preparation process like? Do you play tennis yourself or did you have to take a crash course on it?
Learning tennis, or any skill that your character has in a movie, is one of the things I love about this business and one of the things I'm grateful for. If you play a soldier, you've got to learn those tactics and the weapons, if you play a scientist you've got to do your best to look the trade of that. So whatever trade your character is a specialist in, you have to get as proficient in that trade as possible, and the same is true for tennis.
I did not play tennis but I trained extensively, two to four hours a day at the Weil Tennis Academy in Ojai, California. I got to train with a series of awesome coaches and I got to learn the game, but most importantly I learned how to coach, how to feed, the vocabulary and the psychology of coaching, how to run drills. I also got to train with Kamea Medora, a top 50 junior nationals player. I worked with her almost everyday, and went to her matches with her. It was imperative in playing that part.
We know both sisters were producing for the film. Did they have a lot of time on set? How was it like working with them?
The Williams sisters weren't really on set. What's really cool about their involvement is that they didn't want to get behind the film fully until they saw it, and when they saw it they absolutely did get behind it, which is a huge source of pride and an honor for us. Their sister Isha Price was on set everyday, she was a producer on the film and she was so great at it. She went through that entire ride with her sisters so to have her perspective and that beacon of truth there on set was hugely beneficial.
Looking over all of these movies now, you've really covered quite a versatile collection of characters. How do you decide which roles you're interested in playing?
I take roles where the script moves me. It would either be something that moves me immensely or would give me the opportunity to work with people that inspire me. It's all about the company you keep. My favorite thing about this profession is that it's a journey and you're always looking to get better. There's no arrival, there's no destination, it's always about the road ahead, so for me I always want to surround myself with the best people possible, and that's really how I choose projects.
Outside of acting, we know you're also a big motorcycle enthusiast. How did that relationship with two wheels first develop?
My old man drove a motorcycle, and when we were kids he'd drive us to the nursery school with me and my brothers on the back of it. I started off my life on the back of a motorcycle and I can always remember my dad riding, so it has always symbolically meant a huge connection with him. I love riding, I think it allows you to have a connection to the world that you're living in. You really feel the environment when you're on a bike, and I think that's a beautiful thing. It's all about living life fully.
What are some of your favorite bikes? Do you have a big collection yourself? 
I love this Indian that I just got. I can tell you right now it's my favorite bike and I've never had anything like it. I can't wait to get onto the back of it and I can't wait to take it home.
With such a busy acting schedule, do you often have time to cruise around on your bikes?
I live in Ojai, California, and being around my family is the most important thing in the world. My time at home is sacred and I cherish every moment that I get. I also happen to live among the best motorcycle riding roads I think in the world, it's gorgeous and I'm very blessed for that. So to just be riding around where I live, a quick trip to the grocery store or the Deer Lodge literally on the road I live off of — the 33 or the 150 — is an unbelievable ride in beautiful nature. I can't wait to take the bike out on those roads.
Source: Read Full Article