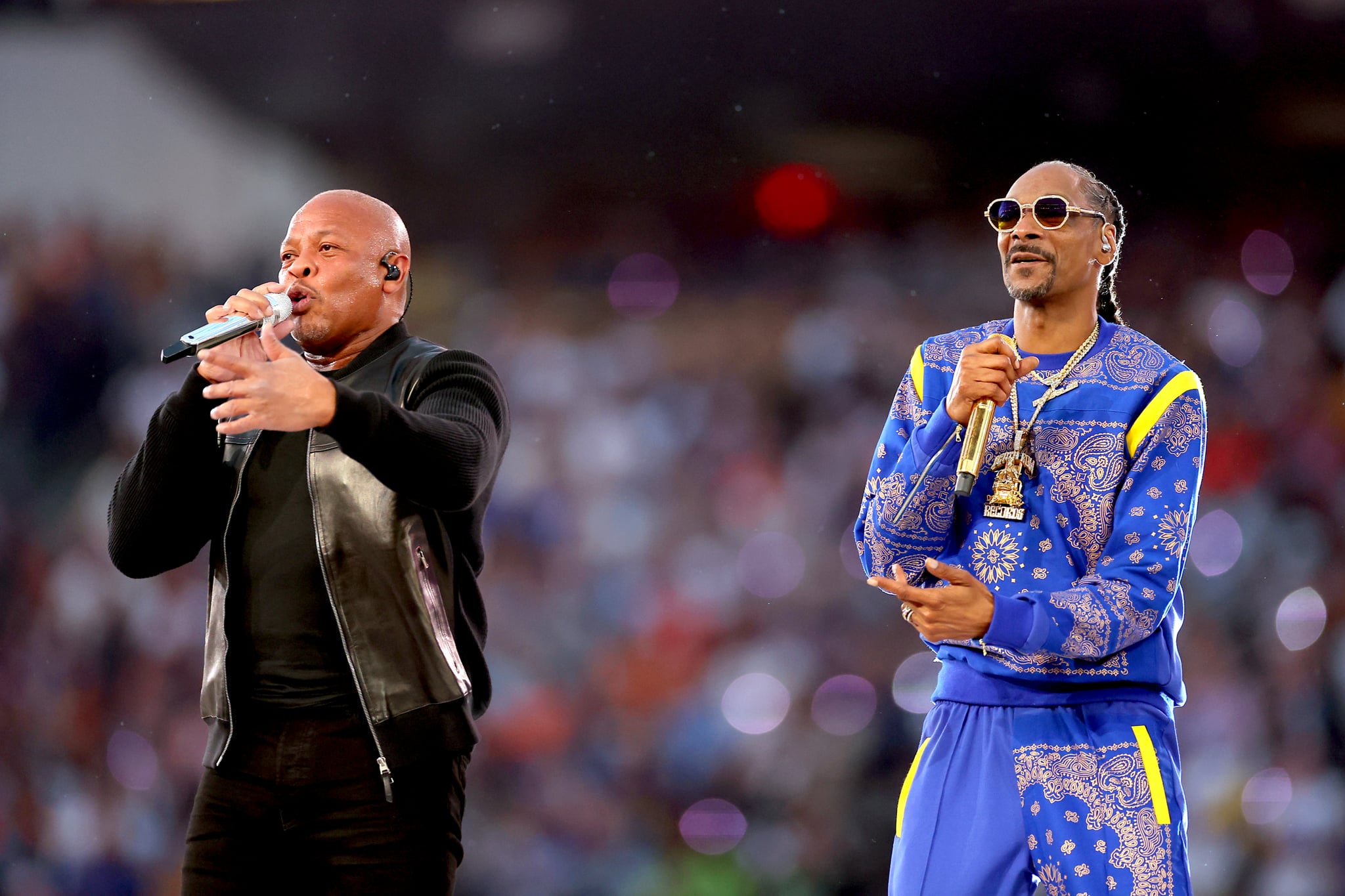 Hip-hop took center stage at the Super Bowl halftime show on Sunday as Kendrick Lamar, Mary J. Blige, Snoop Dogg, Eminem, Dr. Dre, and 50 Cent all made history together. Not only did six performers grace the stage for the first time in Super Bowl halftime history — only five were originally billed to perform — but it also marked the first time we've seen a full hip-hop lineup headline the show.
As a fan, it was surreal to see the genre get a national spotlight with its legends at the helm and receive so much praise. In all honesty, hip-hop deserved this moment: it's long overdue. From the nostalgic West Coast hits that blasted through SoFi Stadium to the field of dancers doing a choreographed crip walk on live TV, it was both exciting and scary as hell to see hip-hop be consumed in front of such a wide audience. Hip-hop is one of the biggest genres in America, but it's not observed on a platform as big as the Super Bowl on a regular basis. So, frankly, it's dangerous, the way that hip-hop was commercialized for the Super Bowl this year, leaving it open to misinterpretation, critique, and censorship from "outsiders." That's a part of history that's been synonymous with the genre since its inception.
The NFL surprisingly allowed an authentic celebration of hip-hop to take place during halftime this year. But in some ways, its new willingness to finally put the genre on a pedestal this year felt somewhat like a poor-spirited, PR-driven attempt to right its past wrongs (i.e. blackballing Colin Kaepernick and punishing its players for protesting). It makes you wonder about the real intentions behind this kind of show happening in 2022, especially for a genre that's been setting global trends as far back as the '80s. Hip-hop got its flowers this year, but was hip-hop truly celebrated for all that it is?
Source: Read Full Article