Antonio Ciongoli is in a characteristically upbeat mood. The 18 East founder's a family man who just had a wholesome Halloween with his three children and now, the day after, he's at his brand's Elizabeth Street flagship in Manhattan's Chinatown, ready to talk sneakers. Rising from the store's sun-dappled couch, located within arm's reach of a soothing army of windowsill plants, Ciongoli greets the Hypebeast team enthusiastically: besides his beloved Half Cabs, a shoe that 18 East just collaborated on, he's got a real affection for Mephisto footwear, specifically the Rainbow, the silhouette he's chosen for his installment of Sole Mates.
Ciongoli was raised on a steady diet of skateboarding and outdoor adventures in Burlington, Vermont, and has channeled his childhood passion for skating in various forms ever since. He designed his first sneaker in college at USC and went on to work for Rugby Ralph Lauren before co-founding EIDOS, which he left in 2017 to fully meld his worlds of menswear and sneakers with 18 East. Though he grew up rocking skate shoes almost exclusively — he even met several co-workers and friends buying and selling vintage skate shoes on Nike SB forums — he came to appreciate Mephisto later in life for its quality and attention to detail as well as its compelling blend of perennial availability and unique style.
Clothes are never just clothes to Ciongoli, and that mindset extends to his footwear too, so he's got plenty of thoughts on the topic. "People think about who they are, and there are a lot of different ways to define themselves," he muses. "Outside of your family, dressing is a great way to do that. I've been into sneakers and skateboarding since I was 11 years old, and that's just an extension of me wanting to be me."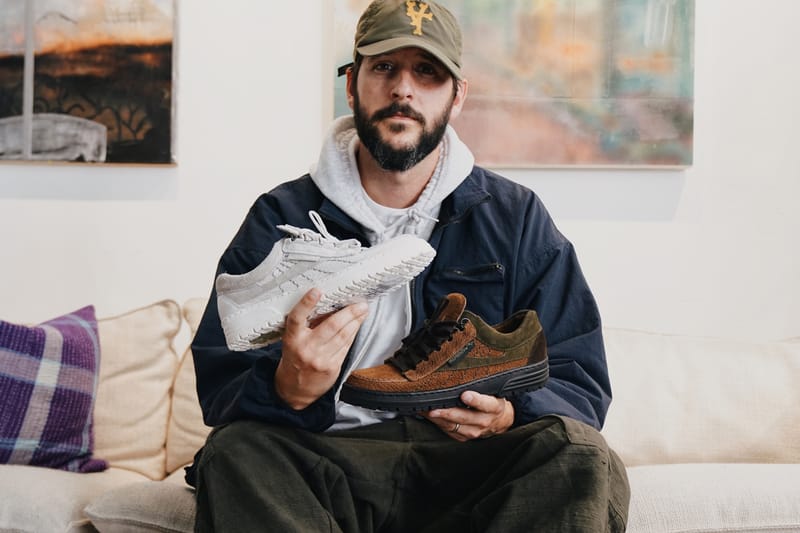 Nicholas Llanton/Hypebeast
What got you into sneakers?
Skateboarding. Skateboarding got me into gear in general. Skateboarding isn't just about the trick you're doing — how you look when you're doing that trick is intrinsically tied to how sick the trick is. I grew up as a skate-obsessed kid in the mid to late '90s before Nike, New Balance and adidas were making skate shoes, so my friends and I were skating in brands like DC Shoes, éS, Lakai and Action. What's funny is that growing up I had no idea all of those shoes referenced Nike and adidas [laughs]. I look at the DC Legacy now, and I'm like "this is clearly an Air Max." It's so funny to go back, look at the shoes from that era after the fact and be like "Keenan Milton's DVS shoe was obviously inspired by an Air Force 1." I had zero idea in those days. It was totally over my head because I was so obsessed with skating that I didn't really bother with much else.
You grew up in Burlington, Vermont, a very outdoorsy town. What was your exposure to sneaker "culture" like there?
It was pre-Internet, so it was just all about what was available at the skate shop, mostly the brands I mentioned before. I grew up going to a shop called The B-Side, and then this other shop, Status, opened down the street. This guy A-Dog who worked there — actually one of the guys we dedicated our recent Half Cab collab to — was an early, early Nike SB collector, so that was my intro to SB. With the hiking and camping we'd do in Burlington, I was always aware of Nike ACG too. That's another line I've always loved because they're a really nice touch point for what I'm interested in. I also appreciate how they're sort of counterintuitive to Nike's overall mission of athletic greatness because there's no "winning" in the outdoors There's no such thing as an "elite hiker" [laughs].
"So much of my taste [growing up] was informed by the [local] OGs and what they were wearing. They'd be like 'This sh*t sucks, but this is cool. You should be rocking this.' That bluntness was kind of nice, you know?"
That local perspective, led by the local OGs is much less common today due to the Internet and its endless trove of information. You just picked what you liked from what you had access to.
Totally. What the older guys liked was really influential as well. So much of my taste was informed by the OGs and what they were wearing. They'd be like "This sh*t sucks, but this is cool. You should be rocking this." That bluntness was kind of nice, you know? Today, it's more like everything is cool with everyone and nobody wants to offend anyone by saying that they don't like something. I kind of miss the days where people had no problem with saying "This shoe is bad" [laughs]. A little standoffishness can be a good thing.
So you get a little older, and head off to college at Villanova and USC. How did spending time outside of Philadelphia and in SoCal affect your footwear taste?
That was peak skate time for me. I actually started designing because of the connections I made skating at USC. There's a famous spot called The Blocks on the campus. I lived around the corner and would skate there every day, so I met a bunch of friends there, one of whom was Brian Atlas, a guy who grew up skating with Brian Wenning, who skated for Habitat and DC Shoes. Wenning actually had already received a pro shoe from DC by then, and when Atlas introduced us, I had just started to play around with Photoshop and Illustrator. Wenning and I sat down and I helped him design his second shoe, but he got kicked off of DC before the shoe came out. They wound up running it as a private label model called the Biltmore, which isn't a 1:1 of what I mocked up but it was pretty similar. That gave me a whole new perspective on both sneakers and product, looking at them from a design standpoint as well as a consumer standpoint. 1 of 3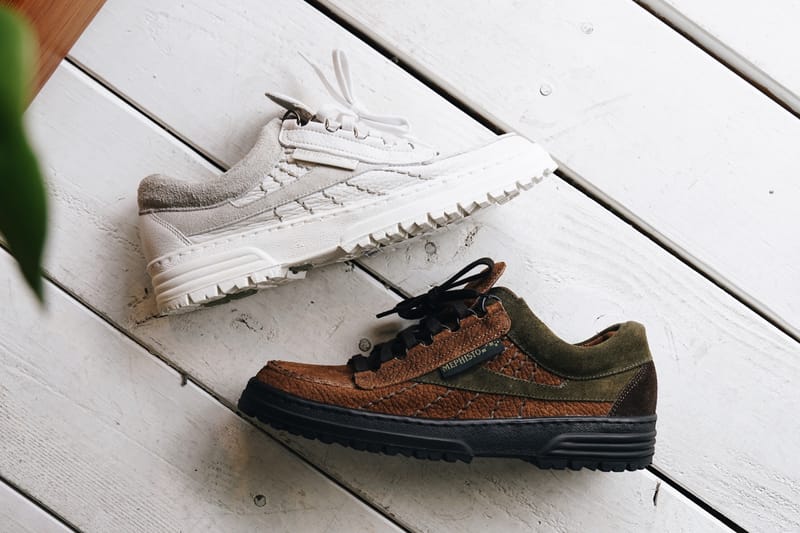 Nicholas Llanton/Hypebeast2 of 3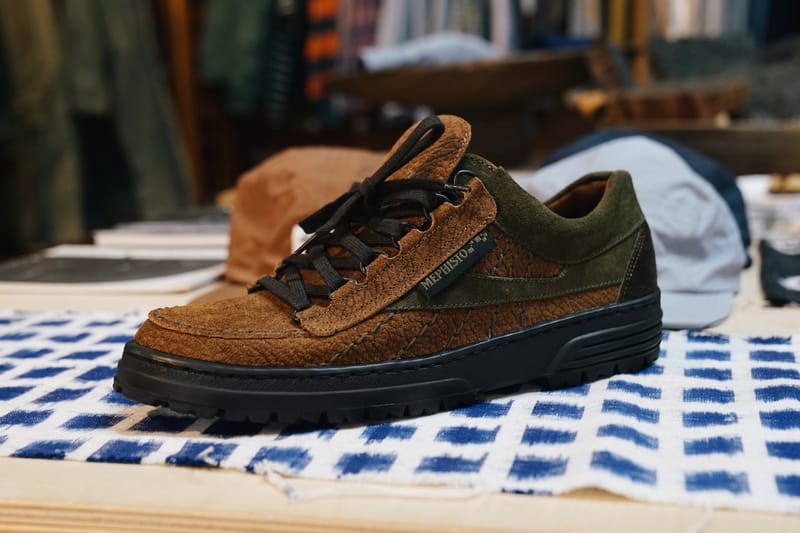 Nicholas Llanton/Hypebeast3 of 3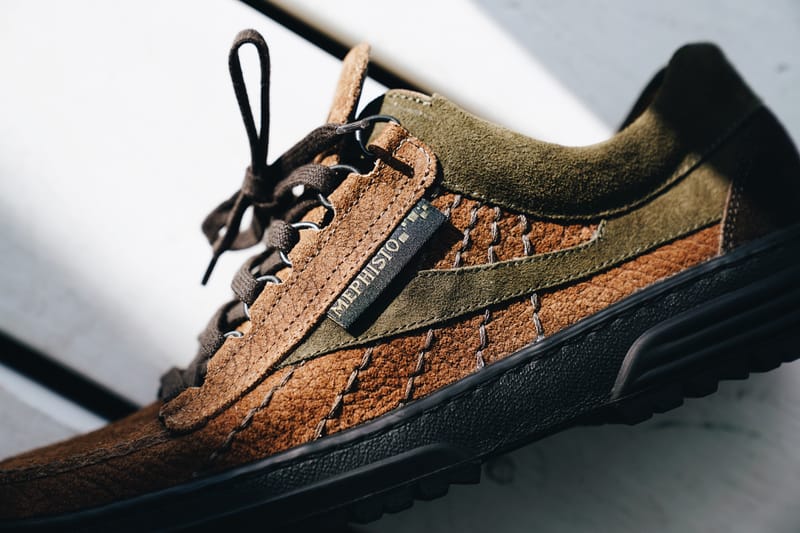 Nicholas Llanton/Hypebeast
So when did Mephisto enter the picture for you?
I'd just catch pairs on the streets of New York — I moved here after college, and that's when I first became aware of the full scope of sneaker culture outside of skateboarding. I was struck by the brand, and by the Rainbow especially because it's a hard silhouette to pin down. It's a bit of a sneaker and a bit of a boot, and I love the idea of both shoes and clothing that you can wear in lots of different situations. The Rainbow is such a beautifully-made shoe too. An all-black pebbled leather Rainbow can be worn with a suit and it would look incredible, but you could go hiking in it too. I'm not sure if I ever saw a pair growing up in Vermont, but it's not hard to picture a crunchy old dude with a beard and a walking stick hiking the Cotton Brook Trail on Mount Mansfield in 'em.
Can you tell me more about your fascination with that middle ground, especially as it applies to the Mephisto Rainbow?
I love the idea of a low-top hiking shoe, so we've played with different iterations of that at 18 East. And with the Rainbow, its mix of versatility and refinement makes it feel like a proper shoe as opposed to a sneaker. It's also cool that it's just so lowkey and quiet — not a shoe that everyone has, but a shoe that's readily available. That's appealing to me because I've never been the type of person to line up for a sneaker release. I like the idea of a general release shoe, a shoe that you can just go get whenever you want. That really appeals to me.
What about the Rainbow makes it your model of choice?
I like how versatile it is. The outsole is rugged and durable, but at the same time it's made of really beautiful pebble grain leather and super supple suede. It just feels like a substantial, quality shoe, and there's a real sense of refinement to its overall silhouette. There aren't a lot of other things that look like it too, and all of those qualities are things I look for in any piece that I'm hoping to add to my wardrobe.
Have you ever skated a pair?
I have not. I've thought of it, but I don't think it would be worth it. The toe cap is connected to the tongue so it's all one hand-sewn piece of leather, almost like moccasin construction, and I worry that skating would blow that piece out really easily. Also, skating a $250-$300 pair of shoes is just kinda nuts on principle [laughs].
"[The Rainbow is] definitely the kind of [shoe] you get stopped and asked about. People always want to know more about them."
How would you describe your footwear taste as a whole, both as a designer and a fan? Mephisto and vintage skate shoes are definitley on opposite ends of the spectrum.
I'd say I'm more of a collector of vintage skate shoes these days. I don't really wear them too much anymore. But from a color standpoint, the vintage skate shoes weren't vintage when I was a kid, and they shaped my taste. If you go back and look at those shoes and then you look at the palettes of 18 East, you can really see how [the look of those shoes] is built into the DNA of what I'm doing here. As far as what I personally wear though, it's things that are pretty quiet, so I love that Mephisto is more low-key because it's more popular in Europe than it is here in the US. It's interesting though, they're definitely the kind of shoes you get stopped and asked about. People always want to know more about them.
And people who'd ask you about them or know what they are are generally people you'd want to talk to.
Absolutely.
"I'm not interested in anything that has a shelf life."
Do you think Mephisto is a brand that you grow into?
One hundred percent. When you get that first pair, you can really feel the difference between it and a regular sneaker. They last forever too, and I'm interested in getting stuff that lasts a really long time for my own wardrobe. It's not like, say, a Travis Scott x Nike collab — no shade to either of them, of course — which has a pretty defined shelf life. I'm not interested in anything that has a shelf life. That doesn't fit in to how I want to dress.
People whose taste I really respect, like Paul Ruffles [the brand director of Merrell 1TRL] are Mephisto guys too. Those OG guys all f*ck with Mephisto, and like I said in the beginning, I think highly of those guys' taste and opinions. 1 of 3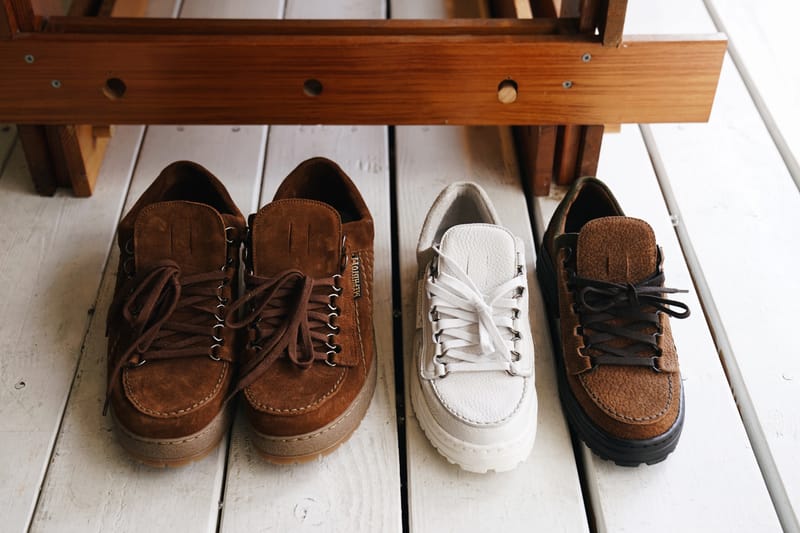 Nicholas Llanton/Hypebeast2 of 3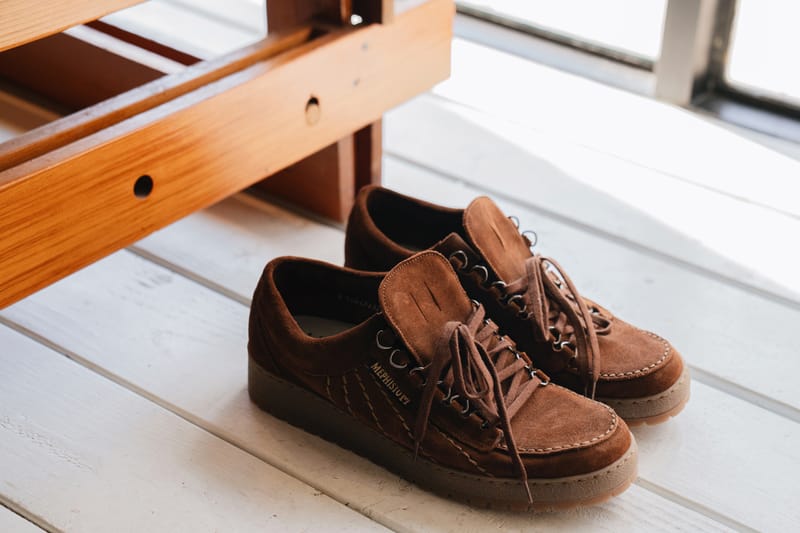 Nicholas Llanton/Hypebeast3 of 3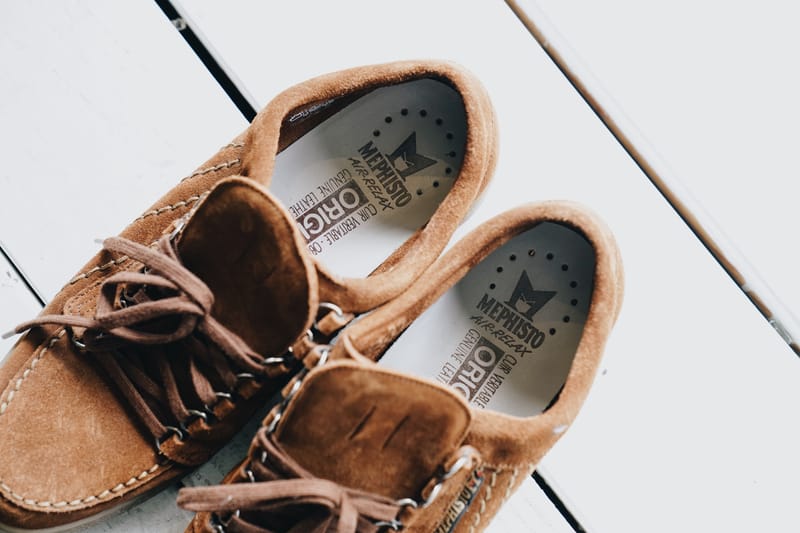 Nicholas Llanton/Hypebeast
Sneaker culture is very trend-driven these days, where Mephisto seems keen on just doing what they do as well as possible without chasing trends. Is that another thing that makes them appealing?
If anything, they're almost, like, anti-trend. They don't do a lot of collaborations because it's not part of their business model. They just do what they've always done, and there's something really refreshing about it. To me, now's the time for people to see them and just jump in. You look at the success of a company like Paraboot, and Mephisto almost lives in that world as well, those elevated sneaker substitute models for the guy that's getting out of that hype-driven culture.
Does that ethos make the brand feel subversive, in a way, to you?
I think that they definitely could be seen that way. Though that's not a stance I'd necessarily take, I certainly think you could make an appealing argument for it. For someone who's tired of all that sneaker craziness, it's nice to have something they can buy and invest in, something that wouldn't necessarily be expected, to get off that hamster wheel. For me, though, they're just beautiful, man. Sometimes it's just that simple.1 of 2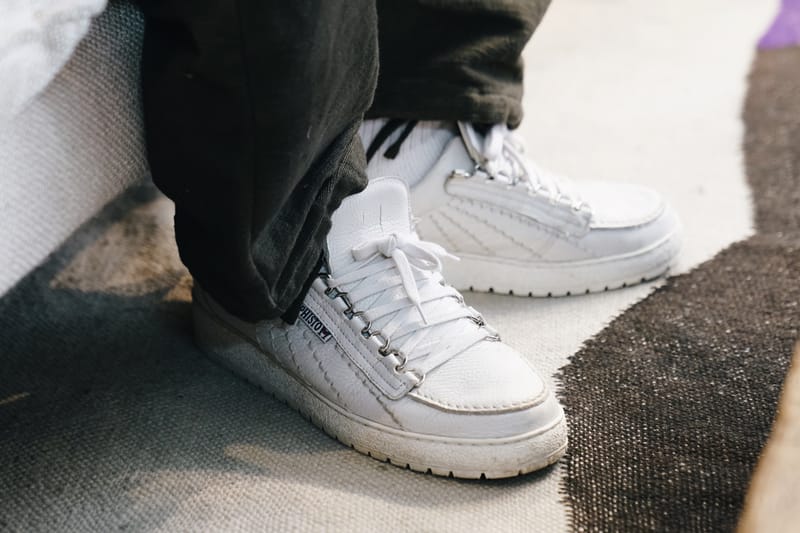 Nicholas Llanton/Hypebeast2 of 2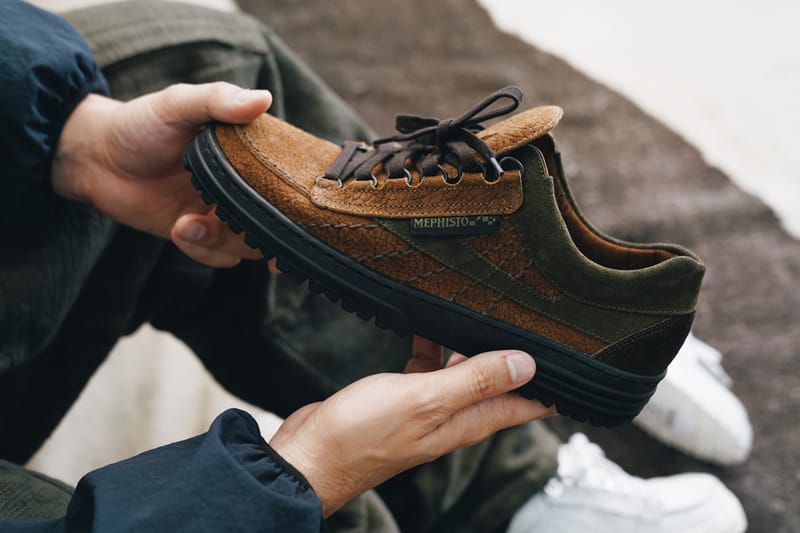 Nicholas Llanton/Hypebeast
How would you say a young sneaker lover can do that? Get off that wheel and … age gracefully in their sneaker taste, I guess?
Just be willing to mix it up a bit. I don't wear these every day — I love my ASICS, my Vans and my Nike ACGs as well — but sometimes you want to be a bit more polished depending on how you're feeling on a given day. It's nice to have a broader perspective and dress for yourself instead of dressing for Instagram. Having that versatility in your wardrobe is key.
Why are sneakers important to you?
People think about who they are, and there are a lot of different ways to define themselves. Outside of your family, dressing is a great way to do that. I've been into sneakers and skateboarding since I was 11 years old, and that's just an extension of me wanting to be me. I dress to try and convey my deepest sense of self and who I am, and I don't think I'd ever not wear sneakers because they're such an important part of how I understand myself.
Source: Read Full Article