The way he tells it, 2 Chainz was his high school's best-dressed student. As a teenager in Atlanta, he spent his money on high-end sportswear from Walter's Clothing, wearing Polo Ralph Lauren chinos to class when all of his peers were in jeans. "I've always been fresh," he says, with a shrug. "Design is something I really care about. I always cared about a lot more things than a normal rap artist. I've always been having that sh*t on."
It's partly braggadocio, sure. Yet it's not hard to believe: Chainz is a figure unlike any other to have emerged from the Atlanta scene of the early noughties. He's one of hip-hop's wittiest lyricists and most mercurial artists, whose music veers from lurching trap to soulful reflection, often on the same record. And he remains one of the industry's most popular and in-demand figures: to date, he has made a staggering 400-plus guest appearances on the records of other artists.
"People like working with me", he says, speaking to HYPEBEAST from his home in Atlanta. "I get the job done, and I do what I'm supposed to do."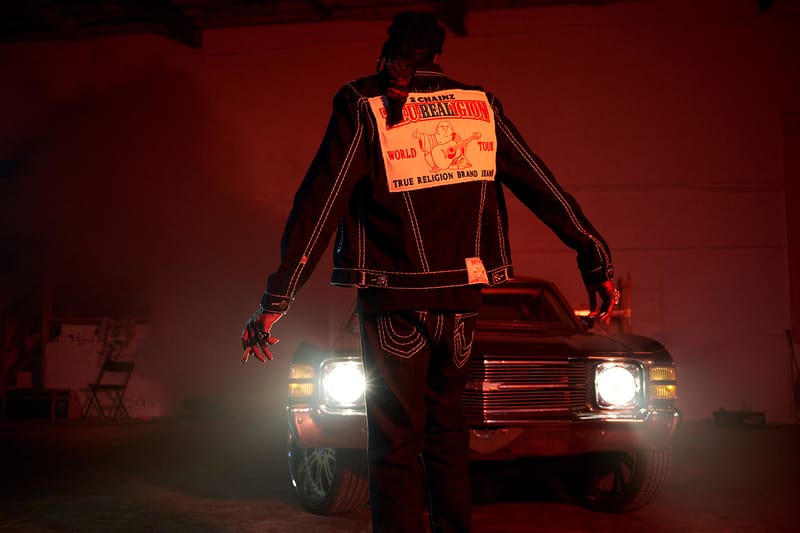 True Religion
That collaborative nature has been a running thread throughout his career since its beginning. Not least in T.R.U. Realigion, the EP which marked his breakout as a solo artist upon its release a decade ago, and which featured guest spots from 90s stalwarts Raekwon and Jadakiss, alongside then-rising stars from Meek Mill to Big Sean. In its celebration of the community around him, the record acted as a statement of intent for Chainz, and a template for the music he would go on to make over the next ten years. "It was a hustler showing the rest of the world what we got on," as he puts it now.
That record has now been re-released as a tenth anniversary edition, complete with a duo of new songs. It'll be accompanied by a U.S. tour, which kicks off in late November. And, most significantly for the artist, it's the focus of a full-scale fashion collaboration with the denim brand True Religion, which inspired the title of his EP.
"It was for the people that had money, and wanted other people to know they could afford it."
The prospect of a retrospective collection wasn't a natural fit for Chainz — by his own admission, he dislikes looking backwards. But he was drawn to the "full-circle" notion of partnering with a label that he had grown up admiring so strongly.
"I really was f*ckin with them hard," he says, estimating that he has spent, conservatively, hundreds of thousands of dollars on True Religion products in his lifetime. His collection is extensive enough, now, to fill eight closets. "Everybody in the stores used to call me," he remembers. "I was buying out the store every time they brought out new stuff."
This isn't Chainz' first entry into fashion — aside from a 2015 line of novelty Christmas sweaters, which raised $2m USD for charity, his 2018 collaboration with Versace produced the 'Chain Reaction', one of the best-ever selling sneaker styles for the brand.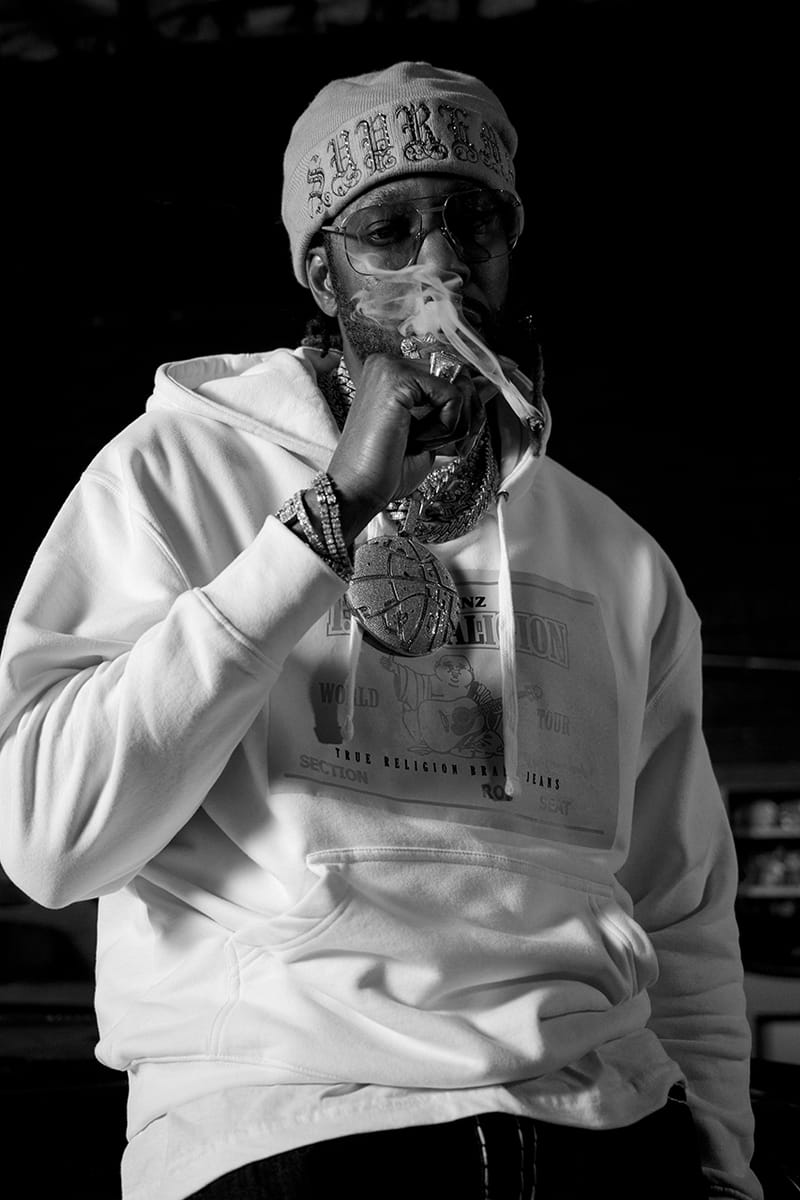 True Religion
That collaboration also brought him into a working relationship with the footwear designer Salehe Bembury, who first introduced Chainz to Donatella Versace, and later co-designed the Chain Reaction with him. Chainz remains effusive about Bembury, with whom he has maintained a close creative exchange. Indeed, after Bembury's departure from Versace, Chainz was among the first to see his solo design projects, before they were shared with the press.
"Chainz is equally a chameleon as he is consistent within his energy," says Bembury via email. "He has reinforced how valuable it is to be one's self to the fullest of your ability." Plus, he adds, "Chainz got his jump shot from me. Don't edit that out!"
"That's my brother," says Chainz. "He pulled me into Versace, and I'm forever grateful for that, and forever supportive of what he has going on. Whatever he wants to do, I ride with him."
He laughs. "Make sure you print that in bold, so he can see it."
Yet the True Religion project is distinct from the other collections he's put his name to: more than a guest cameo, it represents the fruition of a long-held ambition to work with a brand that was the defining aspiration symbol of his young adulthood. "It was a brand that represented hustlers in my community," he says. "It represented people that had a little bit more going on," he says. "It was for the people that had money, and wanted other people to know they could afford it."
"I've been trying to do this for a long time," he says. "I'm very grateful, and very thankful."
The accompanying campaign — which debuts here on HYPEBEAST — is intended as an intentional call-back to the cover art for T.R.U. Realigion, which showed Chainz in the restrooms of Atlanta's Lenox Mall. For him, returning to the city to shoot the collection was a no-brainer. "It's my home, and it's where this whole thing came from," he says. "It wouldn't make sense to do it anywhere else."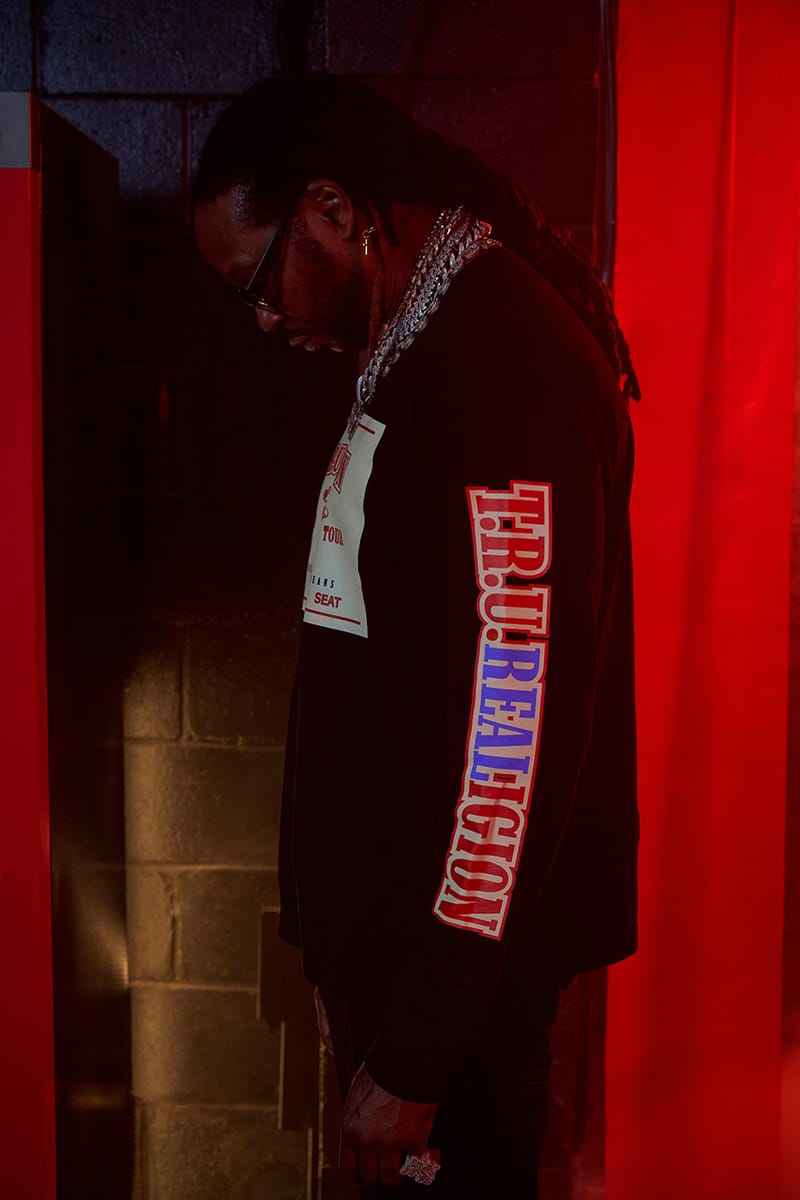 True Religion
He remains zealous, to this day, in his pride for the city. Two decades on from Atlanta's much-vaunted rise as the home of contemporary hip-hop — after it overtook New York in the late 90s, thanks to a wave of brilliantly genre-bending artists — Chainz believes the city's musical crown is at no risk of slipping. "Hip hop has been driven by the city of Atlanta," he says. "It's the go-to for creative, for production, style, dress, walk, talk, slang, the whole game."
He credits the city, too, with his collaborative and ever-evolving musical style, arguing that it's a mentality engendered by Atlanta's creative scene. "It's the best thing about the city," he says. "That will to do things together. We'll put our own things aside, and know that if we work together, it'll be better for the whole outcome. It's what helps us merge young and old together."
In that spirit, his next album, which is scheduled for release in early 2022, will act as a celebration of the young talent he has seen rising around him, and a way for him to help build the careers of a new generation of artists. Though he remains quiet, for now, on the roster that will be included, he believes it represents a cross-section of the musicians worth following now. "It's the younger artists that I really respect, and I really f*ck with," he says. "The ones who got it popping right now. Giving something very unique."
That release will be followed closely by another project: ColleGrove 2, a follow-up to his 2016 album, which will see him reunite with his recurrent collaborator Lil' Wayne. It will be, he promises, "out of the box". After that, he'll drop the third release planned for next year: an as-yet unnamed album which will be "more soulful," in line with the direction he moved towards in his most recent release, last year's So Help Me God!
It's an extraordinary amount of work to come from a single artist in a twelve month period. But it's consistent with the prodigious output of a musician who claims to record new tracks every single night. "Honestly, I should have put out more music," he says. "I'm still thinking of giving the fans something else around Christmas. Keep your eyes and ears open."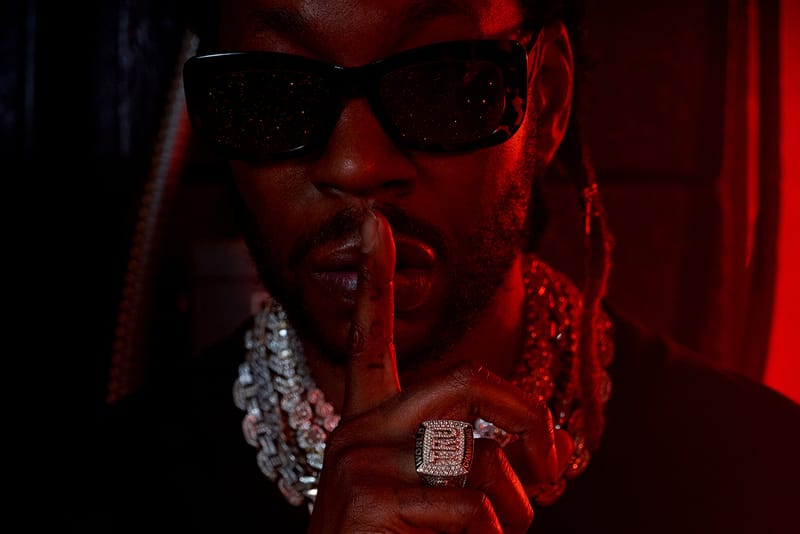 True Religion
Chainz hopes that a sophomore collection with True Religion will follow, and that it will be the start of an ongoing relationship with the brand. That aside he's interested in the idea of an alcohol collaboration, at some point in the future. Gardening, too, is a newly-acquired passion. "I care a lot about it," he says. "I'm about to go check on my garden in a minute, in fact."
So he's not slowing down. If anything, Chainz seems driven by the desire to take on more: more projects, more genres, more collaborators. "People have to want to be around you," he says. "Everything comes from there."
"It's a process. But I love every piece of it."
The 2 Chainz True Religion collection goes on sale on November 17 at select True Religion stores and online. Customers can also join the brand's waitlist from November 10 for 24 hour early access to the collection.
Source: Read Full Article