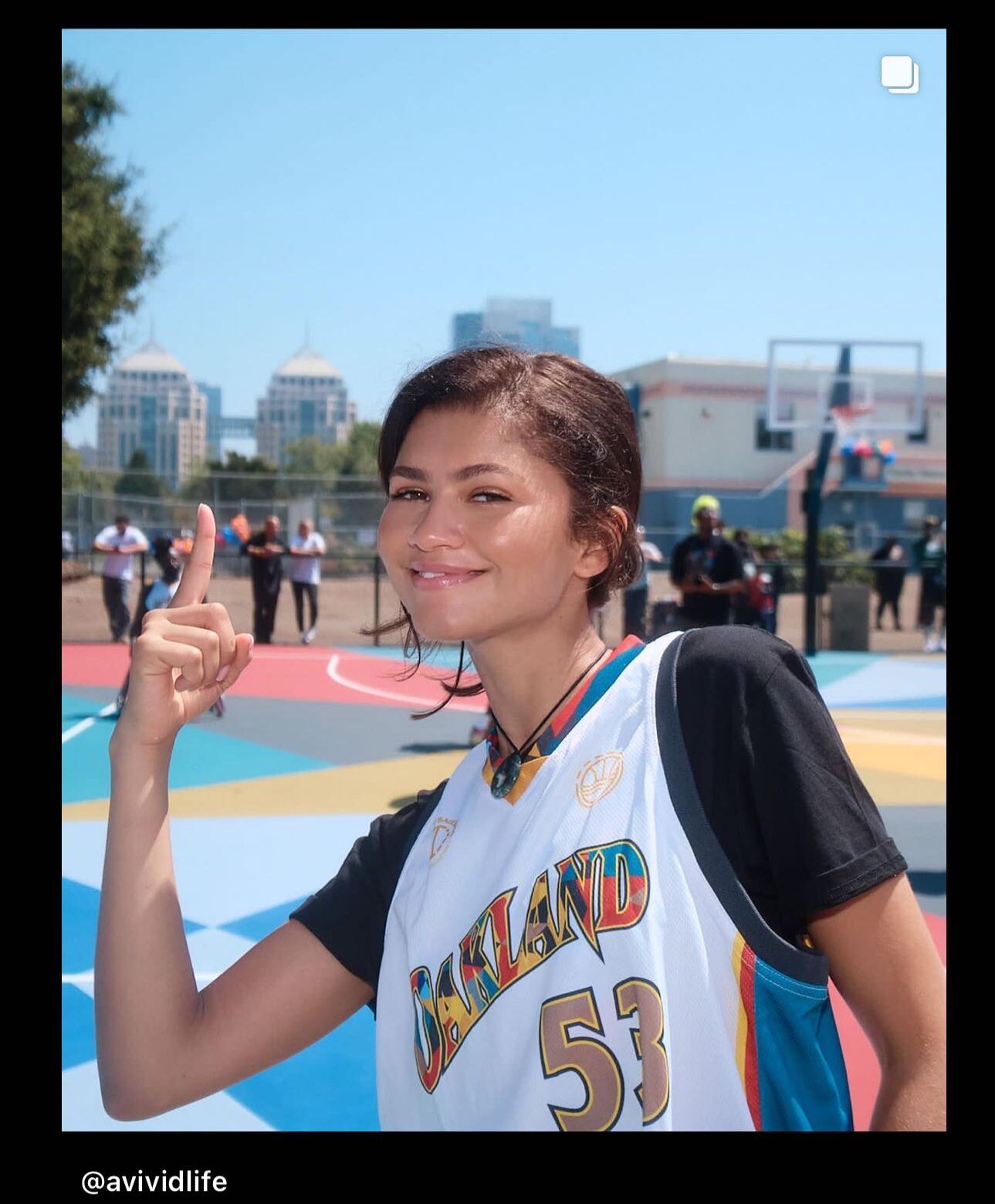 Here's a fun story to start off your week. The Cutest Celebrity Couple, Zendaya and Tom Holland, were spotted playing basketball at an Oakland, California middle school over the weekend. They were there alongside actor and basketball player Elvin Rodriguez, Harlem Globetrotters player Sam Diaz, former Bachelorette contestant Christon Staples, and more as a part of an event organized by local nonprofits. Pictures and videos show them shooting hoops, making speeches, doing tricks, and hugging children.
Celebrity couple and Spider-Man costars Zendaya and Tom Holland made a surprise visit to an Oakland middle school on Friday, where they showed off some basketball skills to a crowd of onlookers.

Photos and videos posted to Zendaya's Instagram story show the pair in her hometown, attending a basketball game at West Oakland Middle School. They were there as part of a event organized by local nonprofits Hoopbus and Project Backboard.

In Zendaya's story, Holland is seen dribbling a basketball and wearing a T-shirt by local clothing brand Oaklandish that reads, "Oakland Roots." A video posted by "Hustle" actor and basketball player Elvin Rodriguez shows Zendaya assisting him with a layup on the court.

Another video posted by Regular Hoops shows Harlem Globetrotters player Sam Diaz teaching Holland how to spin a basketball.

Hoopbus operates out of a retrofitted 40-foot yellow school bus that is driven around the country. Members teach students about racism and racial inequalities via basketball demonstrations. Project Backboard renovates basketball courts at public schools using colorful, large-scale artwork.

"I just came to say hi to all of you, see your beautiful faces, and have a great time," Zendaya said in a speech given to the crowd.

Zendaya was raised in Oakland and attended Oakland School for the Arts.
[From SFGate]
I love this so much! I checked out Zendaya's, Rodriguez's, and a bunch of other Instagram accounts that posted pictures and stories from the event over the weekend and it looked like everyone was having a blast. Personally, I really enjoy stories like this, where lowkey celebs show up to a community event, don't act like divas or a-holes, raise money or awareness for a good cause, and don't have any ulterior motive. Bonus points if they have ties to the community.
Tom and Zendaya have reportedly been together since 2021. They keep their relationship pretty private by Hollywood standards and never seem thirsty for attention. I don't think they walk a lot of red carpets together, either, which – respect – but I wish they would! It looks like the most public thing they tend to do is comment on each other's Instagram posts with lovey-dovey emojis. I do hope they start doing more things like this together. It makes me like them even as a couple even more than I do now. If you're interested in checking out the nonprofits that put together the basketball event they are Project Blackboard, Oakland Roots, Oaklandish, and Hoopbus.
— Zendaya Updates (@Zendaya_Updated) August 26, 2023
— Pop Crave (@PopCrave) August 25, 2023
Source: Read Full Article