"Too Hot To Handle" is back for Season 2 and it promises to be just as steamy and scandalous as the last.
The hit series brings a group of men and women in their 20s to the "shores of paradise" in Turks and Caicos to "meet and mingle," according to the show's description. But, here's the catch: the show experiments with the contestants ability to abstain from sexual relations in order to develop more meaningful and deeper relationships. 
As per People, which revealed the new contestants, the rules are simple: "no kissing or heavy petting" (or "self-gratification") to win the grand prize. And for those sneaky people who decide to venture off and violate the rules, they "will see the $100,000 prize drop faster than our contestants' libido in the least sexy vacation getaway of their lives," the streaming service details in their press release (per People).
The international cast ranges from a U.K personal trainer and model, to a Florida bartender, a former Texas stripper, and a New Zealand lawyer, just to showcase a few. But one contestant, Carly Lawrence, already seems to have caught fans' attention with her carefree attitude. 
If we can take a guess, it seems like she will start some trouble on the island — as her bio reads, "I hate rules. And I do not follow them." Keep scrolling to learn more about Carly.
Carly Lawrence is here to have fun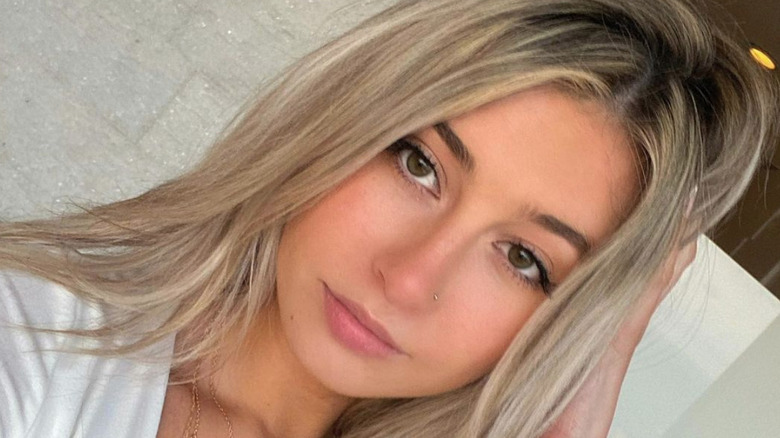 Carly, 24, has come to "Too Hot to Handle" from Canada, and is looking for a good time and to meet a guy or two. She's all about partying and having fun, so it seems like she may not want to settle down any time soon. But, hey, maybe one lucky guy will change her mind — or not. Per People, Carly's a self-proclaimed "man-eater" who "hates being told what to do," so viewers are guaranteed to see her ruffle some feathers and bring on the drama.
Fans are already comparing Carly to Season 1 contestant Hayley Courton for her cunning ways. Comments like, "Hayley the 2nd?" and "another Hayley" flooded Carly's post on the "Too Hot Too Handle" Instagram account. However, time will only tell if this true or not.
With almost 9,000 followers on Instagram, fans can see Carly is a model who isn't afraid to post a good thirst trap here and there. She's bikini ready and will definitely turn heads. She was also previously a competitive dancer, per People, so we know she likes a good contest. Hopefully, this competitive nature will help her win the cash prize. 
Another fun fact about Carly is that she has the year "1964" tattooed on her index finger and a butterfly on her ring finger. Perhaps, she'll share the special story behind that during her time on the show.
Be sure to stream "Too Hot To Handle" on Netflix on June 23.
Source: Read Full Article