The Kardashians dropped yet another instantly iconic and somewhat deranged episode of their new show last night, and honestly there were a lot of all-caps MOMENTS. Mostly to do with Kourtney Kardashian and Travis Barker's extra curricular activities 👀. But also thanks to Kylie Jenner and Kris Jenner deciding to spend an afternoon doing "normal things," prompting Twitter to simply not be okay.
In case you haven't watched the ep yet (pls run), Kris and Kylie's Normal Day™ started thanks to Kylie telling her mom, "I just want to do normal things with you…. I just think when I'm pregnant, I just want to feel really normal."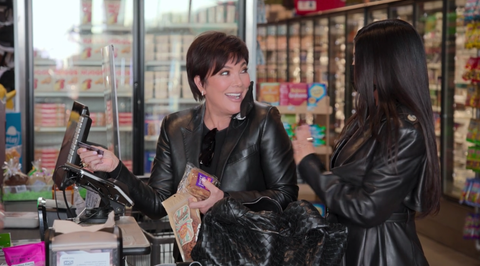 Kris ended up admitting "I have not been to a grocery store in two years," and noted that "it's good for our souls." So the pair took a trip to Vintage Grocers in Malibu, and Kris chatted a bit about how it's hard for them to do their own errands due to fans photographing them constantly. (Fair enough—in fact, people were visibly snapping pics throughout this trip.)
"One of the things that gets a little tricky is privacy," Kris explained during an on-camera interview. "I stopped going to the grocery store because people in the store started sneaking pictures, and paparazzi started showing up. It was hard."
Anyway, Kris and Kylie were allllll kinds of excited to be at the store, and Kris said iconic things like "We get to load the car! It makes me so happy when my kids are having fun. That's my heart." They then went to a gas station and a car wash, where Kris mused "This is like Disneyland. We have to bring the kids here. This is the best $12 we've ever spent!"
Which, um, brings us to Twitter's thoughts. Because there are a lot and the general vibe is that the Kardashians are living on another planet.
Source: Read Full Article