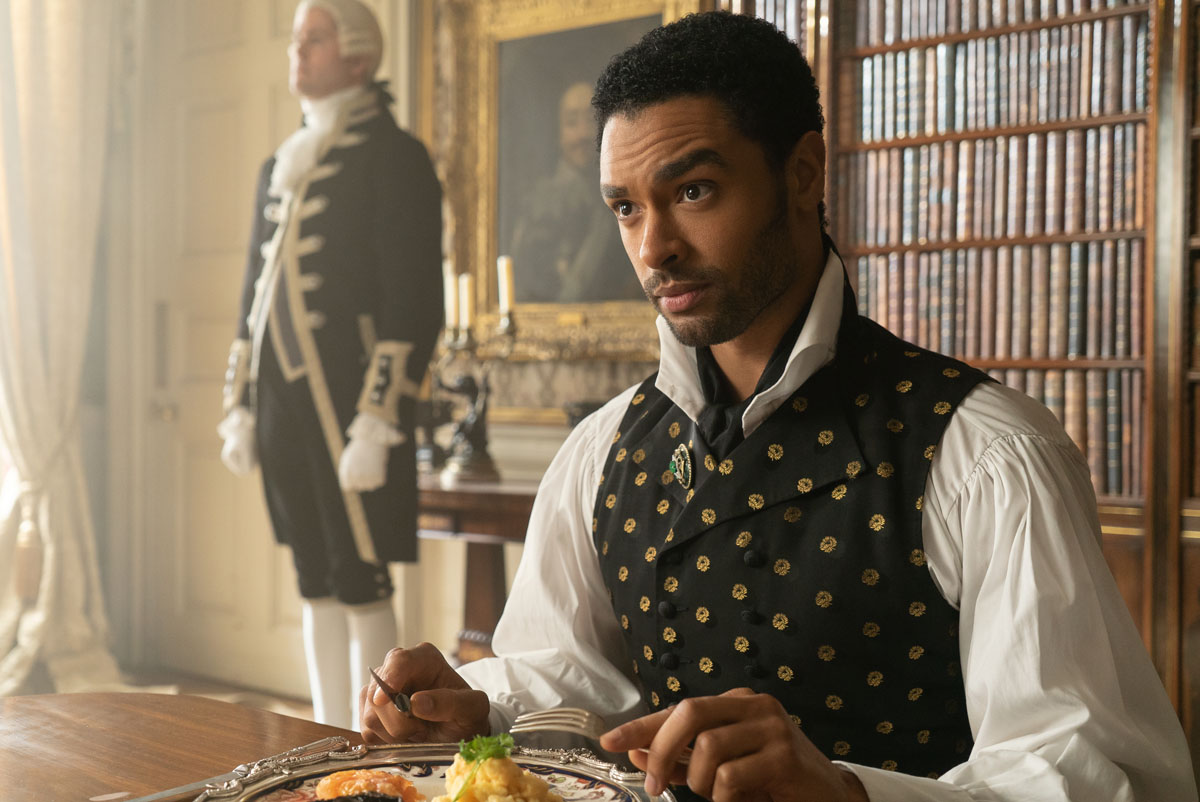 The newest James Bond movie, No Time to Die will be released in April after several delays. Daniel Craig confirmed last year that he was leaving the franchise after No Time to Die. For years fans were calling for Idris Elba to be the next Bond. There was a lot of racist backlash at the suggestion of a black man taking on the role. Late last year it was rumored that Tom Hardy had been chosen to take on the role but it has yet to be confirmed.
Now that Rege-Jean "the God" Page is the new hot young thing due to his role as Simon Bassett in Netflix's Bridgerton, people are calling for Rege to be the next Bond. Rege has gotten wind of the buzz and coyly posted a gif from Bridgerton captioned it with a well known James Bond catchphrase. Rege, 31, wrote "Regency, royalty. Shaken and stirred" along with the #Bridgerton hashtag. You can see that Tweet below.
Rege can be my Bond anyday. Where do I volunteer as tribute to be a Bond girl so I can be in a film with him? I will eat clean and exercise for months to get into shape. I actually like the idea of Rege as Bond more than Idris (although I loved this idea) and Tom. To be fair I am not digging Tom Hardy as Bond. I am not sure what it is… wait yea I do, it's his voice. Don't at me but I do not like Tom Hardy's voice. It would ruin the film for me.
Despite wanting to see Rege in a suit, running around with scantily clad women and all of that, I think he may need several more years under his belt before he could be a great Bond. Bond is usually a man in his forties and Rege is only 31. And we'd need several more years before folks come around to the idea of a Black James Bond. I saw how Bond's toxic fans came after Lashana Lynch with hate and trolling after the trailer for No Time to Die dropped and it showed her as a female Bond. Lashana had to shut down her social media for a wee because it had gotten so bad. The studios in these situations often do not support the Black actors who are experiencing harassment nor stand up to their franchises' toxic fans. See John Boyega in Star Wars.
Now back to the frivolity. Rege-Jean is fine, and I for one am definitely here for fantasizing about seeing Rege's beautiful face and body on the big screen. I personally can't get enough of Rege. I've binge watched Bridgerton several times so my obsession is solid. With that being said, I'd prefer to see a more mature, read older, Rege playing James Bond. And while we wait for Rege to age like a fine whisky, I think Sam Heughan would be the perfect addition to the Bond franchise.
Shaken and stirred.#Bridgerton pic.twitter.com/cSwnSpLQCy
— Regé-Jean Page (@regejean) December 16, 2020
Here are a few tweets calling for Rege to be the next Bond:
— Ticky (@tick898) January 1, 2021
— Richard Walsh (@RickyWalsh1973) January 3, 2021
— Candice Frederick (@ReelTalker) January 5, 2021
and of course this:
— ??sassenach ??? (@omwill3) January 5, 2021
photos credit: Netflix/Liam Daniel and Avalon.red
Source: Read Full Article