Over the years, Olympic athletes grow close with one another, and the same is true for Olympians Simone Biles and MyKayla Skinner.
As gymnastics watchers know, Biles pulled out of the vault finals — and a few other individual events — at the last minute to focus on her mental health. This was a much-publicized move because it marked one of the first times that an Olympic athlete pulled out of an event over a non-physical injury, per PopSugar. But this pulling out gave an opportunity for Skinner to fill in for her and to provide her with one last opportunity to earn a medal both for herself and for Team USA. Skinner, who was selected as an individual alternate and not a member of Team USA, was looking to retire after this Olympics.
As it turns out, though, Biles and Skinner's friendship goes above and beyond basic sportsmanship. Take a look at what we found out about their friendship. Spoiler alert: it's absolutely delightful to see.
Simone Biles tapped MyKayla Skinner as her replacement and cheered her on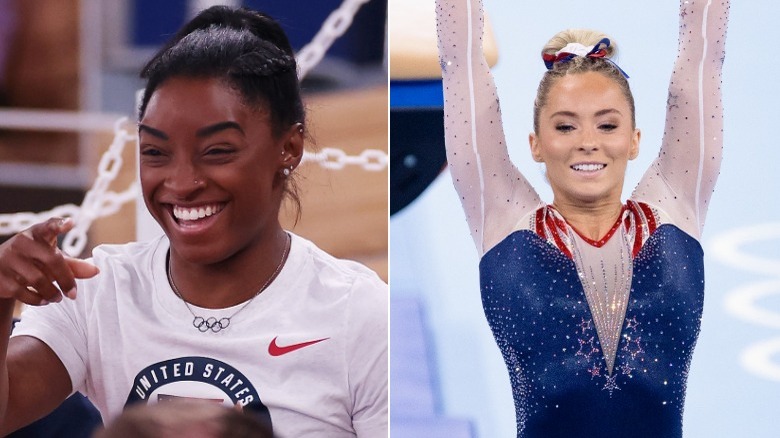 Even though Simone Biles was down, she certainly wasn't out. Despite sitting out the individual vault event, she was in the stands loudly cheering MyKayla Skinner on! "I knew she was going to be the loudest one in there tonight," Skinner told the Associated Press.
The event was poignant for other reasons for Skinner, as well. At 24 years old, she's one of the oldest competitors on the team. What's more, as the AP reported, Skinner briefly retired from gymnastics in 2016 to focus on her collegiate career at the University of Utah, especially after she only qualified as an alternate at the 2016 Olympics in Brazil. Competing, she said, made her fall in love with the sport again. In 2021, just before Biles withdrew from the competition, she told her coach to text Skinner to prepare herself for competition.
So when Skinner won the silver medal for Team USA, there was only one person who she thought of in her win. Read on to find out the touching conclusion to this all-American Olympics story.
MyKayla Skinner dedicated her win to Simone Biles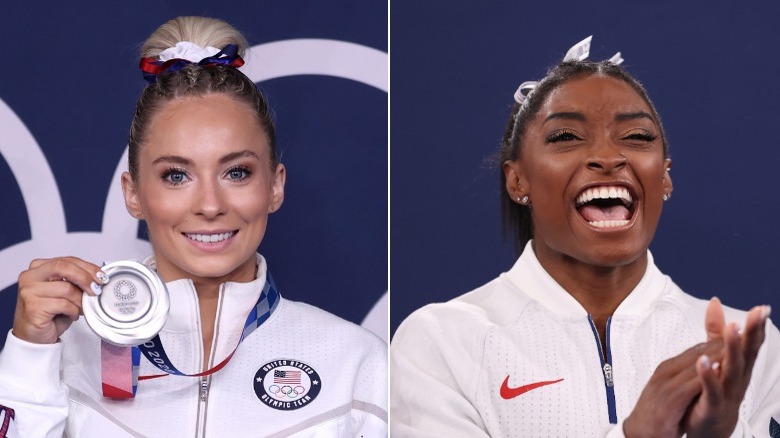 "I dedicate this medal to Simone. I wouldn't be here today if it wasn't for her," MyKayla Skinner said, according to Deadline. "I told her I would be doing this one for her. She said, 'don't do it for me, do it for yourself,' so technically it's for all of us."
It's pretty clear that Skinner didn't think she'd be competing in the Olympics again. As she wrote on Instagram, just six days prior to taking home the silver, Skinner believed she was going home. "Heartbroken is an understatement, but I am proud of myself for getting here after everything I've been through," she wrote. "I would have loved for my scores to count for the team and I would have loved to compete in event finals but I still did some of my best gymnastics here as an Olympian and that's something no one can take away from me."
Skinner's last Instagram post, however, has a very different tone. "I'm grateful I never gave up and that so many of you never gave up on me … unfinished business… FINISHED" she wrote. Congratulations to Simone Biles, MyKayla Skinner, and all the medalists on Team USA!
Source: Read Full Article