Comedy pals Steve Martin and Martin Short made room for a third amigo in the form of superstar Selena Gomez this year. While some may question the comedic chops of the much younger actor (both Martin and Short are in their 70s), the singer-turned-cosmetics-brand-founder has plenty of acting credits under her belt.
Starring in Martin's whodunit show marks Gomez's first regular role in a television series since appearing regularly in The Wizards of Waverly Place, which helped launch her career. And she had only kind things to say about the comedy legends.
Selena Gomez stars in 'Only Murders in the Building' with Steve Martin and Martin Short
The trio of actors star in the Hulu original series Only Murders in the Building. The comedy-mystery follows a group of sleuthing neighbors as they obsess over a grisly death while simultaneously attempting to podcast the whole investigation.
Veteran comedians Short and Martin bring plenty of laughs to the table as the two aging, bumbling boomers. Meanwhile, Gomez balances out the wacky farce with her mysterious and sardonic charm. The series is sure to win over true crime aficionados and comedy-lovers alike, and has already been approved for a second season.
With a verified hit on their hands, the actors have been making the rounds in interviews that show off how well they interact. The three tuned in virtually to chat with MTV News about working on the set of Only Murders in the Building. Says Short, "I think we all work in the same way. We all like to keep a very loose, happy, fun-filled, improvisational-feeling set."
Martin especially believes a sense of humor is a key similarity to have with a co-star. "We kind of kid each other," he says of the process. On joking with the comedy legends, Gomez chimes in, "they both just include me even in their banter back and forth. I never got any of the jabs, but I got to do the jabbing every now and then."
Gomez gushes about her chance to work with legends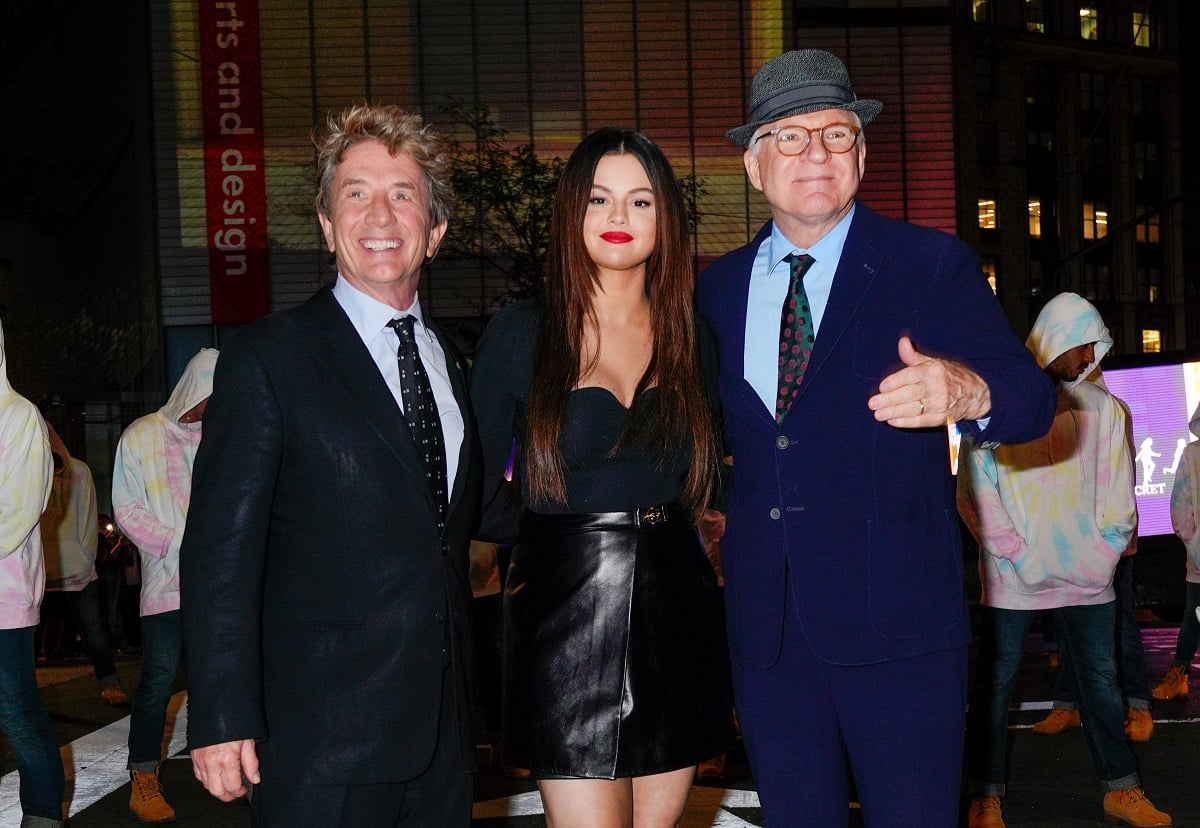 The 29-year-old recently sat down the host of Late Night with Seth Meyers to talk about mascara application techniques and her experience of shooting Only Murders in the Building in New York City. "I got to live here for seven months and hang out with two legends. Complete divas!" she jokes.
The divas Selena Gomez is referring to are her hysterical co-stars, Steve Martin and Martin Short. "If anything," she continued seriously, "they have taught me so much just about comedy. They have a humor that just doesn't exist anymore. It's the best! I love watching what they do, and I love being a part of it and trying to live up to it, you know? It's been such a blast."
Martin and Short return the favor with kind words about Gomez
Short shared his impressions of Gomez upon their first meeting during an interview on The Late Show with Stephen Colbert. He recalls, "I met her in the makeup chair the first day we shot. And I was right away struck by this beautiful, engaging, and charming person! It was a very easy shoot that way, because I think the three of us like to work in great ease, and she went right along. I mean, I didn't know her. You could have been horrible!"
All three burst out laughing immediately, with Gomez admitting, "glad I'm not!" It's their ease together on the couch that lets you know this kind of prodding happens all the time.  With the promise of a new season on the horizon, this kind of friendly banter makes it clear why Only Murders in the Building is such a comedy hit. 
Source: Read Full Article