The royal family's official social media accounts also release never-before-seen portrait of the late monarch, which includes a nod to her beloved 'papa,' ahead of her funeral.
AceShowbiz -Queen Elizabeth was apparently being herself during her last days. The late monarch was seen all smiles in a rare semi-candid picture taken just days before she passed away on September 8 at 96 years old.
In the snap, the Queen appeared to be in good spirits as she sat in a chair wearing black sunglasses and a green coat with a plaid skirt. It's unclear what event she was attending, but it was reportedly taken at Balmoral Castle where she spent her final days.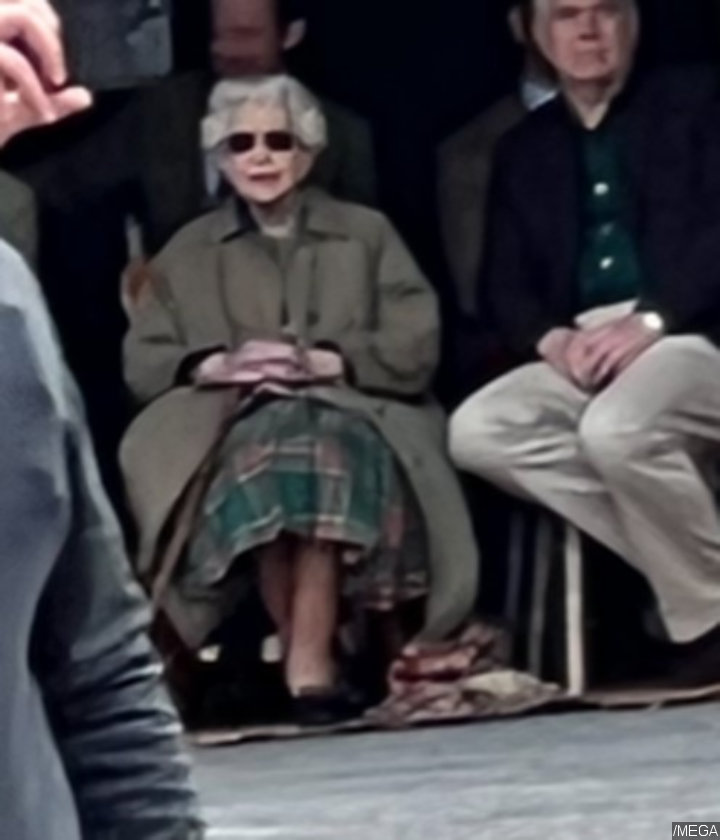 Queen Elizabeth was pictured at Balmoral during her last days.
According to TMZ, the Queen was snapped in the image just 48 hours before meeting the new Prime Minister, Liz Truss, at her summer retreat property. She was reportedly already ill at the time and her aides suggested that maybe then-Prince Charles should greet the new P.M., but the Queen insisted on carrying out the ceremonial duties herself.
The royal family has also released a never-before-seen image of the Queen ahead of her funeral. Making its way out via the royal family's official social media accounts on late Sunday, September 18 local time, the portrait shows the Queen flashing a happy grin in a powder blue dress.
She paid tribute to her beloved "papa," King George VI, by wearing aquamarine and diamond brooches he gave her for her 18th birthday in the image taken in celebration of the Queen's Platinum Jubilee. She also accessorized the look with a multi strand pearl necklace and matching pearl earrings.
"Ahead of Her Majesty The Queen's State Funeral, a new photograph has been released. The photo was taken to mark Her Majesty's Platinum Jubilee – the first British Monarch to reach this milestone," read a caption of the official portrait. "Tomorrow, millions will come together to commemorate her remarkable life."
As of Sunday night at 11 P.M., an entry to the queue to see the Queen lying in state was permanently closed ahead of her state funeral on Monday, September 19.
Source: Read Full Article