The 'I Remember' rhymer sparks concerns among his fans and followers after declaring on the blue bird app that he is 'done with life' and tweeting about getting killed.
AceShowbiz –Quando Rondo apparently had an emotional roller coaster today. The Savannah-born artist sparked concerns among his fans on Tuesday, November 9 with his alarming tweets, but just several hours later his mood has apparently changed for the better.
"I'm done with life…," he initially tweeted. It was followed up with another concerning tweet which read, "When I Get Killed I Hope That S**t Hurt You The Most."
He was soon showered with messages from his fans trying to uplift his spirit. "Don't say s**t like that my n***a. We need you out here," one person commented on his post. Another wrote, "Bro I fr hope you only read the positive messages on here, hang in there homie we really do love you homie. I'm suicidal every single day and this s**t is just who I am. These thoughts eat at me everyday but I gotta stay breathin to feed my daughters cuz they ain't ask to be here."
A third fan shared some advice, "Keep ya head up homie god gives his toughest battles to his strongest soldiers…take sometime to yourself and meditate pray smoke chill vibe whatever you need to do to shake back and stay focused on the bigger picture…life truly is a beautiful thing! Praying for you fam."
"Feel ya but know somedays are difficult," a fourth user commented, "those are the days you got to take a deep breath shake it off\LIFE/and go harder….if not for yourself then for those you love & care about. When ur gone the heartbreak becomes too dam much…#RIP 1LoveMW. Choose life!!"
One person claimed that Quando has been not okay since King Von's death, for which he was partly blamed, "That dude ever since he was involved in Vons passing, he is not ok…." Another pled, "The people around him need to get him some help." Someone else wrote, "God bless him."
However, Quando has hinted that he is alive and okay as he later updated his Twitter account with a post featuring his smiling picture. He flashed his diamond-encrusted grill while captioning the snap with double hearts emoji.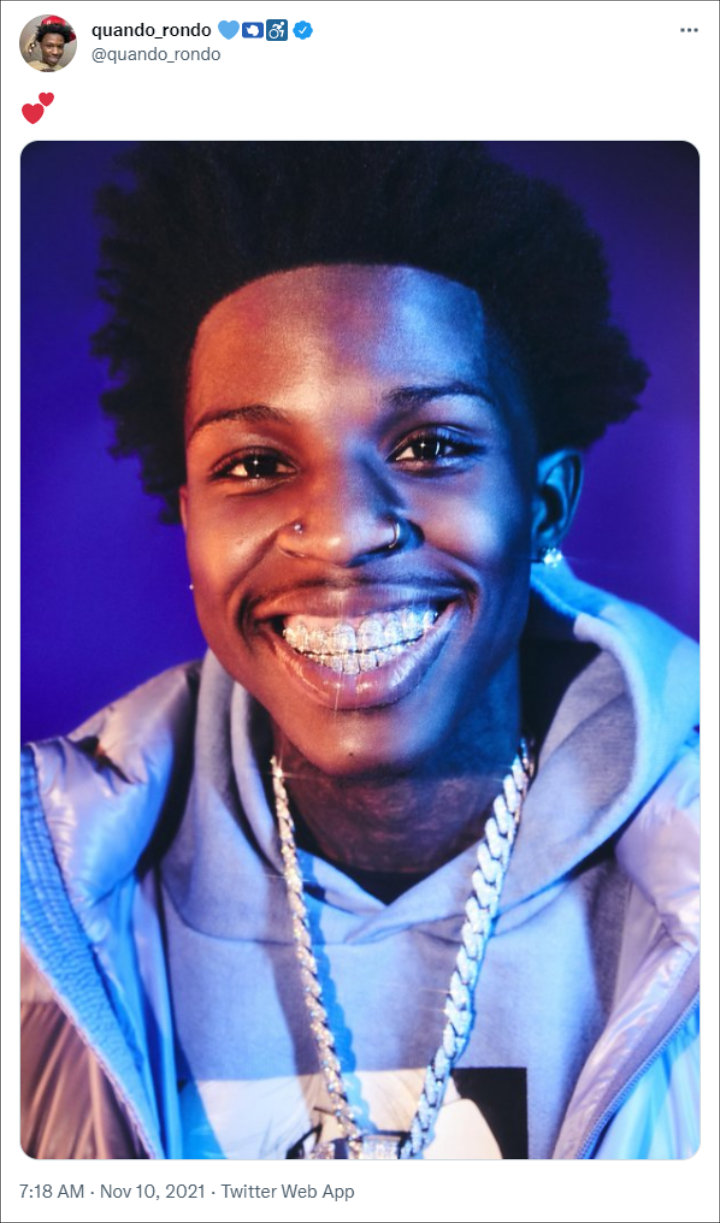 Quando Rondo posted a smiling picture after sparking concern with his alarming tweets.
In another tweet, he declared his love for his girlfriend. "I Love My Girl Forever I Ain't Never Leaving You," he wrote along with a picture of what looks like a girl's long braid.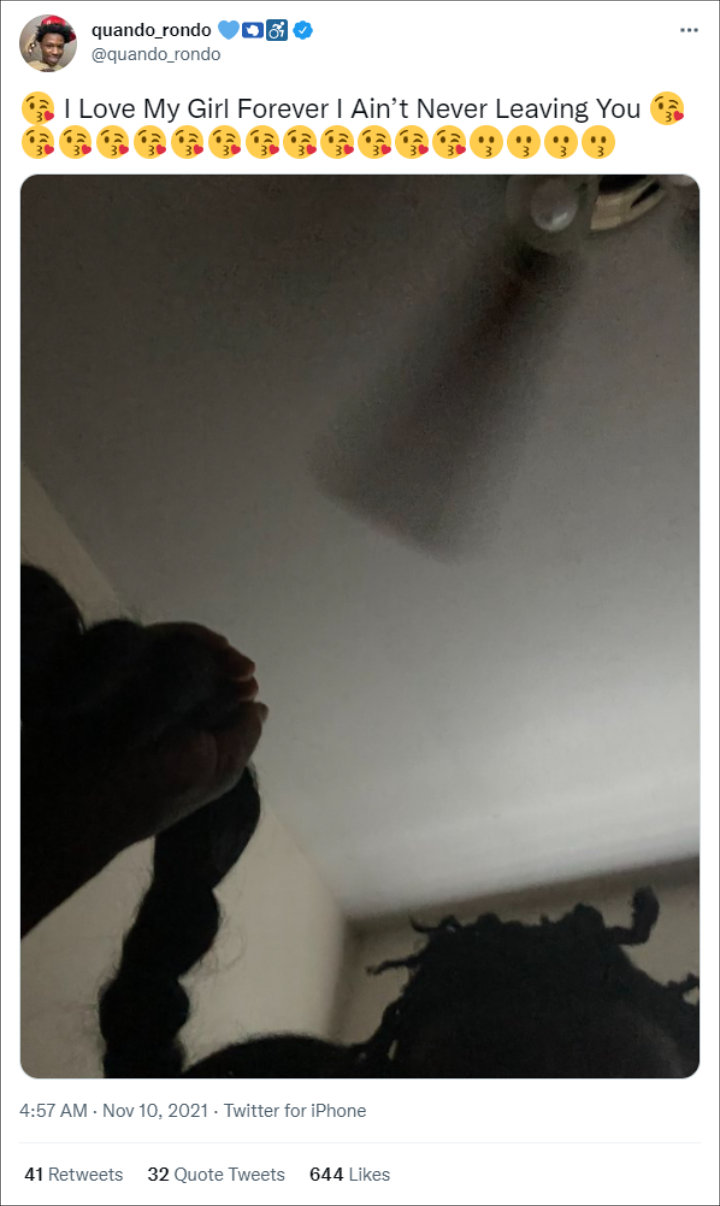 The rapper declared love for his girlfriend.
It's not clear what brought Quando down earlier that day, but he recently came under fire after confirming his romance with a girl, who is believed to be underage, on social media. After he posted on Instagram several PDA pics with his leading lady in October, people soon pointed out that the girl just turned 18 years old, making her barely legal in several states.
"ain't she underaged?" a shocked user asked. "Quando jus waited for her to turn 18," someone alleged, while another similarly questioned the timing of Quando's announcement, "Bro waited for an girl to turn 18?" Another person wrote, "Girl barely legal smh," and another claimed, "Bruh this girl just hit senior in high school."
Quando didn't respond to the backlash, but has since deleted the PDA pics with his girlfriend.
Source: Read Full Article