Attention, pls: Pete Davidson and Kim Kardashian just made a rare official appearance together at the 23rd Annual Mark Twain Prize For American Humor in Washington, DC. And while the couple didn't walk any red carpets, they were spotted chilling in the audience and peering intently at something/someone: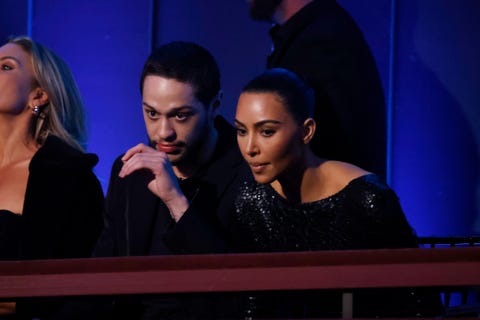 So yep: they're still going strong. These two have been together since shortly after Kim hosted Saturday Night Live in October, and Kim actually just opened up about exactly how they started dating during an interview with Not Skinny but Not Fat.
"When we kissed, I was just like, Hmm," she said of her and Pete's kiss during a skit. "It was a stage kiss, but it was still like…a little zing, you know? It wasn't anything, like, super crazy-feeling, I was just like, Hmm."
Apparently at first Kim thought "I haven't kissed anyone else in 10 years, so maybe I'm just being stupid and it's just nothing and it's just a stage kiss," but then a few days later, she was like "Hmm, there is some BDE action, how am I gonna…I just gotta get myself out there."
They've been together since, and now Pete is out here with multiple tattoos dedicated to Kim plus a legit branding of her name. As she put it, "He wanted to do something that was really different. I think he was like, 'I want something that's there that I can't, you know, get rid of. 'Cause he's in the process of getting rid of his arm tats and his neck tats. So he's like, 'I don't wanna be able to get rid of it or to cover it up, and I just wanted it, like, there as a scar on me.'"
Cool cool cool.
Source: Read Full Article